By Gerald Peary
It's Walker Percy's subversive strategy to stick us with a decided nonhero and have us gradually appreciate his nonparticipatory status.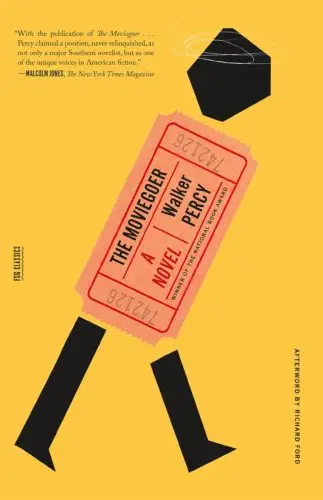 When I was 17, and an avid film watcher, I checked out from the library Walker Percy's The Moviegoer, winner of the 1961 National Book Award, expecting to have a protagonist whom I could relate to. Instead, I recall finding Percy's Binx Bolling irritating and uninteresting, a do-nothing, and I wasn't won over by his frequent jaunts to a movie theater. And almost 60 years later? Time for another try.
I've learned that Percy, a religious-minded writer, was importantly influenced in writing The Moviegoer, his first novel, by Camus and Kierkegaard. But the elements I'm concerned with in the book are much more pedestrian. What do I think now of Percy's main character? I've recently visited exotic New Orleans, the setting of The Moviegoer. How does Percy, who lived there, characterize my tourist destination? Finally, as I'm almost as film crazy as I was as a teen, what does Percy, who was a moviegoer himself, have to say about cinema? Can it be a transcendent place for his protagonist as it often has been for me?
Binx Bolling is still annoying and exasperating. But now I see it's Walker Percy's subversive strategy to stick us with a decided nonhero and have us gradually appreciate his nonparticipatory status. I do. He's someone who says "No" to what well-bred, white-bread Louisianans hold sacrosanct, starting with the wonderfulness of New Orleans living. He's an outlier in a society that worships home and heritage, having a respectable education and profession, and following a prescribed life from pledging a top fraternity to enthusiastic participation yearly in Mardi Gras, joining a "krewe" of reputable locals with a float, a parade, a ball.
"I can't stand the old world atmosphere of the French Quarter or the genteel charm of the Garden District," Binx declares. So much for tourist New Orleans! He resides on the long-running street Elysian Fields, but as far from downtown as possible. He's rented a basement apartment in an anonymous middle-class neighborhood called (a fictitious name) Gentilly. Binx is proud that "one would never guess it was part of New Orleans."
True, Binx had gone to Tulane, the city's banner university, and joined a fraternity, which seemed essential to him as a freshman. As his college years went by, indifference sank in. He sat on the frat front porch doing nothing. There was not a single activity listed in the yearbook except his fraternity membership. Under his photograph was this hapless character description: "Quiet but a sly sense of humor.
Forever after, like Melville's Bartleby, he preferred not to.
His Garden District aunt and uncle, prominent New Orleans citizenry, are honorary royalty with thrones on Mardi Gras floats. Binx literally says "No" to participating in such de rigeur local celebration. In fact, he agrees to a Chicago business trip so he can forgo Mardi Gras altogether. When he returns home, Binx strategically misses all but the tail end of Fat Tuesday. Author Percy, with a sly sense of dark humor, offers nothing of the glories of Mardi Gras, only this grim, inhospitable, morning-after picture:
"Canal Street is dark and almost empty. The last parade, the Krewe of Comus, has long since disappeared down Royal Street with its shuddering floats and its blazing flambeau. Street cleaners sweep confetti and finery into soggy heaps in the gutter. The cold muzzling rain smells of sour paper pulp. Only a few maskers remain abroad, tottering apes clad in Spanish moss, Frankenstein monsters with bolts through their necks…"
New Orleans's beloved fest as a 1930s Universal horror flick.
He can't be a slacker forever. Binx's well-to-do Garden District relatives have employment plans for him. He should partake of scientific research. "If I had a flair for doing research, I'd be doing research," he foils their ambitions for him. "Actually, I'm not very smart." Instead, Binx is content working for an uncle in the disreputable brokerage business. The salary is decent, he's off at 5 pm, and he can chase after the various secretaries who come and go. Binx's circumscribed life satisfies him: "For years now, I have had no friends. I spend my entire time working, making money, going to movies, and seeking the company of women."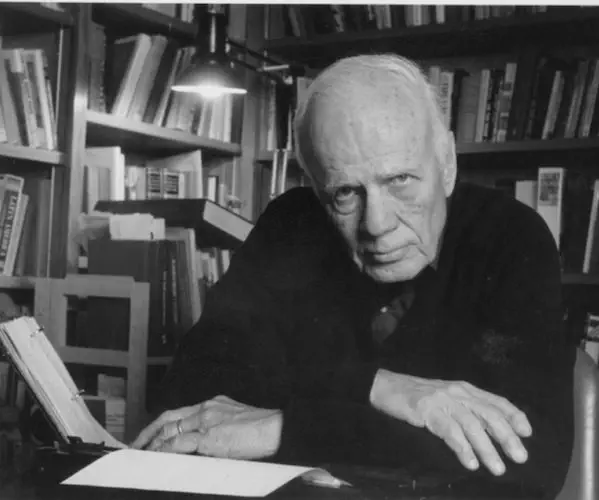 OK, Binx's constant movie-going. If a reader is anticipating a profound explanation for why he does it, look elsewhere. Binx just likes seeing movies, good or bad. It passes the time pleasantly. Here are Binx's judgments: It Happened One Night was "very good." The Ox-Bow Incident? "It was quite good." As for Fort Dobbs, a 1958 Clint Walker western programmer, which he saw at a drive-in: "Fort Dobbs is as good as can be… The Moonlite Drive-In is itself very fine."
That's all, folks.
Only once in The Moviegoer does Binx get stirred up enough to articulate his film enjoyments: "Other people, so I have read, treasure memorable moments in their lives…What I remember is the time John Wayne killed three men with a carbine as he was falling to the dusty street in Stagecoach, and the time the kitten found Orson Welles in the doorway of The Third Man."
We know it's 1959 because he sees Paul Newman in The Young Philadelphians. Binx likes Hollywood movies. There is no discussion of any film not a studio one, or not made in the USA. He's a typical 1959 fan, before the "auteur theory" came into play. He doesn't mention the name of a single director. He knows movies by the plots and by the actors in them. He talks of "a dignified Adolph Menjou mustache" and of a "a rub of the back of my neck like Dana Andrews." He says, "I'm no do-gooder Jose Ferrer."
And talking about Hollywood actors: early in the book, in what could have been an enthralling episode, Binx wanders into the French Quarter and sights star William Holden, there for a film shoot, strolling down the street. Will our movie man walk up to Holden and have a spirited conversation? Perhaps about Stalag 17, or Sabrina, or Picnic? Imagine the possibilities of dialogue! And what if Holden, impressed, asked Binx to have a meal with him, perhaps at Galatoire's? What a scene! Will Walker Percy provide it, the author's prerogative?
No.
Holden gets a light for his cigarette from a guy passing by, and then disappears from the book. Percy makes sure that all in The Moviegoer is anticlimax, the climate for his ever-passive Binx Bolling to explain: "I have no desire to speak to Holden or get his autograph." Or to stay in the hated French Quarter, when he can retreat to his brokerage office in the burbs and fantasize running off with his secretary.
---
Gerald Peary is a Professor Emeritus at Suffolk University, Boston, curator of the Boston University Cinematheque, and the general editor of the "Conversations with Filmmakers" series from the University Press of Mississippi. A critic for the late Boston Phoenix, he is the author of nine books on cinema, writer-director of the documentaries For the Love of Movies: the Story of American Film Criticism and Archie's Betty, and a featured actor in the 2013 independent narrative Computer Chess. His new feature documentary, The Rabbi Goes West, co-directed by Amy Geller, is playing at film festivals around the world.