By Paul Robicheau
RTJ4 seem prescient to this moment, particularly when Killer Mike snaps in rapid fire, "Every day on the evening news they feed you fear for free, and you so numb you watch the cops choke out a man like me, and 'til my voice goes from a shriek to whisper 'I can't breathe.'"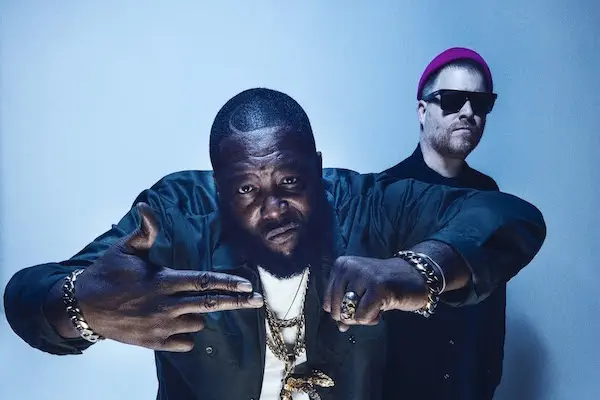 Atlanta rapper Killer Mike declared that he was "mad as hell" in an emotional, impassioned speech at the start of protests over the death of George Floyd. Yet his message, delivered during an official city press conference, was "not to burn your own house down" but rather "plot, plan, strategize, organize, and mobilize."
There was no mention that a week later, Run the Jewels – Killer Mike's duo with rapper/producer El-P – would mobilize such anger on its fourth, most compelling album. RTJ4 seem prescient to this moment, particularly when Killer Mike snaps in rapid fire, "Every day on the evening news they feed you fear for free, and you so numb you watch the cops choke out a man like me, and 'til my voice goes from a shriek to whisper 'I can't breathe.'" More scarily, that's just repeating history.
Both lyrically and musically trenchant, RTJ4 kicks off strong with divergent singles. "Yankee and the Brave (ep. 4)," named after the hometown baseball teams of El-P and Killer Mike, casts the pair as brotherly hustlers in a TV show with beefy sway and swagger — and crooked cops as the enemy. "We don't mean no harm, but we truly mean all the disrespect," they rap. Yet in "Ooh La La," they give respect to '90s-era rapper Greg Nice and producer DJ Premier, who spin a passing line from Gang Starr's "DWYCK" into an infectious chorus over a simply delicious piano riff.
RTJ4 flows with a seamless tag-team of feature guests (from rapper 2 Chainz to rocker Josh Homme) and simpatico co-writer/producers led by Wilder Zoby and Little Shalimar. The focus throughout still remains on the wicked wordplay of El-P and especially Killer Mike. They rattle with raw, confident braggadocio through the album's center, yet Run the Jewels often blurs the personal and political. The back end keenly segues through a mesh of pointed social commentary, unusual cameos, and ominous production that merges the minimalist and cinematic.
With eyes on money and justice, "JU$T" presents the oddest guest juxtaposition. Opening lines by Pharrell Williams (yeah, the guy who sang "Happy") bounce into a chorus around "Look at all these slave masters posin' on your dollar" capped by the guttural bark of returning RTJ collaborator Zack de la Rocha — whose Rage Against the Machine hosts Run the Jewels as opening act on a tour postponed to 2021. In turn, the hauntingly melodic, neo-industrial atmospheres of "Pulling the Pin" floats both Homme (Queens of the Stone Age) and civil rights/gospel icon Mavis Staples, whose lament "There's a grenade in my heart and the pin is in their palm" echoes society's troubling elements.
Yet Run the Jewels saves its boldest ambitions for "A Few Words for the Firing Squad (Radiation)," a cumulative tour-de-force that features a saxophone wrapping around the duo's raps of desperation. "Black child in America, the fact that I made it is magic," Killer Mike proclaims in his final turn. "For the truth-tellers tied to the whippin' post, left beaten, battered, bruised. For the ones whose body hung from a tree like a piece of strange fruit. Go hard, last words to the firing squad was 'Fuck you too!'"
Within those few lines, he alludes to songs by Georgia blues-jammers the Allman Brothers Band and jazz singer Billie Holiday (whose "Strange Fruit" evoked black lynchings) before it all dissolves in dissonance iced by Coltrane/Kamasi-like sheets of sound. Perhaps that near-seven-minute closer might be better served without its coda from the ashes, a virtual country tune in comparison, in which A$AP and Matt Sweeney narrate a return to the playful legend of the Yankee and the Brave. But whereas too many hip-hop artists stick to defined lanes, Run the Jewels aspires to run rampant, with a growing sophistication as well as heart, wit, and rage.
---
Paul Robicheau served more than 20 years as contributing editor for music at The Improper Bostonian in addition to writing and photography for The Boston Globe, Rolling Stone, and many other publications. He was also the founding arts editor of Boston Metro.