By Drew Hart
Parakeet is a virtuosic, perplexing, challenging trip. If it's too disturbing a tale for this particular moment (it shouldn't be), it may be a great work to explore in a year to come.
Parakeet by Marie-Helene Bertino. Farrar, Straus & Giroux; 240 pp.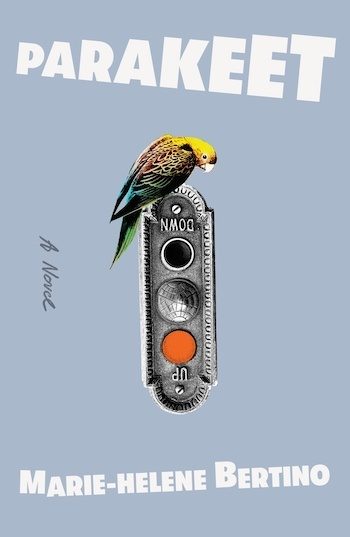 In all likelihood, the week leading up to a wedding day will be one filled with anxiety, apprehension, perhaps even dread. But while Marie-Helene Bertino's Parakeet is in part a chronicle of such a week, the similarity to typical weddings is fleeting. The New York author, who has another novel and a story collection to her credit, is not particularly concerned with cake decorations or musical selections here: this is a complex tale of the life and mind of its principal character, veering in and out of reality, sometimes on a moment's notice.
We'll call the narrator Luna — even though her name is never mentioned (will explain) — she's an exotic woman of Mediterranean roots in her 30s, living in Brooklyn and working as an expert legal witness with respect to brain damage. Luna is holed up in an old and sprawling hotel on Long Island (think Garden City) preparing for her big day. That may seem reasonable enough, but only for a moment: in her room, she is visited by her deceased grandmother — who appears to her at first in the form of a parakeet. The grandmother, who was dearly loved by Luna, has advice for her — she instructs her to make peace with her estranged brother Tom, an award-winning playwright with substance abuse issues. All of Luna's relationships with her family, "a complex of dark islands seen from land," are difficult; she hasn't seen Tom in seven years, and her mother is also a problem for her. But the grandmother, who morphs into her human self before disappearing (after depositing bird droppings on Luna's wedding dress!), is insistent about reconciliation.
This is not a comedy sketch — if you're old enough to remember My Mother the Car, put the thought aside; the story moves on with other unsettling episodes that straddle the actual and the illusive. A visit to a permanently damaged client hoping to get more compensation from an injury lawsuit might seem to tap into Luna's everyday life, until later on the man kills himself. Lunch in New York with her oldest childhood friend, a self-absorbed woman whom she patiently endures, ends scarily when Luna, who has a heart condition, has breathing difficulty. That passes, but we learn that she isn't sure of her future: "I am an ordinary woman getting ordinary married to an ordinary man, but this thought fails to soothe," she confides. Not much is ordinary, actually — she takes a last minute trip to get a second wedding dress (was the first one really ruined by a parakeet, or did she simply dislike it?), and finds the woman who is selling it looks almost exactly like herself, and that her husband, who comes home during the transaction, is a man she had an affair with for a couple of years. There's a sexual exchange between them while the wife goes out to move her car. Fantastic upheaval keeps intruding on the proceedings.
Luna is really the name of a character in a play written by the brother Tom about his sister, our narrator; she connects with Tom through his theater company, tries to meet with him, and is initially refused. Yet their deep relationship, forged in childhood, damaged by his drug abuse, is too important — changing his mind, Tom agrees to meet her at a restaurant, where she at first fails to spot him. But this is because he has changed his gender, now identifies as a woman named Simone. The meal ends with Simone declaring she still doesn't wish to know her; she's living in upstate New York in a Salinger-like seclusion.
Still— blessed be the ties that bind! — when the wedding day at last arrives, Simone is in attendance. Before she turns up though, a lot of other things are apparent: Luna's husband-to-be, a down-to-earth, practical schoolteacher, is seen for the first time, and it's clear that this is not the relationship of a strong couple. Her mother arrives, a disagreeable and unsupportive presence. And Luna's doubts are growing; at a rehearsal dinner, she gives a rambling speech that includes an admission of infidelity. Things do not augur well, and when Simone shows up and reveals her new identity, Luna's mother and the groom are displeased. Though the service and reception go forward — a crazy moment occurs when the hotel ballroom floor collapses — by the morning after the wedding, Luna has decided to undo the marriage, to change her future, and run away with her sister. As she says at one point, "the plural of catharsis is catharses." Whew!
Let's leave it up to you to connect other dots in this wild constellation; many untold surprises, phantasmagorical segues, and jarring shocks await: the true reason for the symbolic parakeet; a mysterious elevator; tall masted ships passing in city streets. Successful in the way the best Michel Gondry films are, Parakeet is a virtuosic, perplexing, challenging trip. If it's too disturbing a tale for this particular moment (it shouldn't be), it may be a great work to explore in a year to come.
---
Drew Hart is from Santa Barbara, California