By Jonathan Blumhofer
Terrific, fiery playing from George Li, one of the most compelling young pianists on the scene; Mariss Jansons's recording of Shostakovich's Tenth trudges from start to finish; irrefutable proof of Andris Nelsons's excellence as a new-music conductor.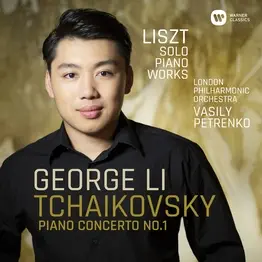 If you've ever heard pianist George Li in concert, you know he's a natural Romantic. And if you haven't, the 24-year old Tchaikovsky Competition silver medalist now has a new album of piano favorites by Tchaikovsky and Liszt that emphasizes the point.
The opening half of the disc is dedicated to a boldly colored, full-bore performance of Tchaikovsky's Piano Concerto no. 1. From the start, it's clear Li knows what he wants to do with the piece, never rushing through his paces but thoroughly enjoying every moment of Tchaikovsky's sumptuous keyboard writing.
His playing is impressively clear and balanced – both the thick chords that open the first movement and the blazing figures in the second movement's middle section showcase a careful approach to voicing and articulation between the hands. The finale comes across with stirring energy.
Will Li take a different approach to this piece in 20 years' time? No doubt his playing will dig deeper, interpretively, and perhaps offer a wider array of tonal shadings. But even now he's got an ingratiating affinity for this music that comes across clearly and is reflected in the astutely lyrical, rhythmically exciting accompaniment Vasily Petrenko and the London Philharmonic Orchestra provide.
The remainder of Li's program – shimmering renditions of the Sonnet 104 and "Les Jeux d'eaux a la Ville d'Este" (from, respectively, the second and third volumes of Liszt's Années de pèlerinage) plus an exuberant take on the freewheeling Reminiscences de Don Juan – cements his place as one of the most thoughtful virtuosos of the day
Li's playing in all three hypervirtuosic selections is impeccably musical: the melodic line and dramatic structure of each selection is always placed at the forefront. And his technique (especially his ability to clarify the rhythmic and harmonic thickets of Liszt's writing – and his opting for the more challenging ossia sections throughout the Reminiscences) is simply stunning.
In sum: terrific, fiery playing from one of the most compelling young pianists on the scene.
---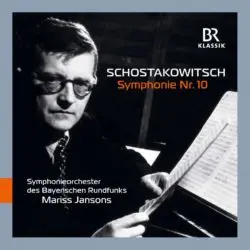 Mariss Jansons has long been a reliable Shostakovich conductor: his turn-of-the-century complete-symphony cycle is one of the best out there. So what's one to make of his latest traversal of the Tenth Symphony with the Bavarian Radio Symphony Orchestra (BRSO)?
To start, it never seems quite settled. Tempos are, generally, a bit broader than in either of Jansons's previous readings (with, respectively, the Royal Concertgebouw Orchestra and Philadelphia Orchestra). But that's not the interpretation's biggest problem – though a swifter traversal of the scherzo might have given that movement an edgier presence.
No, the difficulty with this Tenth is that it ultimately sounds more weary and resigned than not. That's not an illegitimate interpretive approach to take to the piece, though it's not the most musically satisfying one.
The result is a recording that trudges from start to finish. The big opening movement unfolds straightforwardly, Jansons only tugging at some phrases at its climax. In the scherzo, the BRSO pummels away angrily enough, but there's little sense of terror or menace in its playing. The third-movement waltz isn't among the most sardonic or ironic on record, though it builds to a fervently sad apex. And the finale simply never takes flight: the introductory section falls victim to four-square phrasing and the closing two-thirds feels restrained.
In all, considering the conductor, this is a surprising performance – but for the wrong reasons. The BRSO does all that's asked of them and they sound wonderful, horns and woodwinds, especially. But it's largely for naught.
---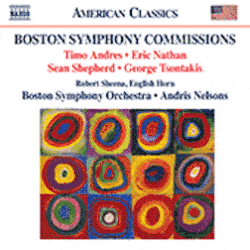 In his five-years-and-counting with the Boston Symphony Orchestra (BSO), Andris Nelsons has been quietly championing new music by American composers. Several of the commissions he's led have been curtain raisers and none have yet taken the canon by storm. But a new release of four of them – by Eric Nathan, George Tsontakis, Timo Andres, and Sean Shepherd – might help move the needle in the right direction.
The biggest piece here is Tsontakis's Sonnets, a lovely set of "tone poems for English horn and orchestra" on four of Shakespeare's poems. Premiered during the BSO's 2016 Shakespeare festival, it's a beguiling, enigmatic score that is by turns nostalgic, exotic (the second movement features some ear-catching, Near-Eastern melodic turns), playful, and unsettling. Sonnets was written for (and is played here by) the BSO's principal English horn, Robert Sheena, who brings a lush nobility to the solo part.
Shepherd's Abstract Expressionism proves a striking contrast and complement to Sonnets. The score's four movements pay tribute to five visual artists: Alexander Calder, Gerhard Richter, Wassily Kandinsky, Lee Krasner, and Piet Mondrian. Tightly constructed, motivically; brilliantly scored; and never failing to catch the ear with an unexpected turn or gesture, it's music full of striking moments – like the starkly alternating blocks of sound in the opening movement or the gleaming sonorities of the finale – and potent, restrained emotion.
So is Nathan's the space of a door, the disc's opener. A serious but lively concert opener, it alternates blazing, vigorous sections, with static, desolate ones, both of which pay tribute to the composer's late mentor, Steven Stucky.
Andres's Everything Happens So Much, on the other hand, is the album's most playful selection, full of boisterous rhythms and shining instrumental touches.
In all four works, Nelsons draws terrific, characterful playing from the BSO. Indeed, the rhythmic security, blazing colors, and stylistic assurance the ensemble delivers throughout is nothing short of captivating (the nimble woodwind and brass playing in the Andres is particularly fine). Ultimately, these are performances that offer irrefutable proof – if any were needed – of Nelsons's excellence as a new-music conductor and a welcome reminder of just how good the BSO can be outside the standard canon. May these commissions (as well as performances and recordings of them) keep on coming.
---
Jonathan Blumhofer is a composer and violist who has been active in the greater Boston area since 2004. His music has received numerous awards and been performed by various ensembles, including the American Composers Orchestra, Kiev Philharmonic, Camerata Chicago, Xanthos Ensemble, and Juventas New Music Group. Since receiving his doctorate from Boston University in 2010, Jon has taught at Clark University, Worcester Polytechnic Institute, and online for the University of Phoenix, in addition to writing music criticism for the Worcester Telegram & Gazette.