By Paul Robicheau
Tool is going to remain relevant as long as the band can still effectively unleash its nightmare-ish delights for fervid fans.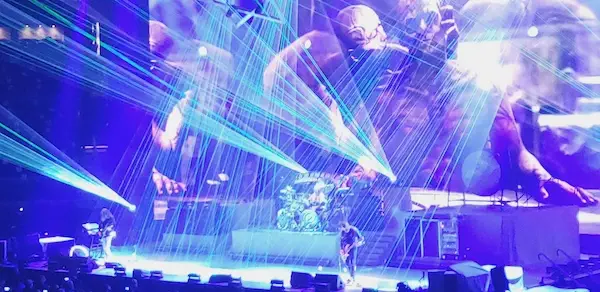 Tool defies convention as a high-demand arena headliner. The band plays a dark amalgam of metal, goth, and prog-rock, in songs that are often long and obtuse. Singer Maynard James Keenan lurks on platforms to the rear of the stage while guitarist Adam Jones and bassist Justin Chancellor mine their chops up front, and drummer Danny Carey commands a central spotlight as the band's most virtuosic element. And they're virtually overshadowed by a light show of unsettling visuals.
Songs are particularly long on Fear Inoculum, Tool's first album after 13 years of business lawsuits and creative challenges, even though it turns out frustratingly conventional as a honed, repetitive retread of the group's long-established sound. (Arts Fuse review) Yet the band, which last headlined Boston Calling in 2017, had no trouble selling out TD Garden on Thursday — at ticket prices that began in the $100-150 range.
That all put extra pressure on Tool to deliver as Thursday's two-hour-plus concert began with chart-topping Fear Inoculum's 10-minute title track. A curtain of shredded ribbons encircled the group to create a floating swirl of 3-D imagery and partly obscure the players, complemented by Keenan's murky vocals in an uneven sound mix.
Another title track, from the band's standout 1996 album, Ænima, followed with more muscle from Jones's lashing slide guitar over Carey's double-pumping drums. "Learn to swim," Keenan cried in refrain as creepy, head-spinning animations and dense sound exacerbated the song's claustrophobic feel. Fans were nonetheless quick to sing along to "The Pot," where Keenan – looking like a joker king in his spiky Mohawk crown and black eye makeup – sang "You must have been out of your head" before he crouched and swayed like an evil surfer at his rear perch.
But the curtain finally parted and the mix slowly grew clearer – or perhaps ears adjusted to Tool's insular world. Lasers sprayed the rafters as the band lurched into "Pneuma," one of the better tracks from Fear Inoculum (since "7empest" unfortunately hasn't emerged on the tour), and Keenan even poked fun at his elusive positioning. Holding a finger to his lips, the singer slunk down from one platform and grabbed a (faux) Marshall amp to block his face as he carried the prop across the lower stage and placed it on the platform to the other side.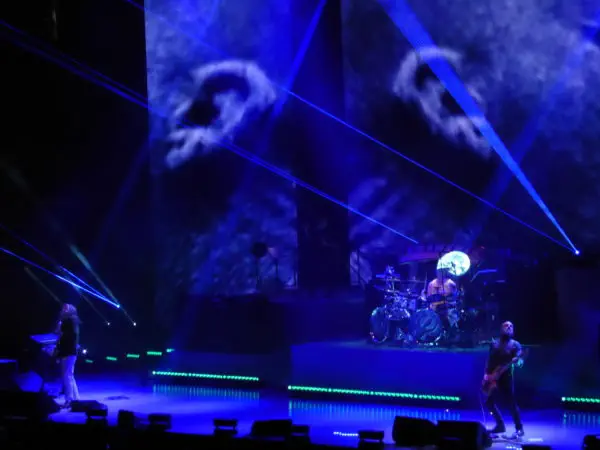 Screen visuals oozed from lava-lamp refractions in "Pneuma" to tendrils growing from a ghoulish head in "Schism" to eye-absorbing flea in a stunning "Vicarious" propelled by Carey's maze of drum rolls and accents to the guitars. Often flipping the usual roles played by their instruments, Chancellor regularly dug into high punctuations on bass while Jones held the low end with thick, sporadically atonal guitar chords. Shades apart from Peter Frampton, Jones also stoked a noisy solo through a talk box in "Jambi," where the band was joined by Roi Robertson from likewise-dark opening act Killing Joke for a tone-twisting synth solo. The second half of the set surged in intensity, through the conclusive punch of 1993 nugget "Intolerance" (Keenan noted that fans under 30 were "not even sperm" when it was written) and "Forty Six & 2," riddled with Carey's headstrong, octopus-like cymbal combinations.
Carey drew most of the night's cheers – and boos at the encore when he emerged after a 12-minute intermission (timed on a stage clock) to reveal that he'd traded Celtics green with Larry Bird's number for a jersey of his rival Lakers that boasted his own name and number. He summoned a tonal symphony from a mammoth gong before laying electronic percolations behind the kit flurries of "Chocolate Chip Trip," one of the filler tracks lacing the 80-plus-minute Fear Inoculum.
"Warrior struggling to remain relevant," Keenan sang in an ironic line in the new "Invincible," before the singer relaxed a militant no-camera policy (taped to seats throughout the arena) to let cellphones roll to the head-banging finale "Stinkfist." There was certainly less worry that Tool remains relevant given that the band can still effectively unleash its nightmare-ish delights for fervid fans, many poised to trek to Connecticut's Mohegan Sun Arena for another heavy dose on Nov. 21.
---
Paul Robicheau served as the contributing editor for music in The Improper Bostonian in addition to writing and photography for The Boston Globe, Rolling Stone and other publications.