Ronnie Cuber makes the high-speed acceleration sound lyrical as well as virtuosic; the band obliges with solos that come off as much more than your standard bop band running the changes.
Ronnie Cuber, Live at Montmartre (Storyville)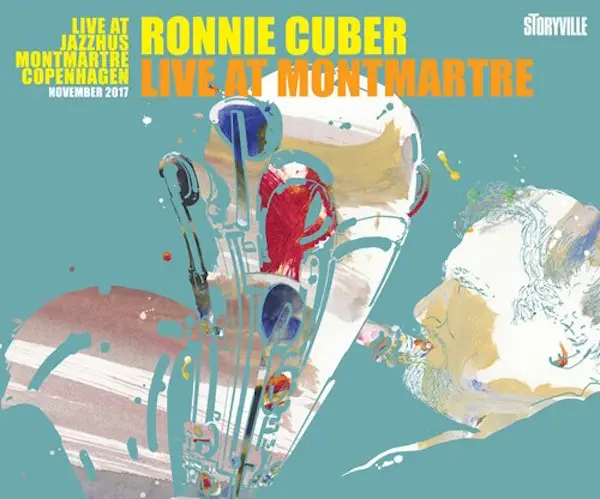 By Michael Ullman
Like some listeners still out there, I first heard baritone saxophonist Ronnie Cuber in the mid-sixties when he was the horn player in the George Benson quartet that recorded It's Uptown and The George Benson Cookbook. (I had previously heard Benson in a stunning performance at Newport playing "C.C. Rider.") Benson's quartet wasn't Cuber's first gig, nor did it reap him his first reviews. In 1959, he played with Marshall Brown's Youth Orchestra at Newport. Brown needed a baritone saxophonist. He bought Cuber an instrument and the 17 year old's solos (he was born in 1941) were widely noted.
In 1966, though, he was a startling presence in George Benson's second and third recordings as a leader. Cuber played with a barking tone, as rough and tough as sandpaper. Benson played slow blues (including his version of "C.C. Rider," called "Benson's Rider"), but he also took on rip-roaringly fast numbers, such as "Clockwise." On his seemingly ungainly instrument, Cuber kept up and then some. He contributed exuberant solos, often emphasizing the lower range of the instrument. If there was a precedent to his kind of agile, but still gritty-sounding, baritone playing, it was Pepper Adams, who was playing hard bop at the time with Donald Byrd.
Cuber's long career since has been as varied as can be. He recorded with the Saturday Night Live Band, and also with McCoy Tyner's big band. He worked with the Mingus Big band, playing parts that Pepper Adams had first recorded with the bassist. I heard him with Lee Konitz's marvelous Nonet. He's specialized in performing Latin music: he's on Eddie Palmieri's The Sun of Latin Music. And he's appeared on dozens of less jazzy recordings, with people like Paul Simon and Billy Joel.
The George Benson Quartet featured organ player Lonnie Smith as well as Cuber. Recorded in November 2017, Cuber's Live at Montmartre session reproduces that instrumentation: it features Kjeld Lauritsen on Hammond organ, Krister Jonsson on guitar, and Andreas Svendsen on drums. Cuber serves up a grumbling solo, with an occasional wail, on the slow blues "Jazz Girls," written by the organist. It's among the highlights on a session that mostly consists of bop and hard bop numbers, such as Miles Davis's "Four," Horace Silver's "Silver's Serenade," and Charlie Parker's "Au Privave."
The Danish band is as hip as need be: with his flair for octaves, guitarist Johnsson sounds more like Wes Montgomery than George Benson. Lauritsen pounces on the melody of "Just Friends," the ballad Parker made famous with strings. He is neither sentimental nor overtly funky: his rhythmic displacements come off as natural as well as amusing. He's a sprightly player.
Lauritsen also wrote some of the liner notes for Live at Montmartre. They include a modest allusion to conversation in which Cuber asks the organist if he can play the bop anthem "Cherokee." Lauritsen answered yes — if it isn't too fast. Cuber vowed that it would be … fast. On the recorded performance, the saxophonist begins on his own, playing the first two A sections at a tempo that the band could not escape. It had no choice but to step up. And "Cherokee" turns out to be a standout in this vigorous, intriguing set. Cuber manages to make the high-speed acceleration sound lyrical as well as virtuosic, and the band obliges with solos that come off as much more than your standard bop band running the changes. Drummer Svendsen accompanies Cuber with a tightly controlled sound (mostly sticks on hi-hat); the saxophonist pretty well marches to his own drummer until the tune's climax. After that red-hot outing, Lauritsen recalls, "We felt that we had a tight unit."
---
Michael Ullman studied classical clarinet and was educated at Harvard, the University of Chicago, and the U. of Michigan, from which he received a PhD in English. The author or co-author of two books on jazz, he has written on jazz and classical music for The Atlantic Monthly, The New Republic, High Fidelity, Stereophile, The Boston Phoenix, The Boston Globe, and other venues. His articles on Dickens, Joyce, Kipling, and others have appeared in academic journals. For over 20 years, he has written a bi-monthly jazz column for Fanfare Magazine, for which he also reviews classical music. At Tufts University, he teaches mostly modernist writers in the English Department and jazz and blues history in the Music Department. He plays piano badly.)