Besides passing along the tradition of mariachi to their students, the members of Mariachi Mexico Antiguo perform as an ensemble at local events, including this weekend's Lowell Folk Festival.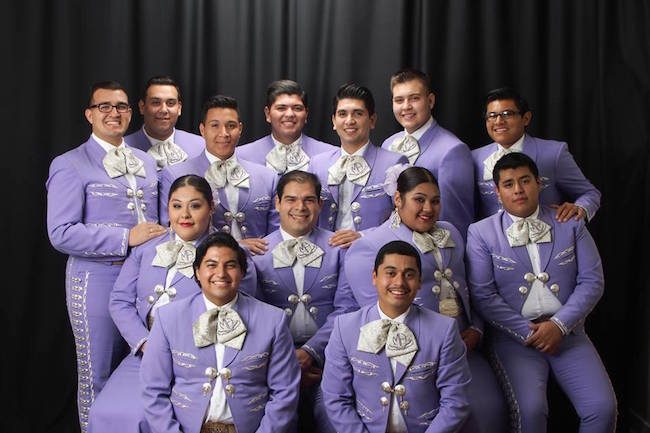 By Noah Schaffer
Forget the census. You can track demographic changes through the spread of mariachi bands and academies into different parts of the country. Long a staple of Western US communities with large Mexican-American populations, the mariachi tradition is now being taught in New England. East Boston boasts the Veronica Robles Cultural Center, and Las Vegas' entire Mariachi Mexico Antiguo relocated to Wallingford, CT, at the request of the local community.
Besides passing along the tradition of the music to their students, the members of Mariachi Mexico Antiguo perform as an ensemble at local events, including this weekend's Lowell Folk Festival.
In Lowell they'll be 14 strong with violins, trumpes, a harpist, guitar, and traditional stringed instruments the vihuela and guitarrón. They'll also be joined by the dancers of Las Vegas' Ballet Folklorico De Mi Tierra.
As always, the free fest brings together an unparalleled range of music and food. Other highlights include Malian legend Sidi Toure, the dreamy big band sounds of Hawaii's Kahulanui, the Afro-Colombian jams of Tribu Bahara, hip-hop beatbox master Rahzel from The Roots, the high lonesome sound of Big Country Bluegrass, the aching torch songs of the Greek Rebetiko Trio, and Cajun ace Kyle Huval and his Dixie Club Ramblers.
Recently, Mariachi Mexico Antiguo leader Rodbel Virula spoke to me about his group and its journey to New England.
---
AF: Why did the group relocate from from Las Vegas to Connecticut?
Rodbel Virula: We were asked to teach at an academy in CT, we came for about three or four years. We were invited by the Spanish community of Wallingford, and we started coming and doing workshops and concerts — the first year it was me and 3 other guys. We'd keep coming each year and we made a joke that maybe we should move to Wallingford because it was so nice on the East Coast. The city board overheard us and said 'you should move out here' and little by little the joke became a reality, so we started planning on how much it would cost to move and we made it happen.
The first year we were here people didn't know we existed. We had a reputation in Las Vegas and they didn't know us on the East Coast. But the music has taken off now and started to spread, so that we've become nicely established over here. The academy has really grown. The music will continue through the kids,  the future generations will keep it alive.
AF: Can you talk about your background — where you were born and how you became active in mariachi?
Virula: I grew up in Las Vegas, NV, which is where I started off learning mariachi. They have programs in high schools, that's where i started to learn it as a sophomore. I started taking it seriously. It's part of the curriculum, a lot of high schools and middle schools have programs.
The former director of the group motivated me to keep going with the music. I had a passion for mariachi, but I didn't really know what it was about in detail.  I started to take it much more seriously under the director's tutelage; I became the director about a year ago when he stepped down.
AF:You were mentored by Jesus "Chuy" Guzman of Los Angeles' famed, Grammy Award-winning group Mariachi Los Camperos De Nati Cano. Can you talk about his influence?
Virula: Yes, I took classes from Chuy Guzman, he's our padrino (godfather), he's been teaching us for the past 4 to 5 years. He has given us advice on how to make what we do better, how to take the take the group to the next level. One thing he taught us is discipline. You have to be really devoted to your craft — that and the idea of the collective that the performance of the group needs to come from everyone, not just one person can carry a whole group — that's when it starts to take off and take shape.
AF: You have a mix of both male and female members — is that common these days with American mariachi ensembles?
Virula: It's pretty common — the big groups have had 1 to 2 women for a while. We have two women. On the West Coast there are a lot of high school groups with more girls than guys.
AF: Your group is celebrated for its authenticity — what makes for authentic mariachi?
Virula: It is about sticking to the tradition. A lot of groups now, when they play it, they venture off and go into other genres. That's a big part of mariachi now. But I think  these arrangements change the music. Some people think you can do a lot with mariachi,  transform it. But simplicity can be beautiful —  that's what the tradition is. It doesn't have to be so complicated or modernized to be beautiful. The melodies are simple and people relate to their directness  — that's what makes mariachi the music of Mexico.
[Note: ArtsFuse contributor Noah Schaffer is also a paid contract writer for the National Council for Traditional Arts, the producing partner of the Lowell Folk Festival, which commissioned the above interview.]
---
Over the past 15 years Noah Schaffer has written about otherwise unheralded musicians from the worlds of gospel, jazz, blues, Latin, African, reggae, Middle Eastern music, klezmer, polka and far beyond. He has won over ten awards from the New England Newspaper and Press Association.