With this fun and irreverent staging of Cyrano, GSC Artistic Director Robert Walsh has thrown audiences a delightful curve.
Cyrano by Jason O'Connell and Brenda Withers. Direction and fight direction by Robert Walsh. Scenic design by Jenna McFarland Lord, lighting design by Russ Smith, Costume Design by Elisabetta Polito, properties design by Emme Shaw, sound design by David Wilson. Produced by Gloucester Stage, East Main Street, Gloucester, MA, through August 11.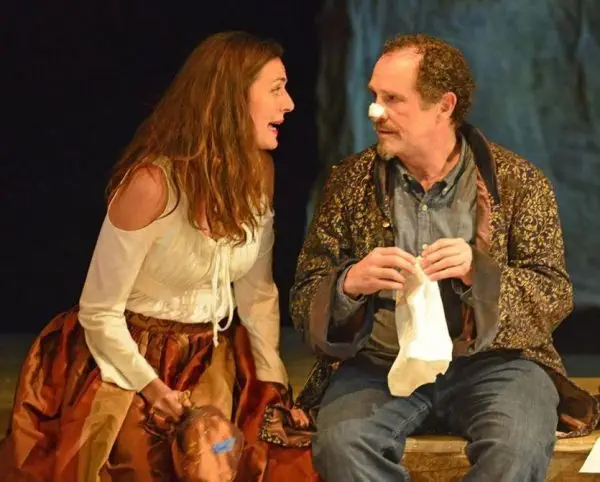 By David Greenham
You probably won't notice that something's afoot when you walk in the door of Gloucester Stage to see Cyrano. The theater's staff is always friendly, so it's not a surprise to find effusive Erin Nicole Washington — a house manager perhaps — in the lobby welcoming playgoers. Likewise, nothing seems out of the ordinary when an overly friendly usher (?) Andrea Goldman chats up the theater crowd with blithe small talk. Is it all that surprising to see 'concessions manager' Paul Melendy looking around for a patron who forgot a glass of water he had paid for?
If none of that tips you off, you might recognize that Frankie Valli's pop hit You're Just Too Good to Be True is playing. But wait, it's not in English. They're singing J'peux pas détacher mes yeux de toi. Sacré bleu!
Just when you might be getting suspicious, Jeremiah Kissel comes marching out on the stage to fix a broken light. Kissel (the stage manager?) consults with befuddled technician James Ricardo Milord and they decide to get the a-frame ladder out and — wham, smash, bang! The ladder falls, Kissel's nose is broken, and the GSC group – Washington, Goldman, Melendy and Milord – gathers around and…the play begins!
With this fun and irreverent Cyrano, GSC Artistic Director Robert Walsh has thrown  audiences a delightful curve. This new adaptation, by experienced performers Jason O'Connell and Brenda Wither, is meant to stick an amusing finger in the eye of staid productions of this classic. Edmond Rostand's Cyrano is a character almost everyone has heard of, though he or she may not know much about Roxane, Christian, or anything beyond the cartoon version of the plot. The play has been performed and freely adapted almost continuously since it premiered late in 1897 and ran for an unprecedented 600 performances. Now, 100 years after Rostand's death, the story of Cyrano's hidden love for Roxane and his never-ending loyalty to her and her lover Christian has been adapted and re-adapted. It has become the standard for dashing romantic comedies with melancholic resonance.
The GSC production hits all the key moments just right. Set in the mid-17th century, the narrative begins in the theater of the Hotel Burgundy, where egotistical actor Mountfleury (Melendy) is heckled by unseen Cyrano (Kissel), who eventually bribes the theater owner to end the show. But the debacle is not a complete loss. Christian (Milord) and Roxane (Goldman) have seen each other and immediately fall in love. Unsteady Christian proclaims "It's like magic. I didn't know the theater was like this!"
The action moves to Ragueneau's bake shop, where Cyrano prepares to tell Roxane that he's in love with her. She announces that she too is in love. However, she is smitten with the newest cadet in the guard, Christian. She asks Cyrano to befriend Christian on her behalf and keep him safe from the teasing of others. Heartbroken, he agrees, only to learn the Christian loves Roxane, but needs Cyrano's help in wooing her.
The 30 Years' War intrudes and Cyrano, Christian, and the Gascon Cadets are surrounded at the Siege of Arras. Still, even the heavily armed Spanish army can't keep Cyrano from sneaking past enemy lines to send ghost written love letters to Roxane on Christian's behalf. The play ends as all tragic love stories do, of course.  We're left to admire, and to wonder, about the wisdom of Cyrano's selfless devotion to Roxane and Christian.
The O'Connell/Withers adaptation is speedy and sometimes clever, supplying moments of lovely drama. The sensibilities of Rostand's 19th characters are at odds with the  21st century audience's demand for instant gratification, but the authors don't give into fashion — they respect the original. Instead of 'livening' up the narrative, they rely on the versatility of five performers – a leading actor in the role of Cyrano – and four others who among them play no less than 15 other characters.
The GSC company mostly pulls off the script's chameleonic demands. When they energetically hit their marks, the drama takes off at a break-neck pace and skips along, effortlessly. There is a danger though; a production of this type runs across a tight rope — there's a fine line between frenzied and frenetic.
Erin Nicole Washington brings a confident vitality to her portraits of several supporting characters – mostly male. Occasionally, some of her lines are lost because of the accelerated pacing.
As Christian and others, James Ricardo Milord is steady, though not nuanced. Of all the characters in Rostand's masterwork, Christian is the most challenging. He knows what's happening all along but barely acknowledges his exploitation of Cyrano until the end  — when it's too late. Here the adaptation's tendency to go for laughter rather than depth becomes problematic.  In the case of Christian, we're left wishing for more.
Andrea Goldman supplies a refreshing Roxane. She's passionate, assertive, and bold. But, like the character of Christian in this adaptation, her role lacks depth. In many ways, Roxane is the story 's antagonist; after all, it is she who demands that Christian live up to her ideal of a lover, instead of accepting him for who he is. This production moves so quickly that the darker aspects of Roxane can't be sufficiently explored.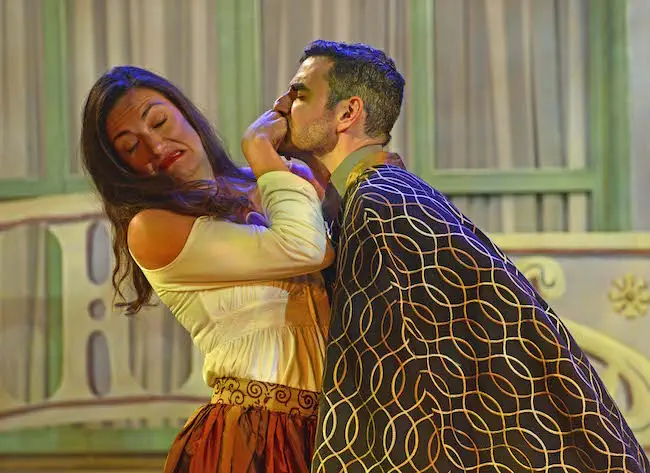 The crowd pleaser in the cast is Paul Melendy, whose self-possessed Count DeGuiche is broad yet enjoyable. I wish the performer had brought that kind of zesty approach to the baker, Ragueneau, who was more of a flat cartoon than a compelling character.
Of course, the success or failure of any production of Cyrano rests on the hero's ample shoulders. Here, the great Jeremiah Kissel once again proves himself to be one of the region's most skilled actors. Most of the delicious and heartbreaking moments are his, and he revels in them. When he's at the center the GSC production it serves up rich helpings of emotion, wit, romance, and comedy. When the other four actors seem to be teetering on the edge of choas, Kissel pulls them in, a thespian lifeline.
Some of the credit as well as the blame for this careening Cyrano goes to director Walsh. The production begins with one of the best fight scenes you're likely to see on a Boston-area stage. This physical exuberance reflects Walsh's whipsaw approach. The catch is that sometimes there is a need for a breath, a moment of reflection. This Cyrano crams ten pounds of gags into a five pound bag. Less can be more — hold onto the ripe gags and toss out the stale.
But that's how comedy goes — not everything works. Walsh and the pleasureable designs of Jenna McFarland Lord (sets), along with Russ Swift (lighting), Elisabetta Polito (costumes), Emme Shaw (props), David Wilson (sound), and a hard-working cast do their most to make us love this Cyrano. And it is difficult not to respond. To paraphrase Christian, it is like magic — and theater should be like that!
---
David Greenham is an adjunct professor of Drama at the University of Maine at Augusta, and is the Program Director for the Holocaust and Human Rights Center of Maine. He spent 14 years leading the Theater at Monmouth, and has been a theater artist and arts administrator in Maine for more than 25 years.