A quartet of critics serve up the highlights in dance for 2017.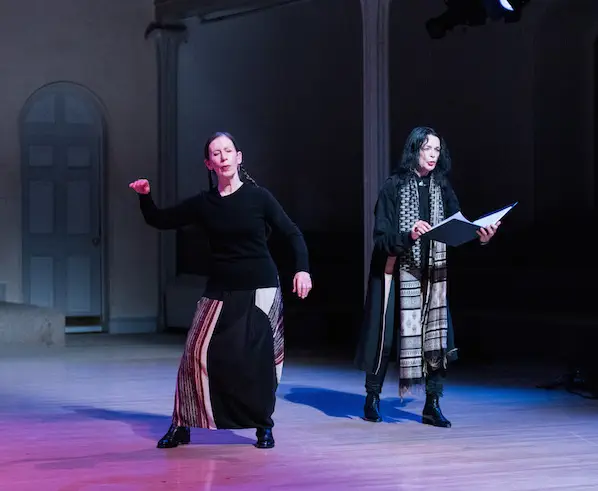 By Marcia B. Siegel
Boston Ballet showed it can master a big range of styles from ballet classics (Sleeping Beauty, Mikko Nissinen's extruded Nutcracker) to neo-classical ballets (George Balanchine's Donizetti Variations and Stravinsky Violin Concerto) to modernist works (William Forsythe's 1984 Artifact and its descendants). And that rarity, a true dance comedy, Jerome Robbins's 1952 The Concert.
The Institute of Contemporary Art's Barbara Lee Family Foundation Theater is less of an ideal dance space than a concert hall with a spectacular view but, since it opened eleven years ago, it's served as a venue for some of the most interesting contemporary dance here. Early this year the ICA sponsored Meredith Monk and Anne Waldman's evening of movement, vocals, and words, created from the ground up.
The ICA has also hosted and co-sponsored residencies with Summer Stages Dance. This year's big event was a one-week workshop that culminated in a fascinating afternoon's improvisation by Skeleton Architecture, a loosely organized group of black women dancers from New York, together with eleven Boston recruits.
Among other shows, the ICA brought a major choreographic event, New Work for Goldberg Variations, co-developed by choreographer Pam Tanowitz and pianist Simone Dinnerstein. We've seen and heard this Bach classic many times, but not like this.
Another notable dance event of the year was Justin Peck's Murder Ballades, to the intriguing score of the same name by Bryce Dessner, performed by L.A. Dance Project in its Boston debut.
Michelle Dorrance made a return appearance at the Emerson Majestic theater in January, energizing the year with her unique tap choreography. Then, wrapping up the year with laughter, another stalwart returnee, the Bang Group, brought back its zany variations on the Nutcracker, at the Boston Center for the Arts, sharing the performance with Peter DiMuro's Funny Uncle Cabaret.
---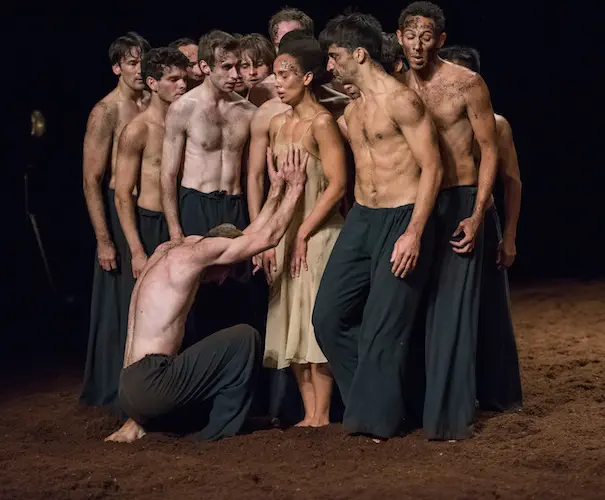 By Janine Parker
As always, my list of memorable dance events is drawn almost entirely from Jacob's Pillow, the beloved dance mecca situated in the Berkshires. I've lived out in Western Massachusetts for nearly 15 years now, and although I am very sorry to miss the majority of the abundance of dance-related things happening in the Boston area, I am grateful for the amount of professional dance performances that are offered out here. In particular, I take a long, thirsty drink from the Pillow's annual, 10-week long summer Festival, but happily imbibe from the scattered dance offerings at MASS MoCA, The Mahaiwe Performing Arts Center, UMass Amherst's Performing Arts Center, and Williams College (where I serve on the dance faculty). Travel time to New York City is more or less what it is from Boston, which means: no, I don't get there often enough, but I find ways to squeeze trips in here and there and am always deeply rewarded for my efforts.
I could just list everything I saw this past year and leave it at that: much of it had great value to me. Indeed, the few things I AM listing weren't necessary the "best" of the pile. The potpourri of companies and dancers and dances result in a classic apples-and-oranges situation: not only is it thus impossible to assign an order of preference to these performances, it seems unnecessarily silly for me to even try. So, with apologies to, oh, Kyle Abraham; Ate9 Dance Company; Ballet Hispánico; Big Dance Theater; Jonah Bokaer; Camille A. Brown; (the late, great) Trisha Brown; Marie Chouinard; dendy/donovan projects; Dorrance Dance; John Heginbotham; Bill T. Jones; Jessica Lang; New York City Ballet; Tero Saarinen; Paul Taylor; Doug Varone; Netta Yerushalmy…below are just a few of my favorite dance things from 2017, and insight into why they're on this little list.
Miami City Ballet and The Washington Ballet (venue: Jacob's Pillow): both companies are jewels in the US's crown of medium-sized ballet companies, and they deserve extra attention because: each is led by a woman (Lourdes Lopez and Julie Kent, respectively) and boast other signs of diversity in terms of choreographers/repertoire and the dancers themselves.
NW Dance Project (venue: Jacob's Pillow): led by Sarah Slipper, this Portland (Oregon)-based contemporary company is, at ten dancers, small in size but perform an international repertoire with, as I wrote in the Berkshire Eagle, "…sincerity and sweat and a good deal of charm…"
Roy Assaf Dance (venue: Jacob's Pillow): Assaf and a handful of dancers performed two of the Israeli dancer/choreographer's works, one a duet, one a trio. The first was largely "about" love, the second about war, but there was war within that love, and love within that war: poignant and powerful examples of the ways in which dance can sometimes express the more nuanced aspects of life as a human being.
Faye Driscoll's "Thank You for Coming: Attendance" (venue: Jacob's Pillow): Though "Attendance," the first part of a planned trilogy, requires one of my least favorite things — audience participation, sorry — this dance theater piece is so full of heart and hearty laughs that look, it's on this list. What a hoot. ("Play," the second part which premiered last year, was performed in Boston this past fall, and will be performed at the Pillow this summer)
Tanztheater Wuppertal Pina Bausch (venue: Brooklyn Academy of Music): OK, I am only human, and apparently have sneakily saved the best for last: for me, this performance of the late Bausch's iconic dances "Café Müller" and "Rite of Spring" does very much belong on my otherwise nonexistent "best of" list. It was a dream program, one whose memory beautifully haunts me still.
---
By Mary Paula Hunter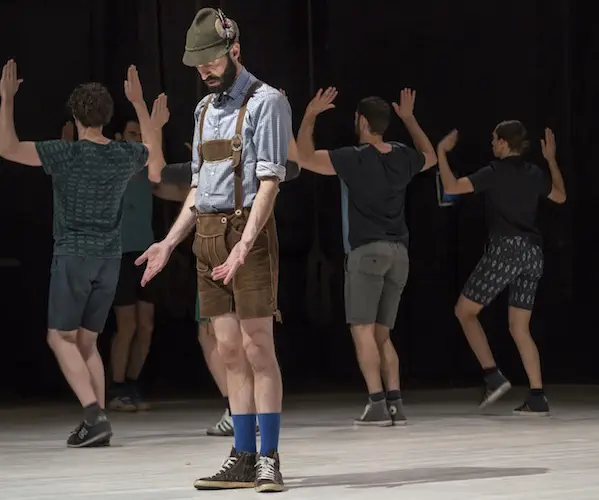 Hands down, the most interesting and certainly memorable dance performance I attended in 2017 was FOLK-S, will you still love me tomorrow, staged by Alessandro Sciarroni at the Institute of Contemporary Art in Boston.
It was hard not to fall under the childlike spell of Sciarroni's rhythmic entertainment. Dancers arranged in ever-changing circles repetitively executed body-slaps and clogging-like steps as if their lives depended on conforming to some sort of demand for collective perfectionism. (Can we depend on each other not to destroy the world?) As the performers peeled off, two dueling dancers were left at the end. Sciarroni seemed to be saying that there is a place for the individual — a winner — as long as he/she embodies a group spirit. The notion of "one for all" seemed terribly prescient on that cold night in February.
---
By Merli V. Guerra
2017 brought saw a number of excellent dance productions to Boston, while many homegrown works of merit made their debut as well.
My personal favorites that toured through were both at the start of the year. In January, ODC/Dance's performance at the Institute of Contemporary Art, Boston, was strikingly energetic with precise, full-bodied phrase work. The performance, which focused largely on the topic of climate change, was the San Franciscan company's Boston premiere. In February, Jessica Lang Dance graced the Boch Center Shubert Theatre with Lang's fluid choreography and memorable visuals. The concert included the company's film and dance hybrid i.n.k., which flowed delightfully from somber introspection to cheeky cleverness.
My two locally produced favorites kicked off in June with American Repertory Theater's Arrabal at the Loeb Drama Center in Cambridge, MA. Kudos to the A.R.T. for creating production in which the narrative was communicated nearly entirely through dance alone! The show's coming-of-age story, dramatizing lust, history, and the search for one's identity, was told through tango, with choreography by Julio Zurita and Sergio Trujillo. Also of note: the November premiere of resident choreographer Jorma Elo's Fifth Symphony of Jean Sibelius performed by Boston Ballet at the Boston Opera House. The evening boasted intricate duet work accented by classical whimsy.