This year I resolved to do an unapologetic fan experience at Newport Jazz.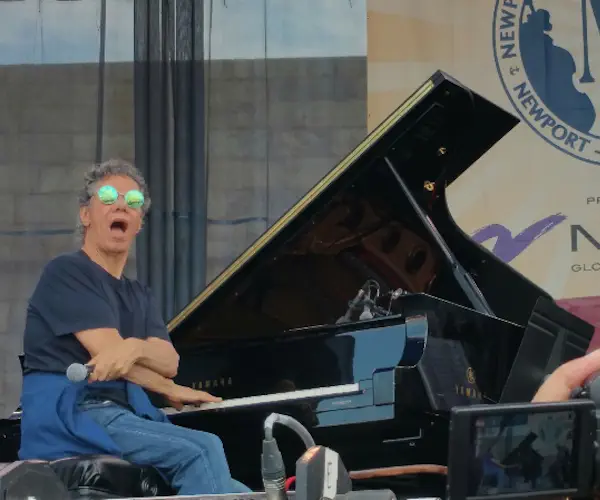 By Milo Miles
The epochal first era of the country's most venerable jazz festival is ending this year, as founder and mastermind George Wein will no longer have direct involvement after this season. Feeling rather set free myself, I confess I have always found the standard requirements for multi-stage music-festival coverage to be unnatural. All the stars must get a moment to shine, and as many other events as possible must be touched on. This means running around like a rabid raccoon and almost never hearing a whole set. The ability to get up and shift venues without feeling you are walking out on a show is a solid benefit. But less so if you feel professional obligation to shift.
So this year I resolved to do an unapologetic fan experience at Newport Jazz. See as much of entire sets as possible by Darcy James Argue, Marc Ribot's Young Philadelphians, and especially the solo performance by guitarist Mary Halvorson. Revisit inventive old favorites like John Scofield/Joe Lovano and Stefan Harris. Make up my mind about the newly hot Hot Sardines. Give at least a nod to the Chick Corea trio. Reluctantly skip the Bad Plus doing Ornette Coleman and gladly skip Norah Jones.
I've been to about six other Newport Jazz Fests, and while I don't remember any of them being as prominently SOLD OUT as this past Saturday, July 30, I cannot imagine they were so short of listeners to explain the intensity of congestion, dead-stopped traffic, and humongous waiting lines by such an order of magnitude this time around. Topped off by the shuttle-bus driver who proved you could be as obnoxious as Donald Trump while denouncing him.
The unprecedented delays explain why I will be attending the October 7 performance of Darcy James Argue's Real Enemies at the Museum of Fine Arts Boston rather than writing about it here. Arrived at Fort Adams an hour and a half late. Also, why I wished I could have heard more of Marc Ribot and the Young Philadelphians do their take on '70s Philly tunes, performing what must be called skronk-soul. (And I cannot imagine a more funk-friendly rhythm section than bassist Jamaaladern Tacuma and drummer Calvin Weston.) Most imaginative was the judicious use of a small string section with a percussive bent, which added a modern sting to the sweetness of the original vintage sides, such as "Fly Robin Fly."
My biggest regret with the Young Philadelphians is that the excellent Chris Cochrane had replaced the phenomenal Mary Halvorson from the original album release. She was saving herself for her solo show which began a bit over an hour after the Ribot set ended. As she finished tuning her beautiful hollow-bodied electric Guild, Halvorson announced the program would be all covers. Not a surprise, since every track on her cavorting 2015 solo-guitar album, Meltframe (one of the year's top releases) is a reworking.
An all-covers program presents special challenges. If the tone is appreciative, the set can be mellifluous, even charming. But if the tone is conquering and assimilating, the set can be revelatory and unforgettable. Halvorson did a flawless job making you hear how she heard each number and why it belonged in her repertoire. The most touching addition not heard on Meltframe was Dutch piano master Misha Mengelber's "Another Day Gone By," reflecting a subtheme of world-weary melancholy also evident in Ornette Coleman's "Sadness" and the spare rendition of Duke Ellington's "Solitude." Halvorson did play the medley of Ornette Coleman's "Sadness" and French guitarist Noel Akchotè's "Cheshire Hotel"as well as Carla Bley's "Ida Lupino," and this will give you a good idea of her effects and skills:
It should be noted that, right now, Halvorson is the first woman President of Jazz since Bley herself.
Further proof that most performers born in the '50s and later are at ease reconciling jazz with all pop forms came from Stefon Harris and his group Sonic Creed. Harris has recently concentrated more on teaching than recording, but his pieces continue to elude category, though he consistently evokes reflective intelligence that can turn rather romantic in numbers like "Let's Take a Trip to the Sky." Sonic Creed keyboardist James Franeies just signed to Blue Note and the advance word from here is to listen up for his debut album.
Reaching back further into music's past of proves a bit more problematic these days. New York City's Hot Sardines do cool ballad and hot jive revivals of everything from "Honeysuckle Rose" to "You're Feet's Too Big." Vocalist Elizabeth Bougerol brings a lot of elan to the proceedings, but Bette Midler she is not. You almost wish she was campier. Still, the Hot Sardines provide a very particular type of entertainment that explains their very avid audience: like the Squirrel Nut Zippers and jump-blues revivalists Big Bad Voodoo Daddy, the Hot Sardine provide an immediately zesty recycle that you just don't see on stage all that often. Fun to watch, really. But there's no reason to claim they have extended or expanded the hot-jazz tradition.
If you've won more than 20 Grammys, you don't have to worry about belonging to tradition – you're one yourself. Certainly applies to Chick Corea's live album Trilogy, featuring bassist Christian McBride and drummer Brian Blade. Caught their finale, "Fingerprints," and it pulled off the feat of rolling timeless over the sails and waves beyond the shore of the Harbor stage. A three-CD debut is a bit much, but the players merit the storied description of 'complete communion,' no sleepwalking allowed. Why, "Fingerprints" even won the 2015 Grammy for "Best Improvised Jazz Solo." Damned if, for this award at least, I'm not going to complain.
---
Milo Miles has reviewed world-music and American-roots music for "Fresh Air with Terry Gross" since 1989. He is a former music editor of The Boston Phoenix. Milo is a contributing writer for Rolling Stone magazine, and he also written about music for The Village Voice and The New York Times. His blog about pop culture and more is Miles To Go.