The staging is a brash translation of George Bernard Shaw's early twentieth-century delicacy into twenty-first century Yankee sensibilities.
Pygmalion by George Bernard Shaw. Directed by Gus Kaikkonen. Presented by Peterborough Players, 55 Hadley Road, Peterborough, NH, through August 14.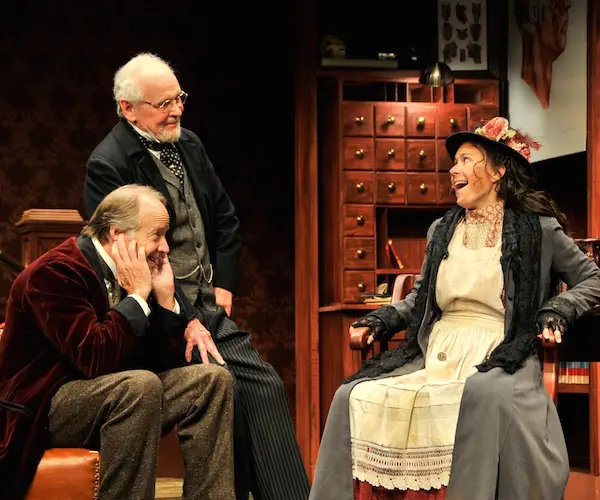 By Jim Kates
In 1990, the last time the Peterborough Players produced George Bernard Shaw's Pygmalion, I wrote that it "is a play weighted with double chains.The playwright himself recognized its untheatricality, and outfitted it with extra scenes and an epilogue more appropriate to a novel than to a theatre-piece — in fact, he had one eye on its possibilities in film.
"And then along came Lerner and Loewe with their consummately theatrical My Fair Lady, which draws so cleverly on its original that even after a straight performance of the play nowadays, the audience comes out humming the tunes.
"And yet this language-heavy comedy about respectability has always been popular in its own right, with a kind of perverse magic that defies probability."
The current production, directed by Gus Kaikkonen, has been enthusiastically anticipated among the Players' regulars. Shaw has always been the most popular playwright on the Peterborough stage, and many felt time was long overdue for a new interpretation of Pygmalion.
Now Kaikkonen gives us a different take on the play, a broad, physical and very American version. Instead of revolving around Henry Higgins (Greg Wood) a man (as I described him twenty-six years ago) "who makes other people acceptable to society without being in any way acceptable himself," this Pygmalion places Eliza Doolittle (Karron Graves) at the vital center of a spectacle that swirls with enthusiastic motion, everyone dashing and hurtling around the stage, knocking over furniture and one another's pretensions, with only Mrs. Pearce (Lisa Bostnar) firmly moored in one setting and Mrs. Higgins (Dale Hodges) in the other.
Graves rises to her position, earthy and sexy, vulnerable and indomitable. She earns Eliza's centrality. Graves is best matched by Mason Conrad's puppily oafish Freddy Eynsford Hill. It's a shame Freddy's role has been diminished by cuts in the production. In fact, the rest of the Eynsford Hill family (Dee Nelson and Emily Elizabeth Jones) exhibit a family solidity that reaches beyond their serving merely as representatives of a class and type.
Wood taps into Higgins' boorishness far more than the figure's intelligence and sensitivity (especially to language, see below). This means the professor's bullying is mainly backed up by his rudeness rather than his smarts. Kaikkonen has not worked hard enough at differentiating the manners of his sidekick Colonel Pickering (Michael Page) from Higgins', so that, in the final scene, Eliza's pointing out the difference in their characters ("I shall always be a flower girl to Professor Higgins, because he always treats me as a flower girl, and always will; but I know I can be a lady to you, because you always treat me as a lady, and always will.") surprises more than it should.
It is in the last encounter between Higgins and Eliza that this production of Pygmalion comes most alive, its energy focused, as if the staging has been building to this showdown all along. The sexual tension between Eliza and Higgins crackles like lightning in the genteel drawing room. It ends with Higgins sprawled in a kind of post-coital drawl of satisfaction. (The actual text of the play ends with more ambiguity.)
The biggest weakness of this Pygmalion is the failure of its characters to master the plot's raison d'être — precision in language as a marker of social stability or mobility. Here the Americanness of the production asserts itself most emphatically, where everything vaguely British is homogenized, without sufficient attention given to differentiation in region and class.
The most successful comic scene is that in which Eliza struggles to confine her Cockney sensibility in the confines of Mrs. Higgins' Chelsea Embankment respectability. But Graves achieves this success with timing and physical manner more than with vowels and consonants.
While Kraig Swartz gives a marvelous physical rendition of Mr. Doolittle, he manages to pronounce the word "intimidated" with six distinct variations on the long "a" in one speech. All of the Cockneys have trouble with the consistency of that vowel, and Wood has only an uncertain grasp of how to pronounce (or not pronounce) the letter "r." In another play this sort of confusion wouldn't matter, but it stands at the heart of Professor Higgins' credibility.
Those of us who remember other, crisper productions of Pygmalion will come away from this one with a twinge of disappointment. Those who come to it with fresh eyes will likely delight in its brash translation of Shaw's early twentieth-century delicacy into twenty-first century Yankee sensibilities.
---
Jim Kates is a poet, feature journalist and reviewer, literary translator and the president and co-director of Zephyr Press, a non-profit press that focuses on contemporary works in translation from Russia, Eastern Europe, and Asia. His latest book is Muddy River (Carcanet), a translation of verse by Russian existentialist Sergey Stratanovsky. His translation of Mikhail Yeryomin: Selected Poems 1957-2009 (White Pine Press) won the second Cliff Becker Prize in Translation.