Esperanza Spalding is not simply beyond reproach – she is a young lioness the likes of which the jazz world has really never seen before.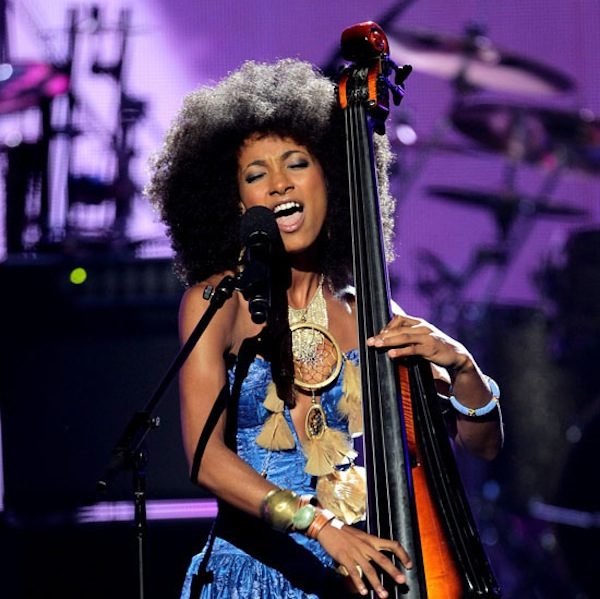 By Jason M. Rubin
It's hard to imagine Esperanza Spalding as being anything other than a superstar. I know she's a Berklee College of Music graduate, but her star power seems to have been fully formed and polished well before she moved from her hometown of Portland, Oregon, to Boston in 2002. After three years of accelerated study at Berklee, she graduated in 2005 and promptly became its youngest instructor at age 20. She released her first album the following year and her upward trajectory is still proceeding at an incredibly steep grade, especially considering she is a jazz musician – and a bassist, no less.
Yet one look and listen at Spalding and you know that she was never destined to pluck walking lines in the back of a stage while front-line soloists ran through a set of standards to a couple of dozen patrons of some smoky little jazz club. First, there's her name. Esperanza. Only a star could be named Esperanza; in fact, she doesn't even need a last name, she could easily join the ranks of Elvis, Louis, Madonna, and Prince right now. Then there's her hair, this outrageously expansive afro that looks like a star going supernova. Beneath that hair is a stunningly beautiful woman with a warm, funny, and totally in charge stage persona.
All that, of course, is tangential to the qualities that make a musician important. But as it turns out, Esperanza Spalding is as good a bassist – and as good a singer – as exists in mainstream jazz today. Sure, she turns up the noses of purists when she plays electric bass, croons over radio-friendly beats, and favors her own compositions to the classic repertoire. Yet the level of her musicianship is so high that in a trio setting like much of the show she performed at Berklee Performance Center in Boston on Friday, October 3, and at the Calvin Theater in Northampton on Saturday, October 4, she is not simply beyond reproach – she is a young lioness the likes of which the jazz world has really never seen before.
Joined by two Berklee alums – her longtime collaborator, the keyboardist Leo Genovese (among his teachers, Danilo Perez), and drummer Lyndon Rochelle (among his teachers, Ralph Peterson) – Spalding played for more than two hours, hitting pieces from all four of her albums. Noting that some of those albums featured larger groups, she introduced a Berklee student ensemble led by the estimable saxophonist Tia Fuller, which joined the trio for a sizable portion of the middle of the show. Though the core trio's instrumental prowess was daunting, several members of the ensemble – particularly a female trumpeter, male trombonist, male guitarist, and Ms. Fuller herself – distinguished themselves with fiery and creative solos, bringing forth enthusiastic applause from the audience.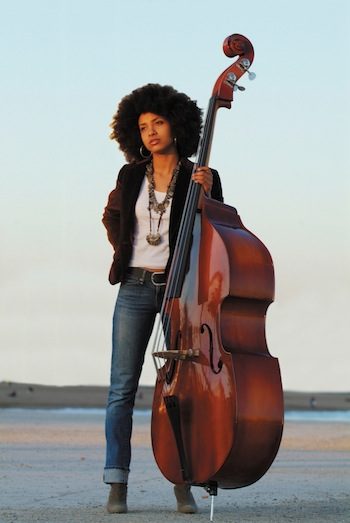 Spalding herself was exceptional throughout the show, often singing her song introductions and between-song chatter in improvised melodies, sometimes with backing from Rochelle. Whether scatting on "I Adore You" from 2008's Esperanza, or straight singing on the goosebump-inducing "Wild Is The Wind" from 2012's Chamber Music Society, her vocals were nothing short of breathtaking. Her work on the standup bass was consistently imaginative and exciting; by contrast, her electric bass playing is less distinctive. The one drawback to the tunes played with the ensemble is that she ceded her instrument to the student bassist except for one of the selections. Not that he was bad, but I wanted more Esperanza.
The Grammy-winning Radio Music Society (2012) was well-represented; standout performances included "Cinnamon Tree," her paean to her BFF, and "Crowned & Kissed," a feminist's nightmare of a song, in which she praises her lover as a king ("My kisses are your crown and I'm your queen/So now lay with me my king/I'm here to love you"). Another song from that album, "City of Roses," humorously contrasted Portland, with its happy hippies and free-flowing street scene, to Boston's more unfriendly image as a city with cold weather and cold shoulders to boot.
While Esperanza has become a worldwide sensation since beating Justin Bieber for the Best New Artist Grammy in 2011, Genovese and Rochelle are no slouches, either. The Argentinian Genovese has been Spalding's right-hand man since 2005, yet still manages to turn up in diverse groups and albums by a wide range of artists. He was at turns lyrical and dynamic on multiple keyboards in Boston, providing all the right accents for her often-Latin-based music. Rochelle, for me, was a real revelation. A classmate of Spalding's, he is every bit as daring on his instrument. After the first couple of minutes of the concert, I was thinking he was overplaying; after that, I was just dumbfounded by what he was doing and wondering how he did it.
The eastern and western Massachusetts shows last weekend were part of a short "Thank You October" tour for Esperanza (who turns 30 on October 18). Though she is like many musical greats who are born elsewhere, come to Boston to hone their chops, then head to New York to make their name, there seemed to be a lot of mutual affection between her and the Berklee-rich audience. I propose we continue to claim her as our own; if nothing else, it will ensure that this stratospheric superstar will continue to touch down here from time to time to touch us with her unique artistry.
---
Jason M. Rubin has been a professional writer for 29 years, the last 14 of which has been as senior writer at Libretto, a Boston-based strategic communications agency. An award-winning copywriter, he holds a BA in Journalism from the University of Massachusetts Amherst, maintains a blog called Dove Nested Towers, and for four years served as communications director and board member of AIGA Boston, the local chapter of the national association for graphic arts. His first novel, The Grave & The Gay, based on a 17th-century English folk ballad, was published in September 2012. He regularly contributes feature articles and CD reviews to Progression magazine and for several years wrote for The Jewish Advocate.