Cassandra Speaks is yet another dazzling vehicle for actor Tod Randolph, who excels in etching brilliant stage portraits of famous, complicated women.
Cassandra Speaks, by Norman Plotkin. Directed by Nicole Ricciardi. Staged by the Nora Theatre Company at the Central Square Theater, Cambridge, MA, through June 29.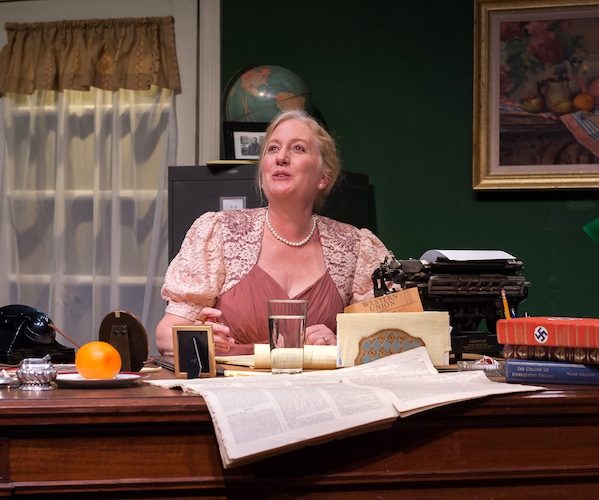 By Susan Miron
It was tempting to call this review "When Tod met Norman," because a chance encounter in 1985 on the corner of Bank and Hudson Streets in New York between the actress Tod Randolph and the playwright Norman Plotkin fortuitously led to the performance of this astonishingly good one-woman play about the outspoken American journalist Dorothy Thompson. The two would meet for coffee between their homes on West 11th Street, and there, they spotted (in the long-gone Biography Bookshop) a copy of Peter Burch's An American Cassandra, a life of Thompson, in its window.
Plotkin told his friend that she should get a playwright to write a play about Thompson for her. She quipped, how funny, she already knew one – him.
The result was first produced by The Mount in Lenox in 1998. Plotkin came to see his friend Randolph perform it in Edith Wharton's house, then the home of Shakespeare and Co., of which Randolph is a distinguished longtime company member.
The Artistic Director of Shakespeare & Co., Tony Simotes, staged the show (Helen Epstein reviewed it for The Arts Fuse) in 2012, and Randolph, who had lived in the Berkshires since 2000, tried to get her old friend to see it. Alas, he had been ill for several years, and could not make that production.
It would seem that this superb production is much like the one two years ago in the Berkshires – same director, same dress, and same outstanding actress. I used to spend summers in the Berkshires, and have seen Randolph in at least 15 other productions, including 3 one-woman shows (Duet for One, Mrs. Klein, A Room of One's Own) as well as in Vita and Virginia, Enchanted April, and most of the Shakespeare plays in which she appeared. I arrived at Cassandra Speaks ready to be impressed and thrilled by the portrayal of Thompson – and was. Randolph once again disappears into the skin and psyche of a strong woman.
The Nora's new Artistic Director, Lee Mikeska Gardener, contributed introductory remarks to the evening, explaining it was the last that Mary C. (Mimi) Huntington, its founding Artistic Director, chose for her final season. Gardener noted that "Dorothy Thompson did, indeed, see the troubled waters of the future, globally and personally, with clear eyes and dove in anyway."
The play takes place in Thompson's study in Vermont on the morning of June 16, 1943. She is about to marry husband #3, Maxim Kopf, a poor Viennese sculptor and painter, who left Europe when Hitler came to power. "If I leave this room," she confides to us, "I'll have to get married." Cassandra Speaks inches her (and us) anxiously toward the wedding moment occasionally ricocheting back through the last decade of Thompson's professional life and marriages.
A courageous, outspoken journalist, Thompson famously issued repeated cautions very early on about Adolph Hitler, whom she loathed. She recalls efforts to sound the alarm: "We tried to shout a warning. Nobody listened… I felt the fate of the Jews in my gut… I was looking for a chance to strike a blow, to make a difference." She remembers meeting Hitler, "a pudgy, unwholesome-looking fellow. He gave me his jellyfish hand. He was a man without qualities. It was emptiness itself disguised as a man." At one point she glances at a copy of Mein Kampf on her desk: "There is murder on every page this little mad man had written."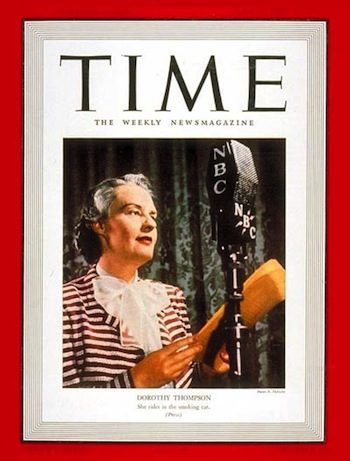 Recognized in 1938 by Time magazine as the most influential woman in America after Eleanor Roosevelt (her face adorned its cover), Thompson boasts to us that she was the first foreign correspondent, for the New York Evening Post and a Philadelphia newspaper, expelled from Nazi Germany on direct orders from Hitler. "I was ten minutes ahead of my time… No one believed me, not then." She remembers the abuse she took for telling the truth, "I was called The Witch of War. I'd been at war with Hitler since 1928." Yet she is bitter about her efforts: "the joke is that nothing I wrote changed a damn thing" and points out that "no one has ever gone to war except for profit."
Along with Thompson's prescient condemnation of Hitler, Plotkin's script is at it strongest when the reporter goes into detail about her tortuous second marriage to writer Sinclair Lewis, Nobel Prize Laureate in Literature, best-selling author (Arrowsmith, Elmer Gantry) and hopeless alcoholic. She speaks of him as Hal, although everyone else called him Red. "I married you for your suffering, your pain, your anger. I think we belong together… I went against myself, denying what I knew," she tells us sorrowfully. Their 12 year-old son was raised by a stranger while she took night trains to cover war sites. In 1926, she remembers, she borrowed money from Freud to get on a train to Poland. She recalls traveling there in an evening gown: "I was 27 and still a virgin."
Patrick Brennan's set design is inspired: Thompson speaks from a sprawling study littered with crumpled papers beneath her desk, a typewriter, an orange, a framed picture of Max, a pack of cigarettes, a stack of books, an old black telephone which never stops ringing. Through her numerous phone calls, and messages relayed by phone to her by one of her three secretaries – all named Madeline – we learn of her friends, and of her deep anxiety about her upcoming nuptials. She is horribly aware of her first two failures: "I'm a newspaper man. I don't make people happy," she confesses. The Nora Theater Company's program helpfully gives short bios of the people Thompson talks about: Maxim Kopf, her husband-to-be, William Shirer, Hedy Lamarr, and Rose Walder Lane, her best friend who calls to say she's too sick to attend the wedding, sending Thompson into further pre-marital despair. Cassandra Speaks is yet another dazzling vehicle for Randolph, who exels in etching brilliant stage portraits of famous, complicated women.
---
Susan Miron, a harpist, has been a book reviewer for over 20 years for a large variety of literary publications and newspapers. Her fields of expertise were East and Central European, Irish, and Israeli literature. Susan covers classical music for The Arts Fuse and The Boston Musical Intelligencer. She is part of the Celtic harp and storytelling duo A Bard's Feast with renowned storyteller Norah Dooley and plays the Celtic harp at the Cancer Center at Newton Wellesley Hospital.