Two Berkshire theaters are offering one-woman shows this summer. Both scripts feature intelligent, frank, and charismatic women. Both productions star gifted and seasoned actors.
Cassandra Speaks by Norman Plotkin. Directed by Nicole Ricciardi. Staged by Shakespeare and Company at the Elayne P. Bernstein Theatre, Lenox, MA, through September 2.
Dr Ruth, All the Way by Mark St. Germain. Directed by Julianne Boyd. Staged by the Barrington Stage at the Sydelle and Lee Blatt Performing Arts Center, St. Germain Stage (formerly Stage 2), Pittsfield, MA, through July 21.
By Helen Epstein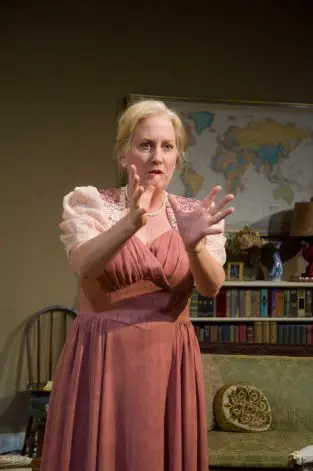 It's dauntingly difficult to transform biography into theater, particularly into the form of a one-person show. How to select and compress a lifetime of material into an act or two? How to reconcile the arc of the life and the arc of a successful play? Many great vignettes and memorable lines are there for the culling but which to choose and in what order? What's the dramatic container or conceit? What dramatic situation best provides a good reason to launch into a discourse upon the life?
Such pertinent questions are all too frequently overshadowed by marketing or political considerations. We want, as the late Nora Ephron wrote, to celebrate women who are the heroines rather than the victims of their lives. There are such a dearth of such heroines in theater that I want every one-woman show to succeed. This summer, two Berkshire companies are offering one-woman shows. Both feature intelligent, frank, and charismatic women who broke new ground in various ways. Both star gifted and seasoned actors. Both scripts were adapted from books—one a biography, one an autobiography—that examine the themes of love, work, and the Second World War in the protagonist's life. Both are set in living rooms and make extensive use of a telephone. And both illustrate what's lost and what's gained by casting stories in literary and dramatic form.
Shakespeare & Company's Cassandra Speaks was written by the late Norman Plotkin and drew extensively on Peter Kurth's biography of Dorothy Thompson (1893–1961). Plotkin died a relatively unknown playwright, but Thompson was perhaps the most famous woman journalist in twentieth-century America—one of the many early, female foreign correspondents who deserve to be written back into American history. Raised outside of Buffalo, New York by her widowed father, a Methodist preacher, she was sent as a teenager to live in Chicago with her aunts, then graduated from Syracuse University in 1914.
After working and writing for the women's suffrage movement for several years, she decided to travel and try freelance journalism from Europe. As luck had it, she managed to interview a leader of Ireland's Sinn Fein movement shortly before he died and, on the strength of that success, talked herself into a non-existent position as the Philadelphia Public Ledger's Vienna correspondent. A few years later, she graduated to the New York Post's correspondent in Berlin, reporting from that city and on the rise of Nazism in Central Europe. She interviewed Hitler in 1931, dubbing him "the prototype of the little man." Three years later she became the first journalist to be expelled from Germany.
Back in the United States, she began writing a highly popular, syndicated newspaper column, read by 10 million people, as well as another monthly column for the Ladies' Home Journal. As if that was not enough, she became a regular news commentator on NBC radio, where her opinion carried considerable political weight. Dorothy was the model for the heroine of the play and later movie Woman of the Year. Her private life was also chock full of interesting people and events. She was bi-sexual and married three times (number one was a Hungarian, Joseph Bard; number two was American novelist Sinclair Lewis; and number three was the Czech artist Maxim Topf, with whom she lived happily until her death in Barnard, Vermont).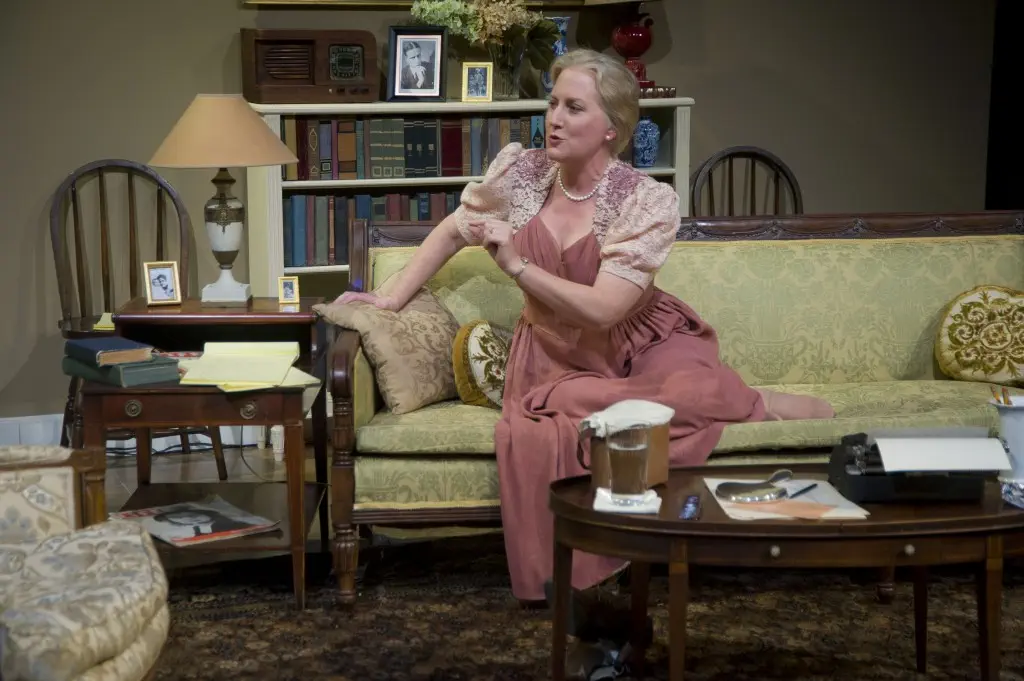 Cassandra Speaks, a one-act play that runs 80 minutes, takes place in June of 1943, in the comfortable living room of Thompson's home in Barnard, Vermont. It's the afternoon Thompson is to marry Topf, and Dorothy is allegedly having last-minute jitters over the prospect of a third marriage (there is no dramatic nor biographical reason for these jitters).
The premise is hard to believe and sustain over the course of the performance, a far too flimsy a device on which to hang a serious piece of documentary theater. Veteran actor Tod Randolph gamely "goes with what she's got," to use the journalistic motto. Randolph is an extraordinarily versatile actor and accomplished director whose work I've thrilled to in dozens of roles at Shakespeare & Company, including as Virginia Woolf in Vita and Virginia; Rose in Enchanted April, and Jacques in As You Like It. Here, though, I did not get a clear sense of the character she was playing.
Randolph is working against a clunky script riddled with clichés that contains few of Thompson's most memorable lines and unaccountably portrays this feisty, self-confident woman as silly and addled. Although Dorothy adopts the convention of speaking to the audience as though they were "company," it didn't work for me. Although there's much putting on and taking off of shoes, much declaiming into the telephone to various callers, and much typing, we never get to hear Dorothy's actual writing voice—curious, given that Thompson's reporting and commentaries are the reason for her place in history and that her radio broadcasts are available.
Although the design elements—a lovely set whose elements were underutilized, a pleasing costume for Ms. Randolph, competent sound and lighting—are all in place, the direction seemed unimaginative, and the play fell flat when I saw it. Perhaps it was an off-night. Dorothy's unusual and complicated life certainly is full of drama. It deserves study, and I suspect many theatergoers will do as I did: get a hold of the book.
That was not my impulse after seeing Dr. Ruth, All the Way or what might be called Everything You Always Wanted to Know about Dr. Ruth But Were afraid to Ask. At an overlong two hours and five minutes, the two-act play (receiving its world premiere) is a very different script and proffers a very different production history than Cassandra Speaks. Veteran playwright and television writer Mark St. Germain (Freud's Last Session, The Best of Enemies) was able to work with its living protagonist and developed the script with director Julianne Boyd at her Barrington Stage Company. Starring Debra Jo Rupp, who does a spot-on Dr. Ruth, it is performed in a theater newly renamed in honor of the playwright—it is his sixth play to premiere there. It's a tribute to the advantages of in-house play development as well as to the experience and discrimination of its director.
Ruth Westheimer (1928 -) was born Karola Siegal in Frankfurt, Germany into an orthodox Jewish family two years before Thompson interviewed Hitler. She was sent to safety in Switzerland on a children's transport at the age of 10 and later emigrated to what was then British-controlled Palestine where she worked on a kibbutz and served as a courier and sniper in Jerusalem during the war of 1948. She emigrated, first to France and then to the U.S. in the 1950s and qualified for a doctoral scholarship at the New School, a hub of high-powered, Frankfurt School intellectuals. She never completed her doctorate in sociology; instead, she pursued a doctorate in education at Columbia. Two marriages and a daughter later, Karola had met renowned sex therapist Dr. Helen Singer Kaplan, became a sex therapist herself, married Manfred Westheimer, and developed a multimedia following as Dr. Ruth, who by now is a television as well as a radio personality with several books and a board game bearing her image.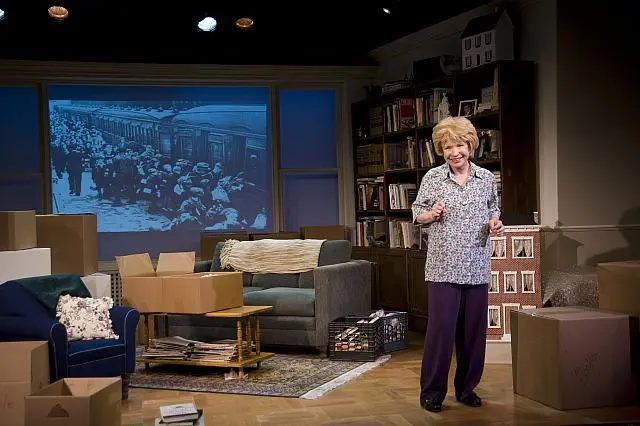 St. Germain's play, like Plotkin's, selects from and condenses episodes this eventful life. This script uses to far better advantage a dramatic situation in the protagonist's living room: instead of getting ready to marry, Dr. Ruth is planning to move. Her third husband, Manfred Westheimer, has died two months earlier, and she is packing up their apartment in Washington Heights in anticipation of a move to another part of town. As in Cassandra Speaks, Dr. Ruth, All the Way invites the audience into the play, but while the first drama offers just a line or two, the second repeatedly makes the gabbing part of the action (in one of her most entertaining gestures, Dr. Ruth distributes bags of pretzels for audience members to nosh while she talks to her decorator on the phone).
Yes, this play also makes extensive use of the telephone—an indispensable prop that dates back at least to Jean Cocteau—but its use here drives the action as do elements of the set, lighting, and props. Dr. Ruth is packing up the cardboard boxes strewn across the stage, and every object she wraps in bubble wrap invites another anecdote, including a hilarious one about Bill Clinton. While the set's big picture window mostly features a panoramic view of the George Washington Bridge and Hudson River, it is also cleverly used to copy and enlarge the photographs Dr. Ruth takes down from the walls and holds in her arms, providing visuals as her bio moves from location to location.
It's a challenge for an actor to portray a living person, especially someone whose voice and face are well-known as Dr. Ruth's. Petite and determined to master Westheimer's peculiar blend of German-Israeli-French-accented English (as in her signature Bye-bye!) and convey the layers of her keep-up-appearances Yekke (Hebrew term for German Jew) personality, Rupp gives an energetic, nuanced performance. It was easy to forget, as I watched her, that the real Dr. Ruth was sitting two rows behind me in the theater.
Still, this is a play that needs trimming. Some of its technical tricks (such as a duet between Tom Chapin singing on video and Rupp dancing onstage) could be cut, as well as what is meant to be a stirring, Steven Spielberg-like "Recitation" of Holocaust headlines and an "Ode to Resilience" ending that I found cloying. Instead, I would have liked the playwright to make more of the several intriguing doll houses that stand amidst the paper cartons and which, as Dr. Westheimer says, no one is allowed to touch. Those evocative metaphors could have been used to pull the parts of the script together for a more authentic ending.
---
Helen Epstein is a cultural journalist and author of the books Children of the Holocaust and Joe Papp: An American Life.