Every few years, people ask, "Is Jazz Dead?" Nights like this, with living masters and future stars all paying homage to a dead legend whose music will live forever, refute the pessimism.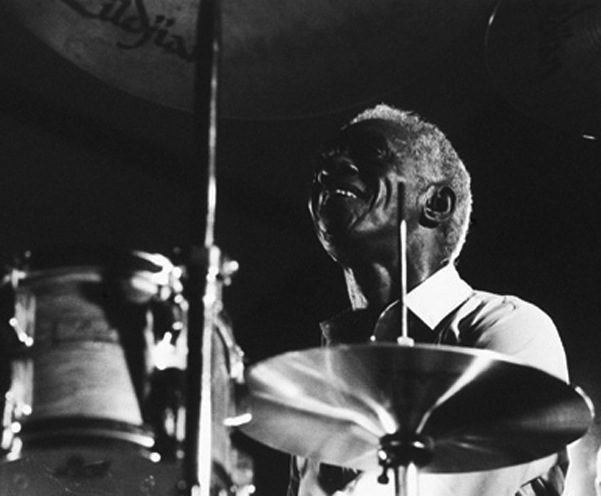 By Jason M. Rubin
October 11, 2013, marked the 94th birthday of one of the greatest drummers and bandleaders in jazz history, the late Art Blakey. His Jazz Messengers became a launching pad for jazz legends, outshining even Miles Davis' legacy of bringing brilliant future leaders into the spotlight.Those who owe their big break to Blakey include trumpeters Lee Morgan, Freddie Hubbard, and Wynton Marsalis; pianists Horace Silver, Bobby Timmons, and Cedar Walton; and saxophonists Benny Golson, Wayne Shorter, and Bobby Watson.
To honor Blakey's memory and contributions to the music, a group of alumni have banded together as The Messenger Legacy and undertaken a 10-day, four-city tour, which landed at Boston's Berklee Performance Center on October 10. The Messenger Legacy is helmed by music director Ralph Peterson, Jr. (the only drummer to share duties with Blakey) and features alto saxophonist Donald Harrison, pianist Donald Brown, trumpeter Brian Lynch, tenor saxophonist Bill Pierce (under whom Harrison studied at Berklee), and the venerable bassist Reggie Workman.
Given Blakey's interest in cultivating young performers, the program began with an impressive student performance by the Berklee Art Blakey Big Band (also directed by Peterson). Propulsively driven by two drummers, Rodney D. Rocques and Anthony Alan A. Toth, the band ripped through a challenging set of classic tunes punctuated by star-turn solos by fledgling players who could well be a force to reckon with when they've completed their studies.
As good as the "opening act" was, the second half of the concert featured the Messenger Legacy. The difference between students and masters was immediately evident. Peterson introduced many of the tunes with uncanny solos of remarkable dexterity. His energy was furious — he lost control of a stick a couple of times — but swiftly recovered with nary a dropped beat. Setting not only the tempo but also the feeling of the tunes, Peterson's intros unleashed the full power of this all-star band. The front line of Pierce, Lynch, and Harrison were commanding when playing in unison on the themes, with each making the most of every solo opportunity.
Pierce's rich tone and fluid style contrasted with Harrison's freer explorations of his instrument's range and his own seemingly endless supply of breath. Lynch has a bright sound and fast fingers, channeling Dizzy Gillespie and Freddie Hubbard and rendering each solo more exciting than the last. On piano, Donald Brown was consistently effective, whether buoying the busy soloists with comping worthy of its own attention, or reeling off speedy solos, his fingers a blur on the keys. Ageless septuagenarian Reggie Workman, who joined Blakey in 1962 (the year Peterson was born) after spending a fruitful year with John Coltrane's quartet, was a rock on bass, playing inventive solos and keeping a solid bottom when Peterson's frequent flights kept him from steady timekeeping.
Highlights of the set were the Shorter-penned opener, "One By One," which features each member of the band; "I Waited For You," a lovely ballad feature for Harrison (Pierce and Lynch sat out) originally performed by tenorman Hank Mobley on the 1955 Jazz Messenger album, At the Cafe Bohemia Vol. 2; and the expected closer, Bobby Timmons' Blakeyan standard "Moanin'", on which every player gave the rest of everything they had left, to the thrill of the vocal and appreciative audience.
Every few years, people ask the question, "Is Jazz Dead?" Nights like this, with living masters and future stars all paying homage to a dead legend whose music will live forever, easily refute such a tired, pessimistic idea. Jazz is alive as long as there are players and listeners. As Peterson exhorted from the stage at the end, "Buy CDs! Keep this music alive!"
---
Jason M. Rubin has been a professional writer since 1985. He is an award-winning copywriter and a novelist whose first book, The Grave & The Gay, based on a 17th-century English folk ballad, was published in September 2012. He lives in the Boston area and also writes CD reviews for Progression magazine.