Tomorrow night Deacon Leslie Pittman, an emerging star on the gospel quartet circuit at the age of 81, comes into town with Philadelphia's Just Us Singers.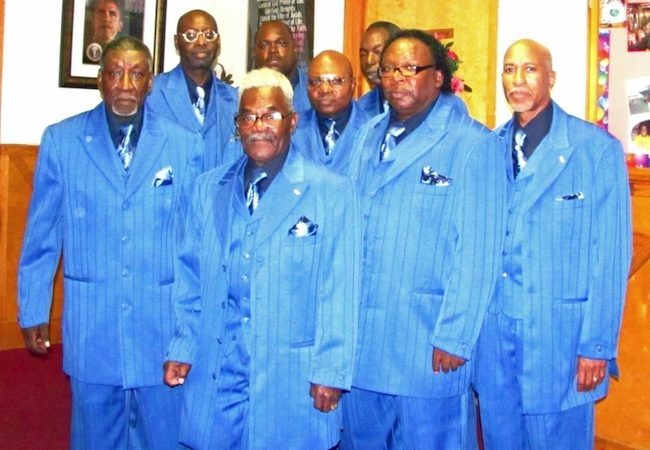 by Noah Schaffer
You could call Deacon Leslie Pittman an emerging star on the gospel quartet circuit – even though he's 81-years old.
That's because Pittman didn't combine his country harmonica style with Philadelphia's Just Us Singers until he was 70. Since then, the group has become a popular attraction at gospel programs, church services and community events. They'll be in Boston at the Blue Hill MC's Anniversary on Oct. 13 at the Global Ministries Christian Church.
While his gospel project is fairly new, Pittman's been playing the harmonica since he was a six-year old growing up in Tarboro, N.C. "There was a man named Peg Leg Sam who'd play at the pig auction and flea market in Rocky Mount," recalls Pittman. "Both his legs were cut off. He was playing one harmonica with his mouth, and one with his nose."
Sam mentored Pittman, who picked up a few showmen tricks of his own. "I used to play two songs standing my head," he laughs. By the time he was 9, he had a weekly gig at a local grocery store, playing songs like the "Fox Chase." He was honing a style which is still a part of his playing – the Just Us Gospel Singers' trademark song is "Morning Train," in which Pittman recreates the sound of a locomotive on the harmonica.
Pittman worked ginning cotton before migrating to Philadelphia in 1955. He raised his family by working in construction and for a nuclear power plant, and played rock and blues on the side with a group called Little Les and the Invaders.
After retiring Pittman decided to start playing on the gospel circuit. The 8-person group, which also features co-founder and lead singer Willie Weaver, has stayed busy, appearing on BET host Bobby Jones' TV show, programs up and down the East Coast, and dozens of funerals.
While the harmonica was once a staple of religious country-blues music, it's all but disappeared from the gospel scene. Pittman says his instrument sets the group apart.
"We were on a big program down in South Carolina – there were probably about 30 groups there, and we were the only one that had a harmonica," he says.
---
Over the past 15 years Noah Schaffer has written about otherwise unheralded musicians from the worlds of gospel, jazz, blues, Latin, African, reggae, Middle Eastern music, klezmer, polka and far beyond. He has won over ten awards from the New England Newspaper and Press Association.