By J. R. Carroll.
The idea of house concerts seems to be getting some legs. The "fabulous world headquarters loft of Accurate Records" again plays host, this time to the eclectic San Francisco band, Mercury Falls.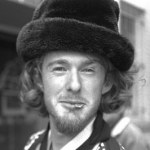 Mercury Falls
Saturday, May 18, 2013, 7:30 p.m. to 1:00 a.m.
Accurate Records, 343 Medford St. (top floor), Somerville, MA
One of the innovations in this year's Boston Jazz Week was the inclusion of six performances that took place in the lofts and living rooms of the music's supporters in Cambridge, Somerville, Chelsea, and Boston's Leather District. Subtitled "Jazz Is in the House!" Jazz Week offered a concert in tribute to the late John Tchicai, as well as performances by Garrison Fewell & Friends, Charlie Kohlhase's Explorers Club, the BOLT Trio, Italian sax/guitar duo Felice Clemente and Javier Perez Forte, and the vocal duo of Celia Slattery and Jane Potter.
It looks like this idea is getting some legs. The "fabulous world headquarters loft of Accurate Records," site of the Tchicai tribute, will tonight host saxophonist Patrick Cress and his nearly indescribable San Francisco quintet, Mercury Falls. Floating in the interstices among jazz, rock, and classical music, to these ears Mercury Falls takes as a starting point the British prog-rock/jazz nexus of bands like King Crimson and the Soft Machine, and drags it along on a pub crawl of the 1980s Manhattan downtown music scene, sweeping in influences ranging from Steve Reich and Philip Glass to Television and Sonic Youth, and maybe even a touch of Morphine. Odds are you'll hear a different collection of musical echoes than I do, and that's what makes this band so intriguing.
For further information, check out the band's website (above) and the event's Facebook page.