The ebullient entertainer Maurice Hines held court this week at a packed Cutler Majestic Theater, along with a score of other very talented musicians and tap dancers. What an evening!
Tappin' Thru Life: An Evening With Maurice Hines. Conceived and performed by Maurice Hines. Select choreography by John and Leo Manzari. Directed by David Dower. Presented by ArtsEmerson. At the Cutler Majestic Theatre, Boston, MA, through May 19.
By Susan Miron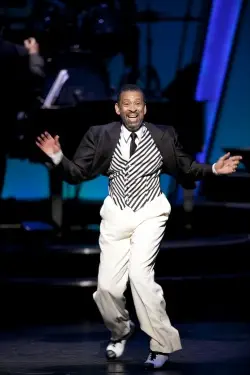 For decades, Maurice Hines, a singer, tap dancer, actor, and choreographer, performed with his brother Gregory on Broadway and as the opening act for Lionel Hampton and Gypsy Rose Lee. Soon, their father joined his sons as "Hines, Hines, and Dad," and the three enjoyed fame and rave reviews everywhere they went. As a soloist, Hines played Nathan Detroit in the National Touring Company of Guys and Dolls, in the hit musical Eubie!, starred as Jelly Roll Morton in the 40-city national tour of Jelly's Last Jam, and choreographed, danced, directed, and starred in many important Broadway musicals. There is little involving dancing, singing, and acting he hasn't done and won awards for. The man is a stage beast, "one of the few stars who truly loves the road," as his bio puts it. I do not recall ever seeing a performer happier to be on the stage.
Hines's audience was crazy about him and his charismatic personality from the opening moments of this feel-good show.
A few minutes on, he smiled, "I don't know about you, but I'm having a really good time up here," and in his black-and-white tap shoes and first of three snazzy outfits, he reminisced and sang his way through an assortment of old favorites, accompanied by the very impressive, 15-piece Berklee College of Music Select Big Band under the direction of Sherrie Maricle. Some of the chestnuts Hines sang included "I've Never Been in Love Before" (music and lyrics by Frank Loesser), "I've Got You Under My Skin" (music and lyrics by Cole Porter), Stephen Still's "Love the One You're With," and the wonderful "Smile" with music by Charlie Chaplin." Hines, with a contagious smile, is in perpetual motion. He doesn't ever stand still but elegantly dances, snaps his fingers, uses his arms and hands balletically, and moves in place by bending his knees.
He talked about his three idols from whom he learned so much: Ella Fitzgerald, Judy Garland, and Lena Horne. With the superb bass player Matt Byron, Hines sang a lovely arrangement of "Honeysuckle Rose" from the Lena at the Waldorf album. One evening he met Frank Sinatra, of whom he was in complete awe, and sang four famous songs that Sinatra sang the night they met. If you're going to take on these well-known and much-loved songs, you'd better sing awfully well, and this was not the case here. At his age, Hines does not have a particularly beautiful voice, and his winning personality, for me, just didn't work enough magic on songs I so closely associated with Sinatra.
Old photos of his parents and of him and his brother as children were projected onto a screen. He feels they are his angels and with him still. He showed off his acting chops dramatizing a spat between his parents as his mother was mashing potatoes. Shortly after he stomped out of the room, his father returned, and Hines, in explanation, sang "I've grown Accustomed to Her Face" (from My Fair Lady). Occasionally, Hines would have the audience join in on a song; everyone seemed to be having a great old time.
Yet the most wonderful thing about this program was Hines generously handing over the stage to the next generations of tap dancers, whom he has mentored and now is helping launch their careers. The Manzari Brothers did their own choreography and were just terrific tap dancers. Then, the 11-year-old, tap Wunderkind Grace ("Lil' Bit") Cannady had her long solo, sometimes interacting with the two brothers, having the time of her life showing what tap dancing wonders she could do. She was spectacular. Hines was educated by the best in the business; now he is doing the same. He can still sing, tap, and do a mean soft shoe, but it's Hines's vibrant personality—the entertainer as real pro and endearing mensch—I'll remember.
---
Susan Miron, a harpist, has been a book reviewer for over 30 years for a large variety of literary publications and newspapers. Her fields of expertise were East and Central European, Irish, and Israeli literature. Susan covers classical music for The Arts Fuse and The Boston Musical Intelligencer.