Chameleon Arts Ensemble's programming, the brainchild of its director and flutist Deborah Boldin, aims to place pieces together that have interesting things in common musically and culturally.
"and told in song." Performed by Chameleon Arts Ensemble at First Church in Boston, 66 Marlborough Street, Boston, and Goethe Institu, 170 Beacon Street, Boston, May 12 and 13.
By Susan Miron.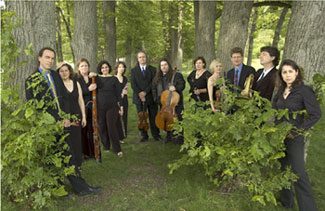 Over a span of two years, I've attended six of Chameleon Arts Ensemble's concerts and can say with assurance that it is an exceptionally good group that offers provocative programming and first-class performances. The programming, the brainchild of its director and flutist Deborah Boldin, aims to place pieces together that have interesting things in common musically and culturally. I've enjoyed her creative thinking and now make sure I go to concerts that on paper promise to be less-than-great—but they are surprisingly satisfying. Even if you don't like a certain composer or composition, at least you'll be assured his or her piece will receive an excellent performance.
The group's final concert this season, entitled "and told in song," featured works and composers that I would never have placed side to side, but the cumulative effect was wonderful. The performance opened with the Romanian composer Georges Enescu's (1881–1955) "Impressions d'enfance," Op. 28, played by the great violinist Joanna Kurkowicz and pianist Vivian Chan-Freiheit. The 10 linked miniatures, a tour de force for violin, were composed in 1940 by a thinker who doubled as one of Europe's great violinists. Enescu was not a man who wasted his time: he played chamber music with the best (Thibaud, Casals, Fournier, and Cortot), composed during the summers in Romania, and (I am indebted to Gabriel Laugfur's excellent program notes) took a leadership role in developing Romania's musical culture, founding a prize for Romanian composers in 1912, a symphony orchestra in 1917, and an opera company in 1921.
In Enescu's "Impressions d'enfance," the violin imitates nature—bird songs, a cuckoo clock, a brook, and sounds of a storm. Some tunes from Romanian folk music are woven into the short pieces, which evoke his own childhood. The performance was spectacular. Ms. Kurkowicz plays the violin extraordinarily well. I had never heard this piece—or several others on this program—and was thrilled to have such an engaging introduction.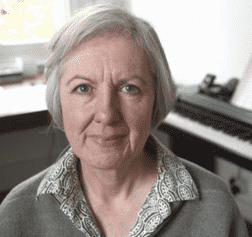 Pianist Vivian Chang-Freiheit and clarinetist Gary Gorcyzca played next, performing Judith Weir's (b. 1954) "Sketches from a Bagpiper's Album." Weir has accumulated considerable popularity in the classical music world, and, at least based on this work, it's because her compositions, which incorporate folk elements, are extremely pleasant to listen to. Ms. Weir based her piece for clarinet on
the life of James Ried, a bagpiper in Prince Charlie's Jacobite army, who was captured b y the English in 1746 and executed, after a judge had classified the bagpipes as a weapon. The melodies were built out of the basic intervals of Scottish pipe tunes. . . . "Sketches from a Bagpiper;s Album was written in 1984 for clarinetist Kevin Corner, who commissioned much new clarinet music . . . before his untimely death at the age of 35.
I'm always glad to hear Weir's music, especially when played by such savvy instrumentalists.
Robert Schumann (1810–1856), who had an untimely death, wrote some of the greatest Romantic song cycle—Dichterliebe, Liederkreis, Frauenlieve und -leben—as well as at least 137 songs during 1840, a year that is referred to (politely?) as Schumann's "Liederjahr" or "Year of Song." In 1839 he began an extremely nasty legal battle with his future wife Clara's father in his effort to win the right to marry her. Schumann won this battle in September 1840.
The nine poems that make up Frauenliebe und -leben (A Woman's Love and Life) were written by Adelbert von Chamisso in 1930. Frauenliebe un -leben tells, from a woman's point of view, the story of a lifelong, devoted love affair, from the couple's first meeting through the husband's death. Oddly, the poem cycle contains a lyric that Schumann inexplicably omitted, perhaps because he didn't want a happy ending. The ignored verse deals with the consolation, after the husband's death, found by the couple's children and grandchildren.
The autobiographical song cycle takes a young woman from her first sight of her beloved, when she is simply blinded by her all-consuming love, through a serious crush, and then the belief she is dreaming, "I cannot grasp it, believe it, Oh let me, dreaming, die, Cradled on his beast, Let me savor blissful death, In tears of endless joy." Then more of the same wild love, when she has his ring on his finger and trembles with joy and bliss. At this point, you know something awful has to happen: "Happiness is love. . .You are my delight, my joy. . . Only a mother knows What it means to love and be happy. . ." Well, yes, until her husband drops dead: "Now you have caused me my first pain. . . You sleep, my harsh and pitiless man, the sleep of death. . . Silently I withdraw into myself, The Veil falls, There I have you and my lost happiness, You my world!" Interestingly, when Robert died, leaving Clara with seven children (and a concert career), she wrote in her journal, "He has taken my love with him. . . Thus my happiness has fled with his departure."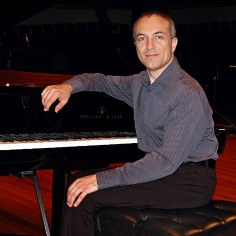 There is a world of not-very-subtle emotions dominating the characters' every thought, a challenge for a singer and pianist who is interested in modulation as well as melodrama. Soprano Elizabeth Keusch and pianist Sergey Schepkin did a fabulous job with this cycle. Mr. Schepkin is a brilliant collaborative pianist, and he helped set the many moods, while Ms. Keusch sang beautifully, deftly bringing the woman's depths of emotion to light.
After intermission (this was a long concert!) was a fascinating performance of "A Sinner's Diary" in nine segments by Robert Sirota (b. 1949), who is known not only as a composer but as a director of prestigious music schools. This was a fun piece in nine segments that, in addition to Vivian Chang-Freiheit, proffered Boston's hugely popular cellist Rafael Popper-Keizer, flutist Deborah Boldin, William Manley on percussion, and two violists who continually stole the show. This was yet another autobiographical work, a "confessional piece" according to Mr. Sirota. The most enjoyable parts of this deftly written piece featured one or both of the two excellent violists, Scott Woolweaver and Peter Sulski, who dominated musically and physically (they stood on a platform and are impressively). I would never have rushed out to hear a piece by this composer, but I have learned to trust Boldin's programming and was amply rewarded.
Finally, there was the powerful Piano Trio No. 2 in E Minor, Op. 67 by the Russian composer Dmitri Shostakovich (1906–1975). Completed at the end of WWII (1944), the trio partakes of the same sorrow shared by his other works written around this time, such as the Seventh Symphony and Eighth Symphony. It is a heartbreaking composition, from the opening cello harmonics and somber violin melody. It received a world-class performance from violinist Joanna Kurkowicz, cellist Raphael Popper-Kaiser, and pianist Sergey Schepkin, who has Russian music in his soul.