By Bill Marx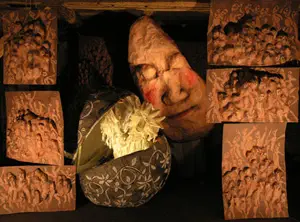 The coming month offers some unusual examples of theater. Finished with "exploding" Shakespeare, the American Repertory Theater has decided to present the American classics unabridged. Produced by the Elevator Repair Service, "Gatz" is an evening of drama that revolves around a complete reading of "The Great Gatsby" by F. Scott Fitzgerald.
Political point-scoring via papier-mâché baddies comes in the form of the Bread and Puppet Theater, while the lascivious side of the stage will no doubt be on display in "Carny Knowledge."
For those who want feel-good at the start of a new decade, "Gee's Bend" will be suitably inspirational. For those who want to feel guilty early on, head to Arthur Miller's "All My Sons."
1: Gatz, an adaptation of F. Scott Fitzgerald's "The Great Gatsby" by Elevator Repair Service. Directed by John Collins. Presented by the American Repertory Theater at the Loeb Drama Center, Cambridge, MA, January 7 through February 7, 2010. A challenging idea for an evening of theater that has garnered critical enthusiasm around the world. Text comes back to the word-lite ART with a vengeance. An employee in "a low-rent office" picks up a copy of "The Great Gatsby" and begins reading it aloud. That's it — he keeps reading the book until the end (there's a dinner break between halves of the reading). "His coworkers hardly seem to notice, but then strange coincidences start happening in the office, one after another …"
The upshot, according to critic Fintan O'Toole of the "Irish Times," "is actually a startlingly original piece of theatre, one that makes you think about the nature of performance and narrative, of showing and telling, of the world inside our heads as we read, and the world that goes on around us as we do so."
2: "All My Sons" by Arthur Miller. Directed by David Esbjornson. Presented by the Huntington Theatre Company at the Boston University Theatre, Boston, MA, January 8 through February 7, 2010. Yes, it is the old worn Miller warhorse about war profiteering, but I have heard that Esbjornson has some interesting ideas about the script that may add some much needed crackle and pop. The cast includes many Boston stalwarts, including Will Lyman, Karen MacDonald, and Dee Nelson.
3: Fabuloso by John Kolvenbach. Directed by Kyle Fabel. Staged by the Merrimack Repertory Theatre, Lowell, MA, January 7 through 31, 2010. Director Fabel insists that this farce, the tale of a staid married couple dealing with a visit from a wild and crazy male/female duo, contains comedy and heart. "Portland Arts Watch" says the play "moves from the madcap to the contemplative, from two-handed sparring to intimate confessions, from the absurd to the downright practical, back and forth, up and down. Swinging, in short." Dramatist Kolvenbach's play "Love Story" was nominated for an Oliver Award as "Best New Comedy."
4: 4:48 Psychosis by Sarah Kane. Directed by Tony Estrella. Staged by the Gamm Theatre at the Pawtucket Armory, Pawtucket, Rhode Island, January 14 through February 7, 2010. Kane's final play, completed in 1999 and staged posthumously in 2000. Kane's pain-ridden dream text asks for the company to supply delineated characters, to invent stage directions, and to decide on the number of actors. The risk of all this arty nebulousness is that the production floats off into irritating abstractness. But the considerable pay off is a harrowing vision of hell in what seems to be a psychiatric ward and/or the inside of a poetically disturbed mind.
5: "Gee's Bend" by Elyzabeth Gregory Wilder. Directed by Hana Sharif. Produced by the Hartford Stage, Hartford, Connecticut, January 14 through February 11, 2010. The feel-good play tells the story of the women of "Gee's Bend, who quilted their way to economic freedom" and celebrity by way of a national exhibition tour, garnering features in "Newsweek," "House and Garden" and "Oprah Winfrey's O Magazine. " Wilder won the 2008 Elizabeth M. Osborn Award for this play, which has received over 5 regional productions since its world premiere at Alabama Shakespeare Festival in 2007.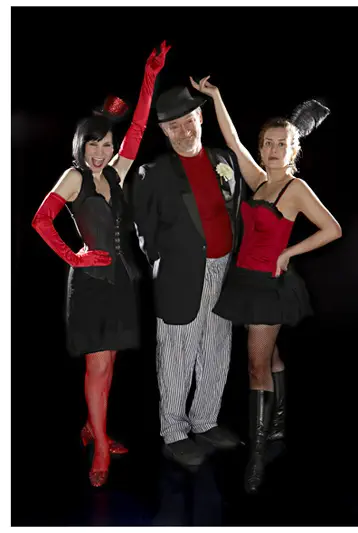 6: "The Good Negro" by Tracey Scott Wilson. Directed by Summer L. Williams. Staged by Company One at the Boston Center for the Arts, Boston MA, January 15 through February 6, 2010. The New England premiere of a historical drama that deals with the psychological costs of taking part in the Civil Rights Movement of the 1960s. The plot: "Claudette Sullivan is beaten and arrested for taking her little girl into the "white only" restroom at a department store." "The New York Times" review assures us that "in hindsight the ultimate triumph of the civil rights movement seems inevitable, the bright sun of enlightenment inevitably burning through clouds of ignorance and injustice. Ms. Wilson reminds us how precarious it seemed at the time, as each day brought new evidence of human fear and cruelty and weakness."
7: "Indulgences" by Chris Craddock. Directed by Kate Warner. Staged by the New Repertory Theatre at the Arsenal Center for the Arts in the Charles Mosesian Theatre, Watertown, MA, January 17 through February 7, 2010. The New England premiere of a "farcical comedy" by a Canadian playwright. The proceedings take place in "a kingdom somewhere" in which a man "bargains for everyone's 'happily ever after.'" The production features a strong local cast, including Steve Barkhimer, Leigh Barrett, and Benjamin Evett.
8: "Tear Open the Door of Heaven" and "Dirt Cheap Money Circus" staged by Bread and Puppet Theater at the Boston Center for the Arts, Boston, MA, January 25 through 31, 2010. The award-winning political theater troupe, with their signature giant papier-mâché puppets, come to town with two new rabble-rousing shows. In the evening (Jan 28-31), "Tear Open the Door of Heaven" takes a didactic look at the power of religion, with six large puppets "representing God, his daughter and stepdaughter, a US president and his war-raging office, mountaintop removal protesters, money printing artists, and stargazers of the North East Kingdom of Vermont."
"Dirt Cheap Money Circus" (Jan 30-31, family-friendly matinees), presents "the billionaire bonus celebration dance, the logic of the US Healthcare System, the history of humanity and the removal of a mountaintop, interspersed with appearances by Karl Marx." Nice to see that Marx is still around to save the day.
9: "Carny Knowledge: A Sideshow Extravaganza of Original Plays and Extraordinary Oddities," presented by the Fort Point Theatre Channel, at the UMCA Theatre, Cambridge, MA, January 29 through February 6, 2010. A round-up of "carnival-inspired plays and carnival-style performances — using new-timey production methods to evoke old-time-y interpretations." The pieces include "With You or Without You," video and audio art by Bebe Beard and Lou Cohen, and "Wife of Bobbo" by local playwright M. Lynda Robinson. The hope, I suspect, is that you will have good old new time-y time.
10: NT Live: "Nation", an adaptation of Terry Pratchett's novel by Mark Ravenhill. Directed by Melly Still. At the Coolidge Corner Cinema, the Cape Cinema, Dennis, and Memorial Hall, Shelburne Falls, January 30, 2010. London's National Theatre will broadcast a live performance of the "spectacular family production" via satellite to 350 cinemas worldwide — there are three participating movie houses in Massachusetts.
Next up for a NT Live screening is sure to be on my list: on April 22 there will be a chance to see Alan Bennett's new play "The Habit of Art" with a cast that includes Richard Griffiths, Alex Jennings and Frances de la Tour.