By Jason M. Rubin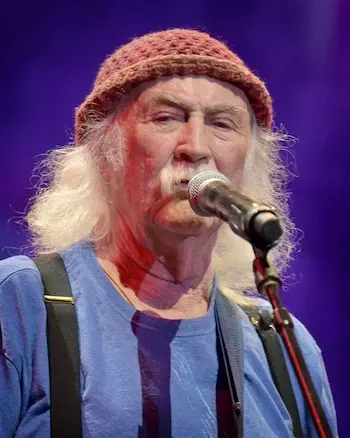 For people who grew up on his music in the '60s and '70s, David Crosby's passing, especially on the heels of Jeff Beck's death last week, is tough to take.
David Crosby was like a cat with 109 lives, and he lived each one to the fullest. The legendary singer, songwriter, and cultural icon finally expended his last one on Wednesday night at the highly improbable age of 81. His creamy voice and distinctive songwriting style made him an integral member of two Rock & Roll Hall of Fame groups: The Byrds and Crosby, Stills, Nash, and Young. Yet his fascination with hard drugs and guns inhibited his productivity and ultimately led to a spell in prison, while his brusque personality caused him to be kicked out of the Byrds and to be persona non grata to Graham Nash and Neil Young the last few years. Fans who hoped for a reconciliation had their dreams dashed last night when his death was announced.
A prototypical Californian, Crosby came from a show business family: his father was an Academy Award–winning cinematographer. It was his older brother's jazz collection that turned him on to music and inspired his unique style. In a neat tip of the porkpie hat, Miles Davis recorded a 21-minute cover of Crosby's Arthurian romance song "Guinnevere" during sessions for his groundbreaking Bitches Brew album in 1970. The previous year, in the film Easy Rider, Dennis Hopper's character, Billy, was clearly based on Crosby, right down to the fringes on his brown suede jacket.
Trying to launch a career in music in the early '60s, he dabbled in Chicago and Greenwich Village before hooking up in 1965 with other founding members of the L.A.–based Byrds. From the start, Crosby's key role in the group, aside from playing rhythm guitar, was to flesh out the vocal harmonies. He wrote a number of songs for the Byrds but wasn't given many lead vocals. The other members rejected his song, "Triad," about a ménage à trois — one of a number of conflicts that caused schisms between Crosby and the rest of the group. Among the final straws: at the Monterey Pop Festival in 1967 Crosby filled in for an absent Neil Young during Buffalo Springfield's set. It was classic Crosby. For a guy who advocated free love, the idea that there should be restrictions on who you can play music with was anathema.
The following year, Crosby got together with Stephen Stills at the house of Cass Elliot of the Mamas and the Papas, to explore the possibility of working together. They began to develop a vocal blend on acoustic songs they had written; when Graham Nash joined the mix, it was as potent as it was volatile. Rock and roll had always had harmonies, but the inimitable sound of Crosby, Stills, and Nash's voices on songs like "Suite: Judy Blue Eyes," "You Don't Have to Cry," and "Helplessly Hoping" from their 1969 debut were breathtaking and original. Crosby wrote less than Stills or Nash did, but his "Guinnevere" and "Long Time Gone" are iconic of the era. On their second album, Déjà vu, with Young on board, Crosby again threw down a pair of aces: "Almost Cut My Hair" and the title track.
But the band couldn't sustain four egos and split up, only to re-form and repeat the pattern over decades. In 1971, Crosby put out a spectacular debut solo album, If I Could Only Remember My Name. The musicians on the album represented a gumbo of San Francisco's finest, featuring key members of the Grateful Dead, Jefferson Airplane, and Santana — not to mention Joni Mitchell, whose own debut album Crosby had lightly produced in 1968. Though he hooked up with Nash as a duo for a handful of albums, he wouldn't release another solo album until 1989, after his prison stint, which also helped him kick hard drugs. He even credited prison with saving his life. Before that, he was so incapacitated that Stills and Nash planned a duo album of their own  — which eventually became 1982's Daylight Again. But, like parents seeking parity among their children, their record company insisted that Crosby be involved as well. Crosby lent vocals to songs that had already been recorded without him. Still, he did bring another amazing song with him, "Delta." He has admitted that he was "the child who steers this riverboat" in the lyrics, who lately is "crazy for the deep." Three years later he was in jail.
Crosby did enjoy a surprising late-career renaissance. From 2014 to 2021, he released five solo albums — pretty impressive when you consider that it took him 22 years to release just his first three. Moreover, he wasn't just suddenly prolific: his voice and his songwriting were still sharp and he was touring with much younger musicians.
What was not surprising were his health issues (which didn't deter Melissa Etheridge from using him as a sperm donor in 2000; sadly, one of the two children conceived with Crosby's sperm became addicted to opioids and died in 2020). Crosby had a liver transplant in 1994. He also had Type 2 diabetes and underwent a cardiac catheterization in 2014. As of this writing, the cause of death has been stated to be from "a long illness."
For people who grew up on his music in the '60s and '70s, Crosby's passing, especially on the heels of Jeff Beck's death last week, is tough to take. It's not just that aging legends are passing away, as one assumes they will at some point. It's that the very best of them are leaving us, and doing so with much more music in them that they could have given us. When I interviewed Crosby in 2016 for the Arts Fuse, I asked him about the mortality of aging rockers. "It's tough, man," he said. "At my age I lose friends pretty regularly. It's what we have to face. Not a pleasant thing."
Crosby's death is also the death of CSN/CSNY. Most sad is that he left on bad terms with his former friends, Nash and Young. No doubt Crosby was to blame (the break with Young occurred after Crosby publicly criticized him for dumping his wife and marrying Daryl Hannah), but how much time did they think they had left?
Classic rock radio will play his music around the clock for the next few days. CBS Sunday Morning will do a nice feature on him. But David Crosby was beyond easy categorization. He was both a balladeer and a rocker. An idealist and an outlaw. A lover and a fighter. He was someone with Dionysian appetites but also had a spiritual side. "Compass," the first song he wrote after leaving prison, which appeared on the 1988 CSNY reunion album American Dream, is a fitting epitaph:
Like a compass seeking north
There lives in me a still, sure, spirit part
Clouds of doubt are cut asunder
By the lightning and the thunder
Shining from the compass of my heart
---
Jason M. Rubin has been a professional writer for more than 35 years, the last 20 as senior creative associate at Libretto Inc., a Boston-based strategic communications agency where he has won awards for his copywriting. He has written for Arts Fuse since 2012. Jason's first novel, The Grave & The Gay, based on a 17th-century English folk ballad, was published in September 2012. His current book, Ancient Tales Newly Told, released in March 2019, includes an updated version of his first novel along with a new work of historical fiction, King of Kings, about King Solomon and the Queen of Sheba. Jason is a member of the New England Indie Authors Collective and holds a BA in Journalism from the University of Massachusetts Amherst.