By Sarah Osman
Based on the YA series by Soman Chainani, The School for Good and Evil offers little that is new about the adventures of discontented adolescents.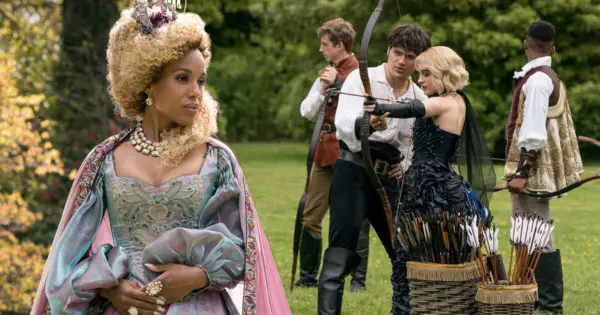 Once upon a time, in a coastal town called Wilmington, there lived a critic who was working on an article about the best Halloween-ey things to watch on Disney Plus. She came across Descendants, a charming musical about the children of Disney heroes and villains. The offspring of the villains lived on a separate island from the "good guys," but were sent to the same elite boarding school the children of princes and princesses attended. Everyone involved learned that good and evil are not so black and white — two more sequels were made. This same critic was intrigued that Netflix's The School for Good and Evil shared the same premise, but she was disappointed that it was nothing more than a retread version of Descendants — it didn't even have any fun cornball songs.
Based on the YA series by Soman Chainani, The School for Good and Evil offers little that is new about the adventures of discontented adolescents. Sophie (Sophia Anne Caruso) and Agatha (Sofia Wylie) are best friends who live in a dreary medieval town called Gavaldon. Sophie is yet another iteration of Cinderella: she has blonde, "princess" hair, designs stunning ball gowns, and is abused by her indifferent family. Agatha lives with her mother in a cottage next to a cemetery; everybody in the town assumes that she is a witch. Sophie has had enough of this podunk town and wishes for the pair to be whisked away to the fabled School for Good and Evil. Agatha tries to stop Sophie from heading off, pointing out that maybe going to an institution where future fairy tale characters are trained to commit mayhem is not the best idea. Instead, both are swept away but then dropped into what they consider to be the wrong school — Sophie is put in the school for evil and Agatha for the school for good.
Kerry Washington and Charlize Theron are introduced as the headmistresses of each school (Washington for good and Theron for evil). Both actresses compete for who can chew up more  'magic school' cliches. Watching the two rev the camp level up to a thousand is one of the film's few satisfactions. There is plenty for them to go 0ver-the-top about: this is a skewed fairy tale world, designed for derision. Prince Charming's son can't ride a steed let alone swing a sword; some of the fairy tale princes put on an absurd display of fencing and then get it in their heads to throw roses to the princesses. The security at the school — a pack of handsomely dressed wolves — guffaw at the teen angst.
Despite insisting that she is not evil, Sophie turns out to be quite the witch: she commands a pack of bees to take down the demon of Hester, the daughter of the witch in Hansel and Gretel (this movie provides some trippy parody at times). She later becomes queen of the wannabe punks. Meanwhile, Agatha is tormented by the mean girl princesses because she isn't delicately nice enough. Ironically, she turns out to be far more pure-hearted than any of the other students. A half-assed love triangle is set up with Prince Tedros (Jamie Flatters), the son of King Arthur. Sophie finds herself having to vie for 'true love's kiss' so that the best friends can be sent to the 'right' schools.
Having trouble following the plot? At the film's halfway point the story becomes even more convoluted. Clocking in at two and a half hours, The School for Good and Evil would have probably worked better if it had been made into a series. Given a few 45-60 minute episodes, director Paul Feig would have had the time to delve further into these characters. And he would have been able to drive home the idea that no one is 100% evil or good — everyone's a little of both. I have not read the books, but apparently a few significant changes were made that altered the character development of both Agatha and Sophie. This tinkering, unfortunately, makes Sophie come across as a bad friend who desperately needs Agatha's help to survive. A complex subplot involving the former headmasters of the school (both played by Kit Young) is also tossed in. It whizzes by so quickly that you can make much sense of it. For a film that is so derivative, it adds insult to injury that its ending borrows directly from Frozen — the latter did it so much better.
Let's end on a positive note. The School for Good and Evil is a visual treat. The costumes, as well as the hair and makeup, are mesmerizing. There are some impressive choreographed fights (albeit a few depend on an overload of CGI). A few self-aware moments also delight, such as when Sophie declares, via a brusque fiat, that "the protagonists are speaking." However, there aren't enough of these saving graces to compensate for the reams of compressed complications. When it comes to fairy tales, it may be best to keep things simple. And don't forget that music helps ensure a happy ending.
---
Sarah Mina Osman is a writer residing in Wilmington, NC. In addition to writing for the Arts Fuse, she has written for Watercooler HQ, Huffington Post, HelloGiggles, Young Hollywood, and Matador Network, among other sites. Her work was included in the anthology Fury: Women's Lived Experiences in the Trump Era. She is currently a first year fiction MFA candidate at the University of North Carolina Wilmington. When she's not writing, she's dancing, watching movies, traveling, or eating. She has a deep appreciation for sloths and tacos. You can keep up with her on Twitter and Instagram: @SarahMinaOsman