By Jacqueline Houton
Common Ground Revisited is valuable because it infuses theatrical life into J. Anthony Lukas's book, but it doesn't offer any easy answers. The play fills in the fine details, deepening our understanding of how we got here and how far we have to go.
Common Ground Revisited, conceived by Melia Bensussen and Kirsten Greenidge. Adapted by Kirsten Greenidge. Directed by Melia Bensussen. Based in part on and inspired by the book Common Ground: A Turbulent Decade in the Lives of Three American Families. Staged by the Huntington Theatre Company at the Wimberly Theatre at the BCA's Calderwood Pavilion, 527 Tremont St., Boston, through July 3 and viewable digitally through July 17.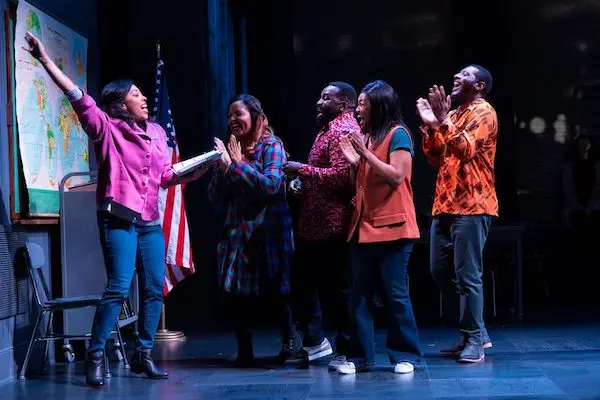 Adapting a nearly 700-page work of nonfiction for the stage is no small feat. "It is long, y'all," admits an actor clutching J. Anthony Lukas's 1985 Pulitzer-winning book, Common Ground: A Turbulent Decade in the Lives of Three American Families, a seminal account of Boston's busing crisis that one writer dubbed "the Bible" for a generation of journalists. Now the venerable tome has inspired Common Ground Revisited, a new play conceived by award-winning playwright Kirsten Greenidge and director Melia Bensussen. It's a show that covers a lot of ground and makes the dynamics of a 50-year-old conflict feel all too timely.
The action begins with a fraught exchange between two Charlestown High classmates, Lisa McGoff and Cassandra Twymon. The teens do, in fact, share some things in common — both have lived in public housing and come from big working-class families headed by mothers — but Lisa has until recently been an enthusiastic participant in antibusing demonstrations, while Cassandra has become a target for hissed epithets and hurled rocks. The strained encounter is cut short by a voice that suddenly halts the action — we soon realize that we're not in a high school hallway or in the '70s at all. The two women portraying Cassandra and Lisa have come together with 10 other Bostonians to wrestle with the text of Common Ground. From the American flag, steel-legged chairs, and world map in Sara Brown's spare but versatile set, I assumed they were educators gathered in a contemporary classroom. But perhaps they're students themselves; I later learned the play grew out of a 2011 performing arts class on adaptation that Greenidge and Bensussen co-taught at Emerson College. Greenidge has also incorporated some of this production's cast members' personal experiences into the script. In character, the dozen actors reflect on their relationships with Boston and the city's myriad identities. Some were born and raised here; others are transplants who came for college. "Boston is where you go to get smart" — or "smaht," one says. It's famously a city of neighborhoods: "Three blocks one way, three blocks the other, you're in a different country." And it's a city with a reputation for racism. One speaker shares that her family was wary of her moving here to attend Harvard because of a great-grandfather who'd been run out of town. Another simply declares, "Busing defines this town."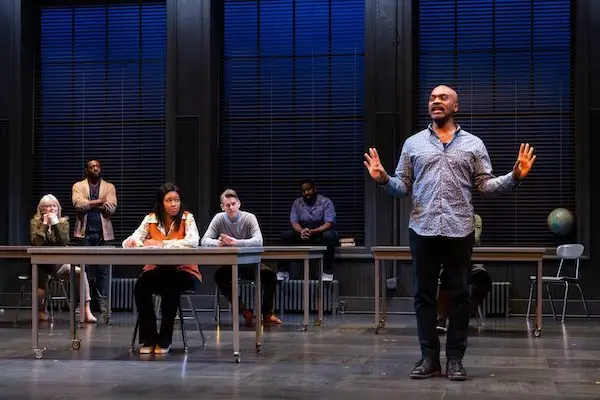 The framing device offers flexibility, allowing the ensemble to deliver fact-filled exposition and talk back to the text — critiquing Common Ground for its emphasis on white resistance over Black organizing, for instance — while taking on multiple roles as they work through the stories of the three titular families. There are the Yankee Divers, Colin and Joan, who move from Cambridge to a just-starting-to-gentrify South End. ("It's all abandoned buildings and rooming houses!" Joan Diver initially protests, earning laughs from the crowd at the Calderwood Pavilion.) Full of idealism, the couple hopes to help improve the city: Joan works for a nonprofit while fresh-from-Harvard Colin turns down a high-paying job at a law firm to join Mayor Kevin White's administration. They enroll their son in the Bancroft, an experimental, integrated new school in the South End — but when he's assigned to be bused to another school instead of the one they've helped shape, they're willing to pull strings to "correct this mistake."
Then there's the Black Twymon family in Roxbury, where matriarch Rachel Twymon (Shannon Lamb in a moving performance) battles lupus while struggling to keep a small business afloat and raising six kids. She tries to convince her daughters Rachel and Cassandra that education is paramount, a tough sell when they're being bused to a school where white students block the stairwells to trap their Black classmates — and when the younger Rachel is still reeling from being forced to give up her son for adoption after being sexually assaulted at age 12. And there are the McGoffs in Charlestown, where Alice, widowed in her 30s with seven kids, is adamant that "plenty of people have it rough." She becomes a leader in the antibusing group Powder Keg, which mimics the tactics of the Civil Rights movement, Hail Marying at pray-ins and at one point even singing the opening bars of "We Shall Overcome," until Alice admits to her friend, "I don't think we know the words to this, Pat!" Her daughter Lisa becomes active in the movement, too, but eventually begins to doubt. Elected class president, she makes gestures toward unity that for many of her classmates must feel like far too little too late.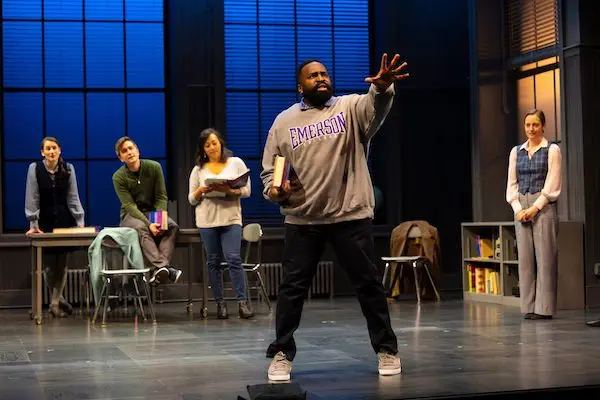 The ensemble embodies a host of other figures who have an impact on the three families. We hear city councilman Tom Atkins urging Mayor White to pay to facilitate a free live broadcast of James Brown's Boston Garden concert the night after Martin Luther King's assassination, helping Boston avoid casualties as unrest roils cities around the country. We listen to loathsome Boston School Committee chair Louise Day Hicks (a spot-on Karen MacDonald) repeating her trademark dog whistle, "You know where I stand," and see her challenged by Civil Rights activist Ruth Batson. We hear the order mandating the rebalancing of any Boston school with more than 50 percent nonwhite students straight from Judge W. Arthur Garrity's mouth. And we see lawyer Ted Landsmark assaulted with a flag pole on City Hall Plaza, a moment immortalized in Stanley Forman's Pulitzer-winning photo The Soiling of Old Glory — and, more importantly, we hear Landsmark's own insights from his hospital bed.
In short, the play packs a huge amount of history into two and a half hours. That it almost never drags is a testament to Greenidge's script, the strong cast, and Bensussen's staging, in which movement lends momentum even in moments of exposition. I did wonder if perhaps a scene or two from the past might have been cut in favor of a little more present-day perspective, but the continued relevance of these stories is clear. When Lisa, exhilarated from a protest, exclaims, "We're like American revolutionaries!," it's hard not to think of the deluded insurrectionists of January 6. Across the country, school board meetings are once again battlegrounds. And Boston's public schools are more segregated today than they were 20 years ago. For all its influence, I suspect most Bostonians under 40 are unfamiliar with Common Ground. Many only know the broad strokes of the conflict. The script and staging is valuable because it infuses new theatrical life into J. Anthony Lukas's book, but the production doesn't offer any easy answers. The play fills in the fine details, deepening our understanding of how we got here and how far we have to go.
---
Jacqueline Houton currently copyedits kids' and YA books by day and serves as senior editor at Boston Art Review. She is a former editor of the Improper Bostonian and former managing editor of the Phoenix and STUFF magazine (RIP x3). Her writing has appeared in Big Red & Shiny, Bitch magazine, Boston magazine, Harvard Divinity Bulletin, Pangyrus, Publishers Weekly, and other publications.