By Ralph P. Locke
I am honestly puzzled by the casualness or, at times, ferocity with which some people nowadays reject classical music as inherently narrow or elitist.

Stella: Renaissance Gems and Their Reflections, vol. 3. A cappella choral works by and inspired by Spanish Renaissance master Tómas Luis de Victoria. ORA Singers, cond. Suzi Digby. Harmonia Mundi HMM 905341.
Un Milagro de fe (A Miracle of Faith). Sacred choral works by Bilbao, Ramirez, Williams, and Golijov. Border Crossing Choir and Instrumental Ensembles, cond. Ahmed Anzaldúa. Bridge Records 9568.
Violin Odyssey. Itamar Zorman, violin; Ieva Jokubaviciute, piano; Kwan Yi, piano. First Hand Records 119.
Click here to purchase the ORA Singers CD, the Itamar Zorman, or Un Milagro de fe.
The world of classical music — or "Western art music" — has long been a strongly multicultural one, rich in what is now called ethnic "diversity." Composers from northern Europe (like Josquin, Handel, and Mozart) traveled to Italy to study and make careers. Musicians from Bohemia (like Gluck and Johann Stamitz) got their works performed and published in Vienna and Paris, sometimes (as in Gluck's case) bringing elements of Eastern European music with them. By the 20th century, composers from Russia to Japan were intriguing the ears of listeners in concert halls (Stravinsky) and movie theaters (Toshiro Mayuzumi, in the soundtrack for the John Huston film The Bible: In the Beginning). And, of course, there are composers such as Debussy and Britten who were enormously attentive to musical traditions from lands far away (Spain, America, and Indonesia in the case of Debussy; Japan and Bali in the case of Britten). The world has become even smaller in recent decades, thanks to the Internet. Enterprising performers can now easily obtain scores from far-distant lands, or even commission new pieces from a composer there that they admire.
Three CDs that have recently reached me range widely in their search for new and unfamiliar sounds. Each succeeds in creating a meaningful, concert-length experience, inscribed on the surface of a plastic disc (or, of course, accessible by download or streaming).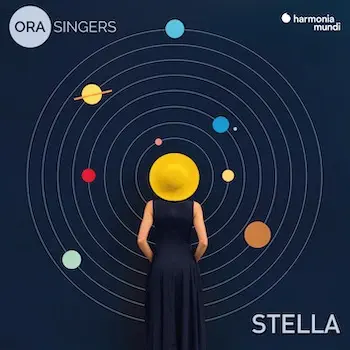 The first CD is by the widely acclaimed ORA Singers. This London-based vocal ensemble was founded by conductor and artistic director Suzi Digby a mere six years ago, but it has already commissioned some 50 new works from composers around the world, including a mix of women and men, and a mix of familiar names (John Rutter and Roxana Panufnik, both from England) and quite unfamiliar ones, including some who were born, or whose parents were born, in lands far from Europe (e.g., Eunseog Lee, from South Korea).
ArtsFuse critic Susan Miron praised an ORA Singers CD of settings of texts from the Song of Songs, which included two newly commissioned pieces. The present album is the third in a series entitled "Renaissance Gems and Their Reflections." The Renaissance composer at the center this time is Tomás Luis de Victoria, a Spanish master very much on the level of Lassus (who was born in what is today Belgium), Palestrina (Italy), or Byrd (England), yet his works tend not to get performed by choruses nearly so often as theirs.
Digby adds six modern pieces, each of them responding in some way to a piece by Victoria, and creates extra coherence by choosing pieces that all relate to the Virgin Mary. The disc begins and ends with one of the most beautifully constructed of all Gregorian chants, the processional "Ave maris stella" ("Hail, Star of the Sea").
I was particularly taken with the pieces by Mark Simpson ("Ave Maria") and Cecilia McDowall ("Alma redemptoris," a work marked by neo-medieval thirdless chords and jazzy syncopated rhythms), and was repeatedly struck by the security with which ORA Singers, under Digby, communicate the shifting textures and sometimes surprising turns of harmony in these and the other modern-day pieces.
At one point in the Simpson, I wished for more heft from the bass section. But having just a few singers per part is otherwise a positive virtue on this disc, allowing chords to be sharply defined, despite the nice echo of the North London church in which the recording was made (in 2017, but released now for the first time). And I was grateful to be able to follow without strain the liquid overlapping melody lines in the six pieces by Victoria included here.
In our second CD, a masterful young violinist from Israel who now teaches at the Eastman School of Music, Itamar Zorman, offers no newly commissioned works, but instead goes on what he calls a Violin Odyssey, trying to find in many distant lands particularly remarkable pieces from the year 1900 onward. His taste is faultless: each piece quickly endeared itself to me. A few of the names are familiar: Achron (a Jewish composer from St. Petersburg, Russia), Silvestre Revueltas (from Mexico), Erwin Schulhoff (a German-speaking Jew from Prague), and William Grant Still (one of the most renowned Black American composers; he was also a major orchestrator and arranger for jazz bands such as Artie Shaw's).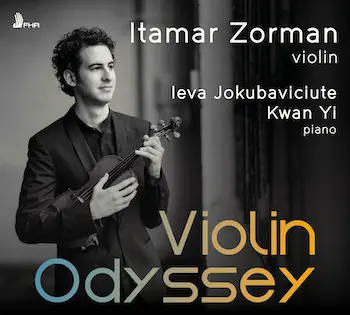 Fewer listeners may know of Grażyna Bacewicz (Poland), Dora Pejačević (Croatia), Gao Ping (China), Gareth Farr (New Zealand), or Moshe Zorman (Israel), but I bet they'll be glad for the acquaintance. (Moshe Zorman is Itamar's father, a professor of composition in Tel Aviv.) A series of ear-opening surprises come from composer Ali Osman (1958-2017), a composer from Sudan who received most of his training in Egypt.
All the pieces are originally for violin and piano, except Achron's Children's Suite, which was originally for solo piano. Zorman plays an effective 1934 arrangement of it by the great Jascha Heifetz.
Several of the pieces offer some intense "local color": for example, the spiffy Oberek (a quick mazurka) by Bacewicz, the "Caravan" movement of the Achron, the two short pieces by Revueltas (each portraying an aspect of Mexican street life), and the improvisatory sections of Osman's Afromood, which use various modes typical of Arabic music. (The work includes a major role for tambourine, clearly inspired by the Middle Eastern riq.) The one unaccompanied piece, by Gareth Farr, was inspired by "an old Maori folk tale" that understood the rising tide of Lake Wakatipu as representing "the beating heart of a monster yearning for its beloved."
The Pejačević Sonata No. 2 (1917), subtitled "Slavonic," doesn't sound so much Eastern European as ripely, pulsingly post-Brahmsian, and this is just fine with me. It's as effective as one of my favorite works in that style: Karl Weigl's Viola Sonata from 1940, which, incomprehensibly, has yet to win a place in the permanent repertory.
Throughout this adventuresome journey, Itamar Zorman, who won First Prize in the 2011 International Tchaikovsky Competition (Moscow), plays with total command and subtle variety. Zorman gets first-rate support from his pianists: Kwan Yi in three pieces (Achron, Osman, Schulhoff) and Ieva Jokubaviciute in the rest. (It occurs to me that the three performers themselves form a small musical United Nations, and I see in their bios that each has made his or her own "odyssey" across waters and borders.) For brief excerpts from many of the pieces, here's a great YouTube sampler (audio-only).
Our third CD is more "geographically" unified, being devoted to sacred works by composers from, or using subject matter relating to, Latin America. The sung texts are mostly from the New Testament or the Catholic Mass (translated into Spanish). One text, in English, tells of Saint Martín de Porres, who lived in 17th-century Peru and whose mother was a freed slave of mixed Black and Indigenous origin. The performances on the disc were recorded in August 2021 in a Unitarian church in St. Paul, MN, and feature a chorus (and instrumental ensemble) that bears the fun name "Border CrosSing."
The best-known of the four composers here, Osvaldo Golijov (from Argentina), provides two shortish movements from his much-admired work from the year 2000 entitled La Pasión según San Marcos, i.e., The Passion According to St. Mark. (CrosSing has performed this Golijov work in its entirety with the Minnesota Orchestra.) There are two substantial and effective works by the late, renowned Black American jazz pianist Mary Lou Williams (that's the piece about the Peruvian saint) and the prominent Venezuelan composer Beatriz Bilbao (b. 1951). Bilbao's piece is an atmospheric evocation of a communal gathering in Curiepe, Venezuela, complete with bird calls, peppery drumming, and some ritual chants associated with a festival given every June 24 since the 1600s in honor of a mythical African known as San Juan Congo (or, since 1870, in honor of Saint John the Baptist).
The centerpiece is a complete performance of the famous Missa criolla (1964) by Argentine composer Ariel Ramirez. This work, for tenor solo, mixed chorus, and small orchestra, is somewhat flexible, having been recorded, quite effectively, by folk musicians (on a famous Philips LP), the operatic tenor José Carreras, and the cabaret-like singer and political activist Mercedes Sosa. Two movements can be heard in a purely instrumental version featuring klezmer clarinetist Giora Feidman.
Ramirez's Missa criolla uses the traditional Latin mass text but translated into Spanish in accordance with the guidelines of the Second Vatican Council. Here I felt that the piece had found a quiet, respectful home in a small church or perhaps a university chapel, with tenor Matthew Valverde singing sweetly and steadily (no grand-opera wobble). Mexican-born pianist Ahmed Anzaldúa (one side of his family is from Egypt) and Bolivian-born guitarist Gabriel Blondel bring a vivifying lilt to the instrumental interludes in this ever-engaging work.
After listening to the three discs repeatedly, I am honestly puzzled by the casualness or, at times, ferocity with which some people nowadays reject classical music as inherently narrow or elitist. Composers from around the world have offered us the products of their fertile imaginations. Now, more easily than ever, we can hear what they have to say.
I might also mention, with pleasure, that five of the pieces mentioned above — all substantial and freshly imagined — were composed by women.
---
Ralph P. Locke is emeritus professor of musicology at the University of Rochester's Eastman School of Music. Six of his articles have won the ASCAP-Deems Taylor Award for excellence in writing about music. His most recent two books are Musical Exoticism: Images and Reflections and Music and the Exotic from the Renaissance to Mozart (both Cambridge University Press). Both are now available in paperback; the second, also as an e-book. Ralph Locke also contributes to American Record Guide and to the online arts-magazines New York Arts, Opera Today, and The Boston Musical Intelligencer. His articles have appeared in major scholarly journals, in Oxford Music Online (Grove Dictionary), and in the program books of major opera houses, e.g., Santa Fe (New Mexico), Wexford (Ireland), Glyndebourne, Covent Garden, and the Bavarian State Opera (Munich).