The Currier Art Museum now owns and maintains two houses created by legendary American architect Frank Lloyd Wright.
By Mark Favermann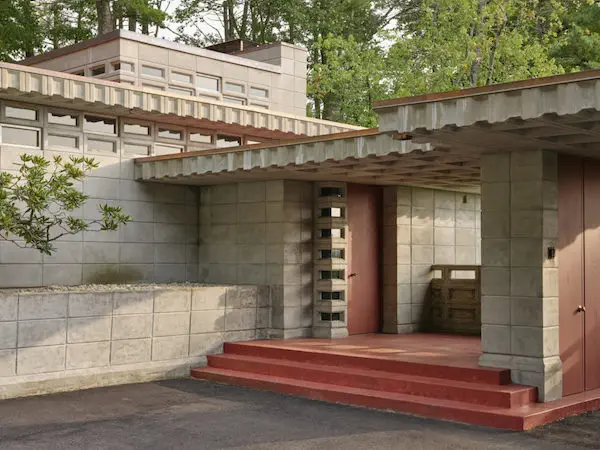 In a lushly tree lined, upscale neighborhood in Manchester, NH, sit two extraordinary one-story single-family houses. Both were created by master American architect Frank Lloyd Wright and are now owned and maintained by the splendid Currier Museum of Art, which is offering guided tours to each building.
After designing what some believe to be the greatest modernist house of the 20th century, 1935's Falling Water for the wealthy Kaufmann family of Pittsburgh, Wright decided that he wanted to go in another direction. He envisioned a "democratic house" for what he considered the middle class. However, the architect's notion of people's income level was skewed; for much of his practice he had been in the service of the well heeled or the mega rich. To him, the middle class were in fact the upper middle class, professionals such as doctors, lawyers, etc. These houses, designed in a distinctly American style, were supposed to be affordable for the "common people." He called the homes Usonian — a term based on the United States of North America.
Only about 60 of these homes were built, though Wright claimed he could have created 1000 or more of them. I find this number rather unbelievable because only five of these houses were constructed in New England. That would mean Wright would have to have designed and somehow supervised construction of 75 to 100 small homes each year. By 1950, he was already in his 80s; this would have been a major task for someone half his age.
Many of the Usonian houses, such as the two in Manchester, were quite distinctive. These homes were compact, one-story structures set on concrete slabs with piping for radiant heat set beneath. State-of-the-art kitchens or galleys were integrated into the living areas. To be more cost-effective, as well as to lessen clutter, open carports took the place of garages.
Wright hoped that by making these Usonian houses modular — they could be built out of what looked like a giant set of toy blocks — home buyers would save money. This was a subset of Usonian houses that he called Usonian Automatic Houses. This notion turned out to be naive: assembling the various parts proved to be complicated, so most clients were forced to hire, usually at a premium, sophisticated contractors to do the work.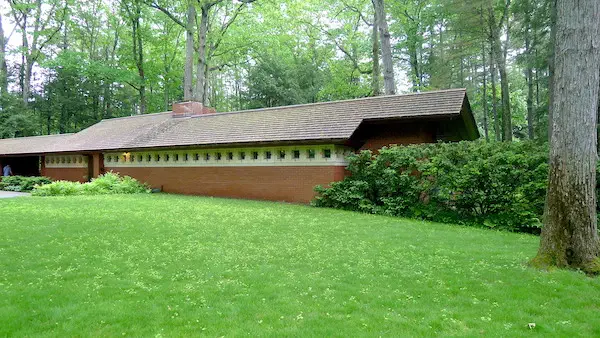 In 1949, a Usonian house was commissioned by Dr. Isadore Zimmerman and his wife Lucille. They moved in early in 1952. Wright tended to dictate to his clients how they were to live in his structures. The Zimmermans seemed to have accepted most of the architect's aesthetic ethos, though Lucille Zimmerman pushed back at times. For example, her request was honored for more expansive windows in the back of the house in order to have a better view of nature.
The Zimmerman House construction was supervised by one of Wright's apprentices, John Geiger, from Taliesen West in Phoenix. He was in constant communication with Wright's office during the building process. Apparently, the Zimmermans paid for the apprentice to live in Manchester for over a year.
The house is set on three-quarters of an acre on a corner wooded lot. In keeping with Wright's obsessive philosophical concern with the value of organic architecture, the Zimmerman house was expressly designed for the land that it was built upon. A local surveyor measured and noted the location of trees and other natural features for Wright to base his plans on. A large boulder became the focal point for the placement of the front door.
Whenever possible, Wright chose materials drawn from nature. With notable hubris, he deeply believed that a good building did not hurt the landscape but actually made the landscape more beautiful than before the structure was built.
The Zimmerman House is long and low. Like all Usonian houses it is one story, has no basement or attic, and features an open carport. It has concrete slab flooring, board and batten walls, built-in furniture, and little ornamentation. However, there are abundant views of nature. The siding is unglazed brick, the roof is clay tile, the woodwork is golden-hued upland Georgia cypress. The window casings are cast concrete. No paint was used for the interior or exterior.
The irregular slope of the roof gives the house a sculptural quality and draws the line of vision to the ground. The roof's wide eaves swoop low to reinforce this, as does the small, square concrete window construction that forms a visually elegant band across the front facade. This is fenestration with representation. The facade also creates a sense of privacy for the people living inside the house.
In contrast, the back of the house is made virtually transparent with large windows and glass doors. Apparently, Wright made another rare modification for Mrs. Zimmerman in his design of the rear of the house. He had specified solid plate glass along the back. She insisted upon ventilation. Lucille won. Both agreed that the boundaries between indoors and outdoors should vanish: garden views should change with the seasons and times of the day.
The integrated furniture for the Zimmerman House was created by Wright and his staff. Built-in shelves, cabinets, and seating areas minimized clutter and conserved space. Everything from table linens to tables and chairs were custom designed for this residential space. Clearly, despite Wright's claims — particularly given that there was so little storage — Usonian houses were not for everyone.
Wright did allow for a major Zimmerman modification in the living room area. The couple enjoyed and played music. Wright built a table that could be easily rearranged to create space for a string quartet to perform in a rather tight space.
The house's autumnal color palette confers a visual uniformity. Colors, textures, and even shapes create a subtle rhythm that harmonizes and visually connects all rooms. Overhead lighting is recessed into woodwork. A grid pattern and square shapes are repeated throughout.
The Zimmermans loved this Wright jewel and shared their enthusiasm with friends. Dr. Zimmerman's hospital colleague, Dr. Toufic Kalil, built another, though quite different looking, Usonian house (a Usonian Automatic, one of only seven ever built) a few doors down, on the same street, five years later.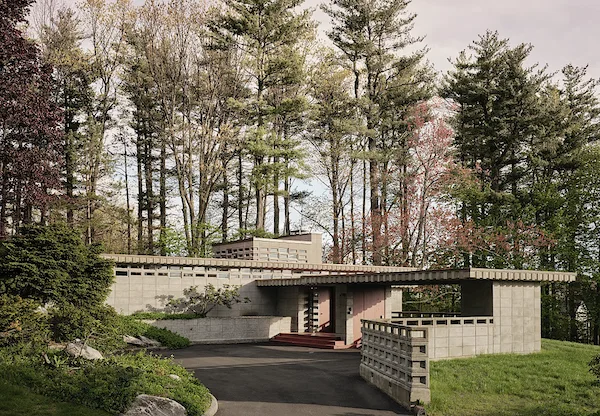 Designed in 1955 and occupied during 1957, the Kalil House is aesthetically very different from the neighboring Zimmerman House. Constructed of modular concrete blocks molded on-site, this structure elegantly displays Wright's creative use of inexpensive materials. Typical of Wright's Usonian style, the beauty of the residence stems from its simple, linear forms rather than its ornamental details. Symmetrical rows of rectangular gridded glass window openings give the heavy concrete a sense of airiness. Gray colored rather than autumnal in tone, the Kalil House is a refinement of Wright's much earlier preference for horizontal lines of concrete block, redolent of the Mayan Revival Style.
Wright's apprentice Morton Delson supervised the construction of the Kalil House. The 1,380-square-foot building contains a living room, kitchen, two bedrooms, two baths, and a study. Wonderfully, all of the original furniture, most of which is built-in, remains intact. The living room is grander and more open than Zimmerman's space: it includes a sunken hearth. A hallway divides the home's L-shaped floor plan, which is a spatial arrangement common to Usonian homes. Philippine mahogany paneling contrasts with the concrete block walls and stained concrete floors. Designed so that natural light will pour in, the large living room features an eye-catching rear wall composed of 350 individual embedded-glass window blocks.
Designed in the mid-'50s, near the end of the architect's life, the Kalil House expresses a different and more distilled vision: Wright's aesthetic is more lived-in here than in the Zimmerman home. The Zimmerman House is one of the most beautiful Usonian structures ever completed. The Kalil House is an interesting — and in many ways more refined — alternative. Since its purchase in late 2019 by an anonymous donor to the Currier Museum, the Kalil House has been undergoing restoration and renewal. Interestingly, Wright never visited either home in person.
Through its admirable program of preservation and conservation, the Currier Museum of Art is sharing these two rare examples of American architectural heritage and cultural history.
---
An urban designer and public artist, Mark Favermann has been deeply involved in branding, enhancing, and making more accessible parts of cities, sports venues, and key institutions. Also an award-winning public artist, he creates functional public art as civic design. The designer of the renovated Coolidge Corner Theatre, he is design consultant to the Massachusetts Downtown Initiative Program and, since 2002, he has been a design consultant to the Red Sox. Writing about urbanism, architecture, design and fine arts, Mark is associate editor of Arts Fuse.