By Susan Miron
Desires will surely solidify ORA Singers' reputation as a first-class choral ensemble.
Desires: A Song of Songs Collection. ORA Singers, artistic director and conductor Suzi Digby. (Harmonia Mundi)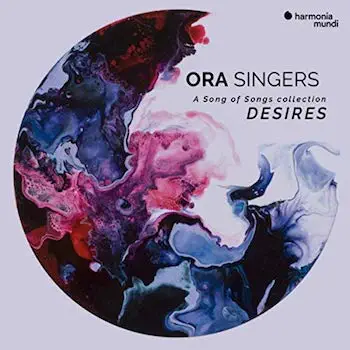 The Song of Songs first appeared as one of the three Megilot or scrolls, a.k.a. Ketuvim (Writings) of the Hebrew Bible. The book is often attributed to King Solomon, and it is read or chanted at Sabbath services every Passover. In the Jewish tradition it is generally considered an allegory about the relationship between God and Israel, though many also see it as a celebration of sexual love as a gift from God. The Song of Songs has also become a sacred text in Christianity, where it has been considered a metaphor for divine love and the cult of Mary —  also, as an allegory for Christ and his "bride," the Church. Over the centuries there have been countless interpretations, both sacred and secular, about the nature of the poet's desire.
In her translation of Song of Songs (from the Hebrew), Marcia Falk points out that "we know little about the Songs authorship and origins. Traditionally King Solomon is given credit, but modern scholars have concurred that not only do we not know the author, but we also know little about the dates of authorship, which might be somewhere between 950 to 200 BC. Others think several authors were involved in the writing and compiling of the Song, between 500 and 200 BC." According to a theory expressed in Wikipedia "the most reliable evidence for its date is its language: Aramaic gradually replaced Hebrew after the end of the Babylonian exile in the late 6th century BCE, and the evidence of vocabulary, morphology, idiom, and syntax clearly points to a late date, centuries after King Solomon to whom it is traditionally attributed."
I studied Song of Songs (Shir ha Shirim) in Hebrew many years ago. To my ears, it is slightly disorienting to hear them sung in Latin. But the beauty of both the music and singing in the Desires: A Song of Songs collection has added immensely to my pleasure in (and thoughts about) these timeless poems and their explorations of the interconnections between love and desire. Based in England, ORA Singers catapulted to fame just a few years ago; they now have six well-reviewed recordings to their credit. Desires will surely solidify their reputation as a first-class choral ensemble.
Head's up: most of the pieces on this CD are on the slow and extremely serene side. (Where did all the longing, eros, and deep passion in the magnificent poetry go?) Still, this approach never hinders one's enjoyment — your brain and ears are invited to relax and savor. ORA Singers have a winning formula that combines Renaissance polyphony with contemporary compositions, often commissioned by the group themselves. The two asked-for pieces on this disc: Jonathan Dove's (b. 1959) "Vadam et circuibo civitatem" ("I will arise and go about the city," words that are also set by the great Spanish composer Tomás Luis de Victoria (1548-1511); and John Barber's (b. 1980) "Sicut lilium," the last song on the album, an updated version of the opening track, "Sicut Lilium Inter Spinas" ("As a lily is among thorns") by Antoine Brumel (c.1460-1512/13).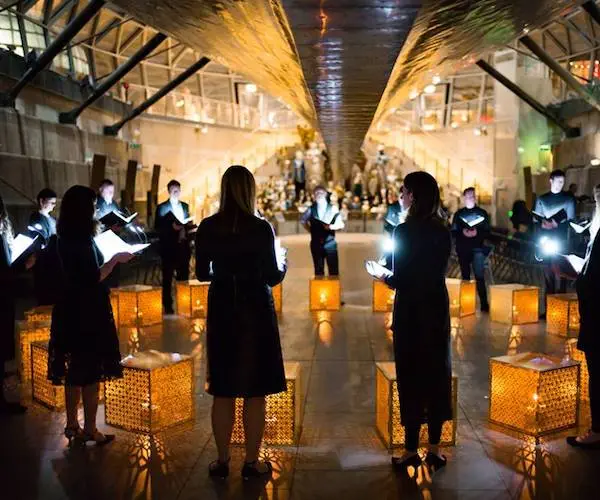 Here are some of the pieces on Desires that I have been obsessively listening to over the past month: Robert White's (1538-1574) "Tota pulcra es" ("You are entirely beautiful"); Francis Grier's (b. 1955) "Dilectus meus mihi" ("My beloved is mine"); Gabriel Jackson's (b. 1962) "I am the Rose of Sharon"; Sebastián de Vivanco's (c. 1551-1622) "Veni dilecte mi" ("Come, my beloved"), and Nicholas Gombert's (c. 1495-1560) "Quam pulchra es" ("How beautiful you are, my beloved"), which is scored for four men. In her album notes, artistic director Suzi Digby describes this project as "a joy from start to finish." This enthusiasm is communicated to the listener — her words perfectly capture my feelings about this beautiful recording.
---
Susan Miron, a harpist, has been a book reviewer for over 30 years for a large variety of literary publications and newspapers. Her fields of expertise were East and Central European, Irish, and Israeli literature. Susan covers classical music for The Arts Fuse and The Boston Musical Intelligencer.