By Jon Garelick
We'd returned to the New Orleans Jazz and Heritage Festival. We'd ridden a paddle-wheeler on the Mississippi River. It was good to be back, and why we'll go back every chance we get: to life.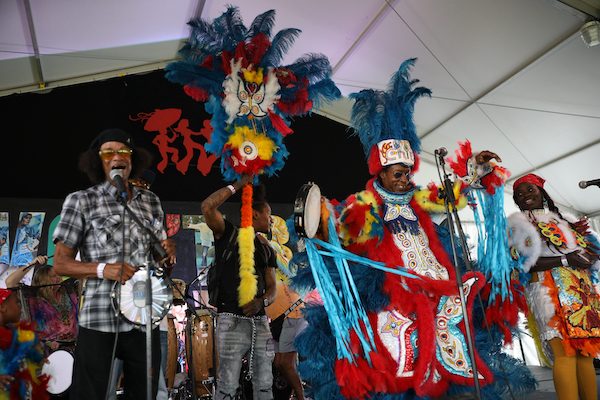 It had been three years since my last trip to the New Orleans Jazz and Heritage Festival, my annual visit postponed by Covid-19, and it started as they always must — for me anyway — with an invocation by a tribe of Mardi Gras Indians at the Jazz & Heritage Stage, one of 13 stages spread across the Fair Grounds Race Course.
It was opening day of the Fest's four-day second weekend (May 5-8), and my wife and I headed full-steam — fresh hot crawfish bread in hand — to check out Big Chief Kevin Goodman and the Flaming Arrows. This was the kind of Mardi Gras Indian performance I relish: a front line of chanting Indians and assorted chiefs, some in extravagant feathered suits, others in T-shirts and jeans, and a backline of percussionists — in this case, two bass drums, timbales, congas, other hands drums and percussion, and a trap set. At least since the popular breakthrough of the Wild Tchoupitoulas' homonymous album in 1976 — with the Neville brothers under the leadership of their uncle Big Chief Jolly Landry, along with other Meters, assorted ringers, and production by Alan Toussaint — Indian "gangs" on the Heritage stage have tended toward full band instrumentation, with electric guitars and bass, even keyboards. I don't know if collectives like the Flaming Arrows are an any more "pure" or "authentic" representation of Mardi Gras Indian culture (we're talking, after all, about African Americans masking as fictional Indigenous "tribes"), but it's what I like: rapped incantations against insistent percussion cross-rhythms, weaving layered, deathless grooves. (Come to think of it: Chief Jolly claimed Choctaw heritage, so there you go.)
An array of red-, yellow-, and white-feathered-and-beaded suits with towering headdresses filled half the stage. The calls of freestyle verses alternated with responses of "Hoo-nah-ney!" or "Shallow water your mama," "Big Chief got a golden crown," and the two-beat punctuation of a slapped tambourine or a ringing cymbal accent. The most impressive of the suits sported white-edged red butterfly wings standing out in full relief from a chief's apron. The painstaking, detailed work that goes into these suits has been well documented, and also invoked in another standard Indian refrain: "Sewed all day and sewed all night (sew, sew, sew)."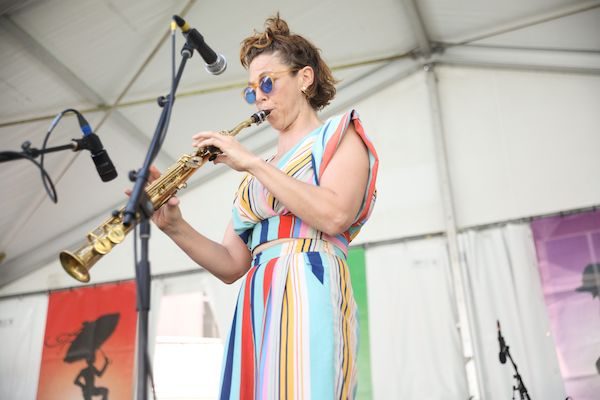 Since it's founding in 1970, the Fest has gone beyond the original intent of the late producer George Wein as a celebration of Louisiana culture (and it has for several years now been the New Orleans Jazz & Heritage Festival Presented by Shell). The first weekend this year featured the Who, Jason Isbell, Ceelo, Nelly, Death Cab for Cutie, and the Red Hot Chili Peppers. The second weekend had Stevie Nicks, Elvis Costello, the Black Crowes, Boz Scaggs, Busta Rhymes, Kool & the Gang, and Erykah Badu. And there was still the ongoing Covid-drag of cancellations: Willie Nelson (a positive test by a band member, not Willie), Melissa Ethridge, and seminal New Orleans funk bass star George Porter Jr. Still the Festival reported overall attendance at 475,000, over the course of seven days, the same number who attended in 2019 over eight days.
But it's not the big names that draw me to Jazz Fest — the football-field-sized space in front of the big festival main stage is often uncomfortably crowded. However, though I'm probably never going to buy a ticket to a Stevie Nicks concert, it was fun — even moving — to hear everyone from 16 to 70 in that crowd singing "thunder only happens when it's raining." Nicks, 73, was in good voice — and, hey, "Dreams" is a good song! In that regard, we were lucky enough to catch Chris Isaak, 65, sing "Wicked Game" and hear that he still has that note.
But we're more likely to look for acts that rarely tour north of I-10. In years past, that's meant local heroes or curiosities like Ironing Board Sam or the Gretna-born one-hit wonder Frankie Ford ("Sea Cruise"!), with the latter delivering a surprisingly generous production, with full arrangements for horns and backup singers and a wide-ranging set list. Or any number of zydeco and Cajun bands. Or simply artists that Jazz Fest caught onto early, like R.L. Burnside.
And there's the serendipity of new discoveries. There's always a rich Caribbean presence at Jazz Fest, and this year one of the standouts was the Cuban band Cimafunk, named for its lead singer. The band reached back to vintage Buena Vista Social Club dance hall songs, but its true calling card was its exquisitely arranged Cuban Afro-funk fusion, in which you could hear the strains of Cuban charanga funk heroes Los Van Van along with James Brown, Nile Rogers, and Fela. Two female backup singers doubled as a monster trombone-tenor sax brass section. Cimafunk's syncopations were so perfectly executed that when there was a "drop" into a beat of dead air, the audience screamed. Horn lines were both punchy and mellifluous, as when a long, slurry phrase snapped with a two-beat tag. Cimafunk came off like a beautifully calibrated machine, designed to create heat. Its exuberant stage show delivered one catchy song after another.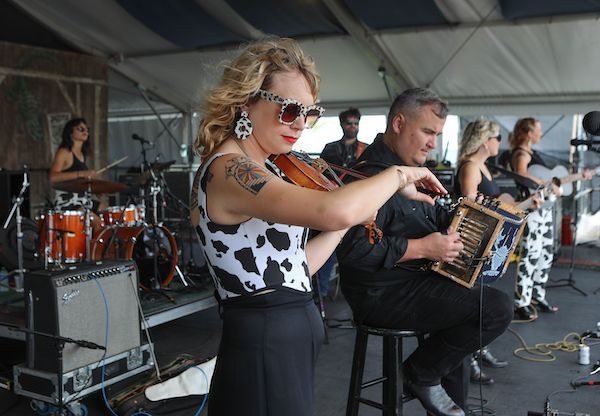 At the other end of the spectrum were the Daiquiri Queens. This band (along with the earlier-generation Jambalaya, also playing our weekend), harked back to old-school southwest Louisiana Cajun: a core of guitars, fiddle, and button accordion playing waltzes and fast-paced two-steps. The four Queens (two guitarists, a fiddler, and drummer) wore a mix of pants and skirts, all in a black-and-white cowhide pattern, and they were joined by two men — a button-accordion player, who also doubled on fiddle, and an electric bassist. The women took turns singing lead (all in Cajun French) with backup harmonies, but the moments that made the hair on the back of my neck stand up were melody lines sung in keening close harmonies, conjuring a sound that stretched back in time to the earliest recorded documents of the tradition — what the musician and scholar Ann Savoy has called "the cry of the Cajun people." Like the blues, it might be about pain or loss or the tragicomic circumstances of life, but it's a cry of joy. To life.
The other discovery of the weekend was Ranky Tanky, who were making their Jazz Fest debut but have been around for at least five years, hitting the Billboard charts and winning a Grammy and the love of NPR.
The band's prime source is the Gullah community of the Southeastern United States, or, as they described it from the Fais Do-Do stage, music of the South Carolina lowlands. But the band — like so much of the great music as Jazz Fest — draws on everything. The band members share a jazz background, evident in Charlton Singleton's trumpet. Clay Ross's guitar slips easily into African hi-life, and three members of the quintet sing — there was even some jug-band rub board in the mix. But the core of their sound has deep gospel roots, made evident in call-and-response vocals that demand audience participation. In that context, the band's name serves not only as an onomatopoeic description of the music they play but also, in some of the lyrics, as reference to a cure for what ails you, coupled with handy branding. But the centerpiece of their sound is the booming, clarion vocals of lead singer Quiana Parler, whose charismatic, gospel-powered delivery is a thing to behold. I look forward to catching the band when they play the City Winery in Boston on June 13, though it's hard to imagine them — or their audience — confined to a seated indoor venue. The band and the crowd at the Fais Do-Do were airborne.
What else? Recent old favorites like the duo of saxophonist/vocalist Aurora Nealand with pianist Tom McDermott. Royal Street busking favorites Tuba Skinny, with their contemporary spin on early jazz — Jelly Roll to Jabbo to Bessie Smith — touting Magnolia Stroll, their first album of all-original compositions (thankfully, all fully inhabited and as beautifully crafted as the music of their musical heroes). Meschiya Lake and her Little Big Horns, evoking Prohibition-Era swing, replete with a pair of acrobatic swing dancers. And Alex McMurray, who I've heard on the livestream of NOLA radio station WWOZ but had never heard perform before.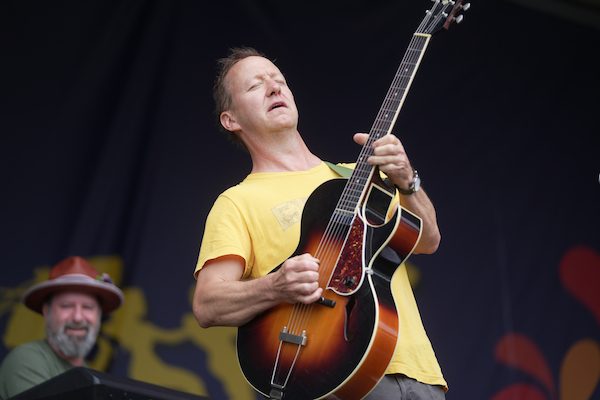 Singer-songwriter McMurray has earned comparisons with Tom Waits, and rightfully so, with his slices of street life, my current personal favorite being "Everybody Goes to Hank's," an homage to the late-night scene at the neighborhood grocery store. The rising melody of the refrain, "I see the light is on, don't you?," with its gentle rumba beat, could suggest the gratification of one of Hank's late-night homemade snacks, or the light of redemption. In any event, an urban oasis.
Listening to McMurray's Latin-inflected hook, I realized how pervasive the rumba beat is in New Orleans music — from early jazz and Cajun to the Iguanas and the Mardi Gras Indians.
And there it was again in Nealand and McDermott's set, in their arrangement of "Comes Love." McDermott is more or less easily defined as a pianist with a grounding in ragtime and early jazz but an ear and technical skill to take him far and wide. But how to describe Nealand? She plays clarinet and soprano sax and sings. She has an affinity for Sidney Bechet and early jazz, especially with her band the Royal Roses, but she also has released an album of original music by a project called the Monocle, in which she plays all the instruments, and she's presented some of that music as the theatrical performance piece KindHumanKind (after a CD of the same name). And she recently played the Big Ears festival in Knoxville with avant-jazzers Bill Frisell, David Torn, and Tim Berne.
In New Orleans, she and McDermott opened with a freely improvised "Maple Leaf Rag" (with a ripping soprano solo), went on to a set that included Bessie Smith's "Give Me a Pig Foot and a Bottle of Beer," Carole King's "Will You Still Love Me Tomorrow," Cole Porter's "It's All Right with Me," Jimmie Rodgers's "Miss the Mississippi and You," Steve Goodman's "The City of New Orleans," Osvaldo Farrés's "Quizás, "Quizás, "Quizás," and "Take It With Me," by Tom Waits and Kathleen Brennan.
That's range, and in Nealand and McDeromott's rendering, it was all of a piece. Nealand made the too-familiar (King, Goodman) brand new. She sang Bessie Smith as straight as Cole Porter, yodeled Jimmie Rodgers, gave us "Quizás" in Spanish and English (more rumba! with clarinetist Dennis Lichtman and conguero Michael Skinkus), and everything with humor but not parody. The Cole Porter she explained, was "a love song about settling…. Aren't all love songs about settling?"
I was happy Nealand removed her hip blue-lens shades, because it's important to be able to see her eyes — the subtle side-eye characterization, the momentary glance heavenward, as if a lyric is helping her recover a memory. People listen to music with their eyes, so the saying goes. Nealand sings with hers.
There were too many other great moments and too many other things I missed. Meschiya Lake did Bessie Smith's "L'ectric Chair Blues" and Louis Jordan's "This Chick's Too Young to Fry," a bit of jump-blues camp. But she got serious with a shouting swing-music take on the spiritual "Satan, Your Kingdom Must Come Down," which, ironically, put the Christian right in the service of Satan (she introduced it with a shout-out for "bodily autonomy").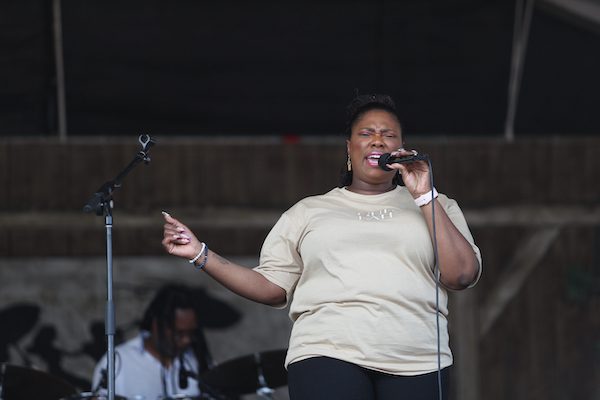 As for the rest, frantic running across the Fair Grounds, stopping at as many mouth-watering food stalls as possible (that crawfish bread! pheasant-quail-andouille gumbo! jambalaya! soft-shell crab! oysters, oysters, oysters!), missing Jon Cleary paying tribute to Dr. John's "Such a Night" because I misread the schedule and got to Aurora Nealand an hour early instead of right on time. There was the genre-crossing set of singer John Boutté and the unclassifiable cross-culture mix of New Orleanian-by-way-of-Belgium cellist-singer-songwriter Helen Gillet.
Also missed was Fest co-founder Wein, who died last year, at 95. This was the first Jazz Fest without him. Veterans of his Newport All-Stars (another legendary festival he co-founded) played the Economy Hall tent.
The condition of the city showed its dependence on tourism, which had tanked for the better part of two years — frayed basic infrastructure like sidewalks in the Central Business Distruct (adjacent to the French Quarter) with large, untended sinkholes and, it seemed, more people than usual sleeping or passed out on the street.
But there were still the low-joke T-shirts ( "Alcohol ya' later," "Black Thighs Matter"), casual conversations struck up with New Orleaneans like the manager of a French Quarter Rouse's Supermarket, closing up and stepping out on the corner for a cigarette, who responded to an inquiry about late-night snacks with a conversation that seemed to take in his whole family history ("Both my mother and father were good cooks — I should have paid more attention"). And Kate from Fritzel's jazz club, our favorite spot on Bourbon Street, who had opened her own place, Mahogany Hall, on Chartres, where there seemed to be a party every night.
And since then, back to mundane troubles as well as the troubles of the world — horrors far and close to home that I don't need to mention here. But we'd returned to the New Orleans Jazz  & Heritage Fest. We'd ridden a paddle-wheeler on the Mississippi River. It was good to be back, and why we'll go back every chance we get: to life.
---
Jon Garelick is a member of the Boston Globe editorial board. A former arts editor at the Boston Phoenix, he writes frequently about jazz for the Globe, Arts Fuse, and other publications.