As the age of Covid-19 finally wanes, Arts Fuse critics supply a guide to film, dance, visual art, theater, author readings, and music. Please check with venues when uncertain whether the event is available by streaming or is in person. More offerings will be added as they come in.
Film
Forgotten Filmmakers of the French New Wave
through June 19
Harvard Film Archives
At the Carpenter Center for the Visual Arts, 25 Quincy Street, Cambridge
Writer-critic Jean-Michel Frodon's selection of esoteric films from the early '60s are "thematically and artistically, fully part of the rising New Wave." Check the schedule and descriptions for some surprising good rarely seen films. This is what the Archives does best. Full Schedule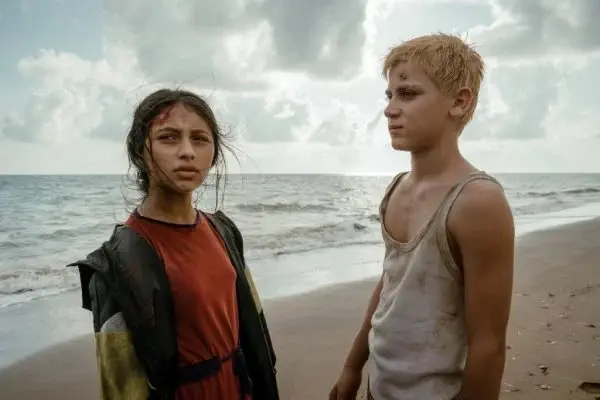 Mondocane (2022)
Brattle Theatre in Harvard Square
June 10 at 10 p.m.
Tuesday at 5:50 and 8 p.m.
Not to be confused with Mondo Cane, the exploitation doc from 1962. "With its Hunger Games morality and Mad Max aesthetic …  Mondocane paints a post-apocalyptic world in burnished copper and gleaming gold. As the two boys learn to shoot and conduct heists in the city's wealthy neighborhood, their miseducation is bedeviled by erratic pacing and the distracting attentions of an obsessive police officer and her young informant." (NY Times)
RRR (Rise! Roar! Revolt!)
Coolidge Corner Theatre in Brookline
June 1 at 7:30 p.m.
This three-hour-plus, Indian historical action blockbuster is set in the 1920s and bursts with with flying motorcycles, flaming arrows, brooding bromance and physics-defying heroics. Hailing from the South Indian Telugu-language film industry known as Tollywood — which departs from the Hindi-language formulas of Bollywood — "RRR" boasts breathtaking action sequences as well as musical numbers that include the viral "Naatu Naatu." The latter is a catchy Ukraine-shot song-and-dance sequence that features an anticolonialist message and fleet-footed moves by Charan and Rama Rao. One night only!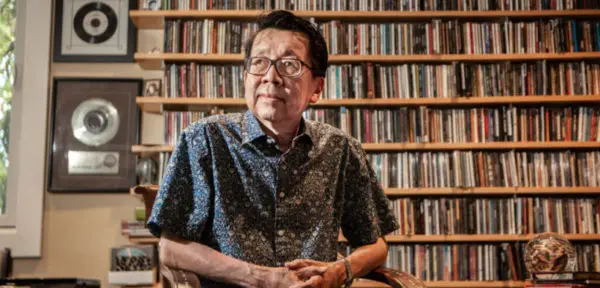 Like A Rolling Stone: The Life & Times of Ben Fong-Torres
Now Streaming on Netflix
Easily missed in the jungle of online films and short theatrical releases is this documentary on Rolling Stone writer and editor Fong-Torres, who, in addition to dozens of interviews with celebrated musicians, conducted the last interview with Jim Morrison before his death. He toured with Bob Dylan and Paul McCartney. He is most widely known for how he was portrayed in Almost Famous, but he has been a significant voice in popular music criticism for decades. Suzanne Joe Kai extends the journalist's story to look at America during the '60s. "This is a uniquely Chinese-American documentary. And an immersive film concerning the immigrant experience. It's also a work that shows the humanism needed for great journalism to happen … a must-see for every journalist, for any music fan, and for anyone who's ever doubted their chances of success." (The Playlist)
Pick of the Week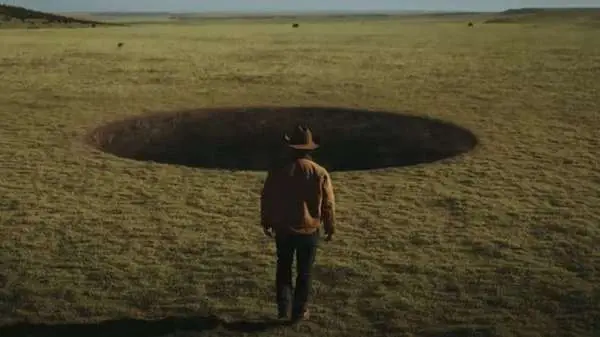 Outer Range
Streaming on Amazon Prime
This series is an odd mix of Yellowstone, Black Mirror, and Dynasty.  The narrative keeps its Twilight Zone strangeness in check via dazzling western landscapes, noirish compositions, and an excellent cast that features Josh Brolin, Lili Taylor, Will Patton, and Imogene Poots. Like Barry Jenkins's wonderfully surreal series The Underground Railroad, Outer Range transcends expectations by embracing meditations on mortality, time, truth, and destiny.
— Tim Jackson
---
Memorial Day Music Festivals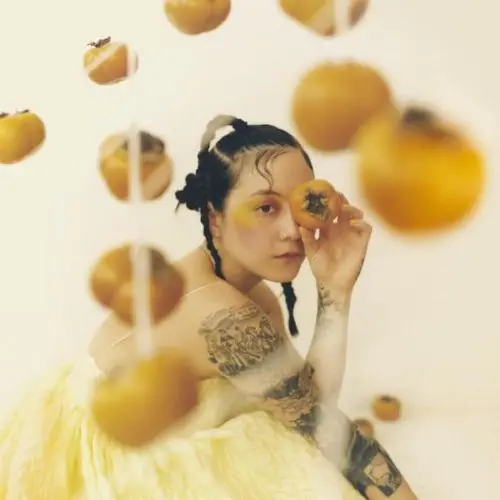 Boston Calling May 27, 28, 29
Solid Sound Festival 27, 28, 29
The music festival season kicks in with two polar-opposite options for Memorial Day Weekend, both resurrecting after pandemic delay. Boston Calling sports the biggest shebang as the three-day rock fest finally returns to Harvard University's Allston fields. For an edition heavy on the headliners, Boston Calling first lost Rage Against the Machine to rescheduling, then Foo Fighters in the wake of drummer Taylor Hawkins's death. But Nine Inch Nails steps in as a hard-hitting Friday-night complement to the next two days, capped by the Strokes and Metallica. The vast undercard mixes new and old, including Rufus du Sol, Cheap Trick, Haim, Weezer, Avril Lavigne, the Struts (primed for the larger stage), Run the Jewels, Orville Peck, King Gizzard, Glass Animals, and rising jammers Goose. On the more eclectic side, Wilco's Solid Sound inhabits the field and brick courtyards of Berkshires museum MASS MoCA. Wilco's Friday slot is always themed, this time to a full live debut of new double album Cruel Country. The lineup offers less name recognition beyond Japanese Breakfast (one overlap with Boston Calling, coming off SNL the weekend before) and Sylvan Esso, as this year tilts a tad toward electro/DJs, yet spans the punk rock of Mike Watt, hip-hop of Wiki, and free jazz of Sun Ra Arkestra. It's also a place you can catch Wilco side projects, elusive eccentrics Bonnie "Prince" Billy and Terry Allen, and underground discoveries Iceage, Cut Worms, and NNAMDI.
–Paul Robicheau
---
Theater
COVID PROTOCOLS: Check with specific theaters; requirements often include proof of vaccination or a negative Covid-19 rapid test. Also, companies are requiring masks at indoor performances.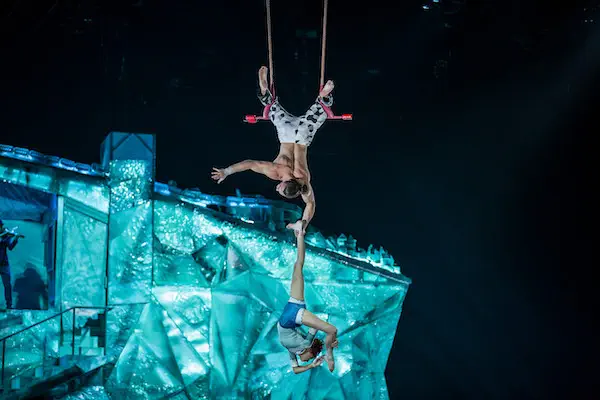 CRYSTAL Staged by Cirque du Soleil at the Agganis Arena, 925 Commonwealth Avenue, Boston, June 1 through 12.
"Created by Shana Carroll and Sebastien Soldevila, Crystal, our misfit lead character, takes you on an exhilarating tale of self-discovery as she dives into a world of her own imagination. Feel the adrenaline as she soars through this surreal world to become what she was always destined to be: confident, curious, and creative. CRYSTAL invites you to suspend reality and glide into a world that springs to colorful life with astounding visual projections and a soundtrack that seamlessly blends popular music with the signature sound of Cirque du Soleil. CRYSTAL is suitable for all ages."

The Inheritance by Matthew López. Directed by Paul Daigneault. Produced by Speakeasy Stage Company, this two-part drama (Part I and Part II will be in rep) will run at the Stanford Calderwood Pavilion at the Boston Center for the Arts, 527 Tremont Street, Boston, through June 11. Arts Fuse review
Interweaving lives and spanning generations, this 2020 Tony Award Winner for Best Play transposes E.M. Forster's novel Howard's End to 21st-century New York for a look at three generations of gay men attempting to forge a future for themselves amid a turbulent and changing America. A generation after the peak of the AIDS crisis, what is it like to be a young gay man in New York? What is the legacy left to them by previous generations? And what do they owe the future and each other?
The Bomb-itty of Errors by Jordan Allen-Dutton, Jason Catalano, Gregory J. Qaiyum, Jeffrey Qaiyum & Erik Weiner. Directed by Christopher V. Edwards. Staged by Actors' Shakespeare Project at the Charlestown Working Theatre, Charlestown, through June 26.
"4 actors playing multiple characters + a live DJ on stage = a musical, ad-rap-tation of Shakespeare's The Comedy of Errors. Quadruplets separated at birth are caught up in a comical identity crisis with a rhythmic spin."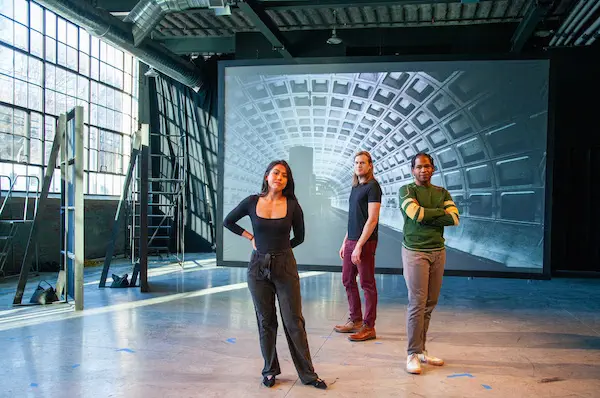 Natasha, Pierre, and The Great Comet of 1812. Music, Lyrics, and Book by Dave Malloy. Adapted from War and Peace by Leo Tolstoy. Directed by Josh Short. Staged by the The Wilbury Theatre Group, 475 Valley Street, Providence, through June 26.
"An electropop opera based on a scandalous slice of Leo Tolstoy's War and Peace, from award-winning composer Dave Malloy." "Natasha is a beautiful ingénue visiting Moscow while she waits for her beloved fiancée Andrey to return from the war. In a moment of indiscretion, she is seduced by the dashing (but already married) Anatole and her position in society is ruined. Her only hope lies with Pierre, the lonely outsider whose love and compassion for Natasha may be the key to her redemption … and to the renewal of his own soul."
The Approach by Mark O'Rowe. Directed by Mark Farrell and Tina Packer. Staged by Shakespeare & Company at the Elayne P. Bernstein Theatre, Lenox, through May 29.
"A play about being human, an exploration of betrayal, and an appeal to listen before it's too late, the script follows the story of Anna, Cora, and Denise as they converse over coffee about their shared childhoods and burgeoning middle-age, with much left unspoken."
Ain't Misbehavin' conceived by Richard Maltby Jr. and Murray Horwitz. Musical adaptations, orchestrations & arrangements by Luther Henderson. Directed and choreographed by Maurice Emmanuel Parent, David Freeman Coleman, and Dan Rodriguez, co-music directors. Ilyse Robbins, co-choreographer. Produced by The Nora@Central Square Theater, The Front Porch Arts Collective, and Greater Boston Stage Company at the Central Square Theatre, 450 Massachusetts Avenue, Cambridge, through May 29.
"The Harlem Renaissance — Jazz arrives at The Cotton Club. Bessie Smith, Billie Holiday, Lena Horne, and the Dandridge Sisters shape an art form alongside men such as — Thomas "Fats" Waller." Arts Fuse review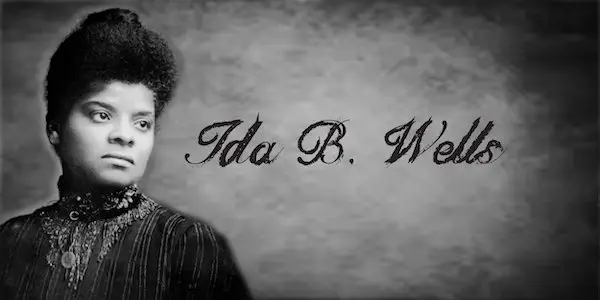 IDA 2022, an outdoor performance of a selection from Ida B. Wells' 1910 essay "How Enfranchisement Stops Lynching " At the Jill Brown Rhone Park, 371 Massachusetts Ave, Central Square, Cambridge, on June 11 (at 2 p.m.) or 12 (at 1 p.m.), depending on the weather. The project was conceived, in collaboration with Fort Point Theatre Channel, by Deborah Lake Fortson.
According to Fortson, "We plan to chalk the text of a section from this essay, with a figure seated and typing. She types, on an old underwood press typewriter, and hands the text to a young contemporary crew who begin to chalk it on the sidewalk bricks. Two women dressed in pandemic dress from 1918 — masks attached to their hats — walk by, arm in arm, reading the text. They are a Black woman and a white woman, walking together."
Fairview by Jackie Sibblies Drury. Directed by Christopher Windom. Staged by Trinity Repertory Company at 201 Washington St., Providence, through June 19.
Jackie Sibblies Drury's 2019 Pulitzer Prize-winning drama begins as a seemingly typical American family play. It's Grandma's birthday, and Beverly needs the party to be perfect. However, the Frasier family is either of no help or nonexistent. As the drama progresses, however, Beverly's plight is put into "a whole new, bright white light."

Holy and Unruly by David Beardsley. Directed by Jamie Clavet. Staged by the New World Theatre at The Hatbox Theatre, 270 Loudon Road, Concord, NH, through June 12.

"At the height of her power, Queen Elizabeth I experiences disturbing dreams, strange visions, and inexplicable moments of panic. A petition for justice from Grace O'Malley, an aristocratic Irish pirate feared from England to Africa, brings the Queen's emotional crisis to a head, prompting her to revisit choices she made in the name of power — choices no man is asked to make. When two of Europe's most powerful and charismatic women meet, they wrestle with questions still relevant today: What does it take to rule your world and what are the costs?"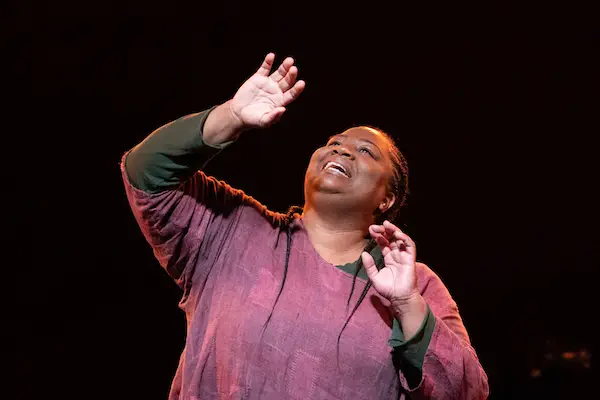 An Iliad by Lisa Peterson and Denis O'Hare. Directed by Jeffrey Mousseau. Staged by Shakespeare & Company at the Tina Packer Playhouse, Lenox, MA, June 3 through July 3.
"Adapted from an acclaimed translation by Robert Fagles, An Iliad refreshes Homer's world classic and transforms the epic poem into a riveting account of the Trojan War, told in the present time complete with nods to modern-day events."
The Light by Loy A. Webb. Directed by Jacqui Parker. Staged by the Lyric Stage at 140 Clarendon Street, Boston, through June 26.
"On the night of their engagement, long-simmering discord bubbles to the surface for Genesis, a principal at a Chicago charter school and Rashad, her firefighter boyfriend of two years. Long-buried secrets and painful revelations threaten to splinter the couple's relationship when a gift of concert tickets is given. What should be one of the happiest days of their life begins to unravel, layers of truth and doubt are peeled away, and the power of love and reconciliation is tested."
Gloria by Branden Jacobs-Jenkins. Directed by Bryn Boice. Staged by  Gloucester Stage, 267 East Main Street, Gloucester, June 3 through 26
This Pulitzer Prize finalist play follows "an ambitious group of editorial assistants at one of New York's most esteemed cultural magazines, each of whom hopes for a starry life of letters and a book deal before they turn 30. But when a seemingly ordinary day at the office becomes anything but, these aspiring journalists recognize an opportunity to seize a career-defining moment."
Woody Sez: The Life and Music of Woody Guthrie. Devised by David M. Lutken with Nick Corley and Darcie Deaville, Helen Jean Russell and Andy Teirstein. Directed by Nick Corley. Staged by the Merrimack Repertory Theatre, 50 East Merrimack Street, Lowell, June 8 through 26.
"Joyous, toe-tapping, and inspirational, Woody Sez brings to life the stories and songs of America's great troubadour." The four performers, playing more than 20 instruments, transport the audience through the riveting and often controversial life of Woody Guthrie. Musical numbers include "This Land Is Your Land," "Pastures of Plenty," "Bound for Glory," "Hard Travelin'," and "So Long, It's Been Good To Know Yuh."
Common Ground Revisited, An adaptation of J. Anthony Lukas's Common Ground: A Turbulent Decade in the Lives of Three American Families. Conceived by Melia Bensussen and Kirsten Greenidge. Adapted by Kirsten Greenidge. Directed by Melia Bensussen. Staged by the Huntington Theatre Company at the Calderwood at the Boston Center For the Arts, 527 Tremont St., Boston, May 27 through June 26. Digital performance through July 10.
"This riveting and intricately woven world premiere play brings Boston's history to life in the 1960s and 70s, culminating in three families' experiences in court-mandated busing. Diverse in both race and class, what can these families' experiences tell us about our own time? Especially when Boston Public Schools are more segregated in 2021 than they were in 1974. Common Ground Revisited is inspired by Anthony Lukas's landmark Pulitzer Prize–winning book."
1776 Music and Lyrics by Sherman Edwards. Book by Peter Stone. Based on a Concept by Sherman Edwards. Directed by Jeffrey L. Page and Diane Paulus. A co-production of the American Repertory Theater and the Roundabout Theatre Company, at the Loeb Drama Center, Cambridge, May 17 through July 24.
"They knew they would make history, but not what history would make of them. Fed up with living under the tyranny of British rule, John Adams attempts to persuade his fellow members of the Continental Congress to vote in favor of American Independence and sign the Declaration. But how much is he willing to compromise in the pursuit of freedom? And who does that freedom belong to? A.R.T. artistic director Diane Paulus and Jeffrey L. Page direct a new production of the Tony Award-winning musical, reexamining this pivotal moment in American history with a cast that reflects multiple representations of race, gender, and ethnicity." Arts Fuse review
— Bill Marx
---
Visual Arts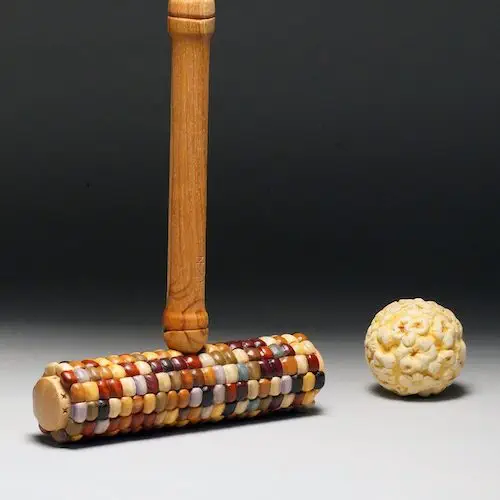 It is the season of green lawns and long, sunny afternoons. The Fuller Craft Museum in Brockton is getting into the mood with Out of Bounds: The Art of Croquet, when it opens on June 4. The show consists of mallets and balls made by an international group of leading wood artists. The materials — which include an ear of Indian corn used as a mallet head — make the game pieces impractical for actual play but reveal a wide range of contemporary takes on the game, its aesthetics, and its history as a leisure activity of privileged classes.
With his apparently straightforward and homespun style and largely rural Americana settings in Maine and Pennsylvania, Andrew Wyeth, who died in 2009, was near the top of the list of America's most famous and popular artists. Less obvious to many of his many admirers was the artist's deep obsession with death, often expressed symbolically or allegorically in his paintings. Andrew Wyeth: Life and Death, which opens on June 2 at the Colby College Museum of Art in Waterville, ME, exhibits for the first time a recently rediscovered set of drawings, collectively known as the "Funeral Group," which makes that preoccupation far more explicit. In these sometimes Gothic works, Wyeth explicitly imagines his own funeral. The show makes the connection between these sketches and Wyeth's decades-long exploration of death as a subject for art and relates Wyeth's work to the reflections on mortality created by other artists.
Another late spring exhibition about the inevitable in the human condition is Autolysis at the Goethe-Institut Boston's Studio 170 exhibition space from June 4 through 15. "Autolysis," (approximately Greek for "self-splitting") is a biological term for the destruction of cells or tissues by their own enzymes. It describes the first stage of decomposition when a body is buried. Working around themes of Covid-19, climate change, the adaptation or extinction of plant life, and personal mortality, the show is intended to open "conversations with the earth in a way that emphasizes the actual material of the earth rather than the earth with a capital 'E,'" a material to which all life must eventually return.
MATRIX 189, the Wadsworth Atheneum's long-running contemporary artists' series, opens June 3 with a work by performance artist Naama Tsabar, "Melodies of Certain Damage (Opus 6)."
Spanning the fields of sculpture, photography, performance, and sound, Tsabar creates objects that function both as artworks and musical instruments. Tsabar's MATRIX project will focus on works from her Guitar series. The MATRIX gallery will contain installations of eight to 10 new sculptures from Melodies of Certain Damage (2018–ongoing). The broken electric guitars will be scattered across the floor and restrung into new formations where they have landed. In the Hilles Gallery, the Wadsworth's dedicated video gallery will feature two single-channel videos by Tsabar: Untitled (Babies) (2008) and Stranger (2017)."
Matrix 189 is a return, for the series, to performance art. In the past four decades, the Matrix exhibitions have featured  such prominent performance artists as Laurie Anderson, Andrea Fraser, and Janine Antoni.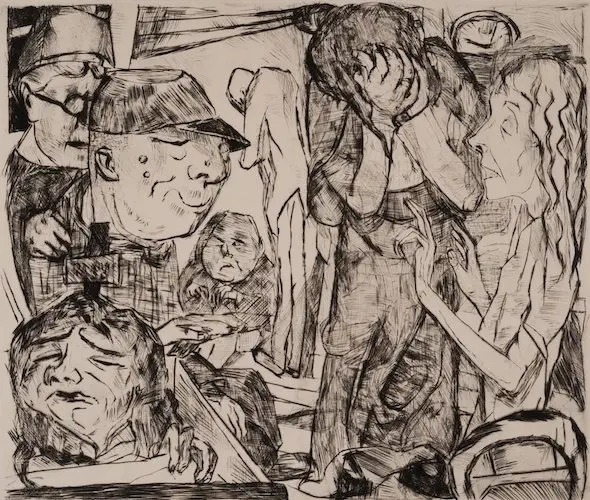 The early 21st century is not the first time that social issues have dominated the themes and content of contemporary artists. The Draftsman in Society: German Expressionist Prints, which opened at the Portland Museum of Art on May 28, is a reminder that, a century ago, Germany's Weimar Republic was traumatized by war, revolution, urban unrest, and economic upheavals. The reaction of artists was to create socially engaged art that took the form of the German Expressionist movement. Drawn from a collection donated to the museum, the show features portraits in woodcut, etching, and lithography that reveal "insight into the psychological dimensions of a society in crisis."
— Peter Walsh
---
Jazz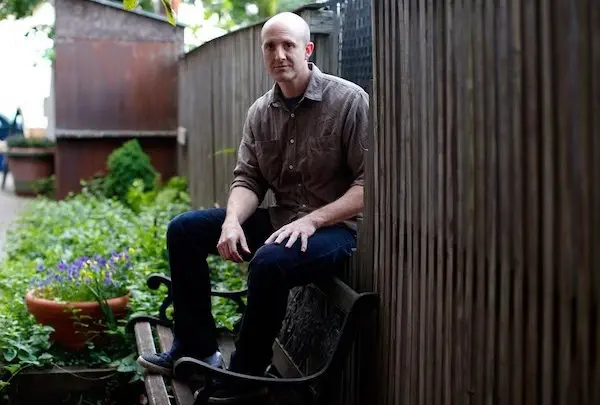 Luther Gray Quintet
May 31 at 8 p.m.
Lilypad, Cambridge
Drummer and composer Luther Gray is familiar to Boston-Cambridge audiences from his work with Jerry Bergonzi, the Fringe, and many, many others. Here's a chance to hear Gray working out his own diversely influenced music (his CV includes an extended run with indie-rock band Tsunami) with an exciting band: alto saxophonist Jim Hobbs, pianist Steve Lantner, cellist Junko Fujiwara, and bassist Keala Kaumeheiwa.
Rick DiMuzio Trio
June 1 at 6:30 p.m.
Lilypad, Cambridge
This is just a terrific trio: saxophonist Rick DiMuzio, bassist Max Ridley, and the great Cuban drummer (now part of the Berklee faculty) Francisco Mela.
Adam Kolker Quartet
June 5 at 7 p.m.
Zuzu, Cambridge
Two tenor-sax heavyweights go head to head in this edition of JazzBoston's Jazz All Ways Sunday series at Zuzu: Adam Kolker and Jerry Bergonzi, with the equally estimable support of bassist John Lockwood and drummer (see June 1) Francisco Mela.
Driff Festival
June 10, 7:30-11:30 p.m.
Lilypad, Cambridge
The Cambridge-based avant-jazz record label Driff (run by musicians Jorrit Dijkstra and Pandelis Karayorgis) celebrates its 10th anniversrary with its sixth Driff Festival, drawing on a superb mix of local and far-flung players in different configurations. The line-up: the Anna Abondolo Trio, with Abondolo on bass, pianist Kris Davis, and drummer Jon Starks (7:30); Tony Malaby's Kiri-Kiri, with Malaby and Dijkstra on soprano sax, DoYeon Kim on gayageum, and drummer James Nadien (8:30); a quartet of clarinetist Guillermo Gregorio, trombonist Jeb Bishop, cellist Fred Longberg-Holm, and Karayorgis on piano (9:30); and the Dijkstra-Karayorgis band Cutout, with bassist Nate McBride and drummer Luther Gray, plus "special guests" (10:30).
Mike Tucker and Tucker Antell
June 10 at 8 p.m.
Scullers Jazz Club, Boston
Another two-tenor night, with Boston-based tenors Mike Tucker and Tucker Antell (traveling as "Two Tuckers") playing beautifully arranged and executed hard bop in a band that includes bassist Edward Perez and drummer Rudy Royston.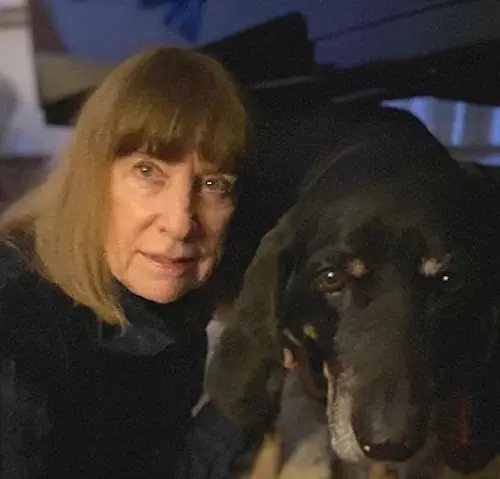 Meredith D'Ambrosio
June 12 at 7 p.m.
Zuzu, Cambridge
The wonderful veteran jazz singer Meredith D'Ambrosio celebrates the release of her latest CD, Some Time Ago, a collection of standards and newer pieces, with the pianist Chris Taylor.
— Jon Garelick
---
Roots and World Music
Barnstar! Bluegrass Bingo
June 1-3
Club Passim, Cambridge
Bassist and jokester Zachariah Hickman always has a few tricks up his sleeve when he convenes the all-star bluegrass combo Barnstar! For this three-night run, he's vaguely promising bingo cards and prizes – adding "some of them will be bad prizes."
Don McLean (An un-recommendation)
June 3
Shubert Theater, Boston
For decades McLean has been trying to become known for more than just "American Pie." He's finally succeeded via one of the more bizarre and in many ways sickening final career chapters imaginable for a folk singer. In recent years he's become a tabloid news staple after pleading guilty to assaulting his now ex-wife, threatening to sue newspapers that mentioned that ex-wife's traveling exhibit about domestic violence. He is dating a model four decades younger than he and has hired manager Kirk Webster after Webster's PR firm disintegrated in the wake of myriad sexual misconduct allegations. He cut off his daughter's inheritance after she claimed to have been the target of his emotional abuse. Just last week McLean backed out of a planned appearance at the NRA convention. Why in the world would a former Pete Seeger protegé decide to serenade gun rights extremists in the first place? Those who think they can separate the artist from the art will have an opportunity to hear McLean celebrate the 50th anniversary of "American Pie" at this show. Others might instead want to consider donating to Patrisha McLean's Finding Our Voices nonprofit.
Ernie Smith with Soulshot and Dion Knibb
June 3
Ocean Mist, Wakefield
One of the greatest reggae storytellers of all time, former Fuse interview subject Smith is back for a run of shows with his longtime collaborators, the Rhode Island reggae band Soulshot. This night also features the fine singer Dion Knibb and reggae guitar titan Andy Bassford. The day before they're at an agricultural hemp conference in Connecticut, and the week wraps up Sunday night with an acoustic set at the Knickbocker in Westerly.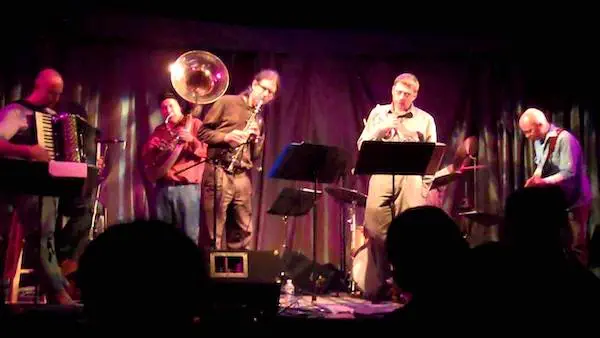 Naftule's Dream
June 8
The Boston Synagogue
The Boston Festival of New Jewish Music keeps going with a 25th-anniversary concert by Naftule's Dream, clarinet Glenn Dickson's wonderfully twisted and always adventurous avant-klezmer outfit.
PVD Fest
June 10-12
Downtown Providence
It's great to see this free Providence festival back after a two-year Covid hiatus. The headliners include Eddie Palmieri with his full salsa orchestra and New Orleans favorites Kermit Ruffins and Rebirth Brass Band. Sunday incorporates the Afrika Nyaga fest with a wide-ranging bill of African artists.
— Noah Schaffer
---
Popular Music
The Jon Butcher Axis and The Willie J. Laws Band
June 5 (doors at 3, show at 4)
Kowloon on Route 1 (Presented by GimmeLive), Saugus, MA
Sadly, GimmeLive's flagship venue 9 Wallis (named for its street address in Beverly) was one of the non-human victims of the COVID-19 pandemic. After hanging on for 15 months in the hope of reopening, owners Peter and Vickie Van Ness announced on June 22 that the elegant and intimate space would be closing. (The recently opened Off Cabot comedy club now occupies the address.)
However, the Van Nesses are nothing if not tenacious. After producing several shows late last year at Kowloon in Saugus, the couple recently announced a slew of summer shows at the same venue. They will include the same mix of local, national, and tribute bands that previously delighted the patrons of 9 Wallis.
On Sunday, Grammy-nominated (Best Rock Instrumental, 1985) and major-label (Polydor and Capitol) recording artist Jon Butcher — who toured in the 1980s with megawatt stars such as J. Geils Band, Rush, Def Leppard, Scorpions, and INXS —  will draw from his classic Jon Butcher Axis material as well as the EP and two LPs — including 2020's "Special Day" — that he has released in the past five years.
Joining him at this outdoor show will be The Willie J. Laws Band. Led by Texas native-turned-Sharon, MA resident, this quartet has received three New England Music and Boston Music Awards nominations for Best Blues Act and has served as the house band at Las Vegas's House of Blues Music Hall and Margaritaville in New Orleans.
What better way to rock away the end-of-the-weekend blues than with some locally sourced rock and blues?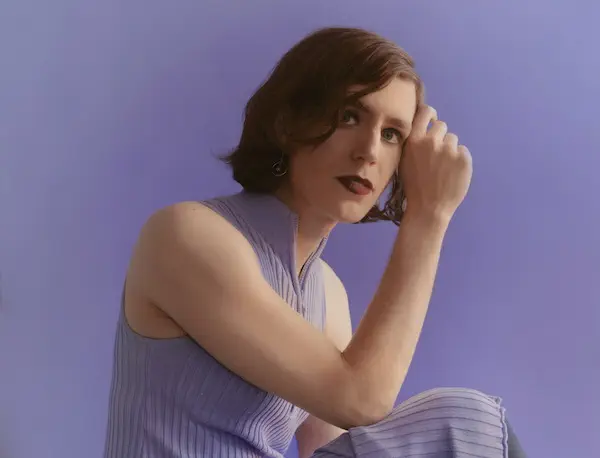 Ezra Furman with Evan Greer and Tory Silver
June 9 (doors at 7, show at 8)
Crystal Ballroom, Somerville, MA
The past four years have been professional and personally eventful for singer-songwriter Ezra Furman.
The Chicago native released new albums in 2018 and 2019, recorded original soundtrack material to the superb Netflix Series Sex Education (which is where I first heard her songs), moved from Brooklyn (back) to Somerville, publicly identified as a trans woman for the first time, enrolled in rabbinical school at Hebrew College, and became a mother.
And the decade-plus prior to that hadn't exactly been quiet. The quartet that she formed as a student at Tufts in 20006, Ezra Furman and the Harpoons, released three albums between 2007 and 2011. The first of these (Banging Down the Doors) appeared when Furman was one month shy of turning 21.
Since 2013, Furman has added five further LPs to her discography. In the process, she has elicited macro comparisons to, e.g., Bob Dylan, The Modern Lovers, and Violent Femmes and micro ones to John Lennon, David Bowie, Lou Reed, Bruce Springsteen, Tom Waits, et al. The overall result is, however, frequently more punk than any single one of these names might imply.
Having long maintained a level of critical acclaim and audience admiration that any aspiring and/or determinedly toiling independent artist should envy, Furman is set to unveil All of Us Flames on August 26.
Furman – whose brother Jonah fronts the beloved Boston band Krill – says of the forthcoming effort, "This is a first person plural album. It's a queer album for the stage of life when you start to understand that you are not a lone wolf, but depend on finding your family, your people, how you work as part of a larger whole. I wanted to make songs for use by threatened communities, and particularly the ones I belong to: trans people and Jews."
With any luck, the audience in her familiar Davis Square territory will get an-IRL taste of the new songs at her Crystal Ballroom performance on June 9, which fellow Boston-based artists Evan Greer and Tory Silver will open.
— Blake Maddux
Palestine Solidarity Concert
June 3 at 5 p.m.
24 Eliot St, Jamaica Plain
Local bands Dino Gala, bedbug, Puppy Problems, Sweet Petunia, senseless optimism, The C.O.M.P., and the Boston Dabke Troupe will perform at Boston's *first-ever* Palestine Solidarity Concert, sponsored by Boycott, Divest, and Sanctions (BDS) Boston. This show will empower local community organizing in solidarity with Palestine and raise funds for direct material aid to Palestine.
— Bill Marx
---
Dance
The Legend Reborn
May 29 at 2 p.m. & 7:30 p.m.
Casey Theatre at Regis College, Weston
As a performance group of young artists, the Chinese Folk Art Workshop's mission is to increase awareness of Chinese culture in local communities by presenting a variety of Chinese folk art performances, workshops, and showcases. The group's upcoming performance, The Legend Reborn, promises to do just that.
Svadba
Ongoing, online viewing
Engage in a cinematic opera experience with Svadba, the story of a bride-to-be on the eve of her wedding surrounded by friends and family helping her prepare for the big event. Sung completely a cappella, Svadba's entrancing music by Serbian composer Ana Sokolović merges with dance-led visuals from film director Shura Baryshnikov and screenwriter Hannah Shepard. Slovenia-born Daniela Candillari conducts.
The Time Traveler's Lens
Ongoing, online viewing
Hailed as "groundbreaking" (MidJersey News) and a "unique interdisciplinary work" (Town Topics), The Time Traveler's Lens combines dance, film, technology, and history to engage viewers in a 360-degree virtual reality performance that is amazingly intimate — the viewer is placed in the center of the action. Experience five virtual reality works unfolding spherically around you on your own mobile device. You are the time traveler, you control the lens — Luminarium Dance Company provides five worlds of illusion.
— Merli V. Guerra
---
Author Events
Emma Straub with Celeste Ng – Porter Square Books
This Time Tomorrow
May 31 at 7:30 p.m.
Free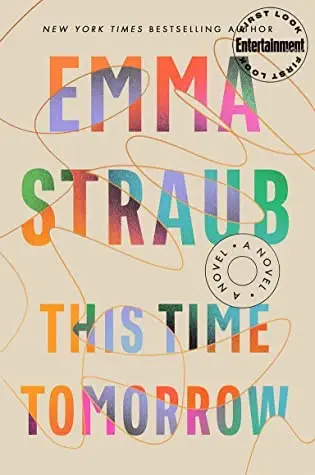 "On the eve of her 40th birthday, Alice's life isn't terrible. She likes her job, even if it isn't exactly the one she expected. She's happy with her apartment, her romantic status, her independence, and she adores her lifelong best friend. But her father is ailing, and it feels to her as if something is missing. When she wakes up the next morning she finds herself back in 1996, reliving her 16th birthday.
But it isn't just her adolescent body that shocks her, or seeing her high school crush, it's her dad: the vital, charming, 40-something version of her father with whom she is reunited. Now armed with a new perspective on her own life and his, some past events take on new meaning. Is there anything that she would change if she could?"
Keats: A Brief Life in Nine Poems and One Epitaph
May 31 at 6 p.m.
Free. with $5 suggested contribution
"In this brief life, acclaimed biographer Lucasta Miller takes nine of Keats's best-known poems — 'Endymion'; 'On First Looking into Chapman's Hom'r"; 'Ode to a Nightingale'; 'To Autumn'; 'Bright Star' among them — and excavates how they came to be and what in Keats's life led to their creation. She writes of aspects of Keats's life that have been overlooked, and explores his imagination in the context of his world and experience, paying tribute to the unique quality of his mind."
Dilla Time: The Life and Afterlife of J Dilla, The Hip-Hop Producer Who Reinvented Rhythm
June 6 at 6:30 p.m.
Free
"Music legend and hip-hop producer J Dilla is often referred to as a musical genius. The Detroit native transformed the sound of hip-hop and popular music with beats that introduced a new rhythmic feel and elevated the art of sampling. The life and legacy of J Dilla is chronicled in a new book."
The Flag, the Cross, and the Station Wagon: A Graying American Looks Back at His Suburban Boyhood and Wonders What the Hell Happened
June 6 at 6 p.m. (Doors at 5:30)
Tickets are $29.75 with book, $5 without
"Like so many of us, McKibben grew up believing — knowing — that the United States was the greatest country on earth. As a teenager, he cheerfully led American Revolution tours in Lexington, Massachusetts. He sang 'Kumbaya' at church. And with the remarkable rise of suburbia, he assumed that all Americans would share in the wealth.
"But 50 years later, he finds himself in an increasingly doubtful nation strained by bleak racial and economic inequality, on a planet whose future is in peril. And he is curious: What the hell happened? In this revelatory cri de coeur, McKibben digs deep into our history (and his own well-meaning but not all-seeing past) and into the latest scholarship on race and inequality in America, on the rise of the religious right, and on our environmental crisis to explain how we got to this point."
Cult Classic: A Novel
June 9 at 7 p.m.
Free
"Is it possible to have a happy ending in an age when the past is ever at your fingertips and sanity is for sale? With her gimlet eye, Sloane Crosley spins a wry literary fantasy that is equal parts page-turner and poignant portrayal of alienation."
Raising Raffi
June 10 at 7 p.m.
Free
"Keith Gessen was nearing 40 and hadn't given much thought to the idea of being a father. He assumed he would have kids, but couldn't imagine what it would be like to be a parent, or what kind of parent he would be. Then, one Tuesday night in early June, the distant idea of fatherhood came careening into view: Raffi was born, a child as real and complex and demanding of his parents' energy as he was singularly magical. Written over the first five years of Raffi's life, Raising Raffi examines the profound, overwhelming, often maddening experience of being a dad."
Also a Poet: Frank O'Hara, My Father, and Me
June 15 at 7 p.m.
Free
"When Ada Calhoun stumbled upon old cassette tapes of interviews her father, celebrated art critic Peter Schjeldahl, had conducted for his never-completed biography of poet Frank O'Hara, she set out to finish the book he had started 40 years earlier. As a lifelong O'Hara fan who grew up amid his bohemian cohort in the East Village, Calhoun thought the project would be easy, even fun, but the deeper she dove, the more she had to face not just O'Hara's past, but also her father's, and her own.
"The result is a groundbreaking and kaleidoscopic memoir that weaves compelling literary history with a moving, honest, and tender story of a complicated father-daughter bond. Also a Poet: Frank O'Hara, My Father, and Me explores what happens when we want to do better than our parents, yet fear what that might cost us; when we seek their approval, yet mistrust it."
Nocturnal Admissions: Behind the Scenes at Tunnel, Limelight, Avalon, and Other Legendary Nightclubs
June 17 at 6 p.m.
Free
"Steve Adelman's humorous and engaging memoir reflects on his years as the director and owner of some of the world's most popular nightclubs, including the Roxy, Limelight, Tunnel, and Palladium in the heyday of clubs in New York City during the 1980s and 1990s, followed by Avalon (Boston, Hollywood, NYC, and Singapore locations), and the New Daisy Theatre in Memphis. Nocturnal Admissions is a timely, unconventional look at one of pop culture's most outwardly glamorous, yet misunderstood industries, bringing the reader backstage into the world of nightlife at its highest level."
— Matt Hanson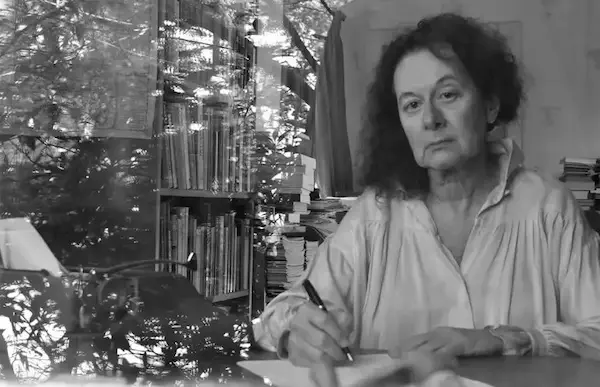 Hybrid Reading Series: Marica Karp, Mary Buchinger, and Adam Kirsch
June 1 at 7 p.m.
At the Grolier Poetry Book Shop
6 Plympton Street
Cambridge
This event will take place synchronously in-store at 6 Plympton Street and on Zoom.
Occasional Arts Fuse contributor Marcia Karp will read from her collection If by Song.
— Bill Marx