By David Greenham
As National Pride Month begins, The Inheritance is a powerful way to honor and remember the impossible journey so many have taken to win the right to simply be themselves in public.
The Inheritance, Part 1 and 2 by Matthew López. Directed by Paul Daigneault. Movement and Intimacy direction by Yo-EL Cassell. Scenic design by Christina Todesco, costume design by Charles Schoonmaker, lighting design by Karen Perlow, original music and sound design by Dewey Dellay. Staged by Speakeasy Stage Company at the  Boston Center for the Arts, Boston, through June 11.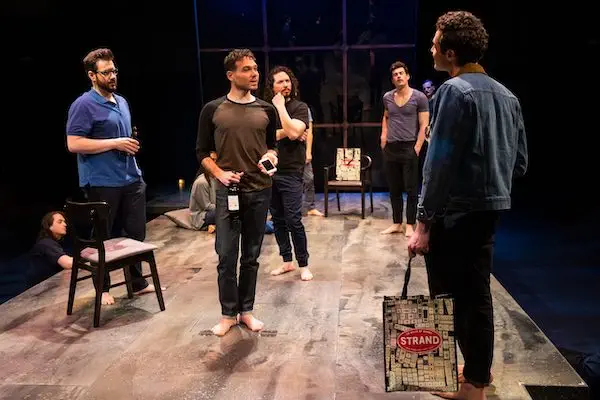 "What if the unthinkable happens?" That's the question Eric Glass (Eddie Shields) poses a little over halfway through the first part of Matthew López's epic two-part drama, The Inheritance. It's the fall of 2016 and the group of gay men are debating the upcoming Presidential election. His friends are incredulous, of course, like most of us were. But Eric is savvy enough to know that remembering traumas of the past will be important for dealing with a challenging future. He goes on to reflect on ancient epics — The Odyssey, The Mahabharata — and events, including the Holocaust. The unthinkable happened in our parents' and grandparents' lives. He cites Stonewall, Marsha Johnson, Sylvia Rivera, Edie Windsor, Matthew Shepard, and Islan Nettles. He warns those around him (and the audience) that to be passive in the face of barbarism "means we've relinquished a part of ourselves." He adds, ominously, "who will we become?" He's right. It's difficult to look at America in 2022 and not wonder: who have we become?
López's impressive drama, which was awarded the Tony Award for Best Play in 2020, is an epic two-parter, each half running more than three hours. The playwright's dialogue remains engaging throughout, and his range is head-spinning: at times the script can be stunning, thought-provoking, and beautiful; at other times it wallows in the petty and downright raunchy.
The plot of The Inheritance is inspired by E.M. Forster's 1910 novel Howard's End. But this is far from a creaky adaptation — it is determinedly modern. Part One is set between the summers of 2015 and the spring of 2017. Part Two ends a year later. Forster himself provides much of the narration, via the character of Morgan, who is played, stunningly, by Mark H. Dold. The performer also doubles as Walter Poole, who, in the end, is the story's hero.
Ironically, the center of this swirling expanse of a story is surprisingly ordinary. Eric Glass is a 30-something living in his deceased grandmother's expansive rent-controlled apartment on the upper west side of Manhattan. Eric is a grown-up who exercises maturity. His boyfriend Toby Darling (Jared Reinfeldt) possesses neither of those traits. Toby is an author and playwright who is looking to break into show business anyway he can. In his first entrance, Toby, hungover, has just gotten off the train from a posh party in East Hampton. He recounts the previous night to Eric. It didn't go so well. His brush with the celebrities in the Hamptons included Alec Baldwin, who watched him projectile vomit into Meryl Streep's lap. Besides being a remarkably funny tale right out of the gate, the yarn sets up what will be one of the play's running themes, a conflict from Forster's novel — a clash of classes.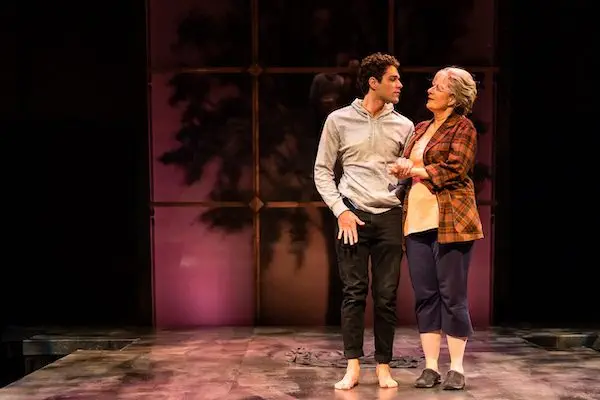 The central relationship hits a critical stumbling block when Adam McDowell (Mishka Yarovoy) meets Eric and Toby at a bookstore. They both instantly take a liking to the charming and earnest young man. Things become complicated after Toby's play goes into production and Adam wins the leading role. Going the way of many backstage romances, a promising tête-á-tête quickly sours and relationships fall apart.
When The Inheritance focuses on the ebbs and flows of Eric and Toby's relationships, the drama reflects the lives of young gay men during the period. Their cabal of friends, all in their 20s and 30s, are collectively adrift, to one degree or another. But to return to Eric's (and the playwright's) point, it's evident that these characters don't know where their freedom to be carefree, open, and out came from. They have no first-hand knowledge of the decades of misery closeted gay men, such as Forster, suffered. They have no idea of what it was like to live in a world filled with laws opposed to same sex relationships, or of the painful battles there were waged to have them removed. And, of course, they don't recognize the devastating loss of an entire generation of young men their age to AIDS.
Director Paul Daigneault and his team have created an open palette in the Speakeasy Stage space's three-quarter thrust setup. Scenic designer Christina Todesco and lighting designer Karen Perlow have styled unobtrusive and functional scenic elements. Charles Schoonmaker's costumes are straightforward and effective. The overall theatrical approach mirrors that of the original production, with its whiffs of Brecht-influenced stagecraft: the supporting actors are on stage much of the time, draped along the sides of the playing area, from time to time commenting on the action. This is visually attractive, but the concept generates a weird perception — it is as if the characters are floating in space. Except for a visual suggestion of place — as when the scene shifts to a house in the Hudson Valley — the scenes just sort of glide from one to the other. The original music and sound design by Dewey Dellay also eases itself into this relaxed atmosphere of drift. I'm not always sure intimacy coaching is called for in productions, but Yo-EL Cassell's work is necessary and remarkably effective. While sometimes unpleasant and disturbing, the scenes of intimacy in this production are flawless.
As Eric and Toby, Shields and Reinfeldt carry the narrative with skill and clarity. Yarovoy's Adam and, in the second half, his Leo, are more richly drawn figures who represent both ends of America's desperate class struggle. The performer's Leo also touchingly conveys the decay that still comes with untreated cases of AIDS. They are supported by a strong ensemble of young actors. But I wished there was more diversity, not only in terms of ethnicity but regarding shape, size, and ability as well. Today's gay community has become a bit more diverse, in every way, than the ubiquitous young, fit white men that make up most of this ensemble.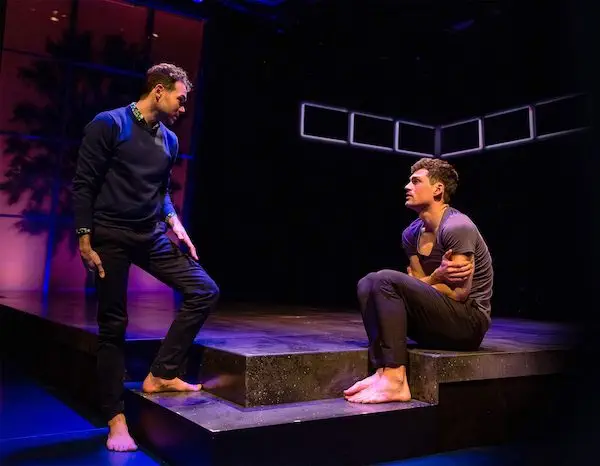 Besides Dold's Morgan and Walter, there are two other older adults in the play. Dennis Trainor Jr. has powerful moments as the ultra-wealthy gay conservative, Henry Wilcox. He is the voice of the "Log Cabin Republicans," or "Blacks and Latinos for Trump." How can Henry square his support for policies and platforms that are specifically aimed at attacking his sexual preference? By including Wilcox, López offers a perspective that is essential for us to hear. Respected and oft-honored local actor Paula Plum brings her wealth of compassion to the character of Margaret Avery, a formerly homophobic mother who lost her son to AIDS and has devoted her life to helping other gay men through their health struggles.
But, when all the cast members are accounted for, it's Dold, as Morgan and Walter, who grounds this production. According to his bio, the performer appeared in the original Broadway staging. He's remarkably precise in speech and movement and clearly in command of every moment he's on stage — and that is not often enough. Dold's comic timing is wonderfully crisp as the narrator and, as Walter, his inspirational support for those dying of AIDS leaves the audience weeping.
As National Pride Month begins — inconceivable just a few decades ago — The Inheritance is a powerful way to honor and remember the impossible journey so many have taken to win the right to simply be themselves in public. I'm a cisgender male, and it was gratifying to see how many in the audience found this production to be a revelation. It is just a few months from America's midterm elections, and we are on the verge of what will most likely be a renewed battle for individual rights of all kinds, including LGBTQ. The Inheritance is a demanding but consistently compelling reminder that this elemental fight has been going on for a long time and it is not nearly over — not by a long shot.
---
David Greenham is an adjunct lecturer of Drama at the University of Maine at Augusta, and is the executive director of the Maine Arts Commission. He has been a theater artist and arts administrator in Maine for more than 30 years.