By Peter Walsh
Perhaps unintentionally, the show is a moral fable on the nature of true achievement:  Milton Avery's steady progress on his own path stands out in this age of online influences and the rabid pursuit of instant fame and material success.
Milton Avery at the Wadsworth Atheneum Museum of Art, Hartford, CT, through June 5.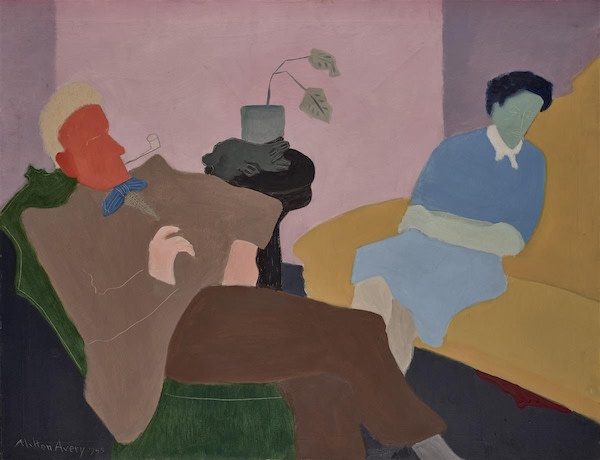 The careers of almost all artists unfold in one of two ways. Most, after study and youthful experiment, blossom into a mature style which they develop, with some variations, for the rest of their careers. A much smaller group — Titian, Rembrandt, and Matisse, for example — grow like trees, reaching upward and branching out as long as their creative life lasts.
Wadsworth Atheneum Museum of Art's Milton Avery show places Avery firmly in the second camp. The exhibit's nearly seventy works, many of them from the Milton Avery Trust, arranged chronologically and winding around the museum's third floor, make up the first major retrospective exhibition of the artist's work in the U.S. in some thirty years. Avery's long career unfolds slowly and deliberately. He is past thirty before his work begins to look fully modern, nearly sixty when he begins to work in what is recognized as his mature style, in his seventies when the powerful, nearly-but-never-quite-abstract late paintings appear. Through it all, he works steadily and prolifically, always part of the contemporary art world, always following his own path.
Avery lived and worked during a period when wave after wave of European movements washed over American art: Impressionism, fauvism, Cubism, German Expressionism, Surrealism, European abstraction, all of them deeply influential. Yet, though he clearly knew about these currents, Avery steered between them all.
Born in 1885 to a working class family in upstate New York, Avery moved to a Hartford suburb north of the city as a teenager. Soon after, he became the main means of support for seven female relatives and dropped out of school. For twenty years, he worked, full time, at several factories in Hartford's working class industrial district of Parkville.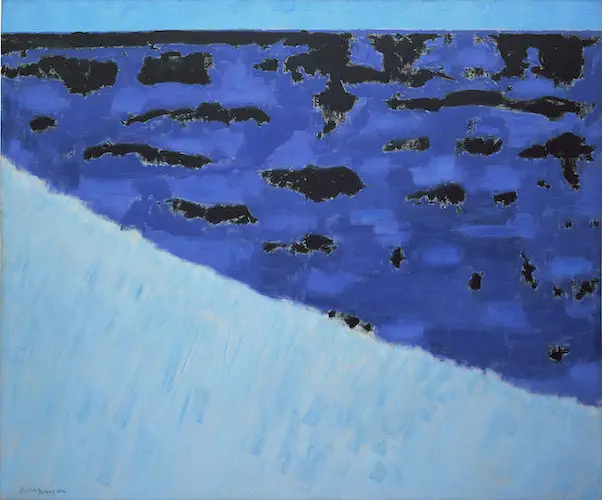 Over those years, Avery took classes at the Art Society of Hartford (then housed at the Wadsworth, now, as the Hartford Art School, part of the University of Hartford) and at the Connecticut League of Art Students. The year he turned thirty he exhibited for the first time in the Wadsworth's Annex Gallery. More local exhibitions followed. He was encouraged to continue and won a prize.  In 1924 he met Sally Michel, a young art student, whom he later married. In 1925, the year he turned forty, he and Sally moved to New York City, where he continued to study at the celebrated Art Students League. What art historians now regard as his main career didn't unfold for another two decades.
In the Wadsworth show, though, nothing really looks like early work. The exhibition describes the earliest paintings as "Impressionist," a style by then decades old in France though it was extremely fashionable in Hartford and America at the time. Many of Avery's American contemporaries, like Edward Hopper, went through Impressionist phases when they were young. But Avery's "Impressionism" was different. Landscapes like "Spindly Trees" (ca. 1910), lack the typically bright, sun-drenched pastels, inspired mostly by Monet's late work. Instead they are darker, closer in their sober feeling and color to French landscape painters of a generation or two earlier.
In New York, Sally and Avery, joined later by a daughter, March, and a dog named Picasso, lived in a one-room apartment in a building on the Upper West Side whose low rents attracted singers, musicians, and other creative types. At the time, advanced American artists didn't expect to make a living from their art. Sally supported the small family with her work as a commercial illustrator so Avery could finally paint full time. They were so poor, the exhibition claims, they couldn't afford to go to the movies. The family spent every Saturday devouring the exhibitions at local museums and galleries and hosted an informal salon in their apartment. These often featured poetry readings and were attended by younger artists, including Adolph Gottlieb and Mark Rothko, who became close friends. Both later became major figures in American Abstract Expressionism. Rothko delivered the eulogy at Avery's funeral
In the 1930s and early '40s, many New York artists were imitating Picasso, the Surrealists, Social Realists, or working in a typically clumsy style that combined all three. Avery had already digested European modernism. The examples in the Wadsworth show reflect an impressive, and complete, absorption. They display the cheerful self-confidence of a child's paintings combined with the worldly self-awareness of a master.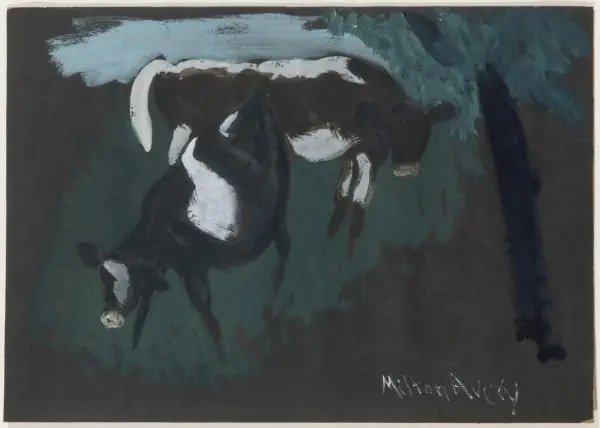 In "Rolling Hills" (ca. 1930), Avery has reduced a rural landscape, probably one near Hartford, the same sort of place that inspired his earlier Impressionist studies, to a series of simple stokes, dots, and squiggles that perfectly evoke a summer afternoon with a minimum of means. Other landscapes similarly reduce as they conjure up a fall in Vermont as well as a sweeping view of water and village in Quebec's wild and rugged Gaspe Peninsula.
"Hors d'Oeuvres" (1943), one of the best works from the '30s and early '40s, converts a carefully arranged platter of snacks to concentric ovals of dots, on a table top tilted towards the viewer. The Matisse influence is close here, but the work is all Avery's. It also is an example of his subtle sense of humor, more obvious in the caricature-like faces in "Chariot Race" (1933), probably inspired by the circus paintings of Europeans like Toulouse-Lautrec and Seurat, "The Dessert" (1939), and "Man with Pipe" (1934), In "Hors d'Oeuvres," the humor is less obvious and more complex —  a kind of teasing exchange between hat artist and viewer over the nature of representation and the pleasures of color and pattern.
That dialectic takes a powerful, new turn in the climax of the show— the mature work that appears, apparently without much warning, in the mid-'40s. Avery is now past middle age and has just signed with a new, prestigious gallery that represents a number of prominent European modernists. Decades before, Gauguin and the School of Pont-Aven had proven that painting need not represent landscapes, objects, or even people in their natural colors. But in this decade or so of Avery's high plateau, he moves the idea into fresh territory.
In "Husband and Wife" (1945) Avery depicts a couple who had stopped by his family's Greenwich Village apartment one night. Set against a background of pink and mauve, the  man sprawls on a chair, his face a brilliant orange, his clothes in a close range of purplish browns. The wife, depicted in recessive blues and teals, retreats into a mustard-colored couch. The play of color and abstract shapes in flat, uniform colors is an aesthetic delight. At the same time, with little or no details, Avery captures the sense of space, the palpable sense of the figures in their poses, even the psychology of their relationship. The ensemble is so agilely handled that the viewer is immediately delighted and intrigued without quite knowing why.
Avery uses the same formula, while never repeating himself, in painting after painting: "Poetry Reading" (1957), "Two Figures on a Beach" (1950), "March in Brown" (1954), "Hint of Autumn" (1954). In each, he flirts with complete abstraction but remains completely readable in his representations of real people and places, even of real moods and atmospheres.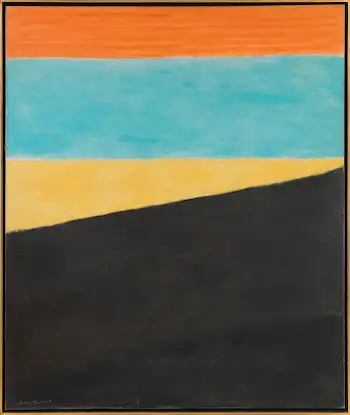 Avery's extraordinary colorism, jumping from rich, close harmonies in cool tones to sudden yellows, pinks, or persimmon shades, has been called "poetic." The term is a bit too pat though it may hint at something significant. Avery, friends and family remembered, said little at the gatherings in his apartment ("Why talk when you can paint" is his most often quoted remark). Instead, he sat and sketched. But he was enthusiastic about poetry, which he liked to read aloud to the group. One of his favorites was the Hartford poet Wallace Stevens, who moved from Manhattan to Hartford a few years before Avery went in the other direction. Avery was an artist who loved poetry and painted people reading poetry; Stevens was a poet who loved and wrote about art and who married a sometime artists' model. The two probably never met. On some subterranean level, though, the poet and painter connect.
The final, spacious gallery of the Wadsworth exhibition is devoted to Avery's late work: monumental canvases that reach the outer edges of representation. Like the mature works that came before, the origins of this style are a bit obscure. The exhibition claims the artist found inspiration in summer trips to Provincetown, Massachusetts — a town made up of Avery-like shapes of blond dune, dark water, and vast expanses of pale blue sky.
For works like "Excursion on the Thames" (1952), distilled from the family's one trip to Europe, "Speedboat's Wake" (1959), "Speedboat on a Choppy Sea" (1960), and "Seagrasses and Blue Sea," you have to read the titles to see the subjects, but then they jump into indelible focus, like one of those trick drawings psychologists like to use. By now, Avery is moving into his seventies and in poor health, but his imaginative strength is still expanding. It is easy to see how these extraordinary paintings helped inspire the following generations of Abstract Expressionists and Color Field painters, who abandoned the connection to direct representation, though not, finally, the links to the natural world.
Unusually for an American artist, Milton Avery was organized by a European institution — the Royal Academy of Arts, London, in cooperation with the Wadsworth and the Modern Art Museum of Fort Worth —  even though there are few Avery's in European public collections. The show's lead curator, Edith Devaney, now managing director and curator of the David Hockney Foundation, is also British. This distance might partly account for the clear-headed view of Avery that seems to have guided the selection, which does not judge, for example, Avery's near total lack of political content when ideological approaches, particularly in the '30s, tended to dominate in contemporary American art. The show, perhaps unintentionally, is also a moral fable on the nature of true achievement: Avery's steady progress on his own path stands out in this age of on-line influences and the rabid pursuit of instant fame and material success.
For reasons of space, Devaney, aside from two or three telling examples, leaves out Avery's rich legacy of works on paper (one hopes for a sequel). But otherwise it is hard to imagine a more complete — or effective — survey of his work.
---
Peter Walsh has worked as a staff member or consultant to such museums as the Harvard Art Museums, the Museum of Fine Arts, Boston, the Davis Museum at Wellesley College, The Metropolitan Museum of Art, the National Gallery of Art, and the Boston Athenaeum. As an art historian and media scholar, he has lectured in Boston, New York, Chicago, Toronto, San Francisco, London, and Milan, among other cities, and has presented papers at MIT eight times. He has published in American and European newspapers, journals, and in anthologies. In recent years, he began a career as an actor and has since worked on more than 80 projects, including theater, national television, and such award-winning films as Spotlight, The Second Life, and Brute Sanity. He is a graduate of Oberlin College and Harvard University.