By Steve Provizer
The range of Kurt Elling's repertoire is astonishing and his program at Jimmy's was commensurately ambitious.
Kurt Elling at Jimmy's Jazz & Blues Club
I've written about Kurt Elling a couple of times for the Arts Fuse, here and here.
In his October 19 concert at Jimmy's, in Portsmouth, NH, Elling performed some familiar repertoire, but mostly continued his explorations, pushing hard into funk as well as Tom-Waits-like dramatic territory. All three of these musical directions are represented on his latest release SuperBlue — Kurt Elling, voice; Charlie Hunter, hybrid guitar; DJ Harrison, keyboards; Corey Fonville, drums, percussion.
Funk tunes included "Superblue," "Manic Panic Epiphanic," and "The Seed." His goal, as I see it, is to bring jazz flexibility to funk actuality. That is, to infuse the stable funk backbeat and simpler harmony with the rhythmic fluidity and broader harmonic implications of jazz.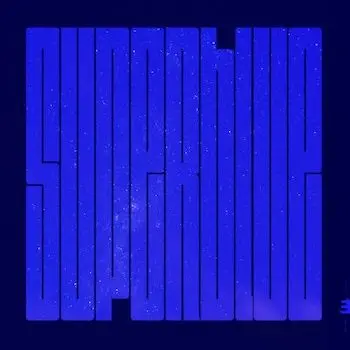 Elling has a supple, pliant voice, so there is no question that he can be expressive in this style. He has a distinct "sound" and one recognizes him immediately. When he does funk, you can hear some Al Green and a little Otis Redding, though I felt that some of the genre's language and funk-isms were not native to him. Elling has always been careful about articulation and grammar, neither of which funk really cares much about, so it sometimes seemed a bit of an uncomfortable fit. That's not to say that someone who didn't have a history of Elling's music in his head would not find him convincing. His commitment to the music alone would be enough to bring most people along.
As Elling tries to bring the jazz into the funk musically, he is challenged to attempt a similar fusion of "street" argot and sophisticated manipulation of language. Lyrics from "Can't Make It With Your Brain" suggests his approach.
Cause that's when you murdered the moment. The rabbit hole opened on your stranger than strange.
That button isn't ironic. It's Adrenochromic, and it's some bloody insane.
And, wow! That blows up the hook up. 'Cause I ain't wasting time cruising in your lane.
Because now I'm only looking for grown-ups, and not some adolescent on a crazy-train.
And you can buy your own expensive champagne
because I can't make it with your brain.
The performances that originated, loosely speaking, from the jazz realm, included "Where to Find It," Elling's lyricization of a Wayne Shorter tune, and Carla Bley's "Endless Lawns," to which Elling also set words.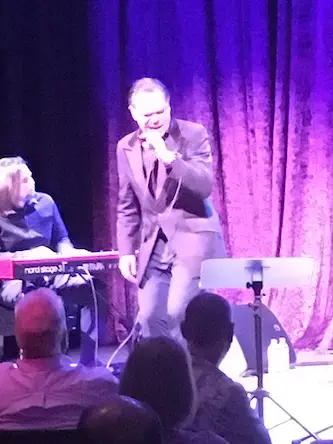 The funk worked, but it did not strike the same deep responses from me as the work that sprung from the native jazz environment. In Bley's "Endless Lawns," Elling has a tune that allows him to use what I think are some of the most effective and affecting qualities of his voice — contrasts of lightness and darkness, changing vibrato, dips into the lowest and highest registers. His build just before the quiet ending of this song from the bottom to the top of his vocal range was truly thrilling.
I only saw four people on stage, so was surprised to hear five playing. Upon closer investigation, I saw that Charlie Hunter, playing a seven-string guitar, was able to play both guitar solos and bass lines simultaneously — a neat trick that I hope results in double pay. Jazzer Nate Smith, on drums, was fluent in each of the styles that were called for. He and Elling exchanged eight-bar solos on a couple of tunes and, although the crowd loved it, I was not swept away. Elling is a fabulous scatter and took it as far as it would go, but I don't think funk harmony and rhythm provide the freedom that allows full range for his scatting adventurousness.
Elling has always worked hard to connect with his audience. At Jimmy's, he pushed in a dramatic direction, using various arranging ideas to background long narrative forms in the "slice of (low-) life" mode. Songs included Elling's "Can't Make It With Your Brain," "Dharma Bums," and "Circus," written by Tom Waits. The acoustics of the space, unfortunately, made it a lot tougher for Elling to put this material across. Jimmy's, open less than a month, is an attractive venue, with a large, vaulted central room and wings on both sides with tables. I was seated in one of the wings and have to report that the sound was not great. I question whether enough attention was paid to how the sound should be mixed to work anywhere other than the main room. In the tunes that featured long narratives, many of the words weren't decipherable.
The range of Elling's repertoire is astonishing and his program at Jimmy's was commensurately ambitious. I am most drawn to the splendid vocalese and interpretations of standards that Elling offers, but I respect his commitment to innovation. As he has said, "My way through the world is curiosity," and that's not a bad way to go.
---
Steve Provizer writes on a range of subjects, most often the arts. He is a musician and blogs about jazz here.