By Michael Ullman
The Temple University students in this fine big band homage to the late saxophonist/composer Jimmy Heath sound professional — tight and well rehearsed. They are joined by all-stars Joey DeFrancesco and Christian McBride.
Terell Stafford and the Temple University Jazz Band: Without You, No Me, featuring Christian McBride and Joey DeFrancesco. (BCM&D Records)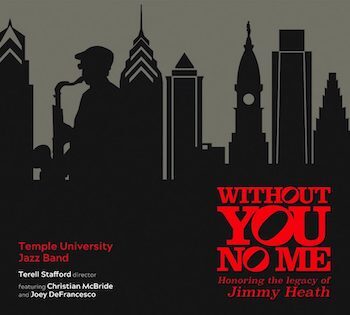 When trumpeter Terell Stafford was hired by Temple University as Director of Jazz and Instrumental Studies, he called the wisest man he knew for advice: Jimmy Heath. No wonder. A big band leader when he was only 20, an adept, sometimes under-rated, saxophonist as well as a celebrated composer/arranger, Heath, who died on January 19, 2020 at the age of 93, was treated with understandable reverence by his many students. Saxophonist Antonio Hart said of Jimmy: "He embodies what I think Christ talks about in the Bible, how you're supposed to let your life shine, how you're supposed to treat people the way you want them to treat you" Of the Heath composition Without You, No Me, Hart says whenever he plays the tune he gets chills.
So it was not surprising that Stafford should turn to his former leader for counsel, or that he would be eager to record a tribute to his mentor soon after his passing. Of Heath, he said: "He gave me such great advice: 'Just teach yourself. Teach who you are. Figure out what you do, how you do it and teach that. And that will be what the students will need.'" Of course Covid intervened, and there was a year's delay. Nonetheless, this recording was eventually made by musicians who were all in the same room, and played with filters and covers over the bells of their horns. These students sound professional — tight and well rehearsed. They do two lesser known Heath compositions (they have received less attention than "Gingerbread Boy," that is), both from Heath's 1992 Grammy-nominated album Little Man Big Band. They are typical of his tunes: tricky to play, yet easy to listen to. "Without You, No Me" begins with an up-tempo, brassy fanfare and then, after a swirl by the saxophones followed by a pause, a repeated pattern is set up. The tightly muted trumpet section plays the melody until it becomes a bridge taken up, broadly, by the saxophones. It's a shapely piece, filled with rhythmic and textural variety that the fine soloists among Temple's music students treat beautifully. "Voice of the Saxophone" begins with the band backing a tenor saxophone. Soon, everyone but the rhythm section drops out and the tenor sax is left to play the tune's gorgeous melody. This is a special piece in Heath's own recorded legacy — and it is done justice here.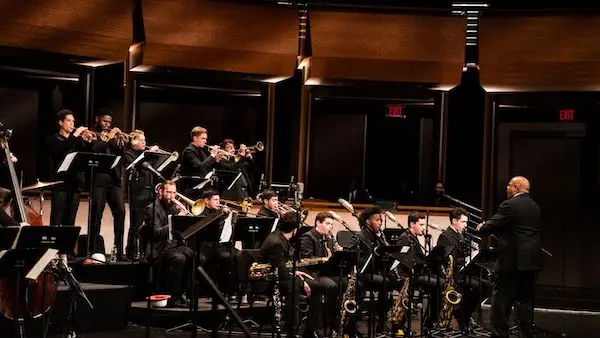 There's more to this big band disc. "The Wise Old Owl" was written by bassist Christian McBride in honor of the late basketball coach John Chaney. It begins with a funny, birdlike pattern of staccato notes that continue behind a rather sad-sounding melody, a falling pattern that reminded this listener of Eeyore as much as it did an owl. But then McBride takes off during his solo, demonstrating his skill at asserting an effervescent swing despite the occasional complexity of a tune's rhythms. McBride is one of the all-star guests, and he is also featured in the old Louis Armstrong staple "I Can't Give You Anything But Love." Here it is mostly given over to McBride's exuberant bass playing. Organist Joey DeFrancesco is featured in his composition, a tense, upbeat tune called "In That Order." Everyone plays in an aptly rousing finale, Juan Tizol's "Perdido."
---
Michael Ullman studied classical clarinet and was educated at Harvard, the University of Chicago, and the U. of Michigan, from which he received a PhD in English. The author or co-author of two books on jazz, he has written on jazz and classical music for the Atlantic Monthly, New Republic, High Fidelity, Stereophile, Boston Phoenix, Boston Globe, and other venues. His articles on Dickens, Joyce, Kipling, and others have appeared in academic journals. For over 20 years, he has written a bi-monthly jazz column for Fanfare Magazine, for which he also reviews classical music. At Tufts University, he teaches mostly modernist writers in the English Department and jazz and blues history in the Music Department. He plays piano badly.