By Paul Robicheau
Both Newport festivals rose to the challenge of restoring live music in a year that made it difficult and welcome.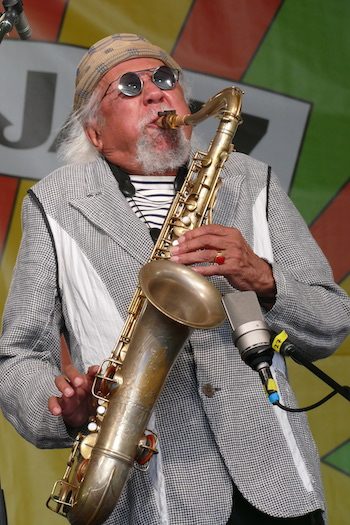 Nine out of 10 days of music at Fort Adams State Park culminated with Sunday's finale of the three-day Newport Jazz Festival, as Andra Day cooed and soared through her affirmative anthem "Rise Up." And if the preceding Folk On fest (Arts Fuse review) covered a lot of ground over six days, the jazz weekend proved more diverse, from the crowd — which seemed bigger despite the same half capacity with vaccination proof or negative Covid test — to the range of what constituted jazz.
Friday featured the lightly exotic psych-funk of the popular if polarizing Texas trio Khruangbin (last seen at Newport Folk in 2018), as well as the spirit-pumping sax flights of Kamasi Washington, who draws his own young following. Saturday was topped by lively New Orleans outfit Trombone Shorty & New Orleans Avenue plus soul icon and Newport Folk favorite Mavis Staples, who served Talking Heads' "Slippery People" as well as Staples Singers fare in her husky voice of authority.
Sunday was the last day to sell out the harborside peninsula, but wielded its own punch — and diversity in style and sound. The day eased in with lesser-showcased jazz instruments, from glissando-accenting harpist Brandee Younger and a vibes tradeoff with Joel Ross, Warren Wolf, and Sasha Berliner. Ross also colored the sound of the Jazz Gallery All-Stars, which included impressive turns from pianist Gerald Clayton and singer Renée Neufville, who lent an emotional tribute to the late Roy Hargrove. Pianist Kenny Barron and bassist Dave Holland brought lithe, nimble acoustic jazz in a trio setting before David Ostwald's Louis Armstrong Eternity Band rekindled its inspiration's early jazz era, down to tuba and banjo.
Tuba likewise lent bottom end to the more contemporary Bogie Band. That fun 10-piece group unleashed a winds octet of players who'd worked with the Dap Kings, David Byrne's American Utopia, Antibalas and Almost Dead, the Grateful Dead interpreters whose drummer/leader Joe Russo centered the Bogie gang. From waves of multiple flutes to surging funk with brawny horns, the band kicked butt.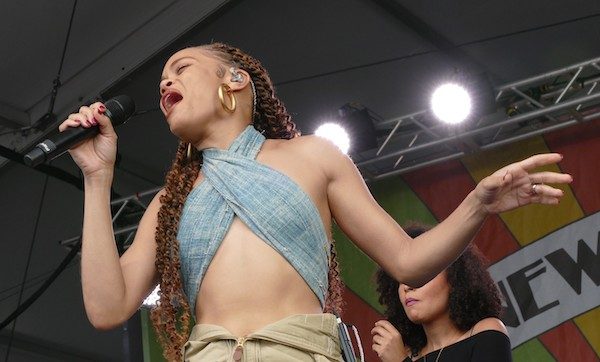 Russo also joined the Jam Jawn, a promising improv session headed by bassist and festival artistic director Christian McBride. Guitarist John Scofield laid back a bit too much, carving rubbery notes over the simpatico chatter of Russo and Almost Dead's Marco Benevento, who stood out on multiple keys. While the Jawn wasn't a yawn, it lacked inspiring turns beyond players wandering into a few riffs they'd then overstate. Better moments came when the group cut back for a slow weave from McBride's acoustic bass and Mikaela Davis's harp and when McBride moved to electric to grease a funky blowout with guests from Ostwald's Armstrong band.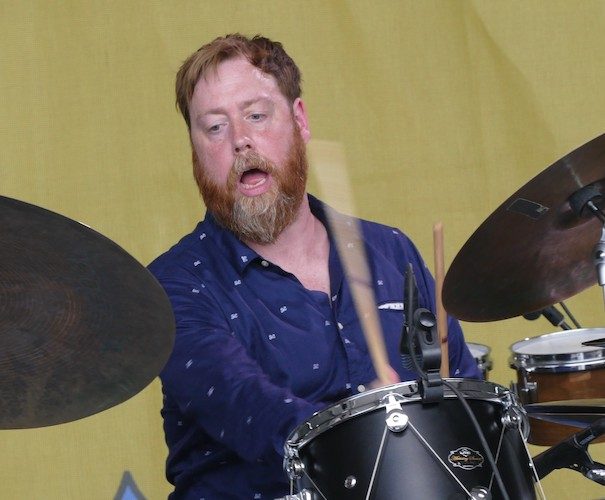 Charles Lloyd — who first played Newport five decades ago — didn't announce his band in advance, but he usually assembles a sublime cast, shaped by the earthy tone and mood of his tenor sax. Sunday was no different, with pianist Clayton, bedrock drummer Eric Harland, and guitarist Marvin Sewell, who lent sweetly pungent solos, standout slide, and biting blues.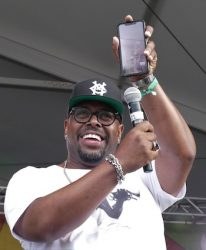 Robert Glasper played each day of Newport Jazz as the fest's artist-in-residence, from acoustic piano combo to his Black Radio band, which generated Sunday's most scorching fusion. Glasper moved from Fender Rhodes to synthesizers as the intensity grew from the groove up, capped by electrifying guitar turns from Isiah Sharkey (D'Angelo, John Mayer). The keyboardist also shared his R&B/hip-hop side, inviting out fellow Grammy winner Ledisi, who brought her dynamic voice to a few collaborative songs (including "I'm Leaving You" from a yet-to-be released recasting of Miles Davis tracks) following her Nina Simone tribute on Saturday.
Andra Day likewise dipped into Simone's songbook on Sunday with an overly slick "Mississippi Goddam" but resonated more with songs of the singer she recently portrayed in the acclaimed film The United States vs. Billie Holiday. She began the set with "Strange Fruit" (over shackle-like percussion) and nestled into "God Bless the Child" after giving Holiday props for writing that song at a time "her agency was taken from her." Day also shined with songs from her stellar 2015 debut Cheers to the Fall (notably "Forever Mine") and her next album, offering the snappy "Phone Dies" (dancing with her backup singers) and R&B ballad "Heavy on My Mind," breezy for its title. "You have shown you have risen," Day told the crowd in reference to the pandemic — and the Newport festivals rose to the challenge of restoring live music in a year that made it difficult and welcome.
Newport Jazz founder George Wein, at age 95, unfortunately couldn't make the festival this year, but McBride pulled out his cellphone to call Wein, turned the screen for him to face the crowd, and held up a microphone for Wein to speak. "Keep coming back," Wein said, thanking fans and wiping a tear from his eye.
---
Paul Robicheau served more than 20 years as contributing editor for music at the Improper Bostonian in addition to writing and photography for the Boston Globe, Rolling Stone, and many other publications. He was also the founding arts editor of Boston Metro.