By Jonathan Blumhofer
BMOP's performances of three John Adams chamber symphonies, all conducted by music director Gil Rose, offer welcome, distinctive takes on the triptych.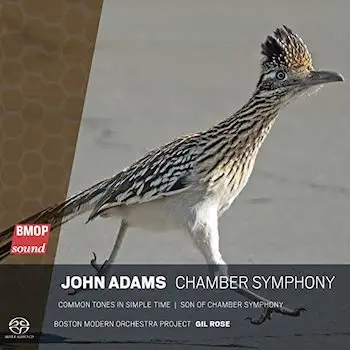 The Boston Modern Orchestra Project (BMOP) records so much unfamiliar repertoire that their excursions into more canonic contemporary fare can come as something of a welcome surprise. So it is with the group's new all-John Adams album, which pairs the early Common Tones in Simple Time with 1993's Chamber Symphony and the whimsically-titled 2007 Son of Chamber Symphony.
As with most of Adams' music, all three pieces have been recorded before: the composer helmed what must be considered definitive accounts of both symphonies, while Edo de Waart's 1980's reading of Common Tones has recently been joined by Kent Nagano's. Suffice it to say, BMOP's performances, all conducted by music director Gil Rose, offer welcome, distinctive takes on the triptych.
Generally speaking, Rose's interpretations of both symphonies lack some of the incisive bite of Adams' recordings. Perhaps because of this, texturally, BMOP's performances tend to be a bit more homogenous, too: the ensemble's tone is more blended than soloistic.
That's not necessarily a bad thing. In fact, one of the big benefits of this approach is that it helps draw out the lyricism of Adams' writing.
This is particularly welcome in the Chamber Symphony, a wacky mash-up of influences ranging from Schoenbergian chromaticism to 1950s cartoon music. Its first movement, "Mongrel Airs," sings even as it hurtles – and BMOP's strong affinity for the music's shifting shades of color provides a fresh understanding of its singular structure.
The second, "Aria with Walking Bass," is well-shaped, rhythmically clear, and features some wonderful solos – particularly those from flautist/piccolo-ist Sarah Brady and oboist Jennifer Slowik. More limber woodwind playing is a highlight of the finale, "Roadrunner."
This recording of Son of Chamber Symphony is also a bit more proper than its predecessor, but not by much.
In its first movement, Rose draws tight, dancing playing from his forces. The lovely second is songful and flowing, the transformations of its thematic materials unfolding with clarity and naturalness. BMOP delivers a rousing account of the finale, too: athletic, pummeling, and overflowing with character, especially as the music builds to its touching, Nixon in China-esque coda.
Common Tones in Simple Time comes between the symphonies. Completed in 1980, the piece has languished in the shadows of bigger, bolder efforts like Harmonielehre and Naïve and Sentimental Music.
That's too bad, because Common Tones is both lovely and accessible (lasting about twenty minutes, it's also none too long). What's more, it contains the seeds of so much of Adams' music that has followed: the Minimalist gestures that exceed Minimalism; the play of textural and rhythmic consonance and dissonance; the moments of sheer invention (like the sequence of aleatoric "modules" that unfold over Common Tone's last several minutes).
Alas, in BMOP's reading, those "modules" don't speak as strongly as one might wish they did (or as they do for de Waart and Nagano). And Nagano (with the Montreal Symphony) provides a generally clearer definition of Common Tone's structure and dynamics than Rose does here.
Otherwise, thought, this is a strong and welcome addition to the piece's unfortunately small discography. The opening is fresh and iridescent. Throughout, the ensemble is well-balanced. Rose's tempos move purposefully. As in the other selections on the disc, the conductor lets the music speak and makes sure nothing gets in its way.
The result is a reading that feels palpably built on trust: both between conductor and orchestra, and among the members of the ensemble. That's a thrilling thing in its own right; when paired with a piece like Common Tones, the effect is both captivating and moving.
---
Jonathan Blumhofer is a composer and violist who has been active in the greater Boston area since 2004. His music has received numerous awards and been performed by various ensembles, including the American Composers Orchestra, Kiev Philharmonic, Camerata Chicago, Xanthos Ensemble, and Juventas New Music Group. Since receiving his doctorate from Boston University in 2010, Jon has taught at Clark University, Worcester Polytechnic Institute, and online for the University of Phoenix, in addition to writing music criticism for the Worcester Telegram & Gazette.