By Chloe Pingeon
This wonderfully eclectic show is a post-pandemic invitation to forge new connections and open up fresh conversations.
New Light: Encounters and Connections at the Museum of Fine Arts, Boston, through February 22, 2022.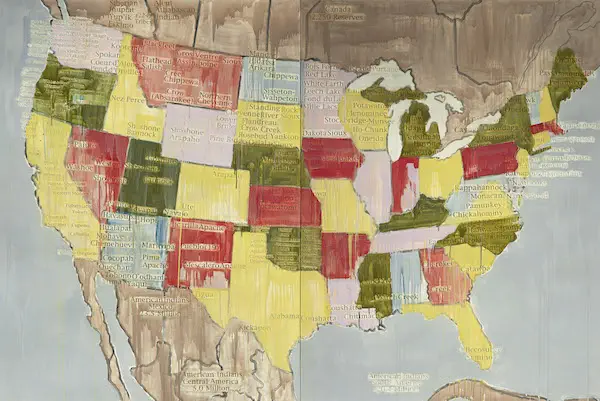 To stand in a physical art space in 2020 is a strange experience, or at least one that has been considerably transformed. Viewing objects in a gallery after (or is that mid-way through?) a pandemic feels precious, an opportunity that feels both old and new at the same time. New Light: Encounters and Connections at the MFA taps self-consciously into this tentative return to "normal," raising questions about how what happens in the outside world changes our perceptions of art, space, and time. The show's strategy is to juxtapose rarely seen ancient objects that have long sat in storage next to contemporary works. The aim is to create a conversation about political realities that bedevil America beyond the galley.
There is an immense variety of works here, covering an expansive range of time periods, mediums, and themes. Yet the collection comes off as cohesive — its unruly eclecticism makes sense. 60 works of art via 21 pairings are on display, with contemporary pieces set in dialogue with archival objects. The stories told by the individual pieces are compelling in their own right; the comparisons and contrasts effortlessly build on each other, creating a dramatic give and take that underlines the title's claim to present "encounters and connections."
For example, mounted on one of the gallery's matte black walls sits a large canvas titled Tribal Map by Juane Quick-to-See Smith. It displays a still relevant map of the Native American tribes in the United States as of 2000. A placard explains that several hundred tribes are still awaiting official recognition by a American government resistant to taking that step because bare-bones public services would follow this recognition. "White men have the power to vote on whether a Native person can call themselves a Native American," the plaque asserts. The work is juxtaposed with John Willis's 2016 photographs of indigenous-led protests protesting the injustices suffered by the tribes on the map. Smith's geographic vision is supplemented by a vision of visceral anger.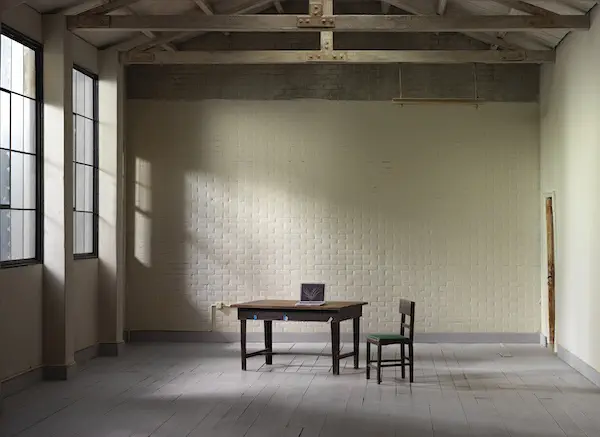 Across the gallery hangs Attractive People, Doing Attractive Things in Attractive Places — Double Your Pleasure. Samantha Nye's oil painting (2019-20) features vibrantly colorful neon hues that stand in stark contrast against the matte tones of much of the rest of the installation. The picture depicts a Hollywood pool scene that deliberately mirrors Slim Aarons '50s photos of the rich and famous. Nye, however, replaces Aaron's young and conventionally beautiful subjects with women over sixty. Nye means her painting to be a commentary on the limitations society places on female sexuality, specifically in queer spaces and concerning aging women. Nye's canvas hangs next to a 1983 enameled steel lamp entitled Grand, which was designed by Michele DeLucchi. The lamp was created to break free of the dominant concepts of the '80s, a playful transgression of boundaries.
Predictably, the encounters and connections generated by the exhibition extend beyond the major themes raised by the intentional pairings. In a second gallery hangs Jay Lynn Gomez's Resting, a 2019 acrylic and house paint canvas that focuses on two faceless workers resting in front of a perfectly trimmed hedge. Beyond that scene, two palm trees can be seen waving on a bright blue horizon. Gomez provides some background for the picture: she worked in Hollywood as a nanny for a famous family. Her intent was to supply humanity to the often faceless workers who toil for the rich and famous. Resting is juxtaposed with George Caleb Bingham's The Squatters, an 1850 oil painting in which America's creed of expansionism is critiqued. Together, the pieces spark considerations about issues such as land ownership and class disparity. Equally interesting, however, is the discussion that will follow when juxtaposing Nye's satire of the idealization of youth and fame and wealth with Gomez's sympathetic look at the workers who, behind the scenes, make a living by serving the world of glamour.
The aptly named (for this exhibition) Cross Pollination, Judith Schaechter's 2019 stained glass glowing red lightbox, hovers over the other pieces like a muse — it speaks to our desire to find beauty anywhere and at any time, maybe even at the end of the world. The piece also represents the invigorating spirit of this wide-ranging show. This is a post-pandemic invitation to forge new connections and open up fresh conversations.
---
Chloe Pingeon is a rising senior at Boston College studying film and journalism. She has written regularly for the features and arts section of Boston College's Independent Student Newspaper The Heights, and has also written for the culture section of Lithium Magazine. She is currently a creative development intern at Foundation Films.