By Sarah Osman
Cruella is by far the best of the Disney reboots.
Cruella, directed by Craig Gillespie. In select theaters around New England or order it on Disney+ with Premier Access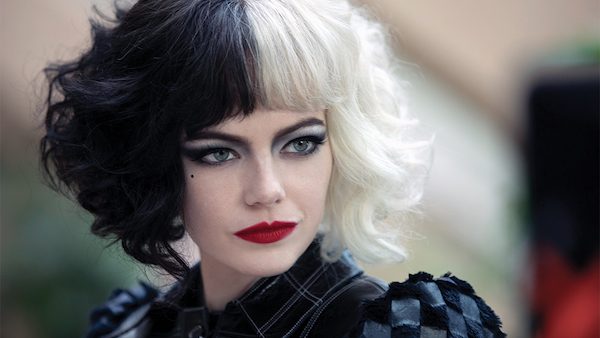 As the Disney empire expands, absorbing more and more properties with the amoral aplomb of a merciless super villain in his quest for world domination, the corporation has engineered yet another way to make even more money: rebooting some of its classic films. Some of these live-action remakes are decent (Cinderella), while others are complete train wrecks (The Lion King). In addition to conventional recycling, Disney figured out that it could generate profits by giving their villains backstories in films that detail how they got to be so damn evil in the first place. Because Maleficent was fairly successful, Disney decided to give its most fashionable villain an origin story: Cruella de Vil. And it turns out to have been a good idea — Cruella is by far the best of the Disney reboots.
Directed by Craig Gillespie (I, Tonya), Cruella takes place in '70s London. Emma Stone stars as the delectable puppy killer, and the film dives headfirst into the woman's complex childhood. Young Estella, whose black-and-white mane is au naturel, is a rebel from birth, battling bullies and an unjust school administrator who has absolutely no sense of fashion whatsoever. An unforeseen tragedy explains why Cruella hates dalmatians (no spoiler here). She ends up an orphan who is taken in by two fellow Dickensian-ready orphans, aptly named Jasper (Joel Fry) and Horace (Paul Walter Hauser). In an homage to Oliver Twist, Cruella and her friends become small-time con artists and they stay on this path until their early-mid 20s. All the while Cruella continues to draw sketches of fabulous dresses.
As a birthday gift, Jasper manages to get Cruella a job at a posh store, where she works as a janitor. One night, the young woman comes in wasted, and decides to design her own window display, which is far better than anything the store has presented in years. Her flashy effort catches the eye of fashionista extraordinaire, Baroness Von Hellman (Emma Thompson), who gets her a thankless job in her own fashion house.
Thompson's Hellman is inspired, in part, by The Devil Wears Prada's Miranda Priestly. She plays Hellman with the same sadistic flair that Meryl Streep brought to Priestly. However, there is a difference: Streep remained cool and calculating throughout, while Thompson's Hellman flares into unexpected outbursts of temper. And that hysteria is a weakness: Hellman's outfits are always on point, but the woman has shaky control over her company. It's obvious Thompson loved chewing the scenery in this role, and her fun is infectious. Thompson's erratic but sly boss makes for a delightful adversary for Cruella.
Cruella continues to work for Hellman, and discovers that she owns a valuable necklace that is rightfully Cruella's. She goes undercover at a ball as her companions attempt to steal the necklace. At that point, Cruella discovers a shocking secret about Hellman, and this begins her transformation into the infamous villain. By day, she continues to work as a meek designer for Hellman, but at night she becomes Cruella, a hot, young designer whose outrageous outfits outflaunt Hellman's when they attend the same events. Cruella's various dresses are stunning as well as playful; the best may be an impressive gown that rolls out into multicolored layers.
Part of what makes Cruella so amusing is that the film revels in showing Cruella's evil side. We are supposed to have some sympathy for the character, even though she is a crook who treats her friends badly and needs to be the best. She belittles anyone who gets in her way. Yes, Cruella had a tragic childhood, but she always had a dark side — the right circumstances encouraged it to flower. This is a far more refreshing take on evil than usual in the Disney universe, where so many baddies start off as 100 percent good and, because of some traumatic event, they immediately turn 100 percent evil. No human being is 100 percent good or evil, and neither is Cruella. (Although she becomes more wicked as her life progresses.) Stone's skills as an actress prove invaluable here: she moves with hypnotic ease from playing a shy, insecure worker to a boastful and arrogant diva. In the wrong hands, Cruella could have been nothing but an egomaniacal annoyance. But, thanks to Stone, the figure's change is exhilarating — you can't help but root for her.
The soundtrack to Cruella is decidedly not the customary Disney. It features such bands as Queen, the Zombies, Nancy Sinatra, David Bowie, and the Clash. The music suits Cruella's anarchistic tone. Some critics have argued that the film is about the birth of punk, and there are subtle nods to the rebellious style, from the score to Cruella's own aesthetic (there are a lot of safety pins). There were also rumors that this would be a female version of Joker. Thankfully, it is not. The Joker tried to be a social satire, and its nihilism wasn't fully understood. Cruella is meant to simply entertain. And, thanks to costume designer's Jenny Beaven's stunning ensembles, the film's visuals are mesmerizing pleasures, far from the calculated grime of Joker.
Disney fans will be satisfied by nuanced nods to the original film, particularly the introduction of Roger (Kayvan Novak) and Anita (Kirby Howell-Baptiste), including a scene explaining how Anita and Cruella became friends in the first place. Still, Cruella is enjoyable for non-Disney fans, and that is a trick that most of the company's other remakes fail to pull off. For an outrageous time, Cruella simply is it, darling.
---
Sarah Mina Osman is a writer living in Los Angeles. She has written for Young Hollywood and High Voltage Magazine. She will be featured in the upcoming anthology Fury: Women's Lived Experiences under the Trump Era.