By David Greenham
The "Real" Emily Dickinson never materializes, but the "Real" Mabel Loomis Todd does — and it's a sometimes shocking and sad story.
A Woman of the World by Rebecca Gilman. Directed by Courtney Sale. Bill Clarke, scenic designer. A. Lee Viliesis, costume designer. Carolina Ortiz Herrera, lighting designer. David Remedios, original music/sound designer. Kathy Wittman, filmmaker. Produced online by Merrimack Repertory Theater in partnership with the Emily Dickinson Museum, through May 30.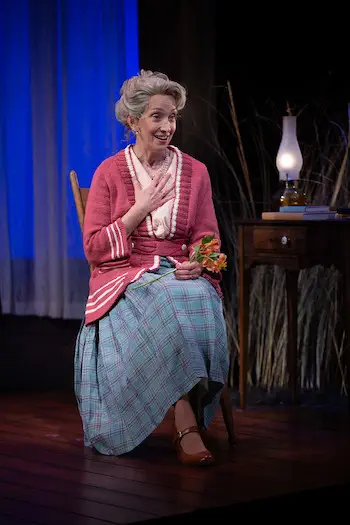 This will not be "your mother's literary talk," promises A Woman of the World's Mabel Loomis Todd (Denise Cormier). She is a woman of privilege who has, by her own account, led an exceptionally wonderful and remarkable life, highlighted by her very special friendship with Emily Dickinson. She was the reclusive poet's first editor. "I was the first, best champion of Emily Dickinson's poetry," she says with pride.
It's 1931, the height of the depression, and Todd is appearing at the Point Breeze Inn on Hog Island, in Maine. It's the only property that Todd and her astronomer husband David don't own on this small island. She's somewhat indignant about the fact that the Inn's owners, Mr. and Mrs. Ambrose, "have been kind enough to let me speak to you tonight." Still, the occasion for the talk in the terrace room's intimate setting on the edge of Muscongus Bay is celebratory. Todd's daughter Millicent, who is present, has just earned her Doctor of Philosophy degree "from the little university in Cambridge."
Tonight, Todd will present a talk she had given hundreds of times before, though she stopped in 1913, after she suffered a stroke. The topic: "The Real Emily Dickinson." She's the evening's "informal entertainment" for the guests of the Point Breeze Inn, but she adds "what kind of entertainment this will be, we'll soon discover." She is clearly excited to speak about her "dear friend" Emily. The occasion is the updated publication of the collected works of Dickinson, which Mabel edited.
As Todd embarks on the story of her "deep friendship" with Dickinson, the expectation is that we are going to learn the secrets of the poet's relationship with her editor. But tonight is different. Tonight, we see a side of Todd that no one really knows — including her daughter.
She shares the story of meeting the Dickinson family in Amherst many years earlier. This fairy tale story of opportunities, deep academic conversations, and a house bustling with "charming friends" is appealing. It was in this setting where she became acquainted with Austin and Sue Dickinson, Emily's brother and sister-in-law. Mabel's interest in meeting the reclusive poet generated a yearning for friendship: "I was beginning to think that Emily Dickinson and I might be kindred spirits."
Playwright Rebecca Gilman's adroitly articulate script is confidently handled by Denise Cormier, who earns our rapt attention as she delivers an episodic reminiscence that — as crafted by the actor and Gilman — seamlessly links fantasy and reality. The "Real" Emily Dickinson never materializes, but the "Real" Mabel Loomis Todd does — and it's a sometimes shocking and sad story. In the end, you feel for her, and for Millicent, who is presumably learning the truth for the first time.
This is a gentle breeze of a production, thoughtful and interesting. Director Courtney Sale (also MRT's artistic director) manages the pace nicely, nimbly shaping how Cormier doles out Todd's oversized personality.
The MRT's online staging is well crafted. Bill Clarke's scenic design evokes an atrium room and suggests there's a bay to be seen through the windows. Carolina Ortiz Herrera's lighting on occasion bathes the set in a moonlight glow, an effect that creates a gentle intimacy for what is a public presentation. David Remedios's original music is a magnificent addition, particularly during moments when the script flashes back in time. A. Lee Viliesis provides a lovely and flowing costume and (I assume) a wig. There might be some questions raised about the period authenticity of the staging, but they are not serious enough to undercut this moving story of a remarkable relationship. And no, it's not the one between Mabel and Emily.
An additional merit of this play is its connection with a welcome continuity. Mabel's beloved Hog Island was preserved, as she wished. After her mother's death in 1932 Millicent partnered with the National Audubon Society. Since 1936, the island has hosted residential opportunities for environmental education. Rachel Carson was there in 1960 and mentions the island in Silent Spring. Gilman was an artist-in-residence at the island, stayed in Mabel's cottage, and wrote the script at her desk.
---
David Greenham is an adjunct lecturer of Drama at the University of Maine at Augusta, and is the Executive Director of the Maine Arts Commission. He has been a theater artist and arts administrator in Maine for more than 30 years.