By Allen Michie
Two big bands, two different sides of the tradition.
Ian Charleton, A Fresh Perspective (self-released)
Schapiro17, Human Qualities (Summit)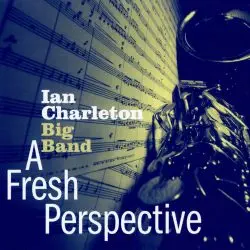 Ian Charleton is a graduate of the famous University of North Texas Jazz Studies program, and the university big band sound has never left him. He arranged and composed for the Navy band for 20 years, eventually becoming Head of Academics at the Navy School of Music (yes, there is one). A Fresh Perspective is a self-produced release featuring a roster of well-rehearsed professional musicians running down Charleton's swinging conventional big band charts.
This ensemble is clearly a notch above the average university big band. The arrangements, however, are your standard college fare. There is little mixing of instruments across sections to make distinctive sound colors in the Duke Ellington tradition. The emphasis on straight sectional playing still satisfies because it is accomplished with tight unison work, but the approach comes off as a bit dated. There is nothing cutting-edge here, by design, and that's not necessarily a bad thing.
Charleton himself conducts but doesn't play. The standout soloists are Kerry Moffit on trumpet and flugelhorn, John Lloyd on trombone, and Richard Garcia on alto sax. The rhythm section suffers from some fretboard buzz on the bass and some meandering piano solo work, but drummer Bob Habib holds things down beautifully with crisp accompaniment and flawless accents, never overplaying or distracting from the ensemble. The weakest link is vocalist Emily Charleton, whose intonation and hammy delivery just aren't right for this style of music. As much as I support musicians putting out their own self-funded CDs, it's still a good idea to have an outside producer or label executive who'll deliver the bad news.
The arrangements are a pleasure. "Stardust" is a song that every arranger wants to take on sooner or later, like actors want to play Hamlet, and Charleton takes a modern approach that is more Thad Jones/Mel Lewis than Artie Shaw. "Tea for Two" gets an imaginative and introspective arrangement, taken much slower than usual (this is decaffeinated tea). I'm not sure the staccato rhythms inherent in the melody really work for the easy swaying feel here, but it's helped by Bart Kuebler's Brubeck-like piano work. Another standard given an unusual treatment is "When Sonny Gets Blue," which is played as an up-tempo salsa. This is the only track that Charleton over-arranges. All of the Latin big band clichés are here, like a catalog for arrangement students.
Best of all are Charleton's four originals. They are fresh, joyful, swinging, and in the best Neal Hefti/Sammy Nestico tradition.
---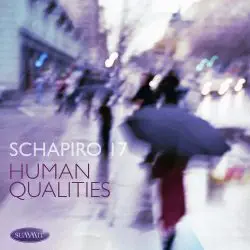 Composer-arranger Jon Schapiro represents a different side of the tradition on Human Qualities with his 17-piece big band, Schapiro17. Schapiro's sophisticated and detailed arrangements are more in the Charles Mingus/Gil Evans/Maria Schneider line, modern post-bop just this side of abstraction. You may not want to dance to it the way you would to Charleton's band, but it rewards careful listening and analysis.
Schapiro has credentials from Brown University, the Manhattan School of Music, and New York University, where he studied with Jim McNeely (composer-arranger for that fertile ground of emerging big band modernism, the Thad Jones/Mel Lewis Big Band). Schapiro spent several years in the hothouse of the BMI Writing Classes, where top New York jazz musicians workshopped each other's arrangements.
Human Qualities features seven Schapiro originals, plus a cover of Ewan MacColl's "The First Time Ever I Saw Your Face." The composer gravitates toward suspended, minor, and unresolved sounds, so the music is consistently engaging and mysterious. This could be a score for a hip postmodern film noir. It isn't as programmatic or ambitious as Schneider's late music, but it shares many of the same techniques and spiky melodic contours.
The disc opens with a swinger, "Count Me Out," that summarizes Schapiro17's aesthetic. The title is a good one — it's like Count Basie, until it isn't, once it becomes more contemporary and almost dissolves into abstraction at the conclusion. There's a strong sense of tension and suspense with shifts in meter during the tenor solo from Rob Middleton (who plays brilliantly throughout the album).
There are a variety of rhythms on Human Qualities, demonstrating the range of the composer and the orchestra. "Tango" features Matt Hong's baritone sax, Walter Harris on bass trombone, and Sebastian Noelle on bass. It's bass-heavy throughout, not something you usually think of in terms of Argentinian music. It's not so much a tango as someone's dream of a tango after a night of drinking. You could think of Hong's baritone sax as doing a dance with the band and, as in a real tango, there's an alternation of fast and slow, leading and following. Like a good tango,the performance is always a bit dangerously sexy.
There are still more rhythms: "House Money" has a New Orleans feel with an Ellingtonian vibe thanks to Alex Jeun's charismatic trombone solo with plunger mute and call-and-response with the loose-limbed orchestra. "Hmmm" continues the variety with a shuffle rhythm on the drums and a distilled boogie-woogie on piano, but the composition doesn't follow the blues form. Trumpeter Andy Gravish plays bop trumpet over an old-fashioned piano style — all with modern changes — and the resulting postmodern effect has a Mingus feel to it (especially in the stomping out-chorus). "A Bounce in Her Step" is a traditional bop swinger, and it's a game to recognize all the Charlie Parker fragments quoted and extemporized on in the arrangement. There are swells from the reeds and low brass cushions for the soloists,. It's a good track for appreciating Schapiro's use of dynamics — individual voices never get lost in these deep and layered arrangements. "Hallelujah" starts with a trance feel before finding a Peruvian groove that takes the listener on an exotic meditative journey.
"The First Time Ever I Saw Your Face," with soloist Eddy Allen on trumpet, isn't lush or dreamy like Roberta Flack's version. It's much darker. This is a song about a real face, with (as the album title says) human qualities. There are interjections from brass, like something from Gil Evans' collaboration with Miles Davis on Porgy and Bess. Perhaps it's no accident that Allen uses some Davis-like slurs and bends on the trumpet, too. A hint of sourness in the harmonies is resolved by the spirit of the trumpet solo. Complex attitudes and perspectives dominate this creative and insightful arrangement. Sometimes there is more than one reaction, simultaneously, when we first see a loved one's face.
Finally, I must pay tribute to the forceful, delightful, poetic, and genuinely insightful liner notes from trumpeter Ingrid Jensen. A veteran player from Maria Schneider's orchestra and many other ensembles, Jensen knows the good stuff when she hears it. Her connection with Schapiro17 is presumably through the drummer Jon Wikan, whom Jensen frequently uses on her own recordings. "Having played a fair amount of big band music in my 35 plus years on the scene, to hear such honest music full of nods and bows to the past, while staying clear of derivative drawings, is both an achievement and a gift," she writes.
I'll let Jensen have the final words: "I found this run of words in my rhyming dictionary to help me with my Ingrid-out-of-water search for the ultimate in verbal summations for Jon and his band of musical Heroines and Heroes. In a Seussian way, here goes…Dinging, flinging, pinging, ringing, bringing, springing, stringing, singing, tinging, winging, thinging, zinging, twisting (I added that) and swinging."
---
Allen Michie works in higher education administration in Austin, TX. For a glorious year in 1988, he was the overly enthusiastic and underprepared conductor of the Oxford University Big Band.