By Ralph P. Locke
The world-premiere recording of a first rate production of a brilliant, fantastical opera, unstaged and unheard since 1914.
Saint-Saëns: Le timbre d'argent
Hélène Guilmette (Hélène), Jodie Devos (Rosa), Edgaras Montvidas (Conrad), Yu Shao (Bénédict), Tassis Christoyannis (Spiridion).Les Siècles (orchestra), accentus (chorus)/ François-Xavier Roth.
Bru Zane 1041 [2 CDs] 148 minutes.
Click here to purchase or hear the opening of each track.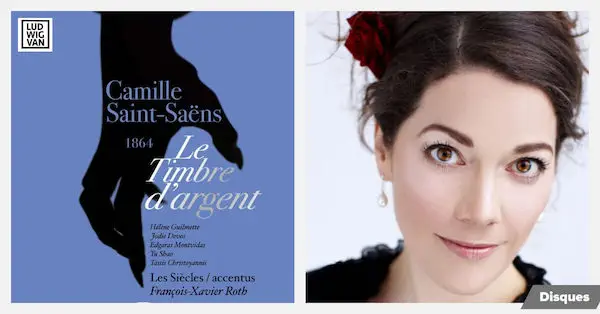 You know how odd a piece Offenbach's Tales of Hoffmann (1881) is, with its three different stories encased in yet another story, and a villain who reappears as different characters throughout? Well, Saint-Saëns's Le timbre d'argent, which was largely composed 17 years earlier before the Offenbach, resembles it in important ways. Not least in the high quality, and astonishing variety, of the music it contains.
What, you haven't heard of Le timbre d'argent (The Silver Bell)? No surprise, because it has never been recorded before and, until revived by the present performers in 2017, had not been performed in 103 years.
Saint-Saëns had perpetual trouble getting greenlighted by opera-house managers. As a master of symphonic and chamber genres and as a great pianist and organist, he was thought unlikely to be successful in the theater. And, damningly, he twice failed to win the Prix de Rome competition, in which one's ability to compose a cantata or an operatic scene was put to the supposed acid test. Nonetheless, over the decades, he did finally have all his operas performed, as Hugh Macdonald explains in a marvelous recent book, Saint-Saëns and the Stage. And one of them, Samson et Dalila, went on to become a central item in the international repertory.
Le timbre uses a libretto by Barbier and Carré, the duo who would provide the texts for numerous other operas, including Gounod's Roméo et Juliette and, yes, Tales of Hoffmann. The musical numbers, as was typical in all varieties of French comic opera, were separated by pages of spoken dialogue.
The work, though composed in 1864, was not performed until 1877 (18 times), at the Théâtre National Lyrique; it was revived in Brussels 15 years later; then in Germany in 1904-5 (in a revised version); and in Monte Carlo in 1907 (with an entire act removed). Finally, Saint-Saëns reworked the whole opera, turning the spoken passages into recitatives. (He had already drafted the recitatives years earlier for a promised production at the Paris Opéra that did not come to pass.) In this all-sung form, the work was staged in Brussels in 1914, a full 50 years after the bulk of the work had been originally composed. The composer was now nearly 80, though still quite vital; he died 7 years later.
The recording uses the final version, which is of course welcome because it enables us to hear a maximum amount of largely unknown music by this immensely skillful and often-inspired composer. The all-sung version has also allowed the Center for French Romantic Music (which prepared the score and parts and arranged for the performances and recording) to select singers not all of whom are native Francophones.
(Spoken dialogue in a French opera can be excruciating with a non-native cast, unless the work is translated. By contrast, I was delighted to get to know recently two old radio-broadcast performances of Auber comic operas done in German by German-speakers: Le cheval de bronze and Le maçon.)
The plot? Well, let's just say that it's a series of misadventures involving Conrad, a destitute painter in eighteenth-century Vienna, who faints and has a series of dreams in which his doctor, Spiridion, accompanies him (in changing guises: a marquis, a Gypsy) to various locales where all kinds of strange things happen. The "gimmick" in the plot, and in the work's title, is a magical silver bell that, whenever Conrad rings it, will bring him riches but also cause someone he loves to die.
The locales include a theater (where the characters are onstage and the rows of seats and tiered boxes are visible behind them), a Florentine palazzo, a country cottage (on whose grounds Conrad tries to bury the bell), and the shore of a lake (into which he throws the, literally, damned thing). Two characters die, cursed by his greedy ringing: his girlfriend's father and his friend and good counselor Bénédict. The latter returns as a ghost to advise him to shatter the bell, at which point Conrad awakens and, in the opera's last pages, accepts a normal life of hard work, modest income, and life with a woman of good moral character.
The cast includes three (or, sort of, four) prominent female characters. Conrad's deeply worthy sweetheart is Hélène, Bénédict's innocent sweetheart is Rosa, and a mime plays twin roles in the dream scenes: the ancient enchantress Circe (who steps out of one of Conrad's paintings) and an enticing dancer named Fiammetta (who, in Act 3, transforms into a Gypsy along with Spiridion). The Circe/Fiammetta character, inevitably, nearly disappears on a recording. One must keep reading the stage directions to retain a sense of her actions and reactions. But, once you read them, the music tells you more, as was true of the highly gestural passages that Auber composed for the young mute woman Fenella in the 1828 grand opera La muette de Portici.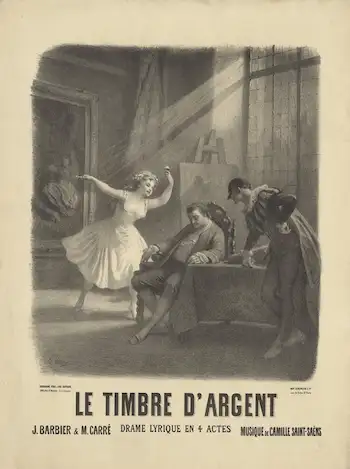 Macdonald rightly describes the score as "a young man's opera, with a prodigal abundance of fresh musical invention." Saint-Saëns was 28 in 1864 when he composed the first version, most of which remains in the 1914 version we hear, along with extensive newer material.
You can get a sense of the stylistic range from the lengthy potpourri-type overture, which includes lively melodies and lyrical ones that will occur prominently in the sung scenes. It begins with a brisk, highly syncopated passage that evokes Berlioz at his best. (The two composers were friends.) The weirdness and frequent shifts in the plot and the locale, and between reality scenes and dreamed ones, prompted Saint-Saëns to provide music of ever-fresh variety. CD 1 tracks 3-4, for example, include mysterious chords in the cellos for the arrival of the diabolical Spiridion (who at the moment is merely Conrad's physician), flippant observations by that character (recalling Mephistopheles in Gounod's Faust and well conveyed by Christoyannis), and a "ghostly" (Macdonald's word) male chorus in which Conrad's student friends regret his misguided desires and deranged state.
Among other musical highlights are a lovely song for Hélène ("Le bonheur est chose légère"), a gambling scene in a highly motoric style (analogous to gambling scenes in La traviata and, later, Manon), a Neapolitan song, a Gypsy chorus and dance, a drinking song, and a purposely raucous Carnival chorus reminiscent of the one in the last act of, again, La traviata (1853) or — even closer in style — the choral number that opens and closes Auber's Le cheval de bronze (1835).
There are exquisite and situation-specific choices of instrumentation throughout, such as ominous brass in the gambling scene. In the opera's opening scene, Saint-Saëns indicates Conrad's downhearted mood by using two English horns, thereby outdoing the introduction and coda to the third movement of Berlioz's Symphonie fantastique. In the "Dance of the Bee," the violas introduce the necessary buzzing. This number is for the perky, silent Fiammetta: it is a kind of striptease, with the dancer removing veil after veil in order to try to rid herself of the annoying insect. (There was a similar bee-amidst-clothing number in the widely performed Paris ballet La Péri, 1843, with music by Friedrich Burgmüller.)
Le timbre contains well-managed "I am" and "I want" songs (to use Broadway terminology) for several characters, and equally effective scenes of action and interchange between and among the characters, as one can well expect from the composer of the scene between Dalila and the High Priest in Act 2 of Samson et Dalila. And some delicious short choruses in a variety of styles appropriate to each specific situation. Larger ensemble scenes create much excitement through artful modulations. (Symphonic technique at work!)
The preludes and other passages for orchestra alone are, as one might expect, enchanting. The entr'acte to Act 2 is for the intriguing combination of winds and harp. (The composer also published a piano arrangement of it entitled simply "Gavotte.") Motives or even entire melodies are anticipated as hints at things to come; or they are later recalled, altered as needed to suit the drama.
The decision to use the all-sung version was a happy one. The two sopranos, Hélène Guilmette and Jodie Devos, both French-speakers, are simply marvelous, and appropriately cast: Guilmette rich and soulful as Hélène, Devos naïve and straightforward as the simpler, cheerful Rosa.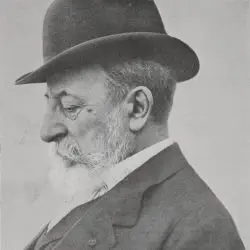 The two tenors contrast even more strikingly. Lithuanian-born Edgaras Montvidas, as the anti-hero Conrad, proves once again his mastery of vocal technique and dramatic insight. (To hear the beginning of each track, click here.) He suffers marvelously yet ever-musically, as will not surprise anyone who knows his recorded performances in operas by Gounod, Félicien David, and Benjamin Godard. Two small gripes: during scenes of excitement he sometimes sings a bit sharp, making it hard to grasp his relationship to the orchestra's harmonies. Also, some of his vowels might confuse listeners. For example, "ses"—"his" or "hers" — can here sound more like "ce" — "this." All in all, though, this is yet another triumph for a world-class artist.
Yu Shao, as Conrad's sensible and self-controlled friend Bénédict, produces clear lyric sound, always on pitch. A native of China who has studied and performed in France and Belgium since 2008, he pronounces his French with more consistent clarity than does Montvidas, but he is less responsive to specific words and phrases.
Greek-born baritone Tassis Christoyannis, as the diabolical Spiridion, balances the necessary elements beautifully: one can understand nearly every word without looking at the libretto and sense the many shifts in the character's strikingly contrasted personas. This role is a triumph for a singer whom I have already praised in numerous song and opera recordings (Salieri, Félicien David, Gounod, Offenbach, Lalo).
The chorus and period-instrument orchestra, under François-Xavier Roth, are immensely colorful, and all is captured in excellent balance. It surely helps that the recording was made under studio conditions, soon after five staged performances by the same performers at Paris's Opéra-Comique theater.
Lovers of French opera will find endless fascinations in Le timbre d'argent. It is tuneful and colorful from beginning to end, and people who dislike having to deal with spoken dialogue in French comic operas have nothing to fear here.
The small book that comes with the recording contains excellent essays and the libretto, all capably translated. One miscalculation: the compositional and performance history of the work is related again and again by each writer. Eliminating these repetitions would have left room for other considerations inspired by a major work that listeners are discovering for the first time. The synopsis, for example, is far too brief: Macdonald's aforementioned book offers far more detail, as well as numerous insights into the work's musical features.
The renowned conductor, François-Xavier Roth, discusses the opera and its magical charms in a three-minute trailer while excerpts play in the background.
---
Ralph P. Locke is emeritus professor of musicology at the University of Rochester's Eastman School of Music. Six of his articles have won the ASCAP-Deems Taylor Award for excellence in writing about music. His most recent two books are Musical Exoticism: Images and Reflections and Music and the Exotic from the Renaissance to Mozart (both Cambridge University Press). Both are now available in paperback; the second, also as an e-book. Ralph Locke also contributes to American Record Guide and to the online arts-magazines New York Arts, Opera Today, and The Boston Musical Intelligencer. His articles have appeared in major scholarly journals, in Oxford Music Online (Grove Dictionary), and in the program books of major opera houses, e.g., Santa Fe (New Mexico), Wexford (Ireland), Glyndebourne, Covent Garden, and the Bavarian State Opera (Munich). A version of this review first appeared in American Record Guide and here appears by kind permission.