Compiled by Bill Marx
In the age of COVID-19, Arts Fuse critics have come up with a guide to film, dance, visual art, theater, and music — mostly available by streaming — for the coming weeks. More offerings will be added as they come in.
Film
Under the Brattleite/Brattle is showing World Cinema, Cult Cinema, one-offs, documentaries and classics: Viewing is getting more complicated than ever but all purchases will go to the theater. Check the above links. Below are current recommendations.
CURRENTLY SCREENING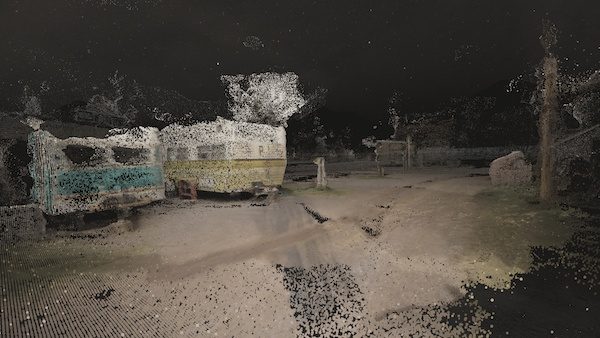 Truth or Consequences (2020)
Set in a near-future when commercial space travel has begun, this "speculative documentary" combines observational footage and virtual reality to create a complex, lyrical meditation on progress, history, and how we navigate a sense of loss within ourselves and in a changing world. A lovely companion to Nomadland. Music by Bill Frisell. Arts Fuse review
Keep An Eye Out (2020)
Prolific French absurdist Quentin Dupieux combines the police procedural, bureaucratic protocol, and domestic sitcom into a comic form of meta-cinema. The original French title (Au Poste!) deliberately mocks the TV series The Office. In the film, a mundane television show alters perception of the viewers' political and psychological reality and becomes an institution. Check out the film's amusing trailer.
This is a beautiful restoration of the radical 1972 anti-war film featuring, among others, Jane Fonda and Donald Sutherland. (The title is short for Free (or Fuck) The Army.) Francine Parker's documentary captures the two actors on a live tour of the Pacific Rim in 1971 along with other stars in a vaudeville style show. These counterculture skits, songs — which made serious political points — subverted the traditional army entertainment provided by the likes of Bob Hope and the USO. In order to undermine the tour,  the Army went as far as to promote the shows via erroneous start times. In 2009, the LA Times wrote: "Denied permission to perform on U.S. bases, they set up shop in nearby coffeehouses and other venues."  Arts Fuse review
The Inheritance
Begins on March 14
The Inheritance has been called "Godardian" because of its "speculative reenactments,"  direct address to the camera, and didacticism about the struggle for Black identity. A charismatic cast drives an interlocking story that draws on the history of the West Philadelphia liberation group MOVE, the Black Arts Movement, and scripted scenes based on filmmaker Ephraim Asili's experience living in a Black Marxist collective. A powerful addition to Black History Month, the film also serves as useful educational tool, a companion to the revelations about Fred Hampton and the FBI in Judas and the Black Messiah and  MLK/FBI, along with films about MOVE, such as  40 Years a Prisoner (HBO) and Jason Osder's Let the Fire Burn (2013 on AppleTV amd Ovid).
DOCYARD SERIES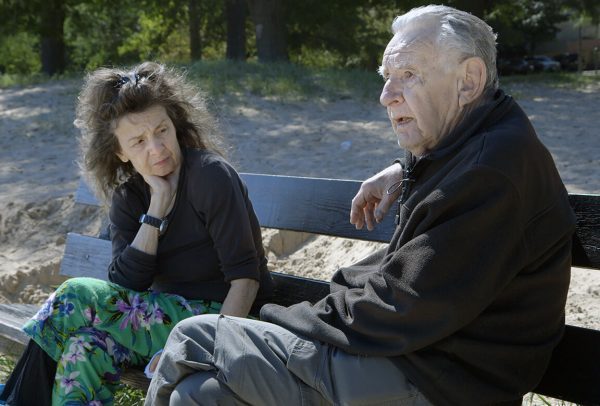 So Late So Soon
March 12 – 19
So Late So Soon centers on Jackie and Don Seiden, Chicago-artists who have been married for five decades. The pair create a variety of eccentric and moving sculptures, installations, and video works; their house has become part of their life-long dedication to art. The film's intimate footage weaves in archival footage and interviews with the Seidens through thick and thin. The documentary, directed by Daniel Hymanson, takes on darker tones as Jackie and Don confront the effects of aging and the challenges of taking care of their beloved Victorian home. There will be a virtual Q&A with curator Abby Sun on March 15th at 3 p.m.
COOLIDGE CORNER THEATER VIRTUAL
France's official submission to the Academy Awards is a septuagenarian lesbian romance set in a small French town. Actors Barbara Sukowa and Martine Chevallier subvert traditional ideas of what late-in-life passion can look like on film in a relationship that's threatened by lies, separation and time.
Following the daily lives of three stray female dogs — the bold Zeytin, the nurturing Nazar, and the shy Kartal — the film introduces us to the streets of Istanbul through the eyes of the stray dogs who inhabit that city.
This year's virtual festival features eleven captivating documentaries. The presenting organization, "e inc.," provides children, teens, and adults with a scientific understanding of the earth — its living beings, biomes, systems, and resources — along with teaching skills needed to protect the planet by supporting sustainably. Among the programs sponsored by the festival: teaching young people via outreach programs across Metro-Boston and beyond.  Science educators offer standards-based science residencies that draw on hands-on activities. Link to the films and for tickets
THE GOETHE INSTITUTE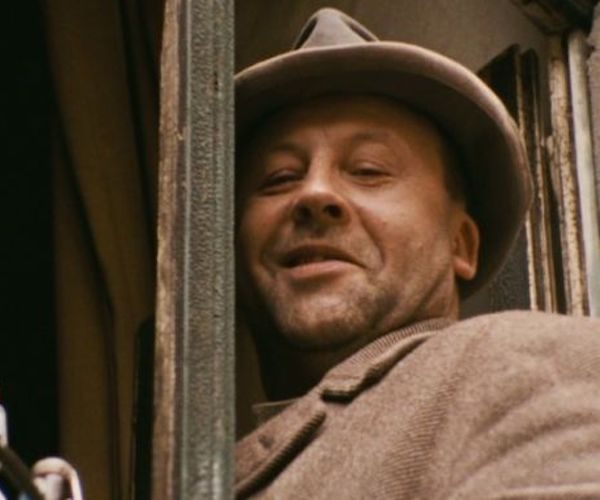 FASSBINDER'S BERLIN ALEXANDERPLATZ
March 12 – 26
Now that we are conditioned (or would that be hardened?) by Covid for mini-series viewing, here is an incredible opportunity to indulge in director Rainer Werner Fassbinder's 15- part epic whirlwind, a fifteen-hour-plus series,based on Alfred Döblin's classic modernist novel. This was the crowning achievement of a prolific director who, at age thirty-four, had already made forty films. Fassbinder's immersive epic was restored in 2006, and it follows the hulking, violent, yet strangely childlike ex-convict Franz Biberkopf as he attempts to become an honest soul amidst the corrosive urban landscape of Weimar-era Germany. Drawing on equal parts of cynicism and humanity, Fassbinder details a mammoth portrait of a common man struggling to survive in a viciously uncommon time. Free but registration required. Discussion with Johannes Binotto and Peter Jelavich on March 21 at 2 p.m. ET
THE EDUCATION OF AUMA OBAMA
Streaming  March 8 through 11
A captivating, intimate portrait of Barack Obama's Kenyan half-sister, Auma Obama, who studied linguistics in Heidelberg, Germany, before enrolling in film school in Berlin. Ultimately, she moved back to Kenya to mentor a younger generation of politically- and socially-engaged Africans. All registrants for the discussion on March 11 from 12 p.m. to 1:30 p.m. ET  will receive the link to the film on March 8. Registration here
FUSE REVIEWS — LOCAL THEATERS
Arts Fuse critic Nicole Veneto writes "What elevates Psycho Goreman beyond being merely another kitschy send-up to VHS-era nostalgia is the sheer level of craft on display: stop-motion claymation, full-body prosthetics and creature suits, giant animatronic puppets, buckets and buckets of stage blood … practically done head explosions or the presence of a giant animatronic brain with fully articulated tentacles." (Fuse review)
A Glitch in the Matrix
Coolidge Virtual
From the director of Room 237, this is a lively (yet superficial) exploration of the theory that our reality is actually a computer simulation. The documentary's jumping off point is a lecture delivered by the writer Philip K. Dick in France in the '70s. Dick was a genuine artist, and also lived with mental illness; his pained "revelations" about his perceptions of the world around him are moving to hear. (Fuse review)
Fuse Critics' Recommendations
Supernova (VOD)
Colin Firth and Stanley Tucci star in a critically praised modern love story. Sam and Tusker, partners for 20 years, are traveling across England in their old RV, visiting friends, family members, and places from their past. Tusker was diagnosed with early-onset dementia two years before, so their time together has become the most important thing they share. Arts Fuse review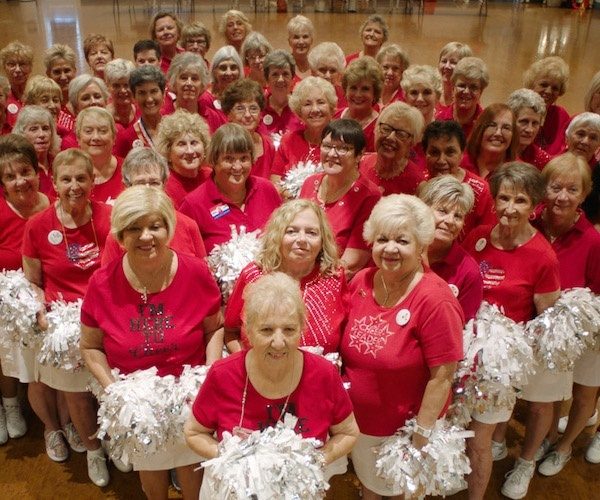 Some Kind of Heaven
January 15 on Video-On-Demand and TBA at Theaters.
A documentary that looks at four residents of the palm tree-lined fantasyland of America's largest retirement community, The Villages, Florida. As they say "You come here to live, you don't come here to pass away." You may be appalled at the idea or you may find the place inspiring and endearing, but you won't be bored. Our critic had never heard of this Disney-style elder oasis — this documentary was a real eye opener. Arts Fuse review
Identifying Features
Brattle Theater
First time director Fernanda Valadez takes on the story of a mother who loses contact with her son after he leaves Guanajuato, crossing over the border into the US in search of work. Desperate to find out what happened to him — to know whether or not he's even alive — she goes on a harrowing journey to discover his whereabouts. Arts Fuse review
The White Tiger (Netflix)
Based on Aravind Adiga's 2008 novel and directed by Ramin Bahrani, this film is a wicked and entertaining satire on the class conflicts roiling Indian society, a neo-Marxist story of masters and servants, money and corruption. It is a Horatio Alger tale with a devilish twist. Adiga and Bahrani were friends at Columbia University, and their relationship is no doubt key to how successfully the movie captures the novel's dark comic tone. Arts Fuse review
Censor
Enjoying its world premiere at the Sundance Film Festival this month, Prano Bailey-Bond's Censor is just the sort of film that both filmmakers and critics love to discuss: it's a movie about making and watching movies, giving us all an opportunity to reflect on this magical — and problematic — art form. (Or is it art at all — maybe it's just a business…?). It's also cast in a popular, but misunderstood, genre — horror, and of the particularly questionable, gory, and outright misogynistic "slasher" variety. But in this case the "psychological" qualifier should be included as well. To top it off, it's the debut film from an emerging director who brings with her a deep knowledge of and appreciation for the history of film and some strong directorial chops put to excellent use. These elements are stirred together in a tight 84-minute package to explore thought-provoking questions about the strange relationships between films, society, fantasy, and reality — and individual identity — in an increasingly mediated and violent world. Arts Fuse review
Cockroach
Vimeo
How do democracies die? While we have been watching Trump's efforts, our eyes have been drawn away from a far more virulent and successful effort by China to eliminate freedom in Hong Kong. Ai Weiwei's powerful documentary presents a visceral (and agonizing) picture of the ugliness in progress: mismatched confrontations between police and rioters are growing increasingly lethal as the city's independence is slowly snuffed out. The authorities accept beatings and murders as legitimate exercises in law and order. Young people are forced to choose between quietly accepting authoritarianism (living a life that is not worth living) or risk speaking up, acting out, and being tossed into prison. It should not be surprising that their responses range from the courageous and the pragmatic to the despairing and self-destructive.
Not much analysis or historical background is provided. Instead, we are given gut-wrenching, up-close footage of what is going on: a "pop-up" mass demonstration that demolishes a shopping mall, students tossing molotov cocktails at tanks, bludgeonings in the streets, suicides, systematic police intimidation (to keep the populace in line), and calculated brutality on both sides. Weiwei's point is clear: a free society is being murdered as the world (including many of Hong Kong's workers) stands by in resolute indifference. (One flummoxed advocate for democracy observes that it is enough for the masses to have a place to live and food to eat. Dostoevsky would not be surprised.) Given China's militaristic might — and the possibility that Hong King may soon be officially designated a haven for "terrorists" — the situation is hopeless. Subjugation is an inevitability, and mass murder cannot be ruled out.
Of course, as many in Cockroach warn, Hong Kong is a trial run for how Communist China will be treating its neighbors in the future. Taiwan is the next slated for conquest. And these modern methods of repression, including the use of facial recognition technology and social media "tracking" to squelch and destroy dissidents, will serve as effective models for despots to come. A glimpse of the future…
The Dissident, directed Bryan Fogel. On-demand.
A lacerating expose of the whys and hows behind the 2018 gruesome murder of Washington Post journalist and activist Jamal Khashoggi by the forces of authoritarian repression in Saudi Arabia. Director Fogel says he picked the subject because he "was looking for a story regarding human rights, regarding freedom of speech, freedom of press, journalism. I also wanted a story that had real world implications that could create real world change through social action or political action." He has succeeded splendidly, though he overestimated his ability to initiate discussion and action. The major streaming companies, fearful the documentary would impact on their bottom lines in the Middle East, turned their backs on distributing The Dissident. Do you need any more evidence of the film's genuine sting — and its importance?
According to Variety, why did Netflix and other major companies ignore the film? "Fogel thinks the subject matter was too explosive for bigger companies, which have financial ties to Saudi Arabia or are looking to access the country's massive population of well-to-do consumers. Using interviews with Khashoggi's fiancee Hatice Cengiz, as well as friends and fellow activists, Fogel creates a damning portrait of Crown Prince Mohammed Bin Salman's apparent involvement in brutally silencing the writer and thinker and the country's crackdown on free speech. Thanks to previously unreleased audio recordings, The Dissident draws a direct line between Khashoggi's assassination at the Saudi embassy in Turkey and the Saudi government's anger over his outspoken criticism of the country's human rights abuses and mismanagement."
— Bill Marx
RECOMMENDATIONS IN BLACK CINEMA
— Tim Jackson
---
Jazz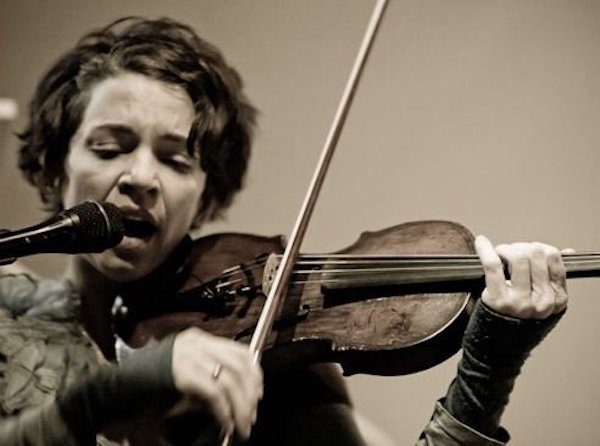 26 Little Deaths, presented by Mandorla Music and Imput/Output. The concert will premiere (via stream) at 8 p.m. on March 20 at mandorlamusic.net. "Join the FB Event and invite your friends!"
New work from violinist, vocalist, composer and improviser Carla Kihlstedt (Tin Hat Trio, Rabbit Rabbit Radio, Sleepytime Gorilla Museum, many others!), a set of improvisations and compositions for violin and voice inspired by the macabre absurdity of illustrator Edward Gorey's classic The Gashlycrumb Tinies.  Carla explains, 'In this disarmingly charming book, each of 26 children meets their untimely end. Impending Doom is fast becoming a part of our collective psychology. Might as well shake hands with it and have a little fun.'" Co-presented with Input/Output, a digital magazine and podcast celebrating female and non-binary individuals in avant-garde, experimental, and improvised music.
Forbes Graham in a live solo outdoor concert marking the Spring Equinox, presented by Creative Music Series at Jamaica Plain's  SW Corridor Park, between Hall & Rosemary sts, off of Centre St-South St., nr the Orange Line Forest Hills Station on March 20 at 2 p.m. Free — donations gratefully accepted. Covid-19 protocols are still required, distancing, face covers, please.
Trumpeter and composer Graham is "recognized nationally and particularly in metro Boston as a force in Jazz (beyond Jazz) and more, is a creative composer, musician, sound artist, and visual artist whose work explores themes of simultaneity, perceptibility, transformation and collage." He is the "creator and producer of "Beyond/Apex", a bi-weekly podcast dedicated to showcasing contemporary and experimental music. To date, this show has featured the works of over 100 composers and creatives, ranging from emerging artists such as Cecilia López and Claire Rousay to more established artists like George Lewis."
— Bill Marx
"dUOS & dUETS +1," featuring Jack DeJohnette & Terri Lyne Carrington, livestream, the Carr Center, March 20, 7:30 p.m EST
Drummer, composer, bandleader, producer, Berklee professor, and NEA Jazz Master Terri Lyne Carrington also serves as artistic director of Detroit's Carr Center. This performance brings together Carrington and the master drummer (and her fellow NEA Jazz Master) Jack DeJohnette, whom she calls her "mentor." Joining them for this meeting of two jazz giants is electric bassist Matthew Garrison, a Berklee grad, New York session player who has shared the stage with the likes of Joni Mitchell, Pat Metheny, Joe Zawinul, and Herbie Hancock, and scion of jazz royalty — his father, Jimmy Garrison, was Coltrane's bassist. Should be a sizzling evening.
East Coast Jazz Festival, livestream via six East Coast jazz clubs, March 20, 5–11 p.m.
This one-day festival features jazz artists presented by six stellar East Coast jazz clubs: Philadelphia's Chris' Jazz Café, Baltimore's Keystone Korner, Washington, DC's Blues Alley, New York City's Small'sLIVE Foundation and Birdland, and Boston's Scullers. The 60-musician lineup includes pianists Orrin Evans, Christian Sands, and Boston's own Yoko Miwa, vibist Warren Wolf, sax players Tia Fuller, Donald Harrison, and Houston Person, trumpeter Keyon Harrold, vocalists Jean Carn and Veronica Swift, and many more. Unfortunately, just like with an IRL jazz festival, the sets mostly run simultaneously, so you'll have to make choices and jump around to catch as much as you can of this wealth of jazz talent. Think of it as a return (kind of) to "normal," but from your couch.
— Evelyn Rosenthal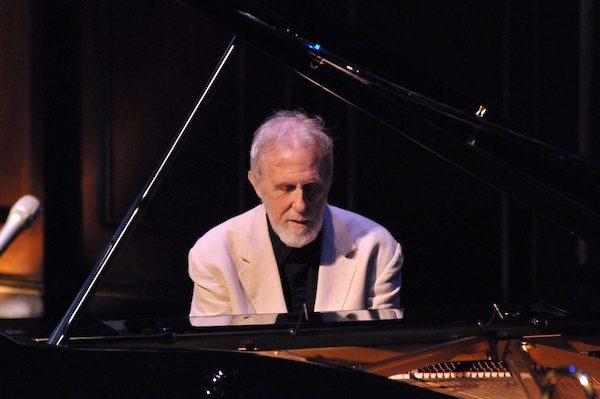 Ran Blake
March 22-24 at 7:30 p.m.
The sui generis visionary pianist, composer, film noir aficionado, and teacher Ran Blake is fêted for his 85th birthday (which happened in April 2020) by students and colleagues of his longtime academic home, the New England Conservatory, where he is chair emeritus of the Department of Contemporary Improvisation (formerly Third Stream) with three days of events.
First up, "Looking Back at 85" (March 22, 7:30 p.m.), with Blake being interviewed by historian and Thelonious Monk biographer Robin D. G. Kelley. Expect to hear Blake talk about his personal relationship with Monk and his music.
"Adding Spice" (March 23, 7:30 p.m.). An interview/conversation with Blake and his former student and current CI co-chair Hankus Netsky, billed as reflections on "Ran's innovative approach to listening, teaching, and performing."
"Portrait of Ran Blake: Celebrating 85 Years" (March 24, 7:30 p.m.). Organized by CI co-chair Eden MacAdam-Somer, this concert, prerecorded at NEC's Jordan Hall, features reinterpretations of Blake's music along with original student compositions and improvisations created as the soundtrack to scenes from Blake film noir favorites "The Pawnbroker (1964) and (noir fantasy) "Portrait of Jennie" (1948). Performers include current students along with the CI Chamber Ensemble, faculty members MacAdam-Somer and Anthony Coleman, and a special solo set by Blake.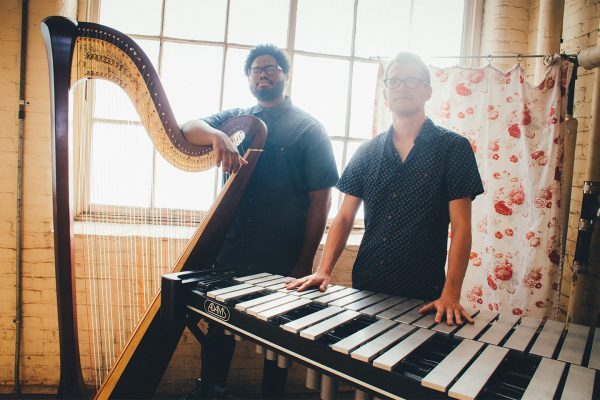 Charles Overton and Julian Loida: Harp and Vibraphone duo
March 25 at 7:30 p.m. ET
Free live streaming concert
It's an unlikely pairing of instruments — a harp and a vibraphone — but the extraordinary duo of Charles Overton and Julian Loida make it work so well. The two are frequent collaborators, and they weave their ethereal sounds together in music that crosses and combines styles: ambient, jazz, world, classical, and much more.
— Jon Garelick
---
Classical Music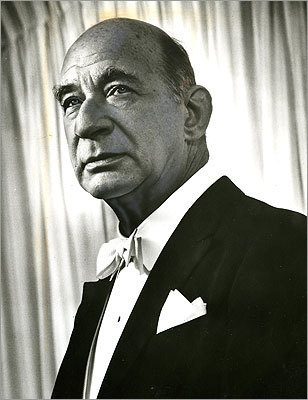 William Steinberg conducts Holst and Elgar
Presented by Boston Symphony Orchestra
Through April 3
Streaming online
BSO Now's archival series continues with the orchestra's former music director, William Steinberg, leading two, early-20th-century English scores: "Mercury," from Gustav Holst's The Planets, and Edward Elgar's magisterial Symphony no. 2.
The Magic of Telemann
Presented by Handel & Haydn Society
March 14 and 16
Streaming online
Members of the H&H Orchestra play three chamber pieces by the prolific Baroque master Georg Philipp Telemann, plus one by his contemporary, Johann Georg Pisendel.
CPE Bach and Friends
Presented by Handel & Haydn Society
March 21 and 23
Streaming online
Ian Watson directs the H&H Orchestra in a survey of instrumental music spanning the 1750s to '70s. Music by C.P.E. Bach (J.S.'s second surviving son) is framed by some Mozart rarities, as well as pieces by Charles Avison and William Boyce.
— Jonathan Blumhofer
---
Theater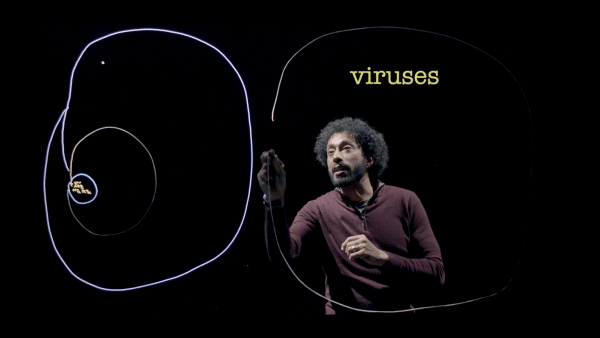 The Catastrophist by Lauren M. Gunderson. A Trinity Repertory presentation, co-produced by Marin Theatre Company and Round House Theatre. Streaming through Trinity Rep from March 18 to May 31.
"Virologist Nathan Wolfe, named one of TIME's 100 Most Influential People in the World for his work tracking viral pandemics, has hunted viruses from the jungles of Cameroon to the basement of the CDC. Hear his story – presented as cinematic digital theatre – as he tracks the threats that come from without and within."
The Pink Unicorn by Elise Forier Edie. Directed by M. Bevin O'Gara. Streamed 24/7 by SpeakEasy Stage Company  through March 18.
"A solo piece (featuring Stacy Fischer) that traces one mother's journey from apprehension to tolerance to acceptance. Trisha Lee considers herself to be open-minded and accepting, that is, at least compared to the other mothers in her conservative hometown of Sparkton, Texas. But Trisha's values are called into question when her teenager Jo comes out as genderqueer and attempts to start a Gay Straight Alliance. Faced with opposition from her family, church, and the local high school, Trisha embarks on a journey to meet her child with love." Arts Fuse review
CONTENT ADVISORY: The Pink Unicorn follows one mother's journey to accept her genderqueer teenager. In telling this story, this play contains multiple instances of transphobia and misgendering as well as ableist and fatphobic language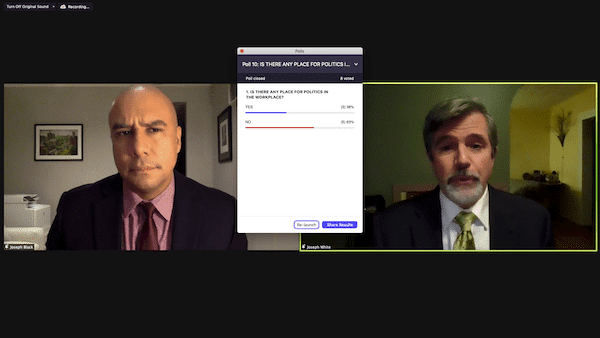 The Race by Mark Binder. Directed by Brien Lang; staged by Rhode Island's Wilbury Theatre Group. Performances via Zoom, March 13 through 28.
Back by popular demand! The world premiere of a "challenging new play that examines the common, and sometimes uncommon, obstacles of a high-pressure corporate interview dance in the Zoom era." "Two job-seekers from vastly different backgrounds vie for the same position in a large, faceless corporation. Each reveals uncomfortable truths from their past while dodging landmines from their competition, and dealing with an increasingly demanding disembodied interviewer. The audience also plays an integral part as they can communicate in a live chat, as the interview happens onscreen, and ultimately decide who is the best man for the job." Arts Fuse review
The Legion Tapes, a new sci-fi theater podcast written by Erin Lerch and directed by Josh Glenn-Kayden.
Makes sense to me, given that our own meltdown has become routine. We need to spice it up with "radio broadcasts from an alien apocalypse." The podcast features "a cast of 14 actors with Boston ties." The project launched last week and just dropped episodes 4-6. The dystopian setup: "Selections from an archive chronicling the world after the end. The alien Legion takes over worlds and absorbs the sentients of those worlds. They've assimilated eleven species so far, and humanity is next on their list. But even after the nations of the world fall, and even after being reduced to communicating solely by radio, humanity's fighting back. "
"The Boston Project is SpeakEasy Stage Company's new works initiative, which supports the creation of new plays set in the Greater Boston area. In an effort to reach a wider audience and engage with new work even while in quarantine, the company has launched a new wing of this program – the Boston Project Podcast!" A new episode each Friday. We are up to episode 4 (I believe) of MJ Halberstadt's The Usual Unusual, directed by Megan Sandberg-Zakian.
The action centers on a "scrappy and quaint bookstore where Boston's LGBTQ+ community has gathered to shop, organize, and flirt since the '70s. When the store's charismatic founder Penn announces his retirement, neurotic staff-member Charlie persuades him to pass leadership on, rather than close the store. The staff's efforts to unite a fractured community under one banner – or simply coordinate a weekly reading night — stoke generational disputes about identity, community, and trauma, and lead to fraught and hilarious results."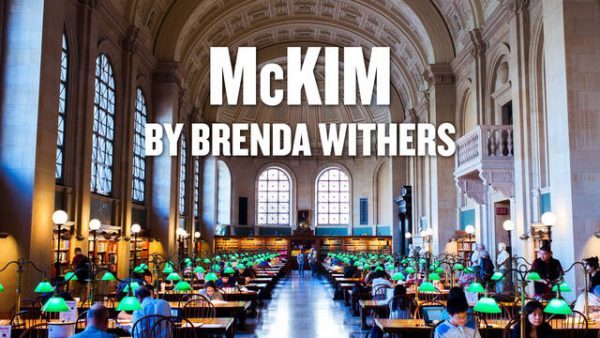 Dream Boston Plays, a new series of short audio plays produced by the Huntington Theatre Company: By the Rude Bridge by Melinda Lopez; Overture by Kate Snodgrass; McKim by Brenda Withers; and The 54th in '22 by Kirsten Greenidge. Seven additional titles have been added to this series of short audio plays, entitled Dream Boston. Four plays were posted in July; the next seven are now being released. They are available on the Huntington's website, as well as on Apple, Spotify, Google Podcasts, and Stitcher.
"Conceived and commissioned by the Huntington artistic department, the company asked Huntington Playwriting Fellow alumni Kirsten Greenidge, Kate Snodgrass, and Brenda Withers, and Huntington Artist-in-Residence Melinda Lopez, to imagine their favorite locations, landmarks, and friends in a future Boston, when people can once again meet and thrive in the city – a vision of a future Boston that is somewhere between dream and reality. Arts Fuse review of Episodes 1 through 5.
"This next set of 7 plays includes works by local artists John Oluwole ADEkoje, Miranda ADEkoje, J. Sebastián Alberdi, Rosanna Yamagiwa Alfaro, Elle Borders, Patrick Gabridge, and John Kuntz. Each play is set at a specific local landmark with 1-3 characters, and is about 6 minutes in length. The local landmarks that serve as settings for this round of audio plays include Franklin Park, Harvard's Memorial Church, the Harvard Art Museums, the Old State House, the Fenway nightclub Machine, Harrison Avenue, and Malcolm X Boulevard."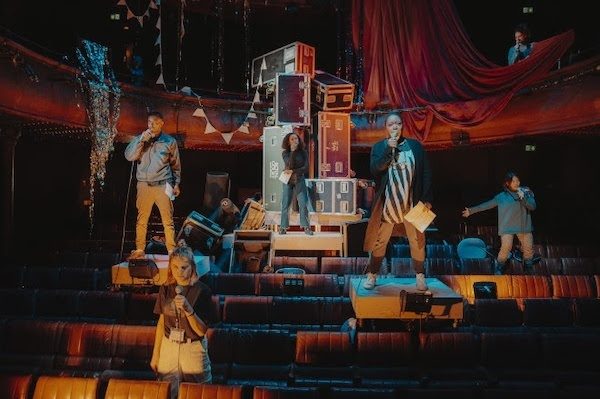 Living Newspaper Online produced by the Royal Court Theatre, Edition One
I suggested this as a project for Boston theaters in a column two months ago. Alas, none of our companies dared take their cue from America's Federal Theater Project. But the Royal Court Theatre in London is taking up the challenge. Its online "living newspaper" — presented via weekly installments — will be "urgent, responsive and fast – with writers filing their pieces by Tuesday and actors performing from Thursday, script-in-hand, hot off the press."
Williamstown Theatre Festival on Audible
"In an innovative collaboration devised to meet the challenges posed by the global health pandemic, the 2020 season will be the first-ever complete theatre season released by Audible, the leading creator and provider of premium audio storytelling. The WTF Season on Audible is being produced in an audio-only format safe to elevate, entertain, and transform audiences from the comfort of their homes." Here is what is currently up and ready for earplay.
A Streetcar Named Desire: "Following his 2019 production of A Raisin in the Sun, Tony Award nominee Robert O'Hara returns to WTF to direct this Tennessee Williams masterpiece. With Emmy, Grammy, and six-time Tony Award winner Audra McDonald as Blanche DuBois alongside Carla Gugino as Stella. Haunted by her past, Blanche seeks refuge with Stella and Stanley (Ariel Shafir) in New Orleans, where she wrestles with the nature of her sister's husband, her sister's denial, and her own unraveling mind."
Photograph 51: "In 1951, chemist Rosalind Franklin (Anna Chlumsky) works relentlessly in her King's College London lab, closing in on a major discovery that could unlock the mysteries of the DNA molecule. Undermined by her colleague Maurice Wilkins (Omar Metwally), she struggles to compete with rival team Watson and Crick (David Corenswet and Aasif Mandvi) as pressure intensifies to produce results. The script is by Anna Ziegler; Susan Stroman directs."
Animals by Stacy Osei-Kuffour. Directed by Obie Award winner Whitney White, premiering on December 17 at 3 a.m. ET: "Lydia (Aja Naomi King) and Henry (Jason Butler Harner)'s dinner guests (Madeline Brewer and William Jackson Harper) are about to arrive when Henry's spontaneous marriage proposal threatens to burn the evening to a crisp. Wine bottles and years of unspoken tensions are uncorked, and, before the evening is through, Lydia must confront her long-held fears and feelings if she's going to commit to a future with Henry. World premiere of a comedy that marches into the muddy intersection of romantic entanglement, identity, pride, and survival."
Chonburi International Hotel & Butterfly Club by Shakina Nayfack. Directed by Laura Savia. The world premiere of a play that centers on a vibrant, international group of transgender women who band together at a hotel in Thailand to confront the challenges and joys of gender confirmation surgery. Despite the group's warm welcome, Kina (Nayfack) prepares for her life-altering operation all alone. But a caring nurse (Ivory Aquino), a wise couple (Kate Bornstein and Annie Golden), and a karaoke-loving bellhop (Telly Leung) may be exactly who she needs to ignite her truest sense of self."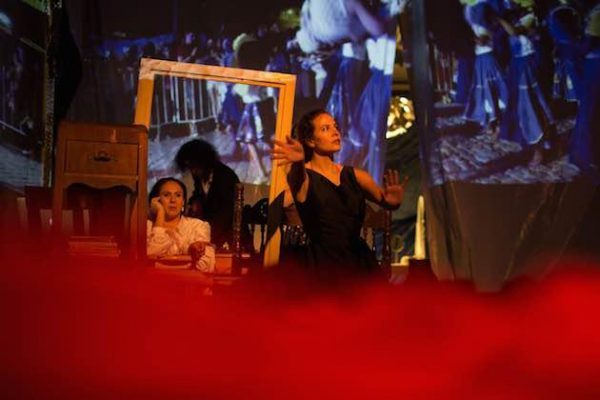 Inside the Wild Heart, adapted for the stage by Andressa Furletti and Debora Balardini. Directed by Linda Wise. A streamed film version of a a production staged by GROUP DOT BR, New York's only Brazilian theatre company. Starting from February 12, the show will be available on Wednesdays and Fridays at 7 p.m. EST and on Sundays at 5 p.m. through March 28. Tickets: $15-$50.
"An immersive theatrical experience based on the works of Clarice Lispector, Brazil's most acclaimed female writer, presented in New York in 2016 and 2018. The show transported the audience directly inside Lispector's heart creating an experience that encouraged them to engage with literature on a sensory level. Now the 2018's filmed performance is available for viewers around the world through the gather.town platform, allowing the audience to navigate through the three virtual floors of Aich Studio, a preserved 19th-century space in the heart of Gramercy Park. Similar to the live show, the audience will be able to access 11 different journeys and choose whom to follow, where to go, and how much time to spend in each room. In doubt of what to do just ask "If you were you, how would you be and what would you do?"
"The show integrates visual arts, film, music & performance art, which embodies the writer's deepest feelings, serving as an entry point to Clarice's incredible work, still mostly unknown in the US. The performers embody the writer's biggest themes such as identity, solitude, madness, faith, time, violence, maternity, childhood and freedom accompanied by the awarded violinist Mario Forte."
Winter Panto 2021, staged via Zoom by the imaginary beasts, March 13 through 20. Tix: choose your price!
"Last winter, imaginary beasts' audiences voted on what panto tale they'd most like to see next — but Demon King Discord thinks that's far too easy. He's devised a malevolent matchup in which panto stories must send tribute characters to a digital arena to compete in the first-ever . . . PANTO GAMES!"
"Will Prince Siegfried leap to the finish and take home the crown? Or will Calamity Dame hit the bullseye and take him down? Can Little Red harness the power of good, right, and true — and deliver Demon King Discord his ultimate due? Join the beasts live on Zoom for their first-ever online Winter Panto."
The Aran Islands: A Performance on Screen, drawn from the work of J.M. Synge. Adapted and directed by Joe O'Byrne. Starring Brendan Conroy. Streamed by the Irish Repertory Theatre March 16 through 28. Reservations are free but required. A donation of $25 is suggested for viewers who are able to give.
Joe O'Bryne's theatrical adaptation of Synge's beautiful early prose work, The Aran Islands has been reimagined for digital presentation. This all-new production was filmed in Ireland in early 2021 during the COVID-19 lockdown and made specifically for digital viewing. The Aran Islands: A Performance on Screen was filmed primarily at The New Theatre in Dublin, with additional footage from the Aran Islands and Dublin's Smock Alley Theatre. Irish Repertory Theatre presented the stage production of The Aran Islands in association with Co-Motion Media in 2017.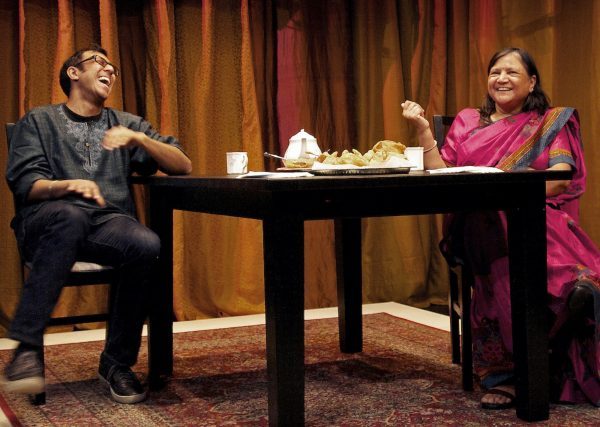 A Brimful of Asha, written and performed by Ravi Jain and Asha Jain. Directed by Ravi Jain. The Why Not Theatre staging streamed by Arts Emerson, on-demand from March 9 at 7:30 p.m. EST through March 22 at 10 p.m. EST.
"Real-life mother and son, Asha and Ravi Jain, share the stage and tell this true (and very Canadian) story of generational and cultural clash. When Ravi takes a trip to India, his parents decide it's the perfect time to introduce him to potential brides. Ravi isn't sold on the idea of getting married—at least not yet—but Asha panics that time is running out." Arts Fuse review
The Conjurors' Club, a live interactive multi-magician virtual experience created by Vinny DePonto and Geoff Kanick. Streamed by the American Repertory Theater from March 12 through April 11.
"For the first time in 100 years, the secretive magic society The Conjurors' Club pulls back the curtain for an interactive experience that redefines the face of modern magic. Take a front-row seat and immerse yourself in the arcane and mysterious with three different magicians. Physical distance can't keep the amazing mind-reading, reality-bending illusions, and extraordinary transformations from reaching through the screen and directly into your home."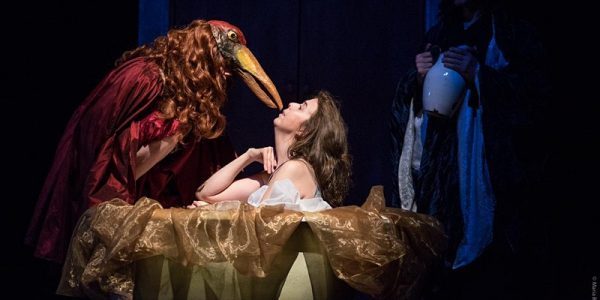 Leonora, la maga y la maestra, staged by Double Edge Theatre. A PEAK HD/ALL ARTS broadcast and online premiere event, streaming on March 14 at 8 p.m. Recorded at Montclair State University in October 2020. Free — the performance will remain on the All Arts website for the next 3 years.
Also, there is a lvestreamed conversation available between Double Edge Artistic Director Stacy Klein and renowned Surrealist scholar Dr. Susan L. Aberth, Edith C. Blum Professor of Art History and Visual Culture at Bard College that includes visual references to Carrington's artwork and the troupe's performance of Leonora, la maga y la maestra. Aberth's books Leonora Carrington: Surrealism, Alchemy and Art (Lund Humphries)" and the recently published The Tarot of Leonora Carrington (Fulgur Press) have been profound influences on Double Edge's work inspired by the world of Leonora Carrington.
— Bill Marx
Walking Plays, an audio play series, Lyric Stage Company of Boston
According to Lyric Stage's artistic director Courtney O'Connor, this new audio series was created as a way to bring "a form of live theatre" to a public that hasn't been able to experience it since theaters closed because of the Covid pandemic.
"The Walking Plays provide a way for audiences to explore both the hidden gems and iconic landmarks of Boston and the joy of theatre beyond the Lyric Stage doors. This series will commission six 10- to 15-minute plays exploring private moments we experience in public. Listeners will be able to use maps provided by the Lyric Stage to walk along with the plays or to listen to them from their own homes. Together, the plays will form a loop beginning in Copley Square, winding through the city, and ending at a special location in the Back Bay. The plays will be available for free on the Lyric Stage's website.
"The Walking Plays will include 'Easter eggs' throughout the walk, which will add another level of enjoyment for listeners. Executive director Matt Chapuran said, 'It's a great chance for people who are unfamiliar with the city of Boston to learn more about what makes it so special. Or a chance to fall in love with the city all over again.'
"The series premiered with the release of On Paying Attention by David Valdes, a Cuban-American playwright interested in stories of personal identity, especially global majority and LGBTQ experiences. He teaches playwriting at Boston Conservatory at Berklee, as well as English at Tufts University.
Next to premiere is Monster in the Sky by Ginger Lazarus. "Lazarus is an award-winning playwright and screenwriter whose works have been featured in her native Boston area, around the country, and across the pond in London. She holds a master's degree in playwriting from Boston University and currently teaches at the University of Massachusetts Boston."
"The remaining four plays will be released in two batches later in the winter and spring."
— Evelyn Rosenthal
---
Dance
Postcards From the Front
Now through March 19, every Tuesday & Thursday at noon.
Online viewing
Public Displays of Motion (PDM) has created a series of deeply moving tributes in response to the Covid-19 pandemic. Self-described as "an exercise in storytelling, memory-keeping, embodied empathy and understanding," PDM's Postcards From the Front fosters collaborations between movement artists and community members working on the frontline of the current health crisis. Videos are released every Tuesday and Friday at noon on PDM's Facebook and Instagram platforms, and the complete collection will be viewable on PDM's website in late March.
My Gentle Harp
Now streaming online
This week marks the launch of a touching new work that weaves together dance, music, cinematography, and storytelling. Percussionist, composer, and producer Julian Loida collaborates with local Irish dancer Kieran Jordan, choreographer, dancer, co-director and co-editor of this special film. My Gentle Harp presents a moving tribute to Loida's grandmother, while paying homage to Irish-American heritage.
A Virtual St. Patrick's Day Celtic Sojourn
Live-stream: March 11 at 7 p.m.
Viewable online through March 21 with ticket purchase
Broadcast live from the Hanover Theatre for the Performing Arts, A St. Patrick's Day Celtic Sojourn, hosted by Brian O'Donovan, goes virtual this year. Enjoy this lively annual event, celebrating Celtic, Pagan, and Christian traditions through an impressive lineup of music, dance, and song in honor of the holiday.
ARTISTRY. IDENTITY. ADVOCACY
March 18 at 4 p.m. EST
Live-streamed event
Harvard Dance Center presents an intimate artist talk with teachers Joh Camara, Sunanda Narayanan, and Laura Rodriguez. This event kicks off a series of conversations led by local dance artists as they discuss themes of artistry, identity, and advocacy. This is a live-streamed Zoom event; registration is required. Closed captioning is available to those who need it.
— Merli V. Guerra
---
Roots and World Music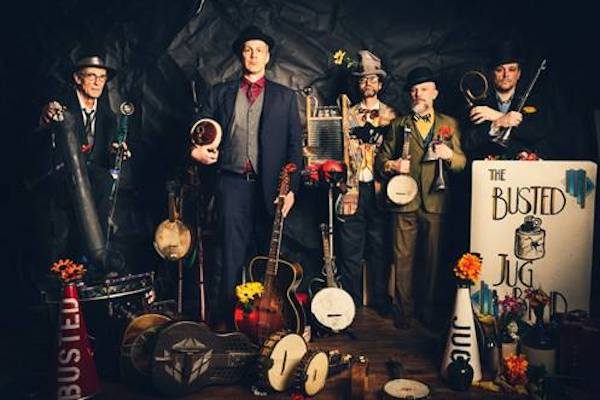 The Busted Jug Band at the Music Hall Historic Theatre, Portsmouth, NH, on March 20 at 8 p.m.
Glory be! This will a live in-person performance, adhering to all health safety protocols. The popular 5-member Boston-based band will perform on the first day of Spring, and the group is raring to go. It will be a  "festive fun(ny) musical romp through the oldie times, playing swing, country blues, ragtime, early jazz standards, hillbilly and novelty music, on an assortment of instruments, that include everything from washboard to mandolin to rubber chickens. Their repertoire hearkens back to the 20's and 30's of the last century, all delivered with the band's contagious high energy. In the course of their ear and eye catching presentation, the capper is their ability to also keep their derbies and top hats on throughout."
Spring Sing, part of Revels 2021 #RevelsConnects performance series, the company's Facebook Live page on March 21 at 5 p.m. This will be a free virtual event
"Revels launched Spring Sing more than 25 years ago to celebrate the spring equinox in song and poetry. This year's theme is "Renewal" and includes song and poetry with uplifting and hopeful energy and excellent singalong potential. In addition, two young poets will be reciting their own poems, written expressly for this year's production.
Featured song leaders include Revels Artist in Residence David Coffin, musicians Linda Brown San Martin, Derek Burrows, Natty Smith and Erika Roderick, and Revels acting Music Director George Emlen. (He will also host the event.)The rather surprising edict from Gov. Baker allowing the reopening of performing arts center seems to have few takers so far. (It doesn't help that singing is not yet allowed at indoor venues.) The Lowell and New Bedford Folk Festivals have announced that they won't be happening in 2021. Still, there are a few indications that small-scale live music by local artists will start to return this spring.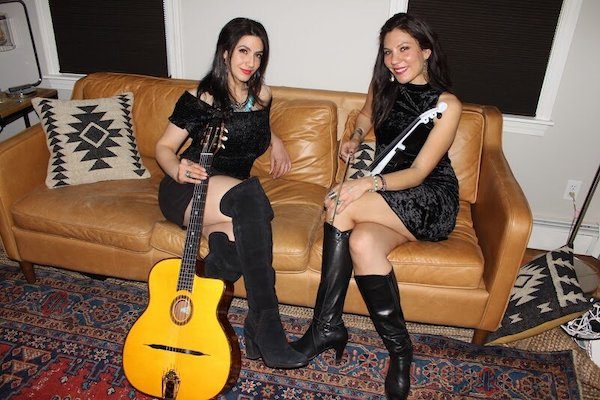 The Beehive in the South End has said it will resume live music during dinner later in the month, and the Porch in Medford has slated an April 3 show with the Silks. The Creative Music Series has Forbes Graham in Jamaica Plain March 20 before returning to its Assembly Square spot with Eric Zinman April 3. And if you have some programming ideas for Starlite Square's spring and summer season, they're accepting proposals now.
In the meantime, virtual events continue to proliferate. The highly imaginative pairings in the Boiler House Jazz Series will be broadcast once again from the Charles River Museum of Industry. It kicks off March 12 with Caravan Moon feat. Yaeko Miranda Elmaleh (violin) & Sonya Rae Taylor (guitar), Elmaleh is known for her klezmer work, while Taylor is usually found playing the blues. Together they'll draw on both styles as well as Latin and French sounds.
Passim's robust streaming schedule includes the great Scottish duo of Alasdair Fraser and Natalie Haas on March 12. And a group led by cellist Mike Block and ballafon master Balla Kouyate will be streaming from DePaul University via YouTube on March 16.
— Noah Schaffer
---
Visual Art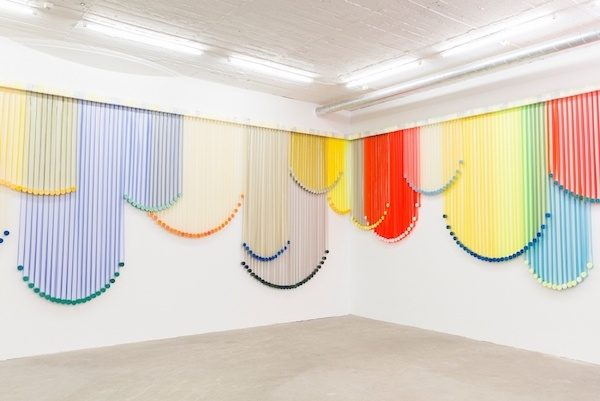 Boston's Institute of Contemporary Art reopens (again?) on March 20, featuring an installation by Eva LeWitt. LeWitt, the thirties-something daughter of the reclusive artist Sol LeWitt, one of the leading figures of the Minimalist movement, works in a manner partly influenced by her father but also by other American modernists such as the sculptor Eva Hesse. Previously scheduled for March 2020, the ICA exhibition was delayed for a year by pandemic-related closings. The monumental wall sculpture, nearly fifty feet long, is constructed of brightly colored, coated mesh fabric that creates overlapping circular forms and optical patters as light and conditions change.
Tamara Kostianovsky: Savage Legacy opens March 19 at the Fuller Craft Museum in Brockton. The Latinx artist's show includes examples of her "meat sculptures" —  textile forms resembling slaughtered animals, made from her own clothing — along with birds composed of discarded upholstery fabrics, and recent tree forms suggesting stumps and branches. The exhibition "closely examines the relationship between the landscape, body, and violence through sculptural forms that… embrace regeneration, sustainability, and rebirth."
Just opening at the Peabody Essex Museum in Salem, Alexis Rockman: Shipwrecks returns to one of the great fascinations of the age of sail and beyond. Rockman's ten oil paintings and selected watercolors explore a series of historic shipwrecks from a period before air travel when every intercontinental voyage could end in a watery disaster. Rockman, known for his monumental and dramatic paintings that deal with climate change, species extinction, and other environmental issues, here explores the impact that long-distance travel, migration, and trade have had on the planet. The show is appropriately installed in the museum's historic East India Marine Hall Building, a reminder of PEM's origins in the East India Marine Society and early international sea trade from New England ports.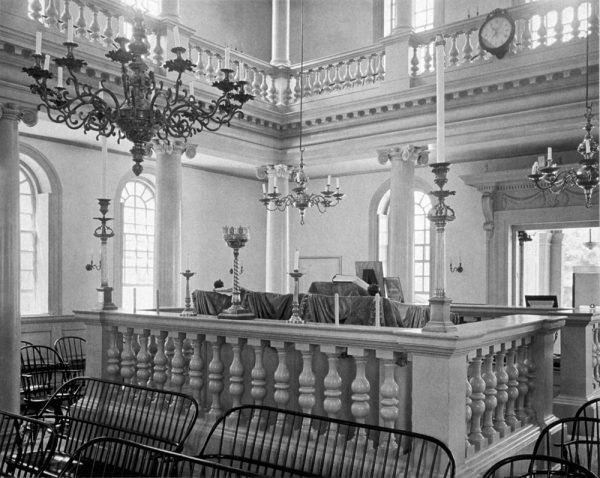 Designed by Peter Harrison, architect of Boston's King's Chapel and Cambridge's Christ Church, the 1763 Touro Synagogue is an American architectural landmark as well as an important part of Newport, Rhode Island's history. "Light and Presence: Richard Benson's 'The Touro Synagogue, which opened on March 3 at the Newport Museum, presents the photographer's 1988 portfolio documenting the building. Benson's black and white images record the building as both a pure religious monument in 18th-century Palladian style and as a historic document spanning more than two centuries of change and events in New England.
— Peter Walsh
---
Author Events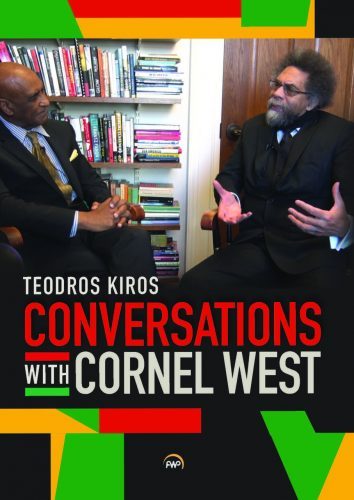 Virtual Event: Teodros Kiros and Cornel West – Events – Harvard Book Store
Conversations with Cornel West
March 8 at 7 p.m.
Free with suggested $5 contribution
"These interviews deftly highlight…the life and thought of Cornel West. Kiros, one of our leading living philosophers, novelists, television personalities, and commentators on modern American life, brilliantly weaves together a series of dialogues that novices and experts of West's work alike will find inevitable. The questioning of Kiros and responses of West encourage us to meditate on the meaning of A Love Supreme from the heart, which the Ethiopian thinker Zara Yacob maintained is the site of reason."
Virtual Event: Rebecca Solnit – Events – Harvard Book Store
Recollections of My Nonexistence: A Memoir
March 12 at 7 p.m.
Tickets are $20 with copy of book with signed bookplate
"Beyond being a memoir, Solnit's book is also a passionate argument that women are not just impacted by personal experience, but by membership in a society where violence against women pervades. Looking back, she describes how she came to recognize that her own experiences of harassment and menace were inseparable from the systemic problem of who has a voice, or rather who is heard and respected and who is silenced– and how she was galvanized to use her own voice for change." Solnit will be in conversation with Chanel Miller.
Virtual Event: Emma Duffy-Comparone with Andre Dubus III | Porter Square Books
Love Like That
March 15 at 7 p.m.
Free
"A woman struggles with a new kind of love triangle when she moves in with a divorced dad. A lonely teenage beach attendant finds uneasy comeradeship with her boss. A high school English teacher gets pushed to her limits when a student plagiarizes. Often caught between desire and duty, guilt and resentment, these characters discover what it means to get lost in love, and do what it takes to find themselves again." Emma Duffy-Comparone will discuss her short story collection with Andrew Dubus III.
Virtual Event: Lolita in the Afterlife – Events – Harvard Book Store
Tom Bissell, Susan Choi, Lauren Groff, Morgan Jenkins, Jenny Minton Quigley, Stacey Schiff
March 16 at 7 p.m.
Free with suggested $5 contribution
"In 1958, Nabokov's Lolita was published in the U.S. to immediate controversy and bestellerdom. More than sixty years later, this phenomenal novel generates as much buzz as it did when originally published. Central to countless issues at the forefront of our national discourse — art and politics, race and whiteness, gender and power, sexual trauma — Lolita lives on, in an afterlife as blinding as a supernova. With original contributions from a stellar cast of prominent 21st Century writers and edited by the daughter of the book's original American publisher, this collection of sharp and modern pieces analyses the notorious novel."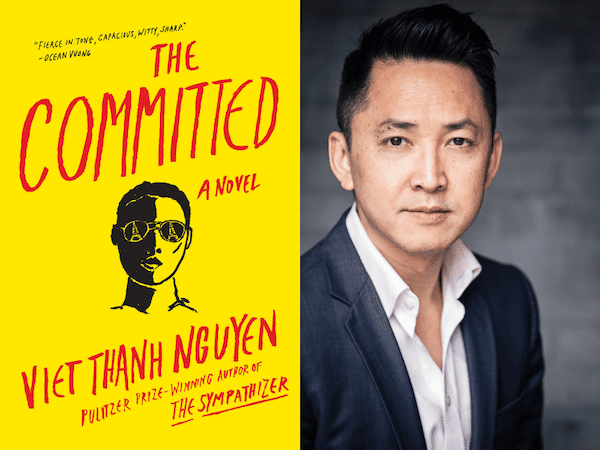 Virtual Event: Viet Thanh Nguyen with Walter Mosley | brookline booksmith
The Committed
March 18 at 7 p.m.
Tickets are $36 with book, or $5 without
"The long-awaited new novel from one of America's most highly regarded contemporary writers, The Committed follows the unnamed Sympathizer as he arrives in Paris in the early '80s with his blood brother Bon. The pair try to overcome their pasts and ensure their futures by engaging in capitalism in one of its purest forms: drug dealing. Both a literary thriller and a novel of ideas, Nguyen's latest is a portrait of commitment and betrayal." Viet Thanh Nguyen will discuss his book with the novelist Walter Mosley.
Virtual Event: Grubbie Debut: Jennifer De Leon with Grace Talusan | Porter Square Books
White Space: Essays on Culture, Race, and Writing
March 25 at 7 p.m.
Free
"Sometimes in her twenties, De Leon asked herself, 'what would you do if you just gave yourself permission?' While her parents had fled Guatemala over three decades earlier when the country was in the grips of genocide and civil war, she hadn't been back since she was a child. She gave herself position to return– to relearn the Spanish that she had forgotten, unpack her family's history, and began to make her own way. Alternately honest, funny, and visceral, this powerful collection of essays follows De Leon as she comes of age as a Guatemalan-American woman and learns to navigate the space between two worlds." De Leon will discuss her book with Grace Talusan, the current writer-in-residence at Brandeis University.
— Matt Hanson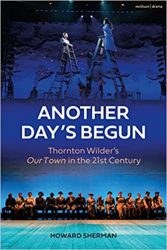 Virtual Event: Another Day's Begun: Exploring Our Town Streaming on March 11 at 6:30 p.m. PT on PlayhouseLive. Available on demand beginning March 12.
Pasadena Playhouse and Vroman's Bookstore present an event that celebrates Our Town, the quintessential American play, with a conversation between Jane Kaczmarek, who played the Stage Manager in the 2017 Pasadena Playhouse/Deaf West production, and Howard Sherman, author of the new book Another Day's Begun: Thornton Wilder's Our Town in the 21st Century. Kaczmarek and Sherman guide us through the enduring legacy of Wilder's masterpiece with excerpts from Our Town performed by Kaczmarek herself, Youssef Kerkour, Keith Randolph Smith, and Alexandria Wailes. The evening is also a virtual celebration of Sherman's new book (which is quite good, I have been reading it) which explores thirteen key productions of Our Town.
— Bill Marx