By Peg Aloi
The Dig is suffused with a very English (and problematic) sense of history: why it matters, how it can be taken for granted, and the odd way that certain elements of the past are valorized while others are kept buried.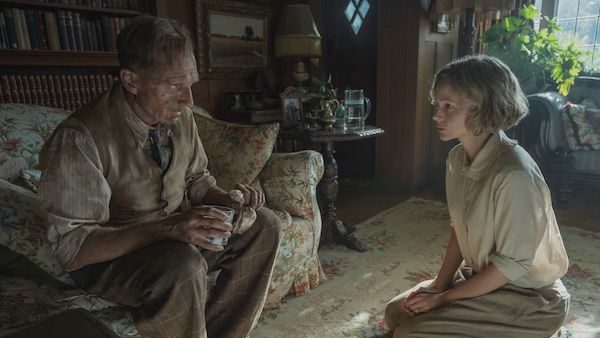 Based on the novel by John Preston, which draws from the real life story of the famous excavation at Sutton Hoo, this new Netflix film is a thoughtful period piece as well as a rather thrilling look at a subject one rarely sees portrayed realistically in the cinema: archaeology. But perhaps more than an examination of archaeological exploration circa 1939, The Dig uncovers the insidious longevity of the British class system, how it pervaded peoples' lives long after the so-called decline of the aristocracy following World War I. Set upon the cusp of World War II, this period piece, written by Moira Buffini (Harlots) and directed by Simon Stone (The Daughter), is suffused with a very English (and problematic) sense of history: why it matters, how it can be taken for granted, and the odd way that certain elements of the past are valorized while others are kept buried.
The film begins with Edith Pretty (Carey Mulligan), a widowed landowner who has invited a professional excavator and amateur archaeologist named Basil Brown (Ralph Fiennes) to assess an ambitious project. There are large mounds on her property, possibly Iron Age burial mounds. Brown agrees to take on the job. Despite being hard working and well known for his expertise, the man barely ekes out a living doing what he loves. He lives in a small rented house on a farm; he commutes via train and bicycle. His seriousness and his dogged work ethic are infectious. Edith's young son Robert (Archie Barnes) is intrigued by all things related to nature and science; he hangs around Brown asking questions, which Basil, a childless man, clearly enjoys answering, despite his gruff facade.
Edith, for her part, is also interested in archaeology, and well read in the subject. She is excited by Basil's preliminary findings: a large ship frame, apparently used in a ceremonial burial. An accident at the dig site early on establishes the precarious stakes of their relationship; a rather tender, respectful air exists between them. It is not romance, as Basil is happily married to the supportive May (Monica Dolan in a small but charming role); but it's clear that Basil and Edith feel themselves to be kindred souls. As news spreads of the dig's potential historical significance, British museum officials and heritage trustees come sniffing around and try to push Basil off the project. Pretty, as the landowner with the final say, insists Brown keep working, though he no longer oversees the operation but is relegated to maintaining the structural integrity of the dig. Brown had been working with local laborers, who he also credits for their fine work; but now there will be a much larger team. Edith continues to encourage Basil to take credit for having overseen a massively important discovery, despite its being overshadowed by the more professional efforts. But this concern goes beyond noblesse oblige: as a woman, she is also annoyed by the snobbishness and sexism of the archaeological bigwigs. She relishes being able to stand up for Basil, whose working class upbringing precludes him from defying the pushy ways of the bona fide archaeologists. These quiet moments of victory are exquisitely realized by Mulligan and Fiennes.
One of the archaeologists hired is Stuart Piggot, an author whose 1968 book The Druids is considered a classic. He brings his wife Peggy, who is also interested in archaeology. As played by Ben Chaplin (Snowden) and Lily James (Rebecca), the newlywed couple keep at an odd arm's length. In addition, Peggy is frustrated by her status on the dig; she is told that she is only valued because her slight frame makes her light enough to tread on the ancient planks without breaking them. When Peggy makes one of the first discoveries of the ship's treasure, a gold ring, her photo is taken by Edith's cousin Rory Lomax, a pilot waiting to be called up for duty, played by Johnny Flynn (Beast). At this point, screenwriter Buffini took considerable liberties with the real story: the dig was photographed by two women. In fact, Peggy was a professional archaeologist, not a mere academic's wife. But the attraction between Peggy and Rory provides an emotional subplot that underscores the tense immediacy of life during wartime.
Edith, despite her passion for archaeology, is increasingly forced to stay at home and rest due to a serious health condition. Her deterioration becomes a metaphoric counterpoint to the outcome at the dig. Buffini and Mulligan effectively craft Edith as a woman wrestling with her own mortality as her important role in history plays out in real time. Still, despite her strong, understated performance, Mulligan comes off as too young for this role. In real life, Pretty had given birth to her son at 47; she would have been in her late fifties at the time of the dig. The film suggests that Pretty is a younger — though frail — woman. Robert (played beautifully by Archie Barnes) keeps his mother grounded in the moment, even as she contemplates her uncertain future. Mulligan's Edith appreciates her son's keen intelligence and creativity with touching poignancy.
The Dig's visuals are elegiac and moving, although I found the too-frequent use of fish-eye lens framing to be distracting. The use of natural light is masterful, and I enjoyed the scenes in which dialogue is heard in voice-over: the characters' faces effectively tell the full story. The score by Stefan Gregory, the composer's feature debut, is richly suited to this story, flexible enough to evoke historical grandiosity amid small moments of wonder. The script's melding of sound and visuals is fresh and striking; the support cast is without exception excellent. For all the charged chemistry between Rory and Peggy (and Flynn and James are wonderful), it is the unspoken connection between Edith and Basil that occasionally electrifies because it is inevitably contained within a polite British restraint. Basil and Edith share a sense of the numinous value of the past. A humble man, Basil is spurred onward by the prospect of seeing his careful work become part of something larger than himself. For Edith, uncovering the past serves as a balm as she struggles with fear and sadness. Fiennes embodies Basil with an earthy but genteel physicality. It is a deftly subtle performance, a memorable portrait of a man obsessed with the properties of soil, immersed in the momentousness of posterity, undistracted by dreams of fame.
---
Peg Aloi is a former film critic for the Boston Phoenix and member of the Boston Society of Film Critics. She taught film studies in Boston for over a decade. She writes on film, TV, and culture for web publications like Vice, Polygon, Bustle, Mic, Orlando Weekly, Crooked Marquee, and Bloody Disgusting. Her blog "The Witching Hour" can be found at themediawitch.com.