Writer-director Michael Pearce's debut feature is self-assured and finely-wrought.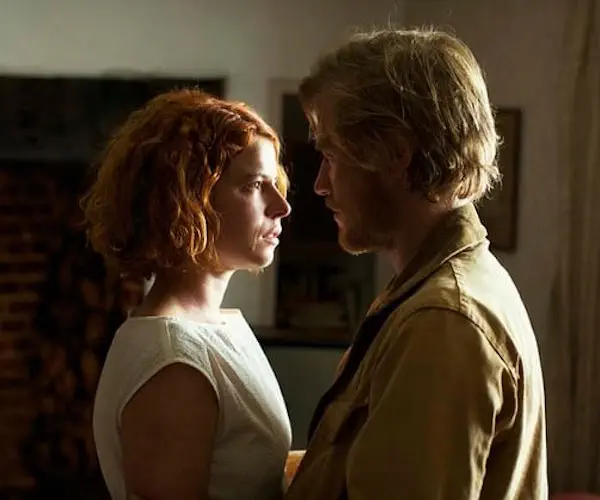 Beast written and directed by Michael Pearce. Screening at Kendall Square Cinema, Coolidge Corner Theatre, and West Newton Cinema.
By Peg Aloi
This calmly confident indie is one of my favorite new films of the year so far. That said, I'm well aware it may not be for everyone. But if you enjoy the kind of thriller that creeps up on you slowly and thoughtfully, that demands your attention without having to resort to jump scares or heavy-handed foreshadowing, Beast will satisfy.
Writer-director Michael Pearce's debut feature is self-assured and finely-wrought. The protagonist Moll (Jessie Buckley, an Irish actress seen in the series Taboo and a number of other shows) is a quiet but intense young woman living at home with her parents. She works as a tour guide on the remote isle of Jersey. At a fancy birthday party her proper middle class family throws for her, she becomes anxious and bored. She leaves without warning and heads to a club to drink and dance. She ends up wandering in the fields in the wee hours with a young man who refuses to take no for an answer. They're surprised by Pascal (Johnny Flynn, the young Einstein in Genius), a local who threatens the lout and sends him running.
Moll is grateful but somewhat nervous around Pascal, who seems to be a bit rough around the edges. One senses she thinks he might have been just as happy to assault her in this remote spot as the drunken clubgoer was. But no, Pascal is just a bit odd, overly sincere in that way that sometimes frightens people used to politeness and upper class airs. He drives Moll home, and later shows up to see how she is doing. She offers to hire him to do some odd jobs around the house, and Moll's mother (veteran English actress Geraldine James) wrinkles her nose at Pascal's questionable hygiene and drifter demeanor.
The attraction between them is palpable and they soon start dating, much to Moll's family's chagrin. Complicating matters is the fact that a young girl went missing the same night that Moll met Pascal, and when Moll is questioned (by a detective who has a crush on her) she provides Pascal with an alibi. In his way, the guy turns out to be responsible and upright: a hardworking homeowner. When she invites Pascal to a country club as her date, a snooty cousin makes sure he is thrown out for not adhering to the dress code. Moll knows full well that dating Pascal is an act of rebellion, but the chemistry between them is intense, and they soon become inseparable.
Meanwhile, Moll is troubled by disturbing nightmares and dreams. While she naps she sees masked intruders who smash their way inside her home and attack her brutally, always waking up at the moment they touch her. Moll had an incident at school when she fought back violently against a bully, forcing her mother to home school her for years. Moll's wary demeanor, inspired by personal demons, seems to be the product of social isolation; that explains, perhaps, why she is attracted to an outsider like Pascal. But, as Pascal's mysterious past is revealed, Moll is both frightened and fascinated. As they draw closer, they must decide if they can keep one another's dark secrets. There is a compelling ambiguity to the film's revelations that is ultimately haunting and not a little disturbing. The sumptuous setting is viewed through a dreamy cinematography; why does Moll find the land's beauty and reliably mild weather oppressive? The suitably jarring music by Jim Williams (who composed scores for Raw and Ben Wheatley's Kill List, Sightseers, A Field in England and Down Terrace) adds to the film's unsettling vibe.
Along with its atmospherics, 'Beast''s strength comes from its excellent casting.
Click To Tweet
Along with its atmospherics, the film's strength comes from its excellent casting. The two young leads carry the narrative adroitly. Flynn provides a mercurial but slow-burning presence that makes Pascal such an alluring figure. Jessie Buckley's Moll is rich and textured, at times whisper-subtle and occasionally raging like fire, flaming bright like her cinnabar curls. Yes, there are stereotypes about red-headed women. But Moll aptly expresses these traits; she brims with emotion and unexpected behavior. Beast is a close study of the complexity of human nature, of mistakes and regrets, of passions that flare and threaten to consume us, a red hot story of obsessive love, contained in a film that is as cool and carefully calibrated as a piece of cut crystal.
---
Peg Aloi is a former film critic for The Boston Phoenix. She taught film and TV studies for ten years at Emerson College, and currently teaches at SUNY New Paltz. Her reviews also appear regularly online for The Orlando Weekly, Cinemazine, and Diabolique. Her long-running media blog "The Witching Hour" can be found at themediawitch.com.