Joshua Sobol isn't interested in exploring dramatic possibilities but making sure his equation about the inevitable mechanics of violence works out.
The Last Act by Joshua Sobol. Directed by Guy Ben-Aharon. Staged by Israeli Stage at Martin Hall at the Calderwood Pavilion, 527 Tremont St, Boston, MA, through June 3.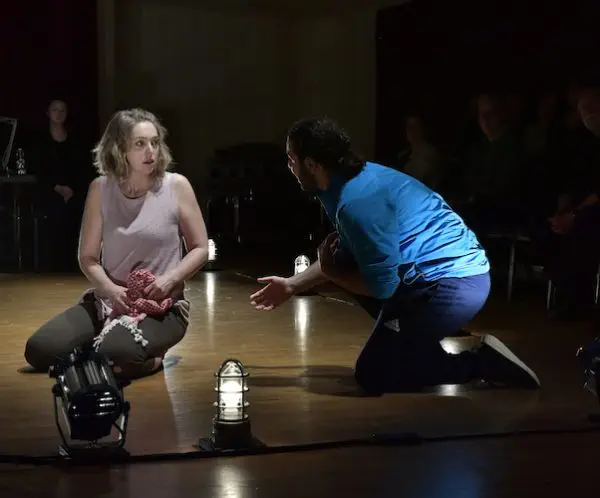 By Bill Marx
"Theatre should be dangerous, or else it should not be!" snarls Gilly early on in Israeli Stage's world premiere production of Joshua Sobol's The Last Act. The actress is in the middle of what turns into a contentious audition to play Miss Julie in a production of August Strindberg's drama. She offers the casting director a challenging take on the classic script, but he isn't buying. He argues back that adaptations need to be pure. Of course, he is wrong – a 'pure' adaptation is an impossibility. In Israel, of course, the idea of purity is weighed down with centuries of baggage, from the theological to the sexual.
Alas, that's not the only red herring Sobol lets loose. Gilly is mistaken as well. For the rest of this disappointingly thin one-act she decides to rehearse a 'dangerous' version of the play at her home. And the dramatist's warning about the risks that art (or life) take when venturing out of safe bounds comes through — too loud and too clear — to be either surprising or provocative. Beware what you wish for, runs the didactic upshot, you might just get it. Of course, for Strindberg, anarchistic sexuality was an essential part of his script's tragic collision of gender and class. But for some reason Sobol's meditation on (or would that be exploitation of?) Strindberg's text is purely puritanical — The Last Act gives us a neutered Miss Julie.
At the audition, Gilly meets up with an Arab thespian she had known in an earlier acting class, Djul. He reads for the role of the servant Jean, but is quickly (and predictably) dismissed. Together, the pair commence to rehearse a Miss Julie featuring a Jewess and an Arab. But their improvisations and banter are being spied on. Gilly's husband Ethan is an Israeli intelligence office (a proud dispatcher of terrorists), and he is informed by his female confederate, Dana (who may or may not be his lover), that Djul is a terrorist and is planning to kidnap Gilly. So we watch Dana and Ethan as they watch Gilly and Djul, which leaves Ethan wondering just how long he has been spied on.
Ethan and Dana are literal-minded police types, plainly the play's heavies, so they mix up Strindberg's script and improvisational material. Sobol is arguing that a country on a perpetual war footing eventually become inured to dehumanization, addicted to games of control. Relationships are militarized. Everyone is betraying someone else; the omnipresence of electronic surveillance is an attempt to assert a God-like position of certainty. Thus Sobol's over dependence on ambiguity: Is Djul a terrorist? Are Dana and Ethan getting it on? Are there bedroom sparks between Gilly and Djul? Somehow, learning the facts is supposed to be besides the point.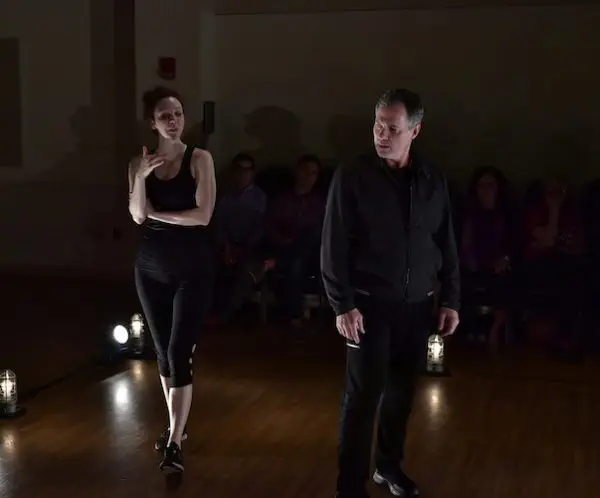 Unfortunately, the nebulousness means that the proceedings never go beyond the schematic, focused on private woes rather than venturing more forthrightly into thorny political realms. Sobol isn't interested in exploring dramatic possibilities but making sure his equation about the inevitable mechanics of violence works out. Watching one set of actors spy on another pair soon becomes tiresome, especially when nothing all that compelling is happening on either side of the looking-glass. (Director Guy Ben-Aharon admits this when, for some reason, he has Marianna Bassham's Dana and Craig Mathers's Ethan doing exercises and pumping light iron.)
What could have been a powerful love/hate relationship between Annelise Lawson's Gilly and Louis Abd El Massih's Djul lacks psychological tension and erotic energy: the blatant innocence of the situation (at least in this production) is so apparent that Ethan and Dana's speculations about hanky-panky/terrorism come off as absurd. Perhaps that is point, but the contrast between guiltlessness and paranoid suspicion only heightens the action's melodramatic leanings, as does Ethan's withdrawal, when pressed by Gilly for explanations, into a state of cliche existential blankness. Could it be that we don't have any conflict because the play's characters don't have inner lives?
No spoilers from me, but the 'last act' of the title is Gilly's final (and predictable) transformation, triggered when Djul announces his plans to stage their version of Miss Julie in the Palestinian city of Ramalah on the West Bank. Gilly is by far the script's most complex character. She yearns for a country filled with love and forgiveness, yet is married to (and apparently loves) an intelligence office who is deeply loyal to his murderous mission and who writes her off as just another lame liberal. Yet when Gilly is given an opportunity to expose the public (and herself) to the edgy theater she has taken risks to create, she balks. Annelise Lawson evokes the figure's paradoxical dedication to well-intentioned rebellion, but not the darkness that compels her 'last act.'
As for the rest of the cast, their performances are serviceable. Dana is a fourth wheel; Bassham, a talented actress, is wasted in the role. Craig Mathers's Ethan doesn't suggest any of the inhumanity that lies behind his nice guy facade. Louis Abd El Massih's Djul comes off as a bit wooden, too earnest to imply that the guy might be duplicitous, that his resentment of being an outsider in Israeli society may drive his need to perform, that his desire to act with Gilly is propelled by an unconscious need for revenge and/or healing. The Israeli Stage production strikes me as hollowly arty: the use of wire fencing and a schmatta that can turn into anything — a bird, a knife, etc. Like the script, the evening comes off as lazy rather than imaginative.
---
Bill Marx is the editor-in-chief of The Arts Fuse. For over three decades, he has written about arts and culture for print, broadcast, and online. He has regularly reviewed theater for National Public Radio Station WBUR and The Boston Globe. He created and edited WBUR Online Arts, a cultural webzine that in 2004 won an Online Journalism Award for Specialty Journalism. In 2007 he created The Arts Fuse, an online magazine dedicated to covering arts and culture in Boston and throughout New England.