Director Ellie Heyman and her talented cast have their hands full with this new work because it is, in some ways, a tale of two musicals.
Madame Defarge, inspired by Charles Dickens' A Tale of Two Cities. Book, Music, and Lyrics by Wendy Kesselman. Directed by Ellie Heyman. Musical direction by Mindy Cimini. Scenic design by James Fluhr. Lighting design by Mary Ellen Stebbins. Costume design by Chelsea Kerl. Properties design by Jenna Worden. Sound design by Zachary Cadman. Staged by the Gloucester Stage Company at  267 Main Street, Gloucester, MA., through June 2.
By David Greenham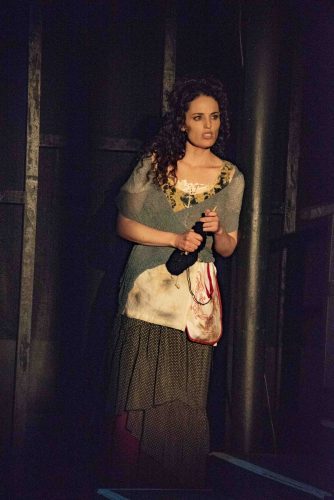 Gloucester Stage Company has kicked off its 39th season, dubbed 'Revolutions, Rebels and Renegades!',  with the world premiere of an epic tale. Wendy Kesselman's Madame Defarge centers on Thérèse Defarge, the figure of archetypal revenge in Charles Dickens's A Tale of Two Cities. Sitting quietly in the wine shop she runs with her husband, the woman patently knits as she waits for the opportunity to exact revenge on the aristocrats who have treated her family so horribly, particularly the Evrémonde's family. Years earlier, she and her husband watched with terror as the Marquis St. Evrémonde's carriage ran over a young boy, killing him. The Marquis expressed no remorse; the scene serves as Dickens's symbol for the causes of the French Revolution.
Kesselman's Madame Defarge focuses on a number of melodramatic elements in Dickens's classic. The anger of Madame Defarge (Jennifer Ellis) is evident from the first. Sometimes just sitting and knitting, Kesselman's Madame barely leaves the stage. We are also given the sad plight of Dr. Mannette (Rob Karma Robinson), who was unjustly jailed in the Bastille for 18 years. When the musical begins he has been freed, but he is much worse for the debilitating experience. With the help of Madame Defarge and her husband Ernest (Benjamin Everett), Mannette is reunited with his daughter Lucie (Sabrina Koss).
As in the novel, Madame Defarge's hatred of the Evrémonde family peaks when she learns that Lucie is in love with Charles Darnay (Matthew Amira), the nephew of the cruel Marquis St. Evrémonde.
The first half of act one is filled with songs that are heavy on exposition. Thérèse's anger, generated by mistreatment, is expressed, by way of Ellis and Young Thérèse (Marissa Simeqi), in the discordant tune "Knitting." The initially indifferent lawyer Sydney Carton (Jason Michael Evans) sings a boozy The Best of Times. A third scene is set in the Bastille, featuring the broken Dr. Manette, who is unaware that his freedom is imminent. His sorrowful Shoes/One Hundred and Five, North Tower is haunting. But the countdown goes on for over four more songs.
Sprinkled in among the tunes are snippets of exposition that set the story in motion. Jumping between Paris and London – the "Two Cities" – we get a brief scene where Lucie learns that her father still lives, a episode where the indifferent Marquis St. Evrémonde runs down the child, and the courtroom confrontation where the jailed Charles Darnay is freed on a technicality: he has a common build and look that cannot be positively identified. Finally, the heart of the narrative begins when Darnay and Carton pledge their love to Lucie.
Director Ellie Heyman and her talented cast have their hands full with this new work because it is, in some ways, a tale of two musicals. Given all of its short and snappy tunes and brusque ballads, the first act almost borders on operetta. The set-up is generally pleasing, though the lyrics, with their rhyming single syllable line endings, tend to be predictable. More alarming, by the end of act one we've gotten boatloads of exposition, with precious little depth in terms of storyline or character development.
Act two, which is set nine years later, takes a more dramatic turn. It is devoted, finally, to the yarn's human conflicts: the Defarges have gained power in post-revolutionary France; Madame Defarge has begun to exact her revenge. Dr. Manette has learned his now son-in-law is a member of the Evrémonde family. At this point Darnay has risked his life by returning to France to free one of his former servants, Gabelle (John Shuman). He is immediately arrested when it is discovered he is an aristocrat. All the other major figures return to France in an effort to free Darnay, but he is sentenced to death by the guillotine. Almost all of this action, including a lengthy courtroom scene, are performed without the use of much music. There are songs in act two, but not the rapid fire succession in act one. When Carton concocts his plan to spare Darnay's life, the musical mode kicks back in and more tunes arrive.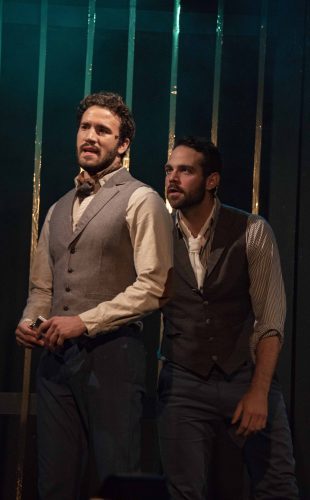 Some of the members of the ensemble fare better than others in tackling this ambitious piece. As the trio of lovers (Darnay, Carton, and Lucie) Amira, Evans, and Koss emerge as the heart of this production. Robinson also delivers a strong performance as Dr. Manette; the actor has the most to do in terms of establishing character yet very little text to work with. Also, as Little Lucie, young Thérèse, and a street urchin, Marissa Simeqi brings a much needed lightness to the heavy-handed proceedings.
Ellis tries to make Madame Defarge an engaging character, but fails because the vengeful anti-heroine tends to shout proclamations rather than converse. Yes, the character is deeply, deeply hurt, but Kesselman's monomaniacal portrait becomes repetitive. Shouldn't the title figure's heartbreak be at the center of the drama — rather than the machinations of the lovers? Alas, this Defarge feels like an outsider, sitting and observing the action, knitting when she should be participating in some way. The problem is that that dramatist clings too closely to Dickens's original; hopefully, as the piece continues to develop, Kesselman will become more creative when dealing with the character.
Artistic Director Robert Walsh and the GSC company give Madame Defarge an eye-popping staging. James Fluhr's multi-level set design carves out several acting areas — so the fast-moving story jumps from place to place with ease. Mary Ellen Stebbins' lighting bathes the action with clarity. Chelsea Kerl's costume design avoids the trap of going overboard (aka Masterpiece Theater) with period costumes, drawing mostly on contemporary clothing that suggests the period. Most helpful is Zachary Cadman's sound design, which expertly uses effects  to suggest place and moment, such as carriage wheels in the street and a clanking metal door in the Bastille.
A Tale of Two Cities is an expansive chronicle of the French Revolution. Hugo's saga Les Misérables was published three years after the Dickens novel, and it is impossible to avoid comparing Kesselman's musical adaptation of the English novel with the mega-blockbuster version of Hugo's tome, which culminates in the uprising of 1832. Kesselman's Madame Defarge aspires to be sweeping, but it ends up being more of a miniature than a grand canvas. And the show's music and lyrics fall short of maximal significance. Still, with some recrafting and attention to the balance between act one and act two, Kesselman's work might find its niche as a chamber musical, a sort of  hors d'oeuvre to Les Misérables.
---
David Greenham is an adjunct professor of Drama at the University of Maine at Augusta, and is the Program Director for the Holocaust and Human Rights Center of Maine. He spent 14 years leading the Theater at Monmouth, and has been a theater artist and arts administrator in Maine for more than 25 years.