By Paul Robicheau
The best thing about Holy Calamavote may be that it presents Run the Jewels in a live presentation of RTJ4 that rivals the atmospheric might of the record itself.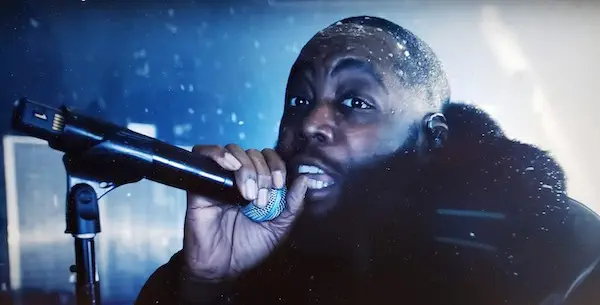 Musically and visually compelling hip-hop shows have long been an anomaly in a world where the lips of MCs are stuck to mics and music is canned in the hands of DJs, even before the limits of a pandemic that decimated usual concert outlets.
But when you have a duo as skillful and dynamic as rapper/producer El-P and rapper Killer Mike, who delivered one of 2020's most powerful releases with their fourth album as Run the Jewels (Arts Fuse review), a virtual live debut of the topically prescient RTJ4 — in its entirety — carries expectations. A TV or computer screen can't convey the same bang as a postponed tour with agit-rockers Rage Against the Machine. But Holy Calamavote, a 45-minute telecast that debuted Sunday on Adult Swim, milks its medium for full impact.
RTJ's performance was set up by a mock pledge-to-vote telethon with gonzo comedian Eric Andre and phone-bank volunteers in hazmat suits, then framed by the two rappers arriving at and departing a dark warehouse (actually Tyler Perry Studios in Atlanta) like fraternal hustlers at the wheel of a Buick Grand National. But when they enter the secret soundstage and a ring of flashing light grids and smoke erupt from all angles as the duo bite into "Yankee and the Brave (ep. 4)" like attack dogs freed from cages, it's clear that Run the Jewels put plenty of thought and capital into making everything look and sound on point.
The camerawork and pacing fit the music: in your face, yet fluid and on the move. Roaming camera operators practically go toe-to-toe with El-P and Killer Mike, who circle, bob, and engage each other in an interactive weave of verse and footwork honed over years of chemistry. The swirl of head-level closeups neatly alternate with overhead shots both high and hovering, peering over the lamp-grilled post of DJ Trackstar, who adds backup vocals and scratchy turntable voicings to "Ooh La La." RTJ wastes no time segueing into that second track of the album and concert for an opening one-two punch that sets the tone for little pause in momentum.
Old-school rapper Greg Nice also strides out to spice the chorus to "Ooh La La" in the first of the show's billed cameos, which lend more variety to the action than shifting light hues alone. Most of the guests are remote, however, assuming both the forefront and backgrounds via black-and-white video panels that encircle the RTJ principles, starting with an "Out of Sight" verse by rapper 2 Chainz.
Heavy-hitters emerge when Pharrell Williams and Rage frontman Zach de la Rocha appear on video in "JU$T" to cross-cut verses and choruses about "slave masters posin' on yo' dollar." In a virtual concert with artful camera shuffles, every performer is technically on-screen, so it all works surprisingly well (and for something else not seen at physical concerts, tiny subtitles for every lyric make it easier for listeners who aren't familiar with the songs — or even rap in general). The ominous "Pulling the Pin" resonates with civil rights/soul matriarch Mavis Staples (from a studio, crying "There's a grenade in my heart") as well as a view of more elusive contributions from Josh Homme (Queens of the Stone Age), his growling guitar chords and hymn-like harmonies gracing the screens.
Other in-person cameos come from OutKast DJ Cutmaster Swiff, who steps to the podium to reprise his deft scratching in "Goonies vs. E.T.," and Memphis rapper Gangster Boo. She stalks the stage with the stealth of a cat for "Walking in the Snow," dressed for the part in a fluffy white vest.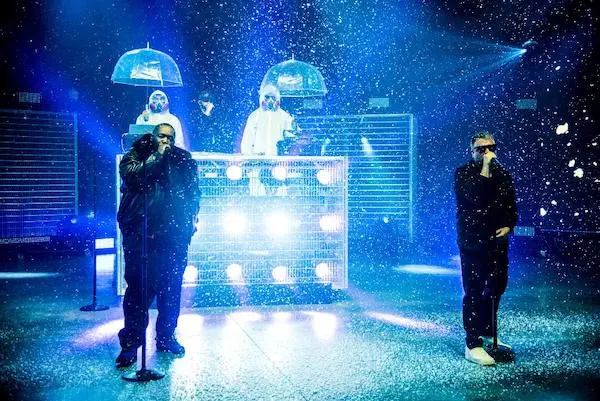 At turns brooding and bouncy, "Walking in the Snow" proves the tour-de-force, and not just for the set's most striking effects, with flakes falling through blue lighting and hazmat-clad accomplices flanking the DJ with raised umbrellas. After Killer Mike intones, "And you so numb, you watch the cops choke out a man like me, and 'til my voice goes from a shriek to whisper 'I can't breathe'" (a lyric predating George Floyd), the rapper freezes in wintery silence before picking it up a cappella. "And you sit down in house on couch and watch it on TV. The most you give's a Twitter rant, called it a tragedy. But truly the travesty, you've been robbed of your empathy." He begins spitting his lines at a wickedly fast pace, words echoed by El-P and Boo, until he glares into the camera for the couplet "Never forget in the story of Jesus, the hero was killed by the state!"
Then again, it's hard to upstage album finale "A Few Words for the Firing Squad (radiation)," a slow-swelling cyclone where a tenor saxophonist wails across the screens as El-P and Killer Mike wax on histories personal and political. Before the music resolves, they each add a call for voter participation. "Cast your ballot for what you think this country is supposed to be, for what you think this country's supposed to reflect," El-P says before Mike proclaims, "Vote the bastards out of office and keep the good folks in" and "Refuse to lose, refuse to give up."
"Refuse to lose" is a phrase from '80s juggernaut Public Enemy's "Welcome to the Terrordome." RTJ also drops the word Terrordome in "Goonies vs. E.T." Not many hip-hop acts have matched the hard, sophisticated mix of genre-breaking sonics and politically charged lyrics hatched by Public Enemy. But that group also knew how to put on a show. The best thing about Holy Calamavote (which substitutes vote for another four-letter word in a RTJ4 song title) may be that it presents Run the Jewels in a live presentation of RTJ4 that rivals the atmospheric might of the record itself. And that's an impressive feat for a hip-hop group — or any band for that matter.
---
Paul Robicheau served more than 20 years as contributing editor for music at The Improper Bostonian in addition to writing and photography for The Boston Globe, Rolling Stone, and many other publications. He was also the founding arts editor of Boston Metro.