By Michael Ullman
Dave Pietro is a fine, distinctive composer, an agile, precise saxophonist, and a bandleader to be trusted.
Hypersphere, Dave Pietro, featuring Alex Sipiagin, Gary Versace, Johannes Weidenmueller, and Johnathan Blake. (ArtistShare)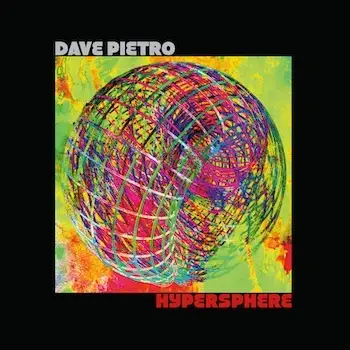 Alto saxophonist (primarily) Dave Pietro begins his new disc with one of his amusing, politically suggestive titles, "Kakistocracy." He writes in the album notes: "I wrote the first tune on this CD, "Kakistocracy," while contemplating the social structures that we have to live under, particularly our government (and the 24-hour cable news din that accompanies it)." He suggests the din without reproducing its irrationality by first writing a peaceful piano intro, which is followed by the alto, trumpet, and trombone playing mostly different, rhythmically clashing lines. The strategy is redolent of Mingus, except Pietro has more of a definite form in mind. The written part ends via a hammering repeated note by trombone, bass, and drums (I believe) while Pietro holds a note on the alto. Then we hear a series of solos, beginning with Pietro's clear athletic statement, which kick off a lot of rhythmic play and sudden changes in tempo even within a quick line. The repeated note recurs at the end of the solo: it's a warning sign to the next soloist.
I've heard Pietro first with the Toshiko Akiyoshi band and then with Maria Schneider's big band. He's stepped out before as a leader, including on Standard Wonder: The Music of Stevie Wonder, and a favorite of mine, Forgotten Dreams. (Two of his albums are selling for $900 on Amazon: better get the rest while you can.) Hypersphere features a quintet with trumpeter Alex Sipiagin, pianist Gary Versace, bassist Johannes Weidenmueller, and drummer Johnathan Blake. Occasional guests include Ryan Keberle on trombone and percussionist Rogerio Boccato. Pietro has written all the music here, and he provides helpful explanations.
"Hypersphere" is a musical evocation of "a multi-dimensional sphere of four or more dimensions." For those for whom that isn't helpful, Pietro analyzes further: "The shifting time signatures and key centers suggest our efforts to find a groove and flow in our lives over constantly shifting terrain." Here, as always on this disc, the compositions, despite the exegesis, sounds orderly: musically, Pietro is a clear thinker. The piece shifts, as he says, but it doesn't wander. The melody lines are intriguing and, in each piece, there's a moment when the dawn breaks, the textures thin, often during the first solo. "Hypersphere" gives us flugelhornist  Sipiagin over the rhythm section, with Blake active and propulsive on drums. Pietro enters on alto, beginning modestly within the alto's mid-range before launching into jagged but pleasingly irregular lines. His style is distinctly boppish, with accents added in surprising places. At the end of a phrase he might leap upwards and slow down, so that he seems to be at odds with what had been the tempo. But then all ends gracefully, with a restatement of the theme.
Pietro can be gentle, as on "Gina," which is dedicated to his trombonist wife and what she gives to their relationship: "love, intimacy, relationship compassion and devotion." During the ballad's slow-moving, almost lazy long lines, I was reminded (as elsewhere when Pietro writes conflicting lines for horns) of Mingus. Perhaps that's also because bassist Weidenmueller takes a long solo, in this case over held notes on the Hammond organ. Pietro then enters cheerily, as if he just blew happily into town. "Quantum Entanglement" is meant to suggest the interdependence of all things, but it seems to focus on saxmen who have influenced Pietro. It's a boppish piece: it's probably futile to attempt to disentangle the musical threads, but Charlie Parker and Eric Dolphy, and maybe someone like Phil Woods, may be in there. Despite its sweetly solemn tone, we are assured that "Tales of Mendacity" originated in thoughts about the media. The set ends with a prayer, "Orison." Pietro is, it would seem, a serious man, eager both to engage the world as he finds it, and to rise above or beyond it. He's also a fine, distinctive composer, an agile, precise saxophonist, and a bandleader to be trusted.
---
Michael Ullman studied classical clarinet and was educated at Harvard, the University of Chicago, and the U. of Michigan, from which he received a PhD in English. The author or co-author of two books on jazz, he has written on jazz and classical music for the Atlantic Monthly, New Republic, High Fidelity, Stereophile, Boston Phoenix, Boston Globe, and other venues. His articles on Dickens, Joyce, Kipling, and others have appeared in academic journals. For over 20 years, he has written a bi-monthly jazz column for Fanfare Magazine, for which he also reviews classical music. At Tufts University, he teaches mostly modernist writers in the English Department and jazz and blues history in the Music Department. He plays piano badly.
.