By Glenn Rifkin
The opportunity to see the culture-changing Broadway phenomenon Hamilton on Disney Plus sucked up all the arts oxygen over the Fourth of July weekend.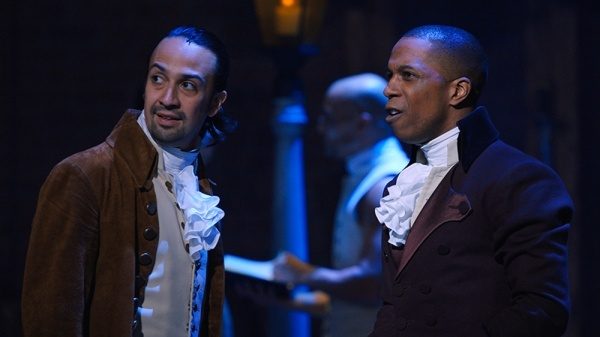 In the midst of the pandemic-induced streaming frenzy of the past five months, the main topic of conversation on most Zoom calls seems to focus on what is worth watching to save us from losing our minds. Just when we're getting down to the dregs (Space Force anyone?), along comes a transcendent viewing experience that rumbles the landscape. The opportunity to see the culture-changing Broadway phenomenon Hamilton on Disney Plus sucked up all the arts oxygen over the Fourth of July weekend. And this was one of the rare occasions where the hype — and there's never been a show more hyped than Hamilton — was met and surpassed.
This show, about the life and times of Alexander Hamilton, is a work of genius by Lin-Manual Miranda that took Broadway by storm when it opened in February, 2015. I need not offer another review of this hip-hop history lesson that single-handedly thrilled theater goers, took home a truckload of Tony Awards (11), a Pulitzer Prize, and recalibrated ticket pricing on Broadway forever. By early this year, it had grossed $500 million, had three touring companies, and productions in London and Chicago. The cast album has been on the Billboard 200 chart for 246 weeks.
For those who shelled out four-figures per ticket to see this brilliant musical, there was nary a whimper of upset that they'd overspent. Yes, it was distressing that the show priced itself out of the orbit of most theater lovers, or forced us to pony up a year's worth of arts tickets for a single event. My wife and I saw it in Boston, with the touring company, sitting up in the thin air of the mezzanine, and were thrilled.
But for all that, the majority of theater lovers never got close to seeing the show. Tickets were like hen's teeth and they felt out of reach. All of which makes this offering from Disney Plus perhaps the greatest bargain in modern theater history. For a subscription fee of $6.99 per month (which can be canceled at any time), viewers get Hamilton, a beautifully directed version of an actual live performance from 2016 with the original cast.
Miranda, not just a creative genius but a savvy businessman, had the film made just weeks before the original cast was heading for the exit. It was finished and then locked away in a vault with the idea that it would be shown in theaters five or six years later. In 2019, Disney paid a record $75 million for the rights to the film, and planned to release it in theaters in October 2021. When the pandemic set in, Robert Iger, Disney's chairman who had pushed hard for the film rights, suggested to Miranda that they bring it out now via Disney Plus. At first Miranda and the show's producers refused, but as they realized that Broadway was not going to reopen this year, they changed their minds. Miranda told the New York Times, "I'm getting messages every day from folks who had tickets to Hamilton and can't go because of the pandemic, so moving up the release so everyone could experience it this summer felt like the right move."
Undoubtedly, he's rich as Croesus from the show already, so no weeping is necessary for his bank account. The Disney payday might be equal to (let's say) a year's worth of royalties or more for him. But still, this is an act of selfless patriotism for a stressed-out, angry nation, coping with multiple problems without obvious solutions: an insidious virus, a deranged buffoon of a president, the Black Lives Matter protests, and other debilitating realities intensifying our national anguish. The timing couldn't be more perfect.
Sure, you lose the immediacy of a live theater-going experience, which is unique and intimate. But this is as close to the real thing as you can get. You really feel like you're in the room where it happened. The film was shot over two performances in June, 2016 with nine cameras strategically placed around the theater. Close-ups were shot on stage between the two performances. It was directed brilliantly by Thomas Kail, who was also at the helm of  the stage production. "I wanted to create a document that could feel like what it was to be in the theater at that time," Kail told the New York Times.
It is seamlessly edited to provide the feeling of the choreography sweeping across the stage, interspersed with close-ups of each actor's emotional performance. Even front-row orchestra seats won't give you this intimate a view. Having seen it in the theater, this film was the perfect bookend to the experience. I honestly can't name a single performer from the touring company, but this cast, with the superb Leslie Odom Jr. as Aaron Burr, Miranda as Hamilton, Phillipa Soo as Eliza Hamilton, Renée Elise Goldsberry as Angelica Schuyler, Christopher Jackson as George Washington, Daveed Diggs as Lafayette and Thomas Jefferson, Okieriete Onaodowan as Hercules Mulligan and James Madison, and Jonathan Groff as King George III, put their indelible stamp on this show.
Given the political climate, the sight of actors of color portraying the Founding Fathers, a signature part of the show's genius, was moving and powerful. Something profound was happening as this nation struggled to its birth in the late 18th century, and it is captured poignantly in this provocative performance. Something profound is happening still, and the touch of Hamilton in this challenging summer is an elixir that feels right and restorative.
---
Glenn Rifkin is a veteran journalist and author who has covered business for many publications including the New York Times for nearly 30 years. He has written about music, film, theater, food and books for the Arts Fuse. His new book Future Forward: Leadership Lessons from Patrick McGovern, the Visionary Who Circled the Globe and Built a Technology Media Empire was recently published by McGraw-Hill.