By Peg Aloi
Deerskin is a mordantly funny commentary on the fragility of identity, livelihood, and masculinity.
Deerskin, written and directed by Quentin Dupieux.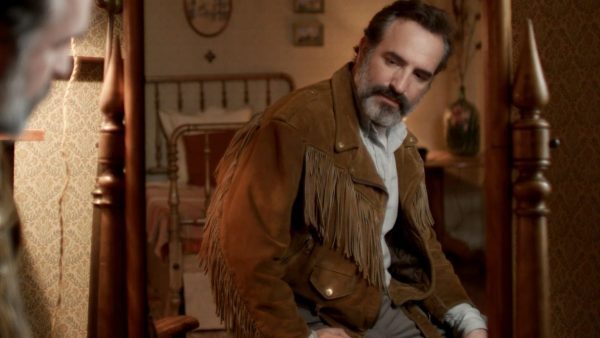 This oddly alluring black comedy opened last year's Director's Fortnight at the Cannes Film Festival, and won acclaim at the Toronto Film Festival as well. Now, a few arthouse theaters (including Cambridge's Brattle Theatre and Brookline's Coolidge Corner Theatre), by way of Greenwich Entertainment's "virtual cinema initiative," are making the film available via streaming links. Leave it to the spunky Brattle and Coolidge to bring displaced audiences a strikingly fresh indie film that will make isolation via pandemic more interesting for a day at least.
Starring Jean Dujardin (The Artist) as a man recently separated from his wife, Deerskin begins with a brief scene that repeats later on, though with more context provided. Three young people, one by one, look into the camera and declare they will never wear a jacket again. They remove their coats and put them in the trunk of a car. Then we see Georges (Dujardin) driving to an appointment with an elderly man, who sells him a vintage fringed jacket made of deerskin. Georges is captivated by the jacket, even though it fits him awkwardly; the sleeves are almost comically short. The seller is delighted to receive Georges's pile of cash, even though the amount falls short of the agreed-upon sum. Still, he offers Georges a bonus: a digital video camera.
Georges drives to a remote inn in the French Alps, briefly placing a phone call to his wife, who doesn't seem to want to hear from him. He requests a room for a month, but tells the desk clerk he is short of cash. He cites problems with his credit card and hands over his wedding ring as collateral. As he has a drink at the inn's bar, he speaks with two women (a customer and the bartender). At first, he asks both if they are admiring his deerskin jacket. They're amused and ask him what he does for a living. He hesitates and then, remembering some brief footage of the mountains he shot with his new camera, tells them he is a filmmaker.
Georges is out to reinvent himself and somehow that ridiculous fringed jacket is a key to his new identity. Alone in his room later, he imagines having conversations with the jacket, fantasizing that it is encouraging him to follow his dreams. And strange dreams they are, of a world where Georges is a distinctively stylish and admirable man — a far cry from the lonely and directionless guy who plans his future from one moment to the next. Deerskin's character-driven plot is deliciously unpredictable; the inscrutable Georges veers between being shallow, naïve, and mysterious.
Bartender Denise (Portrait of a Lady on Fire's Adèle Haenel) sees Georges the next day. She asks him about his film project and informs him that she is an amateur film editor. It's clear he knows nothing about cinema, but he spins a tall tale about his producers in Siberia and tricky financial situation (in truth, his wife has blocked his access to their joint bank account). Denise likes the clumsy footage she sees; she considers it to be part of a sophisticated mockumentary and agrees to work with him. She doesn't bat an eye when he asks her for money to pay for video cassettes.
With Denise's money, a jab perhaps at male artists whose careers are supported by the women in their lives, Georges hires random locals as actors to play out  scenes where they pledge to never wear a jacket again. They then place their jackets (which they have been asked to bring to the audition) into the trunk of his car. Georges pays them — but keeps their jackets. This farce makes for amusingly absurd comedy, but when Georges begins to accost strangers on the street his "moviemaking" crosses the line into horror. As he loses touch with reality, Georges becomes increasingly violent. Director Quentin Dupieux creates an appealingly weird tension in these scenes: an ironically peppy vintage soundtrack clashes with the darkness of Georges's de-evolution.
In Deerskin, Dupieux has crafted a mordantly funny commentary on the fragility of identity, livelihood, and masculinity. The film breezes by at barely 70 minutes and it left me wishing for more. No satisfying resolution to Georges's bizarre quest for a new self and Denise's part in the process is supplied. Something intriguing is being said about film here as well, possibly a critique of contemporary French cinema, though the specifics of the charges eluded this cinephile. Still, I found Deerskin to be outrageous, original, and haunting.
---
Peg Aloi is a former film critic for the Boston Phoenix and member of the Boston Society of Film Critics. She taught film studies in Boston for over a decade. She writes on film, TV, and culture for web publications like Vice, Polygon, Bustle, Mic, Orlando Weekly, Crooked Marquee, and Bloody Disgusting. Her blog "The Witching Hour" can be found at themediawitch.com.