By Charles Giuliano
The Ruskinian mantra of "truth to nature" was eventually upended by the development of digital imagery and the agile manipulations of Photoshop.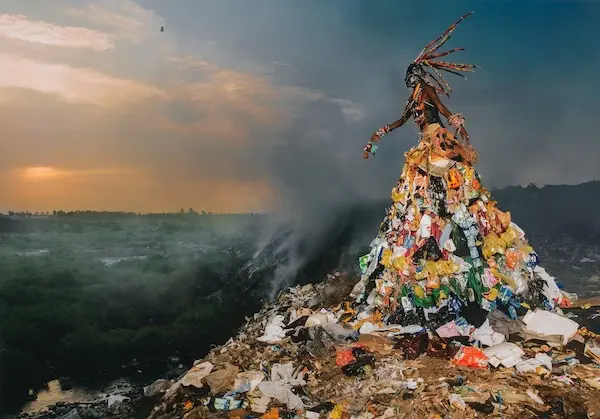 The vision of curator Horace Ballard in his exhibition Landmarks, at the Williams College Museum of Art through May 5, is as much about what it doesn't choose to do as what it does. The show is made up of 117 photographs from a 120-year period; its primary focus is to explore approaches to landscape.
The WCMA explains that "the exhibition asks, but does not seek to answer, the question 'What is a landscape?'" Instead, visitors are invited to pose that question to the various images they encounter. As Ballard writes in Field Notes, the exhibition publication: "To my thinking, a landscape is not a genre; it is rather a technique, tool, or mode of envisioning the world and our relationship to it — with all the real and metaphorical sense of constancy and change that technological innovations to human sight would imply. Each photographer defines a landscape differently. In our role as viewers, each of us will take something unique from our communion with these objects."
Since he arrived three years ago as curator of American Art, Ballard has been eager to work with the WCMA's collection of some 3,500 photographs. Because this is a teaching museum, this vast resource is accessible to courses not just in art history but in all disciplines. There are also documentary collections, including a vast amount of material related to Andy Warhol, accessible in the Williams Library.
The exhibition, which includes components open to the public, is tied into a course that Ballard is teaching at Williams College this semester, "Landscape, Theory, Ideology." We got a taste of his pedagogical approach during a press tour. The show starts with two images by Walker Evans, who attended Williams and is regarded as an alumnus. The museum owns a number of his works as well as pictures by those influenced by him. On assignment for Fortune Magazine, Evans's extended visits to Appalachia during the Depression resulted in a celebrated collaboration with writer James Agee, Let Us Now Praise Famous Men.
Their work created a paradigm for conflating documentation and photojournalism with sophisticated fine arts sensibility. They were not of the poverty-stricken community they worked with, but they helped define how the country viewed it. That ambiguity underlines both the authoritative power and manipulative potential of photography, which is popularly regarded as a signifier of veracity. In simple terms, the camera doesn't lie. When I grew up, Life magazine, as well as moving images of newsreels and television, codified how we viewed history. Vietnam's presence on TV made it the first "living-room war." There are manifestations of this provocative duality throughout the exhibition.
The Ruskinian mantra of "truth to nature" was eventually upended by the development of digital imagery and the agile manipulations of Photoshop. We experience that cunning shift about halfway through Landmarks. There is also a seismic change visually from looking closely at intimately scaled, vintage, black-and-white prints to needing to step back fully to absorb the impact of large works filled with saturated color.
The exhibition is organized around four kinds of landmarks: human-built physical landmarks, geological landmarks, landmark events, and landmark transformations (largely destructive) of the physical environment. The latter implies agitprop, and there is a crib sheet that proclaims these crusading ideas: Bernie Sanders–inspired finger-pointing, calls for social justice, warnings about the terrible harm humankind has done to the environment and to each other. Still, you can toss that paper aside. Ballard encourages us to draw our own conclusions. There are no blown-up, hectoring wall texts. The captions by the photographs provide basic information. Refreshingly, we are invited to view — rather than read — our way through Landmarks. Ballard opted not to shout his opinions at us.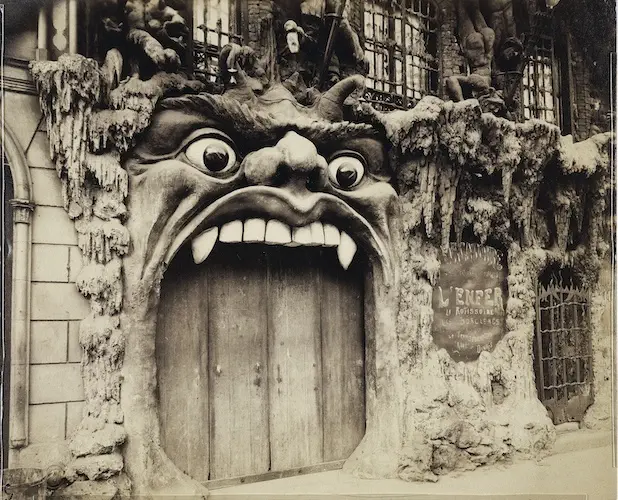 Still, as I toured the work, which flows through galleries and alcoves, I occasionally felt adrift. Why have these particular works been clustered together? How do these images relate to each other? At some point you stop trying to figure it out and accept that Ballard's show presents an impressive assemblage of iconic masterpieces. There are "aha" moments, such as when a viewer comes across Steerage by Alfred Stieglitz, the exotic façade, Cabaret de l'enfer (et du ciel), by Eugène Atget, or Ansel Adams's most famous image, Moonrise Hernandez, New Mexico.
There is such an abundance of riches that I have visited the show twice. On the second occasion I lingered over individual classics, appreciating them while trying to comprehend their similarities with others on display. There are images here by Berenice Abbott, Ansel Adams, Robert Adams, Manuel Álvarez Bravo, Edward Burtynsky, Harry Callahan, Lee Friedlander, Barbara Morgan, Walter Rosenblum, Raghubir Singh, Aaron Siskind, Garry Winogrand, and Marion Post Wolcott.
There are also challenges posed by the relatively recent work of Oliver Boberg, Gregory Crewdson, Christina Fernandez, Dionisio González, Andreas Gursky, Daniel Kukla, Susan Meiselas, Elle Pérez, and Alec Soth.
The takeaway: Landmarks represents a social and political minefield. Landscape as a "genre" emerged in the age of conquest and colonization: it was the premise behind 17th- and 18th-century Dutch and British art. The "sublime" pictorial romance of ruins, complete with picturesque details, appealed to the imperialist winners. In America, landscape was at first about Manifest Destiny — painter Albert Bierstadt provided robber barons with epic views of the American West they were eager to exploit.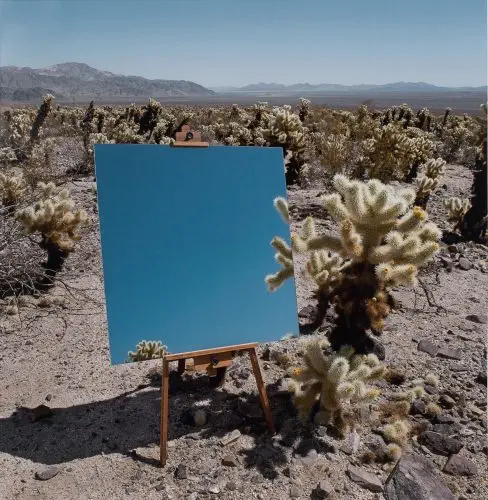 Shorn of the will-to-power, what's left of the "sublime" landscape for the public today are the kind of images that are meant to placate us in common spaces. Enervatingly pretty pictures of nature decorate offices and waiting rooms. These images are the visual equivalents of the ubiquitous piped-in music loops that assault us in elevators and restaurants. It's the gorgeous rotating screen saver on my computer. The benign "sublime" is a malicious parody of the Garden of Eden humankind yearns to return to (a fantasy made even more grotesque given the Climate Crisis). Perhaps in a bucolic Viking River Cruise.
Must we constantly listen to and look at the utterly banal? Thankfully, there is none of that in the Williams show. There is also a statement here about how a museum/college collects, including a pregnant lesson about its biases. Cruising through the pictorial abundance of Landmarks, it is far too easy to lose your sense of direction.
---
The latest book by Charles Giuliano is Counterculture in Boston: 1968 to 1980s.