By Steve Provizer
To hear Nat King Cole move from an anonymous member of a backing chorus to a world-class vocal soloist is well worth the time this boxed set demands.
Nat King Cole Hittin' the Ramp: The Early Years (1936-1943), (7 CDs, 10 LPs). (Resonance Records)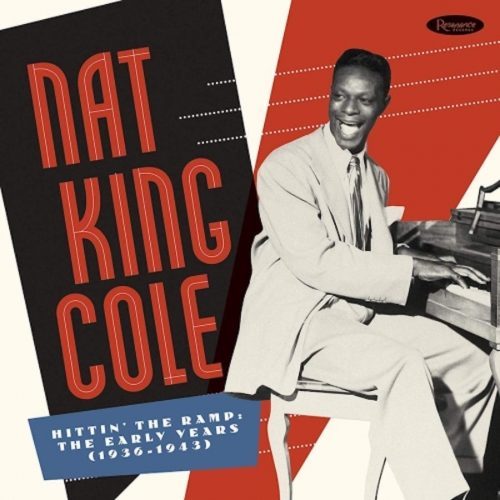 This boxed set is a Nat Cole completist's dream, a roundup of his first tracks recorded in 1936 until he signed with Capitol Records at the end of 1943. These recordings come from several sources. They were made for transcription services, which provided music to radio stations (not for general release), for record labels, from radio broadcasts and, starting in 1942, for the Armed Forces Radio Service (AFRS), which distributed music to GIs around the world.
Nat Cole (later Nat "King" Cole) became widely known for his singing ("Mona Lisa," "Ramblin' Rose," and many other hits), but jazz lovers know that he was also a pianist of note, often cited as an influence on later pianists. I won't take that argument up here, except to say that I see him as a stylistic synthesizer, not an innovator.
There's seven CD's-worth of music here — 191 songs, organized chronologically in sets. Given the large number of tunes, I will choose representative examples in each set to talk about.
Cole was a teenage wunderkind — playing, writing, and arranging. Nat's first recordings for Decca records in 1936 were under his brother's name, Ed Cole's Solid Swingers, although he was the group's 17-year-old leader. This was a John Kirby-type sextet, with three horns. It would be a couple of years before Nat stepped out front as a singer. (The vocals here are provided by his brother Ed.) In the two versions of "Honey Hush," Nat takes piano solos, which are mostly block chords and no single-note runs. "Stompin' at the Panama" features a piano intro that is much more a single-note Earl Hines approach, with Cole applying a two-beat feel behind the soloists. Cole's arrangements are varied and interesting. "Bedtime" is pretty much a yawner, with Cole playing in what we would call a "cocktail piano" style. The set ends with "Thunder," a riff and variations tune, with an interesting arrangement. Here we see Cole using a number of Hines-type approaches — repeated riffs are splintered and time shifted. This is mid-'30s hip.
The second set in this collection, recorded in 1938, features Cole with Oscar Moore (guitar) and Wesley Prince (bass), who remained the core of the Nat Cole Trio until Prince was drafted in 1942. First up is "Murder in the Nursery," a cutesy nursery rhyme tune with scat and nonsense syllables. Moore plays a bluesy solo and Nat follows with a solid solo — you can hear both Teddy Wilson and Hines. "F.D.R. Jones" is another "novelty" tune, with Cole and Moore, as they often do, singing in unison and harmony. It's about a young kid and sends a kind of "racial" message of support to the President. "Sheik of Araby" is taken very up-tempo, again with two voices. Moore's guitar solo is fluid as is Cole's, with a jive-y vocal-scat chorus that moves to half-time and into an extended, tricky coda. "The Blue Danube" sounds a lot like later Nat Cole Trio recordings, except for the unusual fact that it's a swing-a-fication (my word) of Strauss's "Blue Danube" waltz. Guitar and piano trade fast licks — both show ample technique. This is another intriguing arrangement, one that even includes a whole-tone section at the end. A similar swing-a-fication of "Swanee River" follows, and it is less interesting. "With Plenty of Money" is a relief — just an out and out swinger. At this point, aside from Hines and Wilson, Cole shows he has listened to Art Tatum.
The next set, recorded with the same group in October 1938, begins with "Don't Blame Me," which is taken at a jaunty medium tempo. It's a straight-ahead showcase for good, if not exceptional, guitar and piano solos. "Dark Rapture" has all three musicians vocalizing, sometimes in nice harmony. "Wiggly Walk" takes a similar approach to vocals — guitar and piano solos satisfy. Several other tunes follow the same medium-tempo jive tune formula; all fine, but nothing to set them apart from each other, except when we begin to hear more back and forth, trading 4's, 8's and 16's, between piano and guitar. "Liza" features some nice harmonized line writing with Moore and Cole as well as a torrid double-time section. "Caravan" is also taken fast. Cole's take here is kind of corny — lots of tremolos and other "pianistic" devices.
This group next recorded in January 1939. The tunes in this set would all make for a nice night out at your local juke joint; good vocal harmony and singing, solid instrumental soloing, and compelling arrangements — within the somewhat limited range of the repertoire. "There's No Anesthetic for Love" is kind of a combination tune/vaudeville routine. "Dixie Jamboree" features some good Cole scatting and solo piano.
The next set of songs adds vocalist Bonny Lake to the trio. Lake came from a fascinating family: her mother was a noted opera singer, one sister ghosted the "Dear Abby" column while another sister was actress Ann Sothern. But Lake was interesting in her own right, a composer and arranger who worked with many big bands. She wrote and sings "Harlem Swing," the first song in the set and a good one. Lake has a pleasant soprano, and mastered the customary swing and jive inflections of the day. "I Lost Control of Myself," a ballad written by Cole, is more prosaic, and his accompaniment is in the ornamented cocktail vein.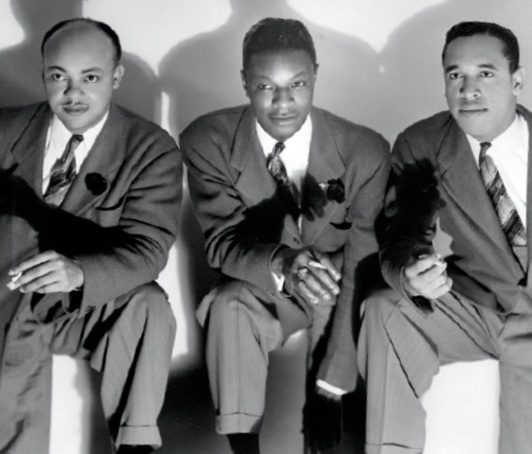 In January 1939 the trio recorded with vocalist Juanelda Carter. She sings in a sultry alto. Cole joins her on vocals in "Dancing in the Street." Moore plays a credible guitar solo and Cole solos briefly via Teddy Wilson style. Carter continues to draw on her intimate style in "You're So Different," a slightly energetic, slightly corny ballad. Cole's solo is in that vein, not stretching too far afield emotionally. Cole wrote "I Wouldn't Have Known It," a fairly arresting ballad, and Carter's vocal fits well.
In February 1939 the trio is back in the studio. This set features tunes that were relatively well known, though not yet "standards," including "Undecided," "T'ain't What You Do,"  "Blue Lou," and "Russian Lullaby." The group gives these tunes a good ride, with the kind of vocalizing, scatting, soloing, nice intros, and codas that epitomize its style. This set also includes a Cole original, "Riffin' in F Minor," a fast swinger with full-bore solos by all.
In April, May, and June 1939 the group was busy, producing 36 songs. "The Limp" is a minor-key, up-tempo tune that gives Cole a chance to stretch out a little more than usual. Prince's bass soloing is improving. He does some fine playing on the next tune, "Snug as a Bug in a Rug," one of several tunes on this set by Frank Loesser. Liszt's "Liebestraum" is another swing-a-fication of a classical melody. Some of Cole's arranging touches here are absorbing and some are schmaltzy. In "Some Like It Hot," Cole actually slips in a couple of classical-sounding sections. "Two Against One" has Cole, for the first time, recording on celesta. Makes a nice change.
The next set puts the trio together with the five singers of Pauline and Her Perils (aka 6 Hits and a Miss). This delivers a broader vocal sound akin to Dorsey's Pied Pipers or Miller's Modernaires. They tackle eight tunes here, including "Crazy Rhythm," "My Blue Heaven," and "Moonglow." Vocals carry most of the weight, with instrumental intros and an occasional obligato, but no soloing. Cole switches to celesta on the more romantic tunes. "Carry Me Back to Old Virginny," complete with racist lyrics and sentiments, gets the most involving vocal arrangement. Cole is given credit for all the instrumental arrangements, but the vocal arranger is not specifically credited.
The next recordings, in May 1939, just feature the trio. In this set, we hear a song that became closely associated with Cole: "Rosetta," written by Cole's hero Earl Hines. It's taken here as an instrumental, although he did start to sing the lyrics in later recordings. The influence of Hines remains very present in Cole's playing. There's not much change in the repertoire or the group's approach to the tunes in this set, although on this version of "Trompin'" they end on a major 7th chord — unusual for the day.
In June 1939 the trio is back to record four tunes. Cole sparkles on the blues "Scategoria." "Rhythm Serenade" uses an intriguing approach in a couple of sections, with piano playing a moving harmony while guitar does some improvising and fast strumming. Rib Town Shuffle is notable for its fast-moving bass line, as well as some arranging wrinkles that nicely break up the tune.
In August 1939, Transcription Services, which has been providing steady employment for the trio, brings a vocal quartet called The Dreamers into the studio to record nine tunes. The Dreamers are a slightly rougher-sounding version of the Delta Rhythm Boys or the Mills Brothers, with a similar gospel tinge. This selection of songs is a mix of jive and romantic. Again, the vocals do most of the heavy lifting, although they do leave room for some instrumental solos. All the tunes are credited to "Unknown" (to avoid royalty fees?), except  for "Jump Jack, Jump," written by pianist Luckey Roberts. "Doin' the Bow Wow" builds up a pretty good head of steam. This version of "Trompin'" is listed as being produced by Spike Jones, but I don't detect the musical mayhem that we would later expect from Jones.
Moving to the Decca studios in February 1940, drummer Lee Young (Lester's brother) is added to the mix, recording four sides for jukebox distribution. The sound of these tracks is a little bit rough. There are several versions of "I Like to Riff," a Cole original, which uses a variety of devices — vocal harmony, scatting, trading riffs, and drum solo to flesh out the tune. "Black Spider Stomp" is a Cole/Moore original, and it opens up for some virtuoso tandem line performances and soloing. Some of the time the drums play after-beats — but there are other touches here that give the tune a more "modern" sound.
In May 1940 the trio records six songs. Most of these are jive tunes, with "Off the Beam" the anomaly. With its chromatic bass line and whole-tone feel, it's slightly different from the norm, as the title denotes: nothing too extreme, but an unusual touch of the experimental.
We move back to recording for Transcription Services in July 1940 and vocalist Maxine Johnson is added on a few tunes. Johnson reminds me of Helen Humes and, like Humes, she spent time performing with Count Basie. The 12 songs in this set exhibit a good variety, with fewer in the strictly jive category. In the ballad "I'm a Perfect Fool Over You," Cole displays a nice touch while accompanying Johnson. Cole is solo vocalist on "Let's Do Things" and "Jumpy Jitters," "Nothing Ever Happens," and "What'cha Doin' to My Heart." At this point in their evolution, instead of mostly serving up group vocals with harmony, the troupe is now largely ceding the singing chores to Cole. His approach betrays an insecurity — he is trying a bit too hard to "put across" the tunes. This will evolve.
In November 1940 we are back to the trio. In the ballad "Bedtime," I hear continued maturation in Moore's soloing. Cole's soloing sounds harmonically much the same, but his attack seems a bit more percussive. "Honey Hush" comes back for a reworking, without the horns this time and with a more sophisticated piano solo. Cole takes the vocal at a lower pitch. "Vine Street Jump" is a surprising tune that hops about in some pretty unexpected directions. Ditto, "Bflat." "Love Is My Alibi" is a Cole ballad, and while the playing is compelling, the tune is not special. This collection includes a previously unreleased tune written by Trummy Young called "What'cha Know Joe," taken off a radio broadcast.
Also in December, Decca has the group back in the studio for six tunes, including one that Cole recorded many times, "Sweet Lorraine." Whereas the 1939 vocal on this tune seems overly mannered, his vocal here is impeccable. "Honeysuckle Rose" gives the guys a workout at a presto tempo. Solos are fine and there are some tricky lines in harmony. "Gone with the Draft," a collaboration of Cole with Earl Draman and bassist Prince, was a pre-wartime play on  the film Gone With the Wind  — it turned out to be a minor hit. "This Side Up" is a blues in the Basie vein.
Moving into February 1941, we have a couple of Cole tunes and the occasional addition of vocalist Anita Boyer. She sang with a dozen big bands and her voice is similar to Maxine Johnson's, with a bit more vibrato. "Whatcha Know Joe" is changed to "Whacha know Josie" for her vocal duet with Cole. Boyer does a nice job on three Carmichael songs: "Lazy River," "Georgia on My Mind," and "Rockin' Chair." Most of the tunes fall into the quick rhythm changes or mellow jive categories. The trio sounds like a streamlined machine; they cover these tunes with a slick professionalism. "Fudge Wudge" is an atmospheric minor blues instrumental. "Windy City Boogie" lets Cole romp 8-to-the-bar, Meade Lux Lewis-like, with a hard-working left hand. "Ode to a Wild Clam" presages a bop approach, featuring a number of stops and starts, fast walking bass, and fast unison lines.
In Spring 1941 the trio, with Al Spieldock on drums, is recorded in Washington, DC, and New York. This session has not been previously released. Al is somewhat plodding and the DC recordings are of a lower quality. The NYC sessions sound a little better and put the drummer lower in the mix. "This Will Make You Laugh" is an early classic Cole crooning performance. They revisit "I Like to Riff" — slowed down a bit and slightly rearranged. There are several Cole tunes on these sets, including his novelty tune "Call the Police," complete with siren at the end, which picked up some traction on the charts.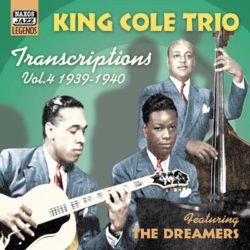 Cole ran jam sessions with Norman Granz in 1942 and again in 1943, after the producer came out of the service. The next session in this collection, from July 1942, is the well-known Granz-produced session with Lester Young and Red Calendar on bass, playing four tunes. Lester is Lester, and Cole is able to take a little more solo time than usual, and he demonstrates all the styles he has comfortably under control. There is a small amount of informal cross-talk between Cole and Young in "Indiana," but no real fireworks — there's no intimation of a boppish "Donna Lee" to come. Cole's solo on "Body and Soul" features locked hands playing octaves and an extensive quote from "My Kind of Love."
The next few sessions in late 1942 and early 1943 bring back Moore on guitar and, since Prince has been drafted, either Callendar or Johnny Miller on bass. The repertoire moves back into jive/ballad crooning/blues genres. "I'm Gonna Move to the Outskirts of Town" comes from a radio broadcast, and I'd be willing to bet that Ray Charles heard and learned from Cole's vocal. This is the kind of track that moved blues into a more urban sound. "Pitchin' on a Boogie" is not special as a tune, but proves just how hand-in-glove Cole and Moore have become. Moore plays some very rocking guitar on "Slender, Tender and Tall." "Beautiful Moons" is a Cole/Moore collaboration and is quite lovely — a highly crafted tune reminiscent of "Moonlight in Vermont." One has the feeling that the vocalist on this track will eventually rise to the top of the heap.
In the summer of 1943, Cole and Moore are joined by Harry Sweets Edison, trumpet, Dexter Gordon, tenor sax, and Clifford Owens, drums, for another Granz-organized session. Sweets plays in a style we know from his time with Basie while Dexter is pre-bop, deep under the spell of Lester Young. Cole is essentially the pianist we've been hearing for several years, just sharpened to a fine edge.
Cole, Moore, and Miller team up through 1943 for the last eleven tracks in this boxed set. Novelty and jive tunes, along with ballad vocals for Cole, dominate the session. "Let's Pretend" and "My Lips Remember Your Kisses" stand out in the latter category. The Cole original "Straighten Up and Fly Right," part patter song, part moral tale, receives a pair of recordings and no wonder — it was a big tune for the group (Number One on the Harlem Hit Parade for 10 weeks). There is a premiere of another Cole tune that made waves: "I'm an Errand Boy For Rhythm," performed at an appropriately frantic tempo. "I Know That You Know" is a romp, as is "Honeysuckle Rose," which also sports an interesting transitional section.
This boxed set was a marathon to listen to, but it was almost always a pure pleasure. The numerous jive and novelty tunes become a little wearisome, but compensation comes with the maturing interplay between Cole and Moore, which grows more and more finely honed — to the point that they start to fit like mortise and tenon. This collection solidified my admiration for guitarist Moore and for Cole's piano playing. His voice? Well, that's one of a kind. To hear him move from an anonymous member of a backing chorus to a world-class vocal soloist is well worth the time this boxed set demands.
---
Steve Provizer writes on a range of subject, most often the arts. He is a musician and blogs about jazz here.